Slice And Bake Sausage Biscuits – Gluten Free
Published on Mar 29, 2022
by
Kristina Stosek
Prep Time:

15 minutes
Cook Time:

15 minutes
Serves:

10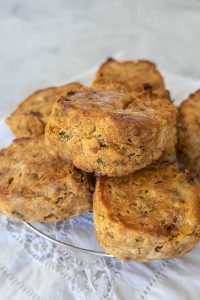 ​This post may contain affiliate links, please see our
privacy policy
for details
Easy Gluten-Free Slice and Bake Sausage Biscuits recipe. Any day is a good day for a savoury, buttery biscuit. These gluten-free biscuits are made with buttermilk, sausage meat, green onions, salted butter, and a hint of thyme. And they are easy to make!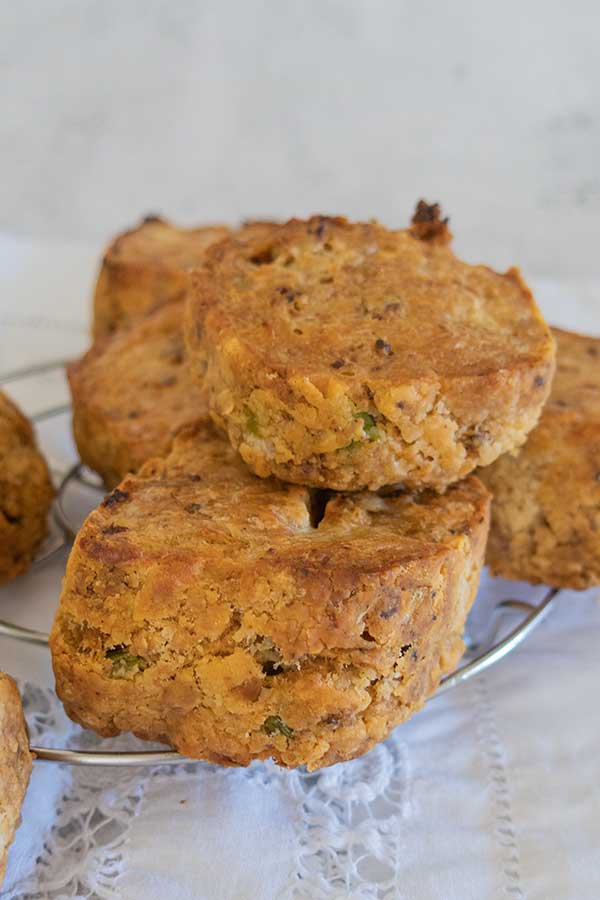 Enjoy these sausage biscuits warm with eggs for breakfast or brunch. As anytime snack when you are craving something savoury and satisfying. Or, serve with your favourite soup such as the Cream of Fresh Corn Soup, or one of our favourite stews, the Instant Pot Somali Lentil Stew or a hearty salad, such as this Shredded Brussel Sprouts and Cranberries Salad.
Easiest gluten-free sausage biscuit recipe!
The bonus about this gluten-free biscuit recipe is you will need only eight ingredients, one bowl, and you can make the dough in advance. The biscuit dough is rolled into a cylinder and chilled.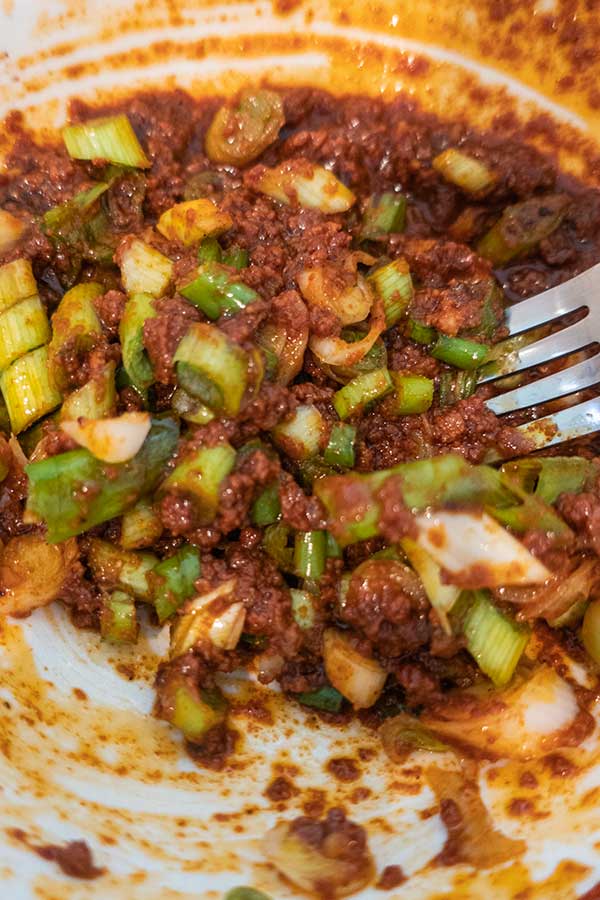 So there is no rolling of the dough or using a biscuit cutter, keeping everything simpler and less to clean up.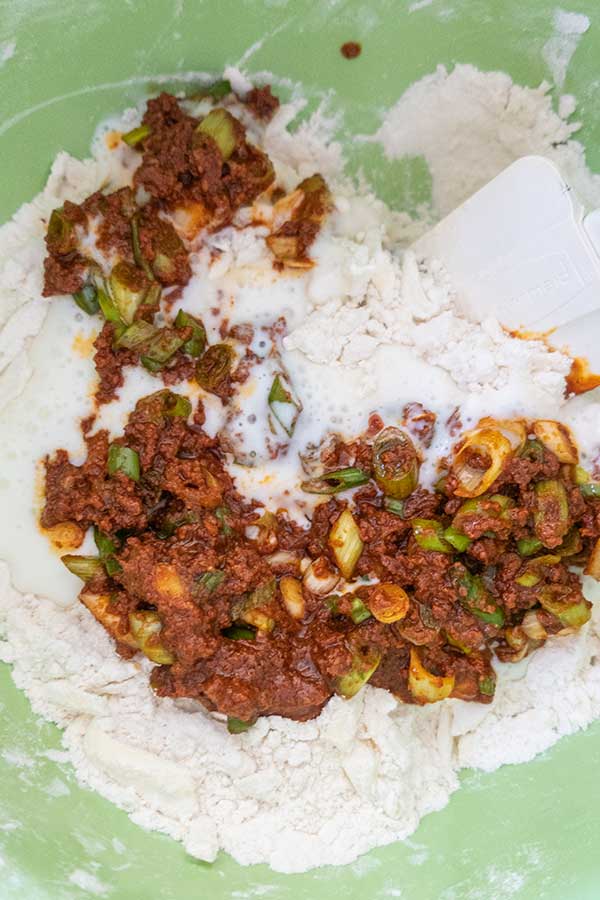 When you are ready, slice and bake as many biscuits as you like giving you warm, freshly baked gluten-free sausage biscuits when needed.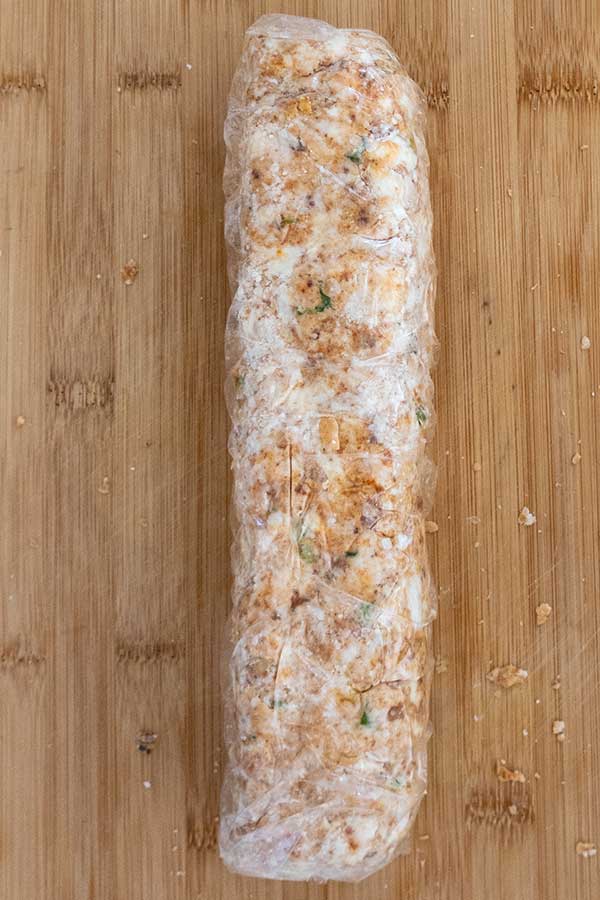 I will admit, biscuit dough is forgiving. And, the shape of the biscuits doesn't have to be perfect, making this an easy recipe.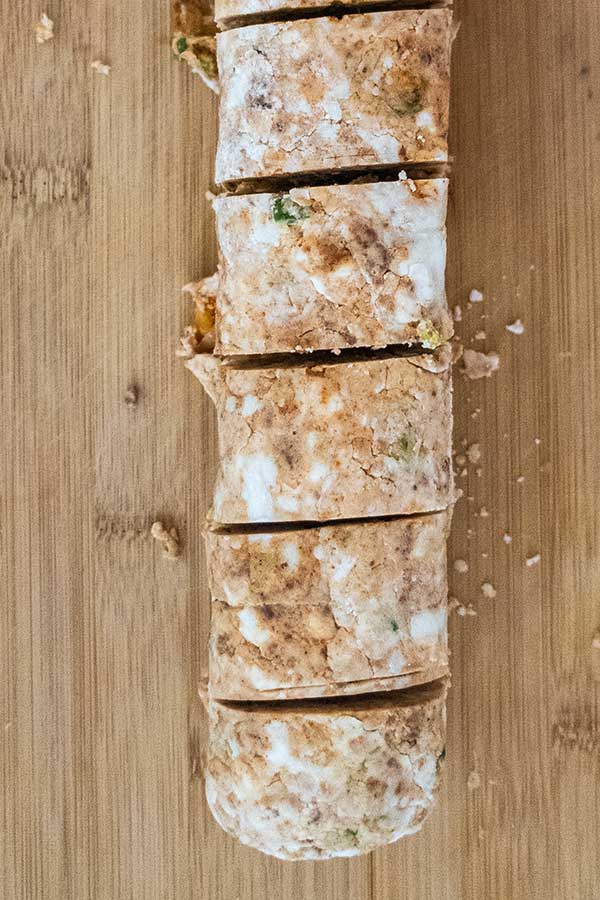 Why is the biscuit dough chilled before baking?
By re-chilling the butter in the biscuit dough, the biscuits become flakier and will keep their shape.
Why is buttermilk best for biscuits?
Healthy buttermilk adds tangy flavour and keeps the biscuits tender. If you don't have buttermilk, use 1 cup of whole milk and 1 tablespoon of fresh lemon juice or apple cider vinegar. Rest for 5 minutes before using.
Can you replace the sausage meat?
You don't have to use pre-mixed gluten-free sausage meat. Instead, use ground pork or ground chicken with your favourite spices. For example, I like to add garlic powder, paprika, rosemary, salt and pepper to the ground meat to replace the sausage meat.
How long will the biscuit dough last in the refrigerator?
Once the dough is formed into a cylinder and tightly wrapped with wax paper or plastic wrap, it will keep up to three days when refrigerated.
Can you freeze gluten-free biscuit dough?
Yes, you can. Form the dough into a cylinder and wrap with wax paper and then with plastic wrap. Thaw overnight in the refrigerator before baking.
Why are biscuits brushed with buttermilk?
Brushing the tops of the biscuits with buttermilk will keep them from drying out during baking and add beautiful golden colour to them. You can also use melted butter or cream.
Best way to bake gluten-free sausage biscuits.
Do not grease your baking sheet. It would be best to bake the biscuits on a metal baking sheet without sides. The biscuits may not bake as evenly if your baking sheet has sides. Check out the latest kitchen small appliances and kitchen tools on Amazon.
8 tips for the best gluten-free slice and bake biscuits!
∼ Freeze the butter and then grate on a box grater
∼ Measure flour accurately by spooning the flour into the measuring cup and using a knife to level the flour across
∼ Don't overwork the dough, or the biscuits will become dry and hard.
∼ Never use your hands to mix the ingredients. The warm temperature from your hands will melt the butter, and the biscuits will not be flaky.
∼ Make sure the oven is hot. The oven is pre-heated to 425 F
∼ Chill the dough for a minimum of 1 – 2 hours before slicing. This keeps the biscuits flaky and holds their shape.
∼ Brush the tops of the biscuits with buttermilk or melted butter. It stops them from drying out and adds beautiful golden brown colour.
∼ Biscuits should always be served warm.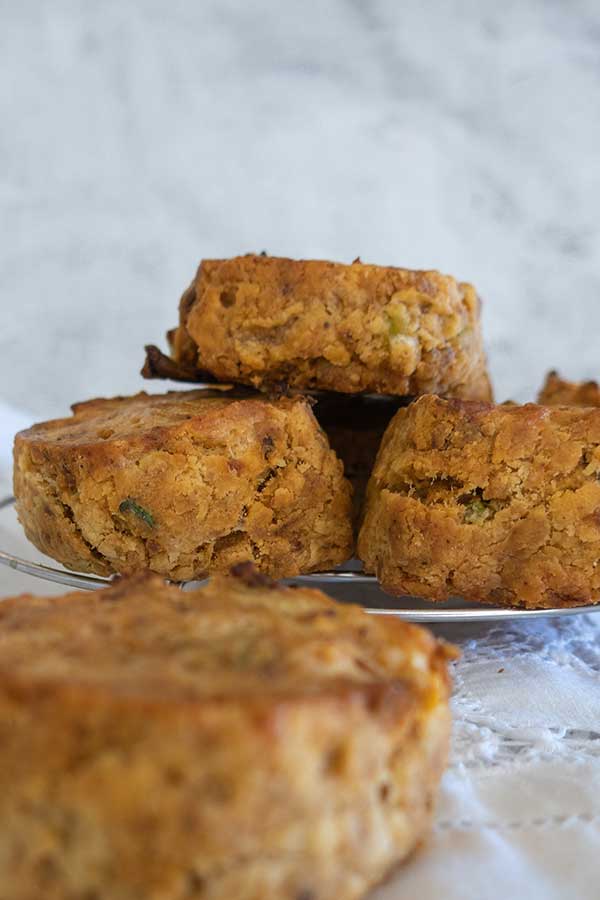 What I love about these gluten-free slice and bake sausage biscuits is the simplicity of the recipe, the deliciousness and having fresh warm biscuits in minutes.
Let's Connect!
Be sure to FOLLOW US on FACEBOOK and PINTEREST.
Many thanks!
Kristina xx
Slice And Bake Sausage Biscuits – Gluten Free
Published on Mar 29, 2022
by
Kristina Stosek
Instructions
1.

Whisk together flour, baking powder, thyme and salt. Grate the frozen butter with a boxed grater and add it to the flour mixture. Using a spatula, briefly mix to coat the butter with the flour

2.

Stir in cooked cooled sausage and green onions

3.

Add buttermilk and briefly mix until the dough starts to come together. You may use less or more buttermilk. The dough should not be sticky

4.

Transfer dough on a long piece of waxed paper or plastic wrap. Carefully roll the dough inside the wrap, pressing gently to get it to form into a 9-inch firm cylinder. Refrigerate for at least 1 - 2 hours or overnight

5.

Preheat the oven to 425 F. Slice off as many biscuits as you'd like and lay the slices on a baking sheet 1/2 inch apart. The biscuits should be 3/4 inch thick. Brush tops with buttermilk

6.

Bake the biscuits for 15-20 minutes until golden brown on top. Cool for 5 minutes, and always serve warm