Cream of Fresh Corn Soup
Published on Jul 06, 2020
by
Kristina Stosek
Prep Time:

20 minutes
Cook Time:

20 minutes
Serves:

6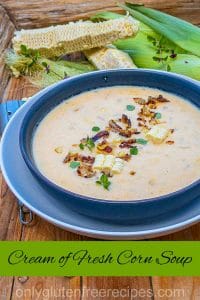 ​This post may contain affiliate links, please see our
privacy policy
for details
Cream of Fresh Corn Soup, I can honestly say that this is the best fresh corn soup! So easy to make with so much flavour. Corn soup!…definitely one of the most gentle yet hearty soups you can make.
The smoky broth is combined with the creaminess of fresh corn, bites of bacon, caramelized onions, a sprinkle of herbs, cream and rich cheddar cheese. Not classic, but soothing, comforting and gluten-free.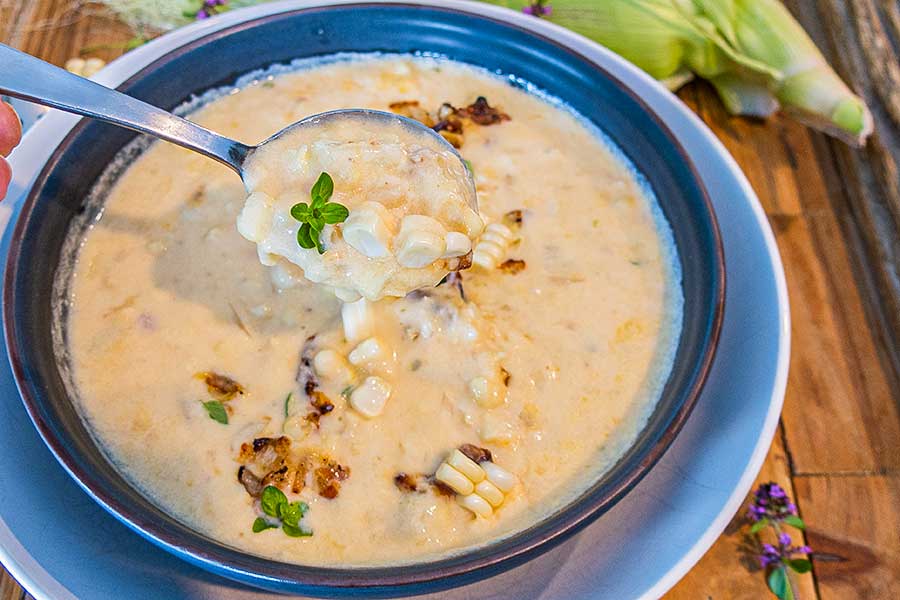 I was thinking, how can I let corn season slip away without making fresh corn soup? So much deliciousness in one very creamy fresh sweet summer corn soup highlighted with smokey bacon, caramelized onions and cheddar cheese.
Just get a few ears of fresh sweet summer corn, some bacon, onions, cheddar cheese and a couple of other basic ingredients, and in fourty minutes or less, the soup is ready. You really don't need anything else beyond this for a relaxed night at home.
In the past, I have made the Mexican street corn soup and the fresh corn potato and leek chowder. Both of these soups were a huge hit. But, believe me…This will be your favourite corn soup yet!
To make this soup stand out from most, I added a peppery crispy bacon and onion topping. OMG so so good! I could keep going and tell you how delicious this corn soup is, but once you make it, you will know what I am talking about.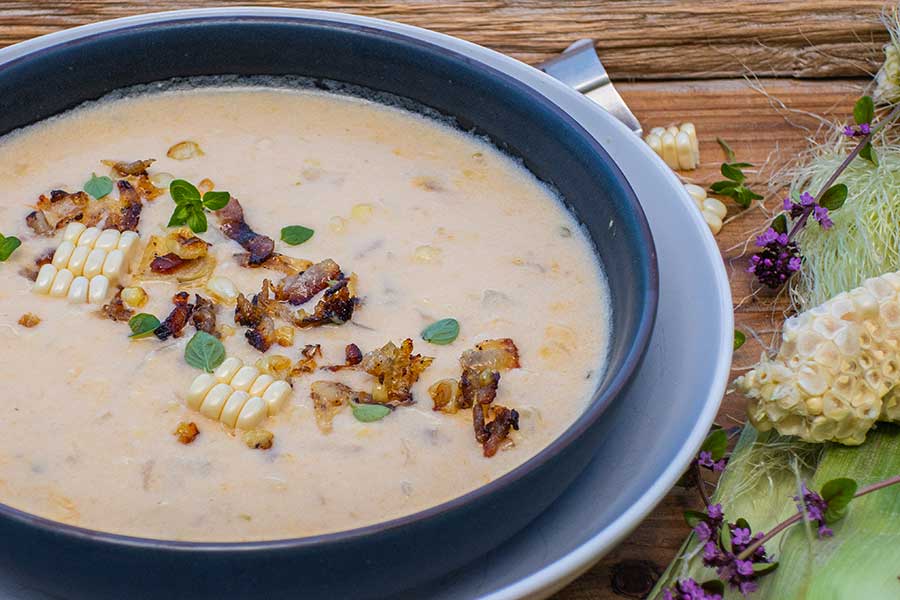 ♥

Fresh Corn Soup – the details:
First, you cook the bacon with the onions. Then reserve some of the mixture which will be used for the topping mixed with fresh corn. Then, add everything else to the pot except for the cream and cheese.
The soup cooks very quickly about ten minutes just until the potatoes are fork-tender. Transfer about half the soup into a blender and blend with some cream until almost smooth. Then return to the pot with remaining ingredients. Now reheat the soup until the cheese has melted, and the soup starts to thicken. Done!
For the topping, combine the bacon-onion mixture with some fresh corn, a good dash of black pepper and scatter it on a baking sheet. Then broil until the bacon is crispy. This takes only a couple of minutes.
To serve, top with the crispy bacon and onion mixture, and if you have some fresh herbs, sprinkle them over the top. When I serve this corn soup, I make it into a meal with some freshly baked gluten-free bread.
♥

Frequently asked questions?
Can I substitute canned or frozen corn for fresh corn?
I would not use canned corn, the texture and flavour just don't cut it. If you want to use frozen corn, you can, but the soup will not have that fresh, rich corn flavour as when you use fresh corn.
Do I have to add potato?
Absolutely not. I added the potato because my family loves potatoes. You can substitute the potato for two more ears of corn. However, the potato gives the soup another texture, adding more heartiness to the corn soup.
Can I make this corn soup without dairy?
To make this soup dairy-free, you can substitute coconut milk for the cream and use a good dairy-free cheese like Teese cheddar vegan cheese and sprinkle the soup with extra nutritional yeast.
Do I have to use bacon?
You can use ham, but you will have to add extra olive oil, about three tablespoons in total.
What can I substitute for arrowroot flour?
You can also use tapioca starch or corn starch. If the soup gets too thick, add extra cream or broth.
To make this into a hearty meal, I like to serve this cream of fresh corn soup with gluten-free focaccia bread 🙂
Cream of Fresh Corn Soup
Published on Jul 06, 2020
by
Kristina Stosek
Instructions
1.

Using a large soup pot, heat olive oil over medium heat. Add bacon and onions and stirring frequently cook until the bacon starts to brown. About 5 minutes. Save 1/3 of the onion mixture

2.

To the same pot, add broth, all corn except 1/4 cup, potatoes, liquid smoke, bay leaf, thyme and season with salt. Bring to a boil, cover and reduce heat to simmer. Cook for 10 minutes until the potatoes are tender. Remove the pot from the heat

3.

Remove the bay leaf. Transfer about half of the soup into a blender with 1 cup of cream and blend until almost smooth. Return to the soup

4.

To the same blender add the other cup of cream and arrowroot flour/starch and blend until smooth, pour into the soup with the cheese

5.

Heat the soup over medium heat until the cheese has melted and the soup starts to thicken, stirring as needed. About 5 minutes

6.

While the soup is reheating, combine the 1/3 of a cup onion mixture with 1/4 cup of fresh corn kernels and generously season with black pepper. Spread the mixture on a baking sheet lined with foil paper and broil until the bacon starts to crisp. About 2 minutes

7.

To serve, divide the soup into bowls and top with bacon and onion mixture. If you have fresh thyme sprinkle some over top