Russian Cabbage And Beef Soup
Published on Feb 11, 2019
by
Kristina Stosek
Prep Time:

15 minutes
Cook Time:

60 minutes
Serves:

6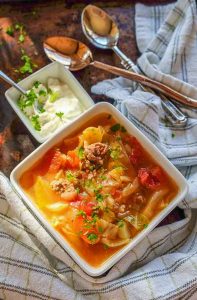 ​This post may contain affiliate links, please see our
privacy policy
for details
These days all I think about is earthy soups, something warm and cozy such as this Russian cabbage and beef soup. Growing up in eastern Europe, this soup was a staple in our home with gluten-free rye bread.
When it comes to healthier soups, this is definitely on top of my list. Why, you ask? The soup is made with nutrient-dense vegetables such as cabbage, tomatoes, root vegetables and extra-lean beef.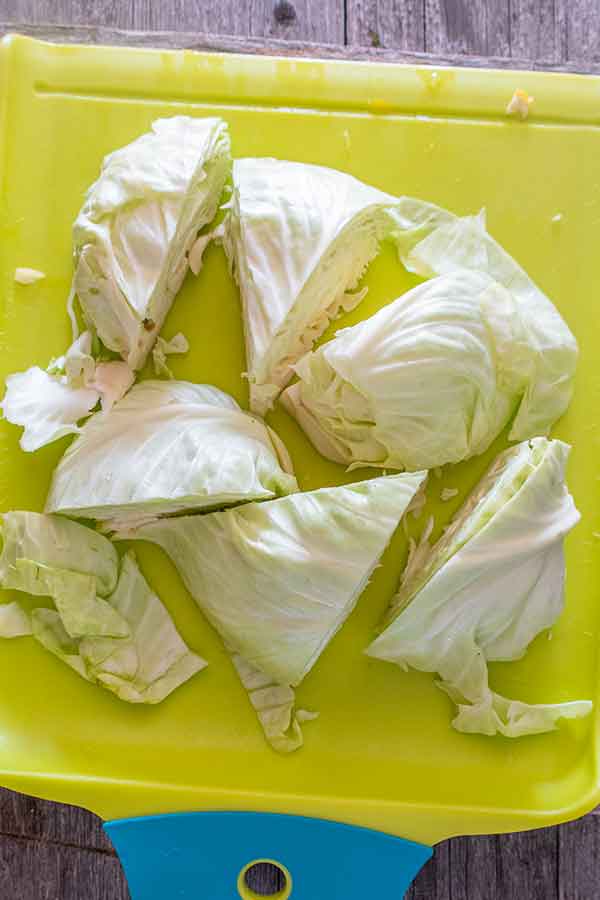 Have you heard of the cabbage soup for weight loss?
Well, this is one version of it. The soup is packed with fiber, vitamin C and has a delicious flavour from the lean beef. I consider this naturally gluten-free soup, low calorie, low fat and low in net carbs, so definitely a soup for weight loss.
To add some creaminess to this soup, you can add yogurt or low-fat sour cream. For fresh herbs, dill or parsley are the best.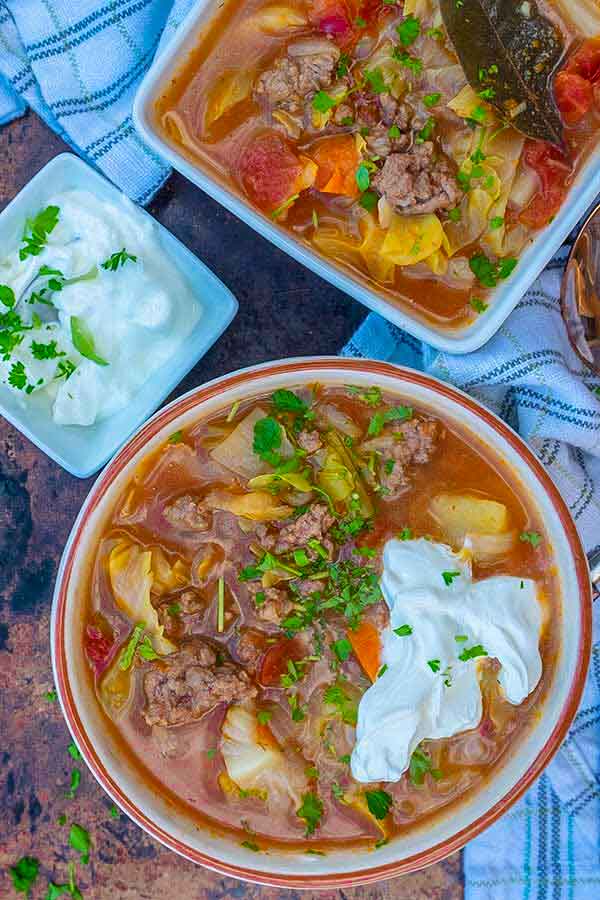 Let's talk about weight loss.
What are the three things we need to do to lose weight?
Cut back on sugars and starches. This is one of the most important things to do. Sugars and starches (carbs) are often empty calories and low in healthy nutrients. By cutting back on sugars and starches, you will find that your cravings for sweets and high carb foods will go down. You will start burning fats stored in your body instead of carbs for energy.
Eat a well-balanced diet consisting of lean proteins, healthy fats and low carb vegetables. For the lean proteins, eat lean beef, chicken, turkey, salmon, seafood and eggs. Healthy fats are extra virgin olive oil, avocado or nut oils and grass-fed butter. Low carb vegetables for everyday cooking are cauliflower, asparagus, green beans, broccoli, spinach, cabbage, swiss chard, cucumbers and kale. Here is a full list of low carb vegetables.
Exercise can be as simple as 30 minutes of brisk walks or lifting light weights. When you lift weights, you burn calories and speed up your metabolism.
In summary
Eat 2 -3 meals per day

Drink plenty of water

Eat lean proteins, low carb vegetables and healthy fats

Exercise three times per week
Some of our favourite recipes for weight loss are Kale Salad with Cumin Chicken, Immune Boosting Turmeric Celery Soup, Sauerkraut Soup or heart healthy Salmon with Thai Coconut Cream Sauce. You will find a complete list of our healthy gluten-free cooking light recipes here
Disclaimer: This article is not intended to provide medical advice, diagnosis or treatment. Views expressed here do not necessarily reflect those of only gluten-free recipes or its staff.
Russian Cabbage And Beef Soup
Published on Feb 11, 2019
by
Kristina Stosek
Instructions
1.

Heat oil over medium heat in a large soup pot. Add onions and cook for 5 minutes or until translucent. Stir in garlic and cook for 1 more minute

2.

Increase heat to medium-high and add the beef. Cook the beef while breaking it up in smaller pieces unit no longer pink. About 4 - 5 more minutes

3.

Add cabbage, carrots, rutabaga/turnip, potatoes, tomatoes, bay leaves, caraway seeds, dill and broth/water. Season with salt and pepper. Cover and cook over medium-high heat until the soup starts to boil. At this point, if needed add enough water/broth so that all the vegetables are immersed in the broth. Cook over medium-low heat for 40 minutes

4.

Serve with desired toppings