Kale Salad with Cumin Chicken for Weight Loss Diet
Prep Time
15 Minutes
Difficulty
Beginner
Cook Time
15 Minutes
Serves
1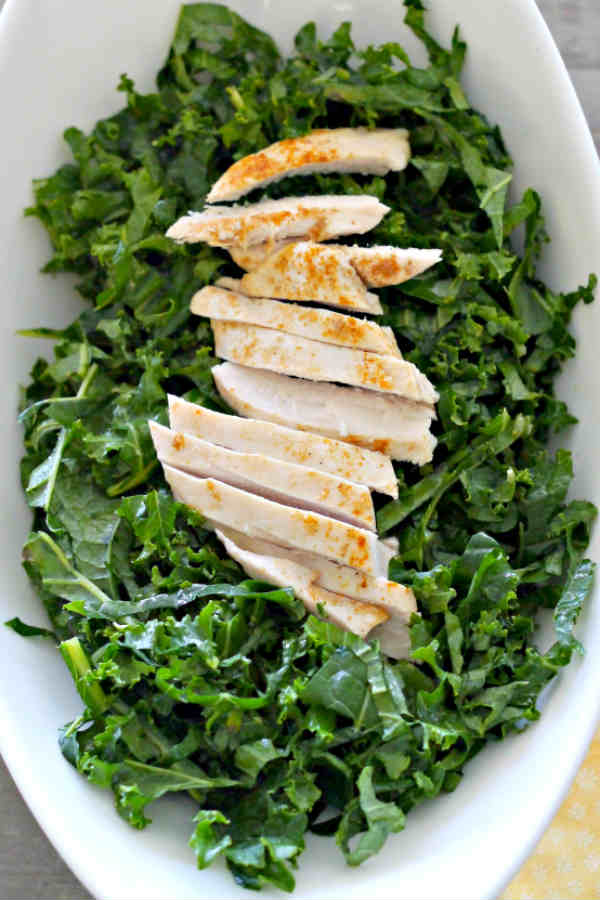 Average Rating: 4.5 | Rated By: 2 users
I call this recipe simplicity in itself. This gluten-free, low-calorie kale with cumin chicken salad is packed with healthy nutrients and protein, making this meal a good choice when following a healthy well-balanced weight loss diet. Total calories only 339 per serving. Enjoy!
Ingredients
4 oz (115 g) boneless skinless chicken breast
1 Tbsp (14 mL) freshly squeezed lemon juice
½ tsp (2.5 mL) GF ground cumin
¼ tsp (1.25 mL) GF garlic powder
¼ tsp (1.25 mL) GF paprika
2 cups (500 mL) thinly sliced kale, stems removed
1 Tbsp (15 mL) GF tamari sauce
1 Tbsp (15 mL) fresh lemon juice
1 garlic clove, minced
2 tsp (5 mL) sesame oil
Sea salt and GF ground black pepper to taste
2 Tbsp ((30 mL) grated Parmesan cheese (optional)
Instructions
Preheat oven to 400 F
Season chicken breast with lemon juice, cumin, garlic powder, paprika, salt and pepper and wrap in parchment paper. Place on a baking sheet and bake for 15 minutes
While the chicken is cooking mix tamari sauce, lemon juice, garlic and sesame oil and toss with the kale. Season with sea salt and pepper to taste
Remove cooked chicken from parchment paper and cut into strips
Place kale in a serving bowl and top with chicken slices and serve. This salad can be served with warm or cold chicken.
Tip: you can add 2 Tbsp freshly grated Parmesan cheese to the kale salad that adds only 44 calories making the salad heartier.
Similar Recipes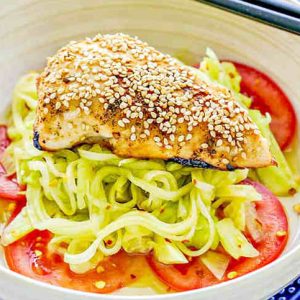 Sesame Chicken Sunomono Salad
This sesame chicken sunomono salad has only 295 Calories per serving. A light Japanese salad as this sesame chicken sunomono salad is refreshing, especially on hot summer days Read More
Prep Time
10 Minutes
Difficulty
Beginner
Cook Time
12 Minutes
Serves
1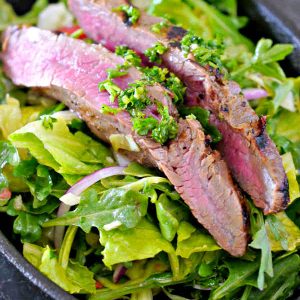 Grilled Flank Steak With Herb Sauce
This grilled flank steak with herb sauce is a crowd pleaser every time. No need to buy costly steaks when you can make this easy to prepare flavourful flank steak. The steak is marinated in a tasty marinade and then finished with a delicious herb sauce. Serve with a light salad or garlic mash and […] Read More
Prep Time
10 Minutes
Difficulty
Easy
Cook Time
6 Minutes
Serves
4-6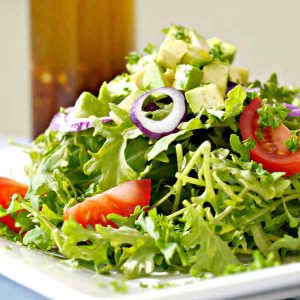 Kale Salad with Ginger Salad Dressing
For many it is the dressing that makes a good salad. Salad must also provide variety and balance. A good salad does not become simply a bowl of everything. In this salad, I used baby kale, creamy avocados, and sweet tomatoes and ended it with sweet red onion. But it is the dressing that ties […] Read More
Prep Time
15 Minutes
Difficulty
Easy
Serves
4