Buffalo Chicken Kale Salad
Published on Jan 25, 2019
by
Kristina Stosek
Prep Time:

15 minutes
Cook Time:

15 minutes
Serves:

4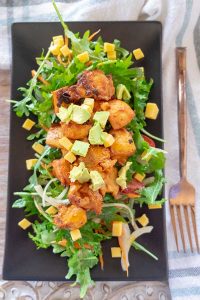 ​This post may contain affiliate links, please see our
privacy policy
for details
This stunning Buffalo Chicken Kale Salad is all about spicy chicken, healthy greens and the most delicious buttermilk dressing. I love kale, but I find it needs more than just the greens. Adding the most flavourful spiced up chicken changes a simple kale salad to a hearty, tasty meal.
First, I made the chicken by cooking them in a spicy buffalo sauce. For the greens, I combined kale with arugula, julienned carrots, and cherry tomatoes. Creating a beautiful bowl with rainbow coloured veggies for a well balanced tasty salad. I also wanted a light but creamy dressing. So I made a simple light buttermilk dressing with a hint of fresh garlic…you will love it! The buttermilk dressing goes exceptionally well with the buffalo chicken. And I find kale needs a little more than just a light vinaigrette.
For the buffalo sauce, I made it entirely from scratch, the sauce has plenty of flavours and is slightly spicy. I find store bought sauces are laden with salt. And besides, nothing beats a freshly made at home buffalo sauce, especially since it takes only a couple of minutes to make.
To complete this wholesome kale salad, I topped the buffalo chicken with cheddar chunks and avocado slices. This buffalo chicken kale salad has so many flavours and textures it is so good and most satisfying.
With the weather warming up, we start thinking about salads as entrees. So why not start with a hearty buffalo chicken kale salad to begin the warmer season. This salad is keto-friendly and naturally gluten-free accomodating most diets. If you love salads made with chicken you will enjoy this Warm Asian Chicken Salad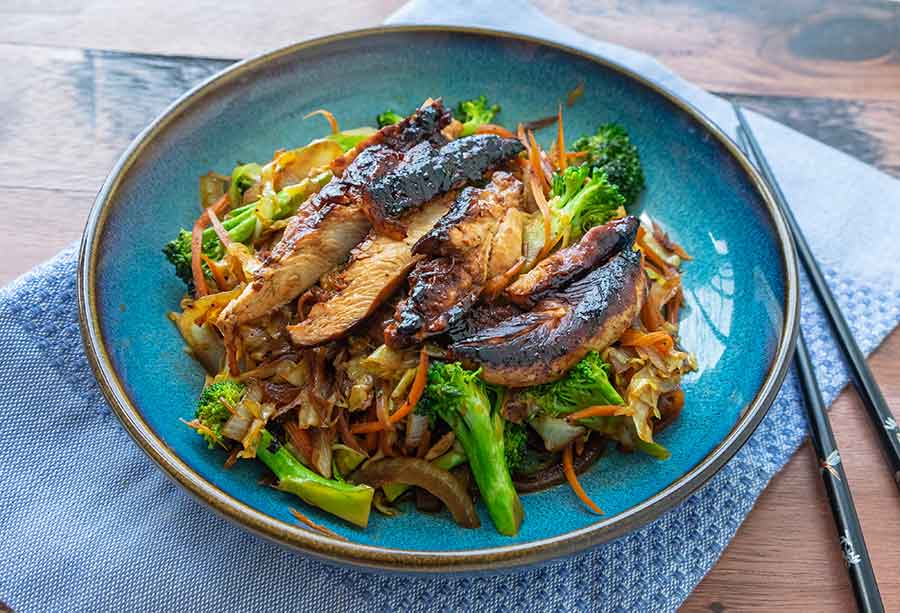 ♥

A vegetarian version of buffalo chicken kale salad.

For those of you who are following a plant-based diet, this is not a problem. Substitute extra firm tofu for the chicken. To do this, prepare the tofu the same way as you would the chicken, the salad will be just as delicious! Enjoy. 🙂
Buffalo Chicken Kale Salad
Published on Jan 25, 2019
by
Kristina Stosek
Instructions
1.

For the Buffalo sauce, in a small saucepan combine 1 tablespoon of butter, sriracha, apple cider vinegar, garlic and Worcestershire sauce. Cook over medium heat until the sauce starts to bubble. Set aside

2.

Preheat a skillet over medium-high heat. Add remaining 1 tablespoon of butter and 1 tablespoon of oil. Add chicken pieces and lightly season with salt. Sear for about 3 - 4 minutes. Reduce heat to medium and add the sauce. Cook 5 more minutes until the chicken is cooked through. Set aside

3.

Place kale, arugula, tomatoes, carrots and onions into a large bowl

4.

Whisk together dressing ingredients and drizzle over the greens. Gently toss to combine

5.

Top with buffalo chicken, avocado and cheddar