Buffalo Chicken Kale Salad {Keto, Gluten-Free}
Prep Time
15 Minutes
Difficulty
Easy
Cook Time
15 Minutes
Serves
4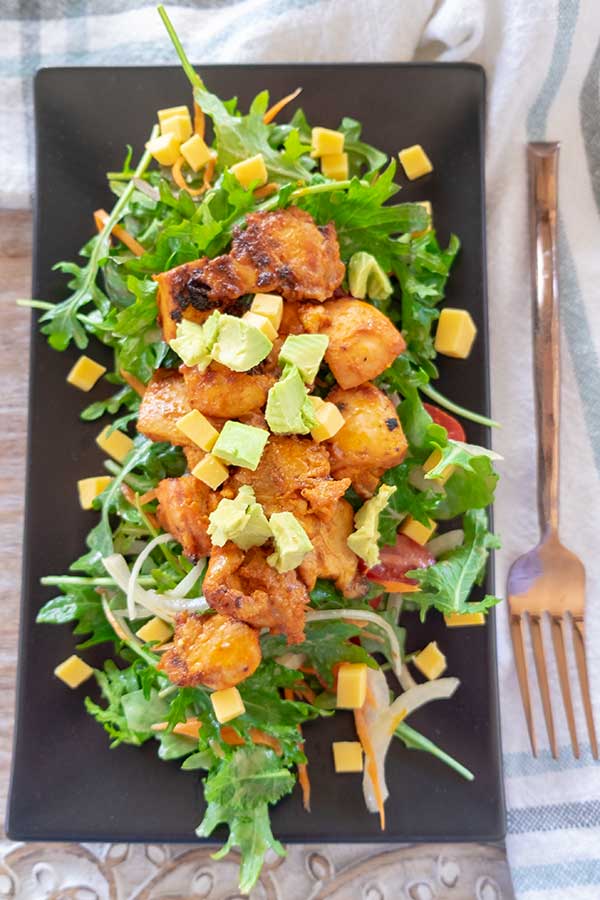 Be the first to rate this recipe.
In my home, Fridays are for something spicy like this buffalo chicken kale salad. This stunning healthy salad makes a wonderful light meal, and the best part it is still hearty and satisfying. For the buffalo sauce, it is made entirely from scratch with simple ingredients. For the salad, I did my own version. Since I love kale and arugula, I decided to mix the two as a base. I added julienned carrots, cherry tomatoes, and onions and tossed everything with delicious light buttermilk dressing. To complete the salad I topped it with spicy buffalo chicken bites, cheddar cheese cubes and avocado. Just thinking about this salad makes me want to eat one now. You will love it. I always make my buffalo sauce from scratch because I can control the salt amount and same goes for the light buttermilk dressing. By using Himalayan salt, I know that I am getting salt packed with minerals, not the same with table salt which is used in most processed sauces and salad dressings. Hope you enjoy this buffalo chicken kale salad this weekend. It may change your mind about serving salad during cold winter months
Ingredients
2 Tbsp. Unsalted butter, divided
2 tsp. Apple cider vinegar
1 garlic clove, minced
1/4 tsp Himalayan salt
1 1/4 lb. boneless, skinless chicken breast, cut into about 1-inch cubes or bite size pieces
1 Tbsp. Avocado or vegetable oil
4 cups baby kale
2 cups baby arugula
1 cup halved cherry tomatoes
1 medium carrot, shredded or julienned carrot
1 avocado, cubed or sliced
1/4 cup cubed cheddar cheese
LIGHT BUTTERMILK DRESSING
1/3 cup buttermilk
2 Tbsp. Extra virgin olive oil
1 Tbsp. Fresh lemon juice
1 garlic clove, minced
1 tsp. Pure maple syrup
Himalayan salt and GF ground black pepper to taste
Instructions
For the Buffalo sauce, combine 1 tablespoon of butter, hot sriracha sauce, apple cider vinegar, garlic, Worcestershire sauce and salt in a small saucepan. Place over medium heat and simmer until the sauce starts to bubble. About 3 minutes, set aside
Preheat a skillet over medium-high heat. Add remaining 1 tablespoon of butter and 1 tablespoon of oil. Add chicken pieces and lightly season with salt. Sear for about 3 - 4 minutes. Reduce heat to medium and add the sauce. Cook 5 more minutes until the chicken is cooked through. Set aside
Combine kale, arugula, tomatoes, carrots and onions in a large bowl
To make the dressing, whisk together all ingredients until smooth. Drizzle the dressing over the greens and toss to combine. Season with salt and pepper
Top salad with buffalo chicken, avocado and cheddar cheese. Enjoy!
Similar Recipes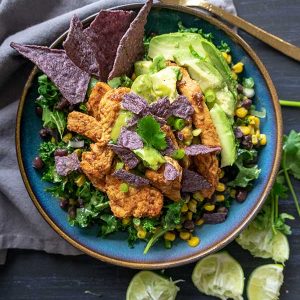 Baja Chicken Kale Salad With Avocado Lime Dressing
If you are searching for a hearty and healthy salad, you must try this gluten-free Baja chicken kale salad. Are you wondering what does Baja mean? The best way to describe it is Tex-Mex food. In this recipe the chicken is seasoned with chili powder, cumin and garlic then cooked in fresh lime juice, it […] Read More
Prep Time
20 Minutes
Difficulty
Easy
Cook Time
15 Minutes
Serves
4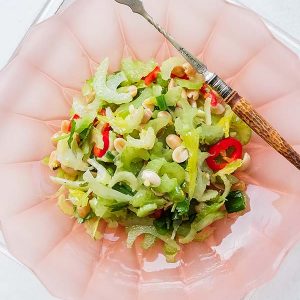 Classic Thai Celery and Fennel Salad
Here is a simple salad packed with complex Thai flavour and interesting textures. This delicious high fiber salad is a nice change to typical green salads. Serve as a side with chicken, fish or pork or as a starter over a lettuce leaf. Enjoy! Read More
Prep Time
10 Minutes
Difficulty
Easy
Serves
4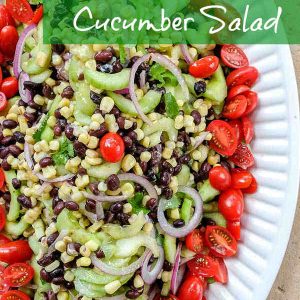 Corn and Black Beans Cucumber Salad
With barbecue season just around the corner, we think of salads. Sometimes the best way to create impressive salad is to keep things simple. This corn and black bean cucumber salad is especially popular because it feeds a large group and does not have to be refrigerated. Serve at room temperature Read More
Prep Time
15 Minutes
Difficulty
Beginner
Serves
6