Maple Glazed Meatloaf Stuffed With Zucchini
Prep Time
10 Minutes
Difficulty
Easy
Cook Time
55 Minutes
Serves
6
Average Rating: 5 | Rated By: 2 users
In this gluten-free meatloaf recipe some of the ingredients are from the classic meatloaf but without the eggs and breadcrumbs. Adding a zucchini in the center and finishing with maple crust and bacon, makes this meatloaf a winner!
Serve this casual meal with steamed veggies or German potato salad
Ingredients
1 lb. lean ground chicken
1 lb. lean ground pork
1 Tbsp. GF paprika
1 Tbsp. GF basil leaves
1 tsp. sea salt
3 garlic cloves, minced
¼ cup GF ketchup
1 Tbsp. pure maple syrup
1 Tbsp. apple cider vinegar
1 slice GF bacon
1 medium size zucchini, halved lengthwise
For the glaze ~ 2 Tbsp. pure maple syrup + 1 Tbsp. GF tamari sauce, mixed
*As an Amazon Associate and member of other affiliate programs, I earn from qualifying purchases. Please check out my sponsorship and disclosure policy page for more details
Instructions
Preheat oven to 375 F
In a large bowl mix to combine all of the ingredients except for bacon and zucchini
Place meat mixture on parchment paper and using a spatula spread into 10x10-inch square. Place zucchini halves on one side and roll into a log. Using the parchment paper lift the loaf onto a baking sheet
Brush the top with half the glaze and top with bacon. Bake for 45 minutes. Brush with the remainder of the glaze, increase oven to 425 F and bake 10 more minutes.
Similar Recipes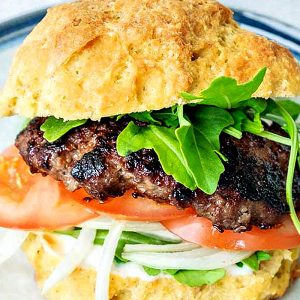 Best Gluten Free Turkey Burgers
Just what we need this summer season, the Best Gluten-Free Turkey Burgers – These burgers are beyond good! Moist, packed with flavour and every bite is filled with deliciousness. ♥ What makes a perfect gluten-free burger? Lean meat, the right blend of spices and cooked to perfection. This is a solid turkey burger recipe, trust […] Read More
Prep Time
15 Minutes
Difficulty
Easy
Cook Time
15 Minutes
Serves
4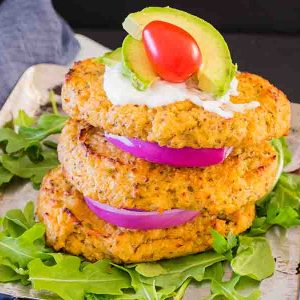 Best Gluten Free Veggie Burger Recipe
This jam packed with flavour gluten free veggie burger is a fuss-free recipe. Once you make the burger patties, just pop them in the oven. Serve these moist veggie burgers with your favourite toppings and accompany with greens such as arugula or cabbage or gluten free burger buns. For added flavour, brush the patties with […] Read More
Prep Time
15 Minutes
Difficulty
Easy
Cook Time
40 Minutes
Serves
8 patties
Maple Glazed Meatloaf Stuffed With Zucchini
In this gluten-free meatloaf recipe some of the ingredients are from the classic meatloaf but without the eggs and breadcrumbs. Adding a zucchini in the center and finishing with maple crust and bacon, makes this meatloaf a winner! Serve this casual meal with steamed veggies or German potato salad Read More
Prep Time
10 Minutes
Difficulty
Easy
Cook Time
55 Minutes
Serves
6