Lentil Curry With Kale Over Charred Peppers {Vegan, Gluten-Free}
Prep Time
15 Minutes
Difficulty
Easy
Cook Time
25 Minutes
Serves
4 - 6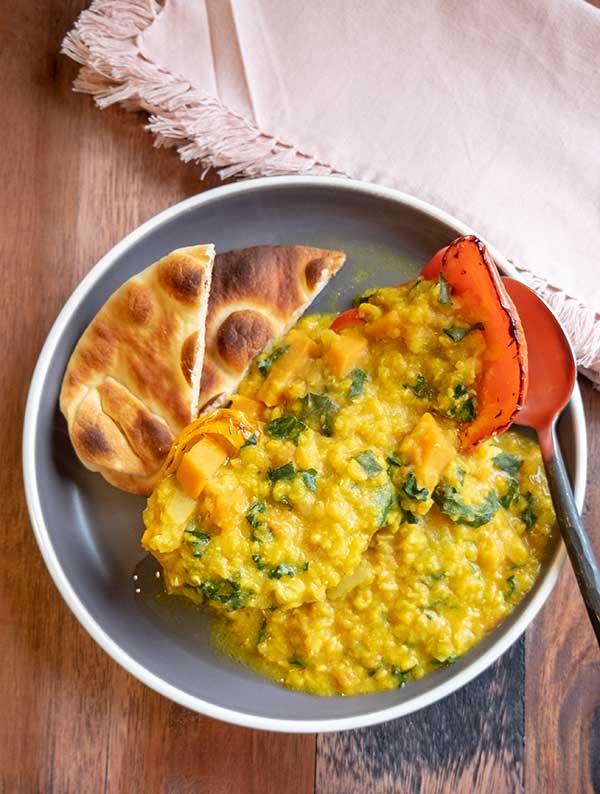 Be the first to rate this recipe.
This Lentil Curry With Kale Over Charred Peppers is a warming casual vegan meal. Lentil curry, also called Dahl, is one of the most flavourful Indian stews. The lentils are cooked in a thick sauce spiced with ginger, turmeric, cumin, coriander cinnamon and bay leaf. The aromatic Indian spices add a robust flavour to a simple lentil dish.
In this lentil recipe, I also added tomatoes, kale and sweet potatoes. For creaminess, I used dairy-free yogurt, or you can add coconut cream. I can't tell you how satisfying and good this lentil curry is.
Because I wanted to add another flavour and texture, I made some charred peppers. The peppers are then topped with the thick flavourful curry. When you mix the two flavours, this Indian dish is so beyond delicious!
What to serve with lentil curry?
I like to serve this lentil curry with gluten-free naan bread. However, it is entirely optional. But honestly, who can resist a piece of naan dipped in the most delicious curry sauce. 
What I love about this lentil curry dish, it is simple, delicious, healthy and made under 30 minutes. Lentils are an excellent addition to everyday meals because they are low in calories, rich in iron, folate, they have virtually no fat, and are a good source of plant-based protein and fiber. 
♥

Here is a list of our 5 best gluten-free recipes made with lentils.
Instant Pot Mediterranean Lentil and Collards Soup
Ingredients
2 cups red lentils, soak in water for 15 minutes, then drain and rinse
2 Tbsp. Coconut oil plus some for brushing the peppers
1 medium onion, chopped
3 garlic cloves, chopped
1 Tbsp. (1-inch) Grated ginger
1 green chili pepper, chopped
1 tsp. GF ground cumin
1 tsp. GF ground turmeric
1 tsp. GF ground coriander
1/2 tsp. GF ground cinnamon
1 GF bay leaf
1 large tomato, chopped
5 cups water
1 tsp. Himalayan salt or to taste
1/2 bunch kale, stems removed and roughly chopped (about 3 cups)
1 medium sweet potato, peel and cut into small bite size pieces
1 cup dairy-free yogurt or coconut cream
Juice of 1 large lime
3 red or yellow bell peppers, cut lengthwise, membranes and seeds removed
To serve; gluten-free naan bread (optional)
*As an Amazon Associate and member of other affiliate programs, I earn from qualifying purchases. Please check out my sponsorship and disclosure policy page for more details
Instructions
In a large heavy bottomed pot sauté onions, and garlic in coconut oil until soft. About 5 minutes
Stir in ginger, chili peppers, cumin, turmeric, coriander, cinnamon and bay leaf
Stir in chopped tomato and coat with the onion mixture
Add lentils, 5 cups of water and salt. Bring to boil, cover and reduce heat to medium-low. Cook for 10 minutes
Add kale and sweet potato and cook for 10 more minutes or until sweet potato and lentils are tender
Remove from the heat and stir in yogurt/coconut cream and lime juice
While the lentils are cooking, place peppers cut side down on a baking sheet lined with foil. Lightly brush the peppers with melted coconut oil. Broil the peppers for 2 - 3 minutes until charred
Similar Recipes
Creamy Thai Peanut Dahl (Vegan, Gluten-Free)
Creamy Thai Peanut Dahl — I call this recipe India meets Thailand. Lentils with vegetables snuggled in a spiced Thai coconut sauce, oh yes, definitely something to try. Dahl with rice is a national dish of India often eaten with rotis. I wanted this dahl recipe to reflect the flavours of India and Thailand. Something different, […] Read More
Prep Time
15 Minutes
Difficulty
Easy
Cook Time
25 Minutes
Serves
6
Vegan Lentil Butternut Squash Soup
Look no further than this vegan lentil butternut squash soup recipe if you're looking for a hearty, healthy soup to keep you warm during cooler months. This satisfying plant-based soup is made from dry lentils, butternut squash, celery, carrots and bell peppers. I added onions, garlic, ginger, and cinnamon to season the soup.     […] Read More
Prep Time
15 Minutes
Difficulty
Beginner
Cook Time
50 Minutes
Serves
4-6
Coconut Curry Lentil Soup (Vegan, Gluten-Free)
This coconut curry lentil soup is a real reviver – soothing, comforting and satisfying. A reminder of how hearty soup can be. This soup is a plant-based recipe packed with protein, nutrients and fiber. This naturally gluten-free soup is an Indian-inspired lentil dish flavoured with classic Indian spices such as curry powder, garam masala, basil, […] Read More
Prep Time
15 Minutes
Difficulty
Easy
Cook Time
35 Minutes
Serves
6