Creamy Thai Peanut Dahl (Vegan, Gluten-Free)
Published on Oct 24, 2018
by
Kristina Stosek
Prep Time:

15 minutes
Cook Time:

25 minutes
Serves:

6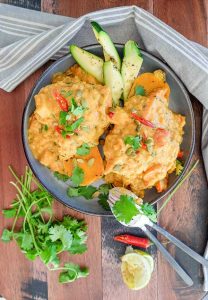 ​This post may contain affiliate links, please see our
privacy policy
for details
Creamy Thai Peanut Dahl — I call this recipe India meets Thailand. Lentils with vegetables snuggled in a spiced Thai coconut sauce, oh yes, definitely something to try.
Dahl with rice is a national dish of India often eaten with rotis. I wanted this dahl recipe to reflect the flavours of India and Thailand. Something different, but incredibly delicious, so I kicked it up a notch.
For this recipe, I used red lentils, coconut milk, peanut butter, veggies and Thai spices in a form of Thai paste. For the finish, I added fresh lime juice and cilantro.
Yes, definitely not a traditional peanut dahl recipe. I gave this Indian dahl dish a refreshing new flavour.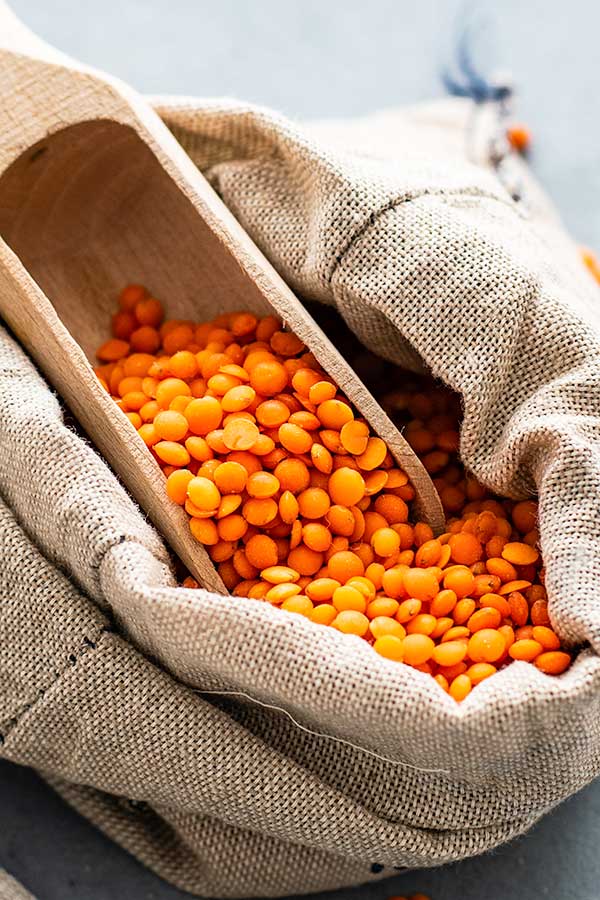 The question remains, is it Dal, Daal, Dhal, or Dahl?
If you know, please share! I have researched the internet and found that we can't seem to agree on the English spelling of this word. One thing that I did find was that dal means lentils and dahl means legumes.
So, to be safe I named it dahl. The dals (dahls) come in various forms. Whole or split, skin on or off, washed or unwashed or oiled or un-oiled.
Cooked dahls can be kept in the refrigerator for up to three days. So, here you have it a little history about dahl (dal)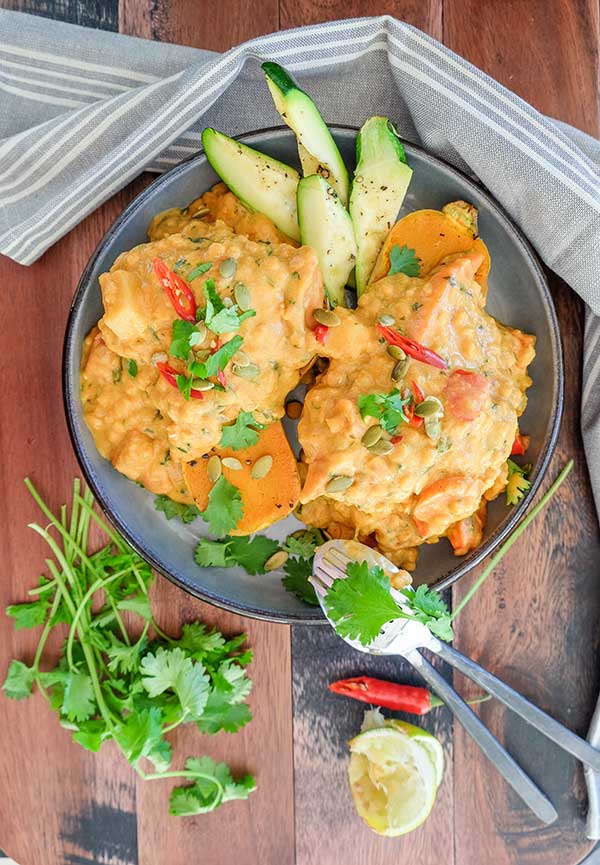 How do you serve dahl (dal)?
More often then not, dahl is served with rice or roti. But, I wanted to add to the healthiness of this spectacular lentil dish so I served the peanut dahl over roasted butternut squash and grilled zucchini.
I also added a topping of pumpkin seeds. Can it get any better than this? If you are craving a vegan dish or following a plant-based diet, please try this recipe. It is so flavourful and different from dahl recipes out there. I hope you enjoy it.
Lentils make delicious healthy salads, stews and soups. So please check out these gluten-free lentil recipes for inspirations!
Creamy Thai Peanut Dahl (Vegan, Gluten-Free)
Published on Oct 24, 2018
by
Kristina Stosek
Instructions
1.

In a large saucepan, sauté onions in coconut oil. Stir in garlic and ginger and cook for 1 minute. Add peanut butter and curry paste and stir to combine

2.

Add vegetable broth, coconut milk, tamari sauce, maple syrup, lentils, bell pepper, carrots and potatoes. Simmer over medium-low heat, uncovered, stirring frequently, for about 20 minutes or until the lentils are tender

3.

Remove from the heat and stir in cilantro and lime juice
Leave a Comment
Kristina
thank you Doreen, I am happy to hear that you enjoyed the dahl