Gluten-Free White Bean with Rosemary Bread
Published on Aug 18, 2021
by
Kristina Stosek
Prep Time:

15 + rising minutes
Cook Time:

45 minutes
Serves:

1 loaf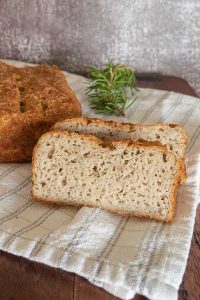 ​This post may contain affiliate links, please see our
privacy policy
for details
You can never have enough good gluten-free bread recipes…this Gluten-Free White Bean with Rosemary Bread is super moist with a soft texture and a light crust.
If you love sandwiches, this is the bread for you. Need a bread for dipping in olive oil and balsamic vinegar? Try this white bean bread. It is soo good! This sandwich bread is perfect for making chicken or tuna, or salmon salad sandwiches.
What inspired me to create this white bean bread?
You may be wondering where my inspiration comes from when creating gluten-free recipes? First, I research new trends, healthier alternatives, or recommendations from my family and friends. But mostly, I create gluten-free recipes that my subscribers have requested. This amazing Gluten-Free Multi Seed Oat Flour Bread is another recipe that was requested by one of my subscribers.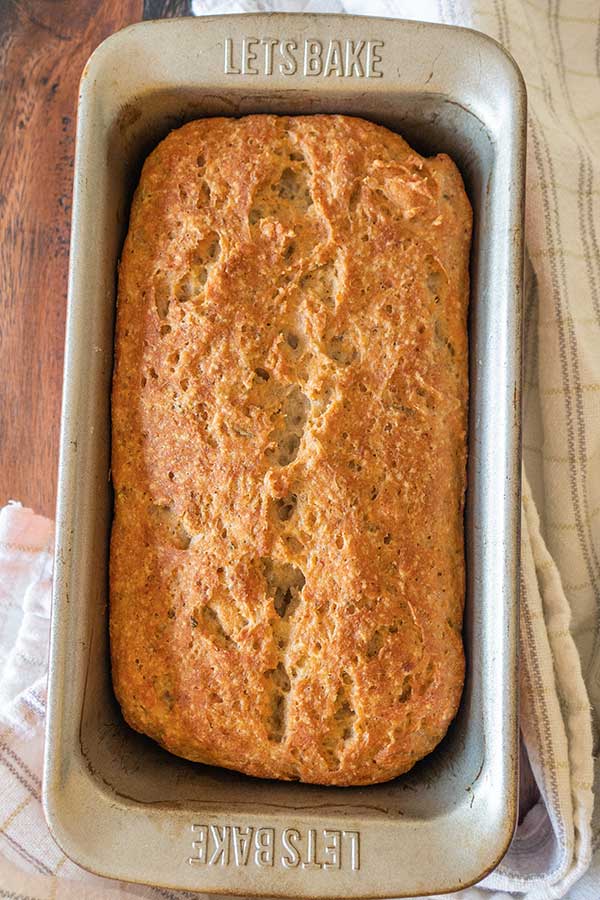 I created this recipe for someone I came across on Facebook. This bread was her favourite, but it is wheat bread. So I re-created the bread and made it healthier and gluten-free.
Elizabeth, I hope you enjoy it, it is soo good. And thank you for the inspiration. People like you help me create gluten-free recipes and help people who are gluten-intolerant or have celiac disease enjoy their favourite foods. Here is a complete list of our most popular gluten-free bread recipes to inspire you.
Canned or freshly cooked white beans?
The answer is, if you have an instant pot, cook the beans. They take 30 minutes, no soaking, and the beans taste fresh.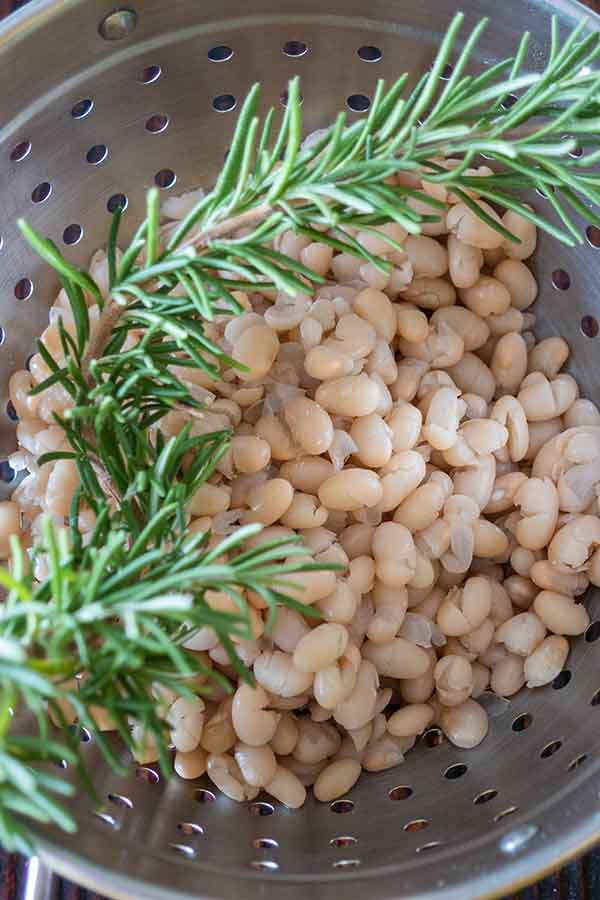 To cook white beans in an instant pot, add 1 cup of beans to 4 cups of water. Set the IP to manual for 30 minutes, allow the pressure to release naturally for 20 minutes and the beans are done!
No salt, no preservatives, only fresh tasting white beans. Make extra, and use them in white bean salads or soups using white beans.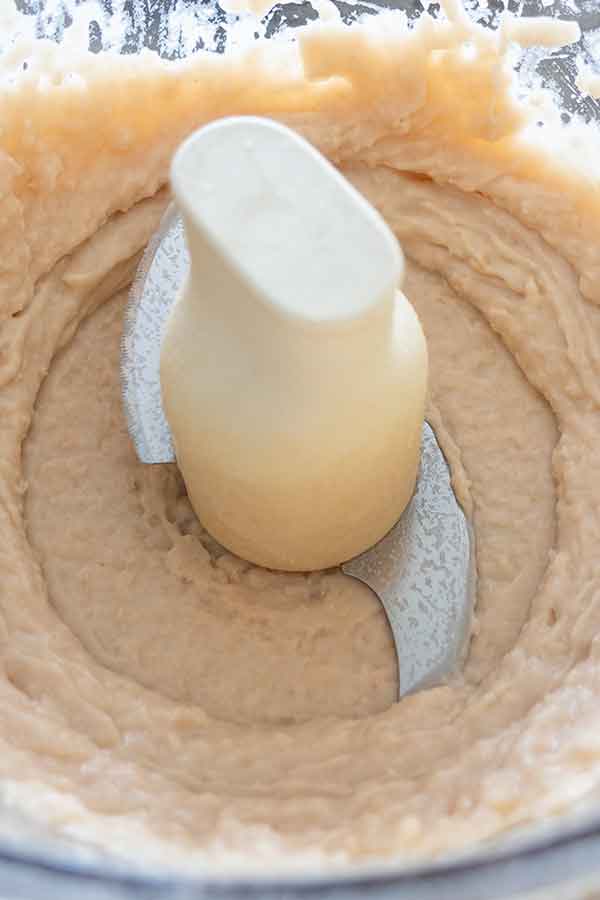 You can use canned beans, but use the ones without salt. Canned beans are ladened with table salt. If you can't get salt-free ones, use less salt in the recipe.
Key points to making gluten-free white bean bread.
When creating a more complex bread recipe such as this white bean bread, you can't just use an all-purpose gluten-free flour blend.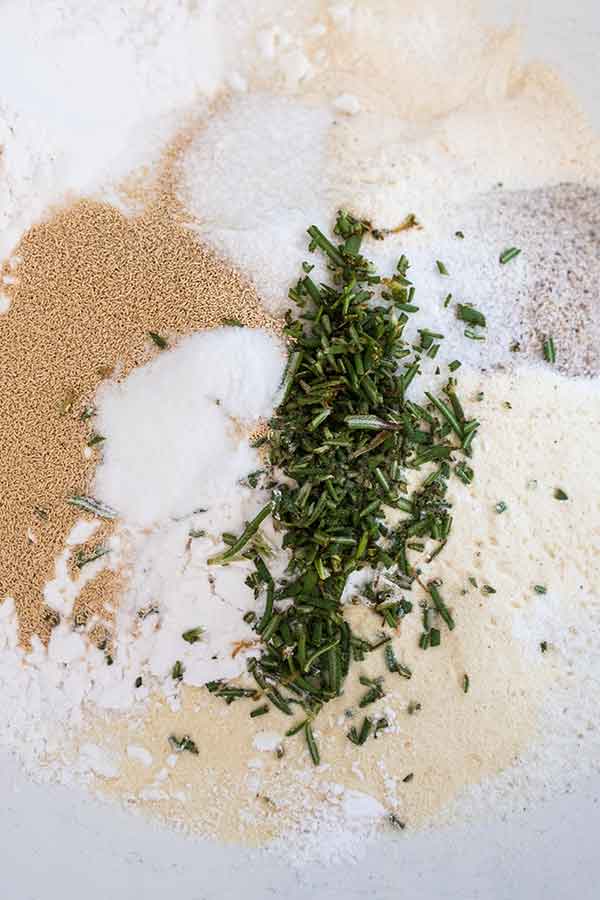 I often use gluten-free flour blend for simple muffin recipes, gluten-free coffee cakes or scones, such as this gluten-free maple oat nut scone recipe. But, when it comes to bread, there is more to it than just converting a wheat bread recipe to a gluten-free version.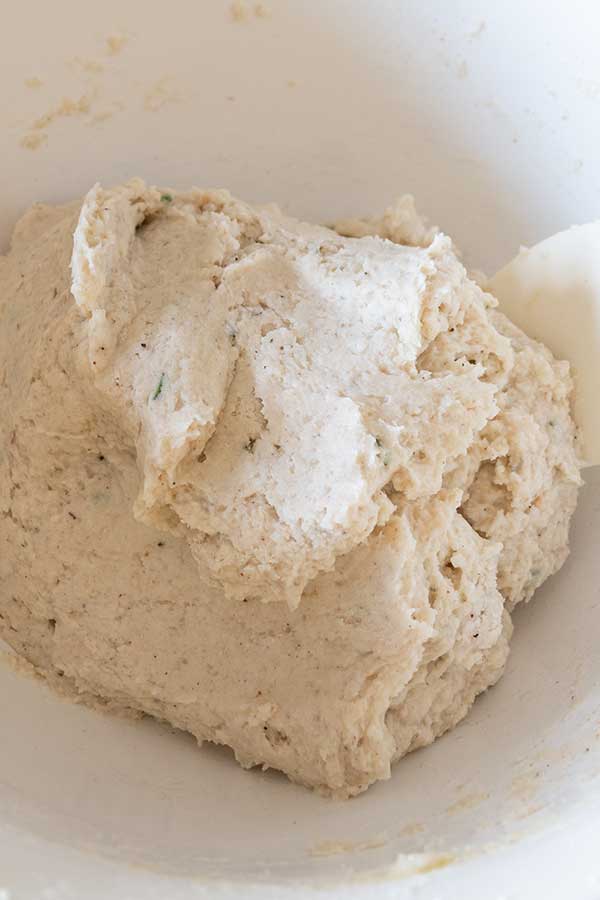 I tried to keep this white bean bread as simple as possible. I used gluten-free flours that you can find in most supermarkets, such as sorghum flour, white rice flour, potato flour, tapioca flour and buckwheat flour.
Why add buckwheat flour to this white bean bread?
I added buckwheat flour to this gluten-free bread recipe because the flour adds earthiness and makes the bread taste a little more rustic.
Why use potato flour in this gluten-free recipe?
The potato flour adds a good bread texture. In addition, potato flour attracts and holds water, producing moist yeast bread.
By adding fresh rosemary, this bread has a slight herby flavour. But you can skip the herb altogether or use thyme, carraway seeds or parsley.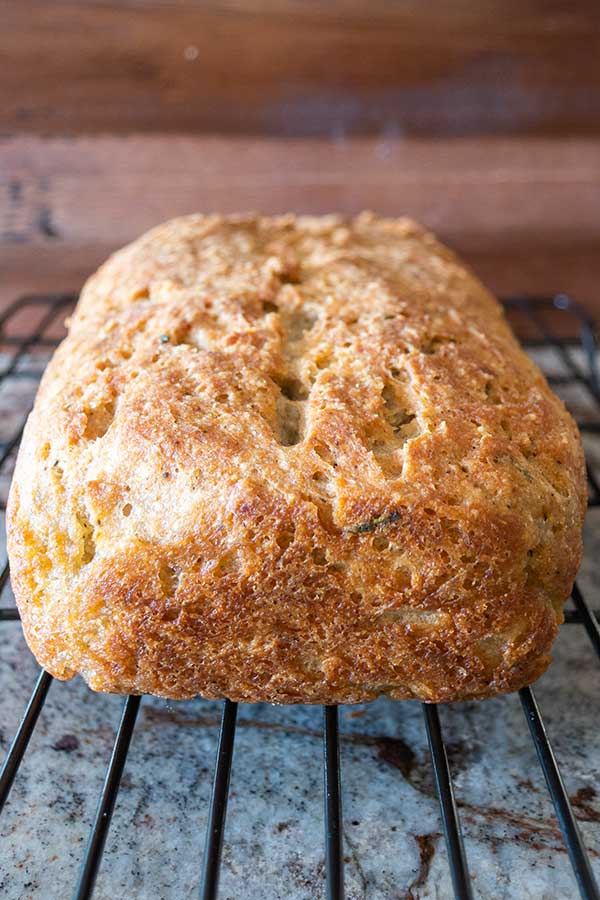 Measuring the flour correctly is essential!
I can't tell you how important it is to measure the dry ingredients correctly. PLEASE, DO NOT DIP THE MEASURING CUP INTO THE FLOUR. If you do this, you will have more flour than the recipe requires, and the gluten-free bread will be heavy, dry and crumbly.
To measure the flour correctly, use a spoon to fill the measuring cup, then level the measuring cup using a knife. Nothing to it, but it is so important!
This bread recipe is created for a standard 9 x 5 x 3 inches loaf pan. This is our favourite loaf pan for bread recipes.
Questions that I often get asked when making bread.
Why did my gluten-free bread have air pockets?
If you place the bread in a too warm place, the bread will rise too fast and start cooking before the yeast has finished proofing. Then when the bread starts baking, the over-rise is exaggerated, and you will have large air pockets from inside the bread.
Another reason is if you add too much yeast. Excess yeast causes extra air bubbles, which in turn will create holes in the bread.
Why use rapid-rise yeast?
The first reason is the bread will rise faster. However, I found that gluten-free flours seem to rise better with gluten-free rapid rise yeast. In addition, this yeast is added directly to dry ingredients, so there is no need to proof it first. This means one less step and fewer dishes to clean up. And remember, not all yeast is gluten-free.
Why add baking soda to gluten-free yeast bread recipes?
Gluten-free flour doesn't have gluten proteins. These proteins trap and hold the swollen starch molecules and air bubbles that help the bread rise. So baking soda is a backup to support the gluten-free flour to rise.
Is this gluten-free white bean bread healthy?
I must say, I am surprised how well this gluten-free white bean bread turned out. Honestly, it is soo good! I would consider this white bean bread healthy for several reasons.
First, adding beans and mixing them with rice flour makes this a complete protein bread. This bread is an excellent option for those who follow a plant-based diet.
White beans are rich in copper, folate and iron.
This bread is allergy friendly because it is dairy-free, egg-free and nut-free.
The beans and buckwheat flour add a good amount of dietary fiber. Gluten-free bread often lacks fiber because they are often made mostly with starches so that they taste good.
Sweet sorghum flour is probably the closest in texture and taste to wheat flour. This healthy gluten-free flour is also high in antioxidants.
Another flour I used is potato flour. Potatoes are a natural source of fiber, B vitamins and iron, adding extra healthiness to this gluten-free bread recipe.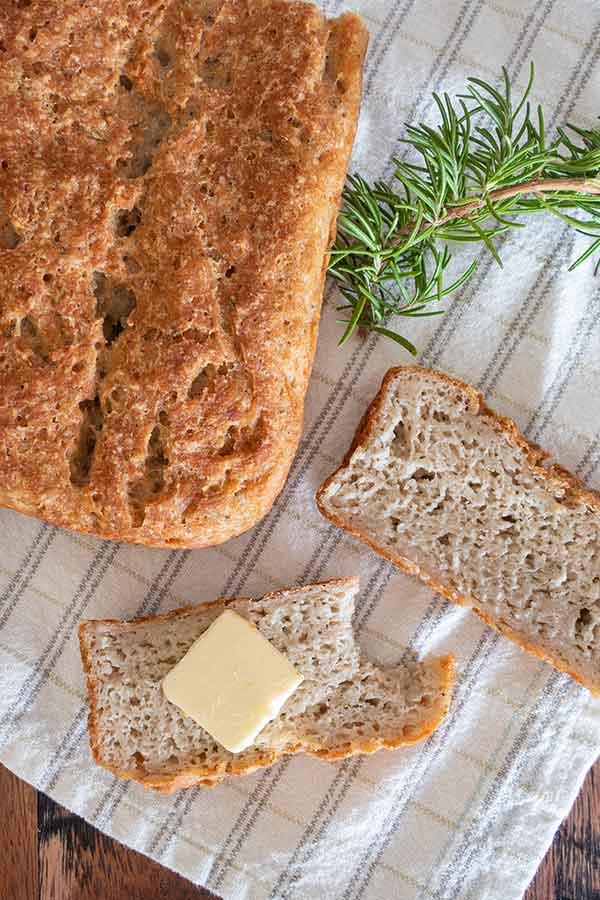 Not everyone has time to make fresh bread at home. But if I can encourage you at all, try making this gluten-free white bean sandwich bread. The hands-on time is less than 15 minutes. It does have to rise because it is a yeast bread, but well worth the wait, I promise you!
Gluten-Free White Bean with Rosemary Bread
Published on Aug 18, 2021
by
Kristina Stosek
Instructions
1.

Using a large bowl, whisk together dry ingredients (sorghum flour to rosemary)

2.

Add drained beans, 1/4 cup bean liquid, olive oil and apple cider vinegar to a food processor. Process until smooth

3.

Add bean mixture and warm water to dry ingredients and using a spatula mix until combined and smooth

4.

Transfer dough into a standard 9 x 5 x 3 inch well-oiled loaf pan and shape it into a loaf with a round top. Brush with olive oil. Cover the pan loosely with a damp cloth and place in a draft-free, warm place. Proof the dough for 1 hour. The dough should rise by about 1/2 its size.

5.

Preheat the oven to 400 F and place a baking pan filled with 1-inch water on the bottom rack.

6.

When the oven is hot, place the loaf in the oven, be CAREFUL when you open the oven because hot steam will come out. Place the loaf on the middle rack and bake for 15 minutes. Reduce the oven heat to 375 F and remove the pan with the water. Bake for additional 40 - 45 minutes until the crust is a rich brown colour.

7.

Cool the bread in the pan for 5 minutes, then remove the bread from the pan and place it on a cooling rack to fully cool before slicing.