Gluten-Free Banana Coffee Cake with Berries
Prep Time
10 Minutes
Difficulty
Beginner
Cook Time
35 Minutes
Serves
15
Be the first to rate this recipe.
The easiest Gluten-Free Banana Coffee Cake with fresh berries…for your weekend baking. Two bowls, simple ingredients, quick to put together, healthy-ish, and a perfect side for your morning coffee.
Yes, that is pretty much it! This may become your favourite gluten-free banana coffee cake using over-ripe bananas, berries and maple syrup.
A satisfying breakfast or a snack, even a dessert. This gluten-free and dairy-free banana coffee cake hits the spot every time. 
I am super excited about this banana coffee cake with berries recipe because it is the easiest coffee cake recipe I have shared with you. This recipe is excellent for using up sweet over-ripe bananas and fresh in-season berries.
Seriously, this gluten-free coffee cake is super moist, lightly sweetened with maple syrup a little banana-y and studded with juicy berries throughout. The berries are lightly flavoured with cinnamon and drizzled with a bit more maple syrup.
The best part, once you try the coffee cake, you will love it, unless you don't like banana flavour…what can I say not everything is for everyone.
Banana coffee cake…the quick details,
First, grab some black bananas, yes, the ones that you were probably going to throw away. These bananas are the best for banana coffee cake. They are super sweet, which means I didn't have to add too much sweetener to this recipe.
First,
Mix the four dry ingredients. I used two flours, a gluten-free all-purpose flour blend and almond flour. The almond flour adds extra protein and keeps the coffee cake moist with a perfect crumb.
Next,

 
Whisk the wet ingredients. This means eggs, olive oil, maple syrup or honey, dairy-free milk, fresh lemon juice with zest and vanilla. Add the mashed banana and mix.
Then,
Add the wet mixture into the dry ingredients and briefly mix until just combined.
Spread the batter into a prepared pan. This is where the fresh berries come in. Scatter the berries over the top and press them partially into the batter.
Drizzle with maple syrup and sprinkle with cinnamon. At this point, I often add a sprinkle of poppy or chia seeds.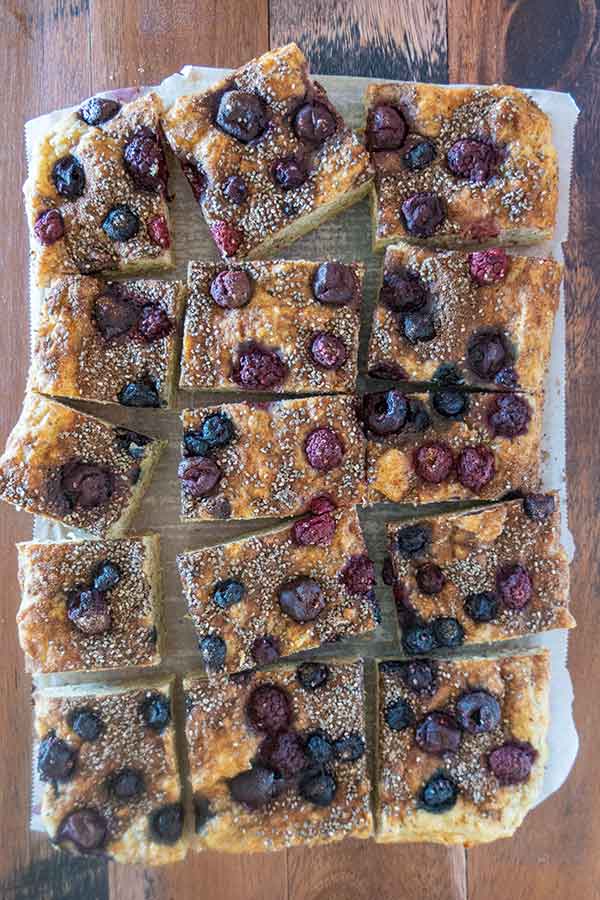 All this took me about ten minutes to mix up. Now bake for about 35 minutes, and the coffee cake is made. It is best if you wait for about 20 minutes for the banana coffee cake to cool before you dive into it. 
Need more gluten-free recipes made with bananas? Check out two of my favourites. The Gluten-Free Chai Spiced Banana Bread and the Gluten-Free Chocolate Banana Bundt Cake With Coffee Walnut Glaze, both of these recipes are made with ripe bananas.
But if you can't wait, enjoying the coffee cake warm is ok too. You can even add a smear of butter. YUM
Let's Connect!
Be sure to FOLLOW US on FACEBOOK and PINTEREST.
Many thanks!
Kristina xx
Ingredients
2 tsp. GF baking powder
1/2 tsp. Sea salt
3 large eggs
1 cup (3 medium ripe bananas) mashed
3/4 cups dairy-free milk of choice
1/2 cup extra virgin olive oil
1/3 cup + 2 Tbsp. Pure maple syrup or liquid honey, divided
2 Tbsp. Fresh lemon juice + zest of 1 lemon
1 tsp. Pure vanilla extract
3 cups fresh assorted berries (you can also use pitted cherries), if you are using strawberries, quarter them
1 1/2 tsp. GF ground cinnamon
1 Tbsp. Poppy or chia seeds (optional)
*As an Amazon Associate and member of other affiliate programs, I earn from qualifying purchases. Please check out my sponsorship and disclosure policy page for more details
Instructions
Preheat oven to 350 F and spray a 9 x 13 x 2-inch baking pan with cooking oil or line with parchment paper
In a large bowl, mix flours, baking powder and salt
In a separate bowl, whisk the eggs, then add mashed bananas, milk, olive oil, 1/3 cup of maple syrup or honey, lemon juice, lemon zest and vanilla.
Add wet mixture to dry ingredients and mix until just combined. Spread the batter into prepared pan
Scatter berries over the top and partially press them into the batter
Drizzle with the remaining 2 tablespoons of maple syrup/honey and sprinkle with cinnamon. If you are using poppy or chia seeds, sprinkle those over the top
Bake for 35 minutes until the cake passes the toothpick test and is a golden brown colour. Cool in the pan before slicing
Similar Recipes
Gluten-Free Almond Swirl Coffee Cake With Chocolate
This Almond Swirl Coffee Cake With Chocolate is super moist, chocolaty and flavoured with maple flavoured almond butter. And the coffee cake is gluten-free.   The gluten-free coffee cake recipe has only eight ingredients and is easy to make. This is why this gluten-free cake is in our blog's top three chocolate snack cake recipes.   […] Read More
Prep Time
15 Minutes
Difficulty
Easy
Cook Time
25 Minutes
Serves
20 squares
Gluten-Free Blueberry Buckle
Gluten-Free Blueberry Buckle is a deliciously moist cake scented with fresh lemon, filled with blueberries and topped with buttery streusel. This gluten-free coffee cake takes just minutes to prepare, using only basic pantry ingredients.     What is a buckle? The buckle is a cake made with fruit and a streusel topping. As the cake […] Read More
Prep Time
10 Minutes
Difficulty
Beginner
Cook Time
40 Minutes
Serves
9 pc
Gluten-Free Rhubarb Apple Coffee Cake
Gluten-Free Rhubarb Apple Coffee Cake that will knock your socks off. Incorporating rhubarb with apples into the body of this two-layer coffee cake with a subtle cinnamon essence. The base of this gluten-free coffee cake is a buttery crumble topped with a light sponge cake filled with rhubarb and apples. When you combine the two […] Read More
Prep Time
15 Minutes
Difficulty
Easy
Cook Time
60 Minutes
Serves
15 squares