Gluten-Free Blueberry Apple Corn Muffins
Published on Jun 28, 2020
by
Kristina Stosek
Prep Time:

15 minutes
Cook Time:

25 minutes
Serves:

12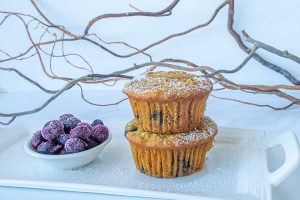 ​This post may contain affiliate links, please see our
privacy policy
for details
A healthy Gluten-Free Blueberry Apple Corn Muffin makes for a delicious treat. The muffin is light, moist and filled with blueberries and grated apples.
In this gluten-free muffin recipe, the four main ingredients are blueberries, apples, fresh lemon juice, orange juice and honey. To keep the tender muffin texture, I used corn flour, flour blend, and a splash of olive oil. The corn flour gives the muffin a super lovely texture.
♥
A simple muffin recipe!
The recipe for this gluten-free blueberry apple corn muffin couldn't be simpler. First, you combine dry ingredients. In a second bowl, you mix everything else with the flour mixture except the blueberries.
Now you are ready to fold in the blueberries and transfer the batter into a muffin pan. The muffins take about 25 to 28 minutes to bake, and they should be golden brown.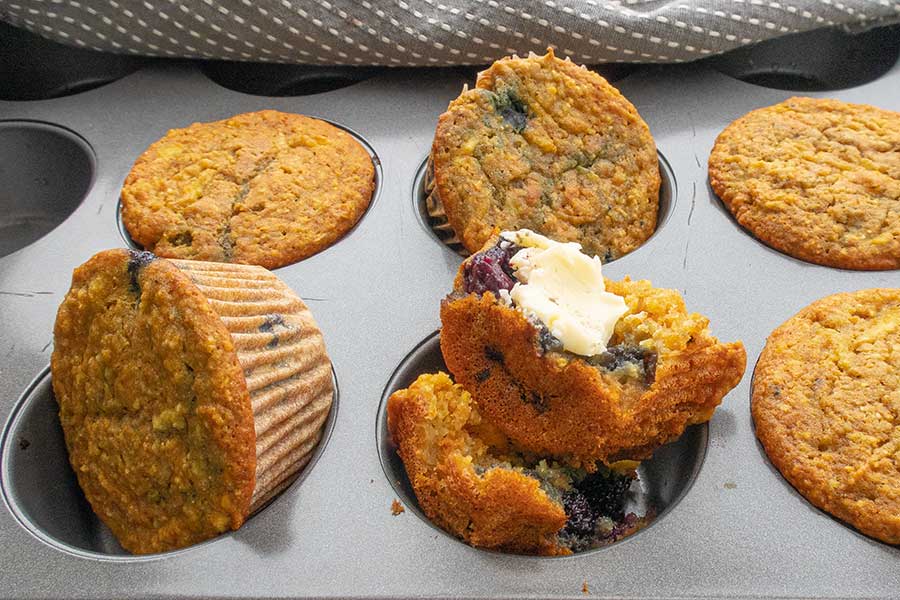 ♥

Serve this muffin warm.
Gluten-free muffins are typically cooled first and then served. However, not these blueberry apple corn muffins. They are incredibly delicious when they are still warm, and the juice from the blueberries is dripping while you are enjoying them.
Sometimes I like to add a smear of soft butter over the warm muffins, making them deliciously buttery…YUM!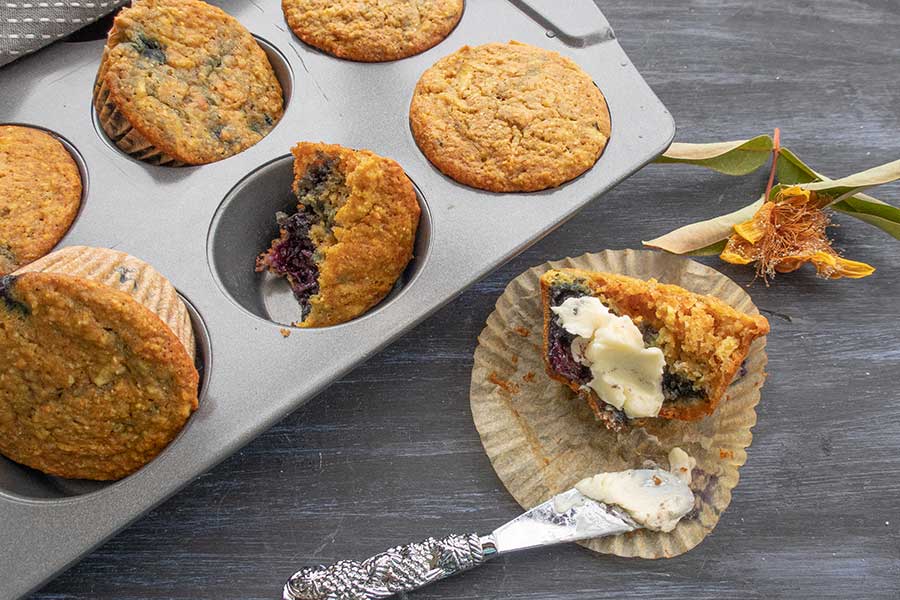 ♥
A healthier corn muffin.
I am adding this gluten-free blueberry apple corn muffin recipe to my healthier muffin recipes section. The muffin is mostly made with apples, blueberries, honey, orange juice, lemon juice, olive oil and eggs.
The only other thing you add in, is the dry ingredients, which account for only a cup and a half in the entire recipe. So overall, this is a healthier muffin than most.
If you like corn muffins, you may enjoy the Gluten-Free Jalapeño Cheese Corn Muffin or the Gluten-Free Cheesy Mexican Cornbread
If you make these Gluten-Free Blueberry Apple Corn Muffins, please give it a rating or a comment. And don't forget to tag me on Instagram! I love looking through the photos of recipes you all have made:-) or join me on my Facebook page for the latest updates.
Gluten-Free Blueberry Apple Corn Muffins
Published on Jun 28, 2020
by
Kristina Stosek
Instructions
1.

Preheat oven to 350 F a line a muffin pan with parchment paper liners or lightly coat with cooking oil

2.

Combine flours, baking powder, baking soda, turmeric, and salt. Set aside one tablespoon of the flour mix

3.

In a separate bowl mix eggs, grated apple, lemon juice, lemon zest, honey, orange juice, olive oil and vanilla

4.

Stir wet ingredients into the flour mixture until just combined. Toss blueberries with the 1 tablespoon of the flour mixture and gently fold into the batter until just combined

5.

Spoon the batter into the muffin pan and bake for 25 - 28 minutes until golden brown

6.

Cool for 10 minutes and serve. To store, cool completely and store in an airtight container.