Gluten Free Savory Dutch Baby
Published on Dec 05, 2022
by
Kristina Stosek
Prep Time:

15 minutes
Cook Time:

25 minutes
Serves:

4 - 6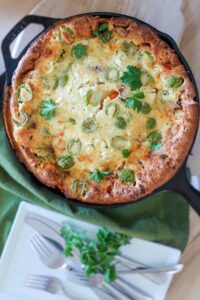 ​This post may contain affiliate links, please see our
privacy policy
for details
If you're looking for a delicious, gluten-free alternative to pancakes or waffles, this vegetarian gluten free savory Dutch baby is a recipe to try! The easy-to-make dish is made with classic Dutch baby batter but without gluten, onions, bell peppers, feta cheese, olives, and a sprinkle of Parmesan. The salty goodness of feta, Parmesan and olives make this American popover dish exceptionally delicious.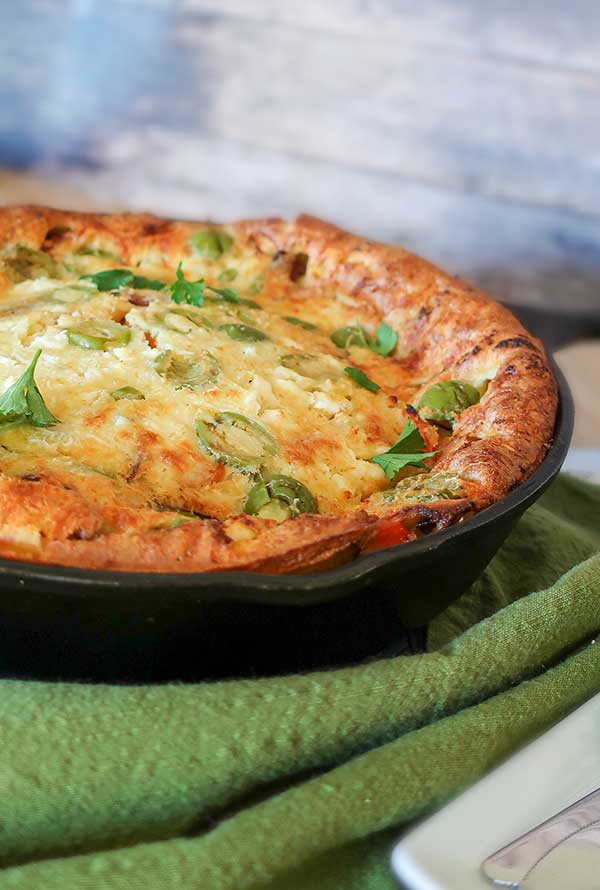 FAQs about Dutch Baby
-What is a Dutch Baby?
A Dutch baby is a puffed up pancake with crispy edges baked in a cast iron skillet or pan. It is similar to an American popover or Yorkshire pudding.
-How do you make a Dutch Baby?
Add all the ingredients to a blender and blend until smooth. Pour the batter into the prepared hot skillet, add your mix-ins and bake for about 20 minutes or until the Dutch baby has puffed up and is golden brown and crispy around the edges.
-Is Dutch Baby gluten free?
No! However, this savory recipe is the gluten free version acceptable for those who are celiac or have a gluten intolerance.
-Why didn't my Dutch Baby rise?
If the pancake was mostly flat, it is most likely that the oven needed to be hotter or the skillet wasn't hot enough before you added the batter. Or maybe you added too many mix-ins, keeping the pancake heavy and unable to puff up.
-Why is a cast iron skillet good for making a Dutch baby?
A cast iron skillet is the best pan to make a Dutch baby because it conducts heat evenly and helps the pancake to cook evenly. Additionally, a cast iron skillet will help to create a crispy edge on the pancake.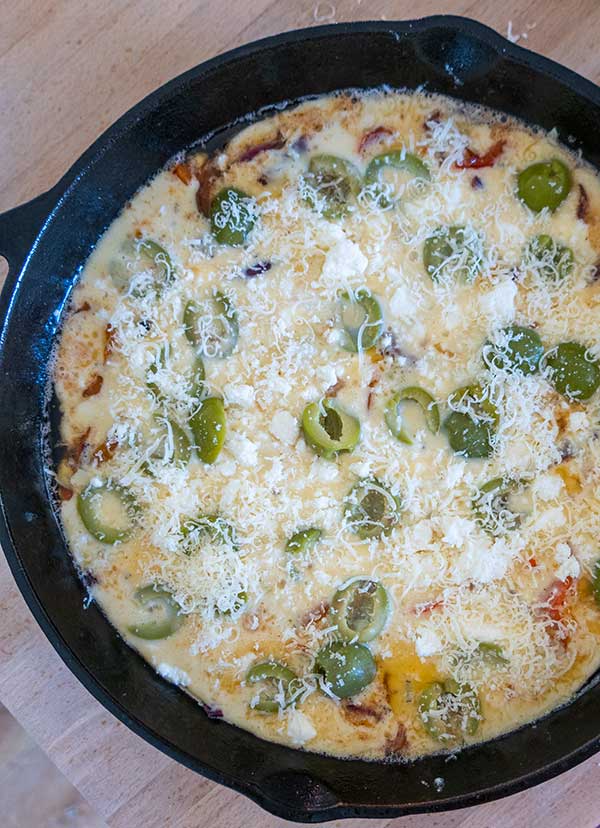 Mix-ins for savory Dutch baby recipe.
Looking for the perfect mix-ins to take your savory popover recipe up a notch? Here are some of our favorites:
Sausage: Add some cooked sausage for extra heartiness and flavor.
Bacon: Another great option for adding smoky flavor and protein to your dish.
Cheese: Mix in your favorite cheese for a cheesy Dutch baby that's sure to please. Smoked Gouda or Cheddar are both excellent.
Vegetables: Saute chopped vegetables like onions, peppers, or mushrooms to give your dish some extra color and nutrients.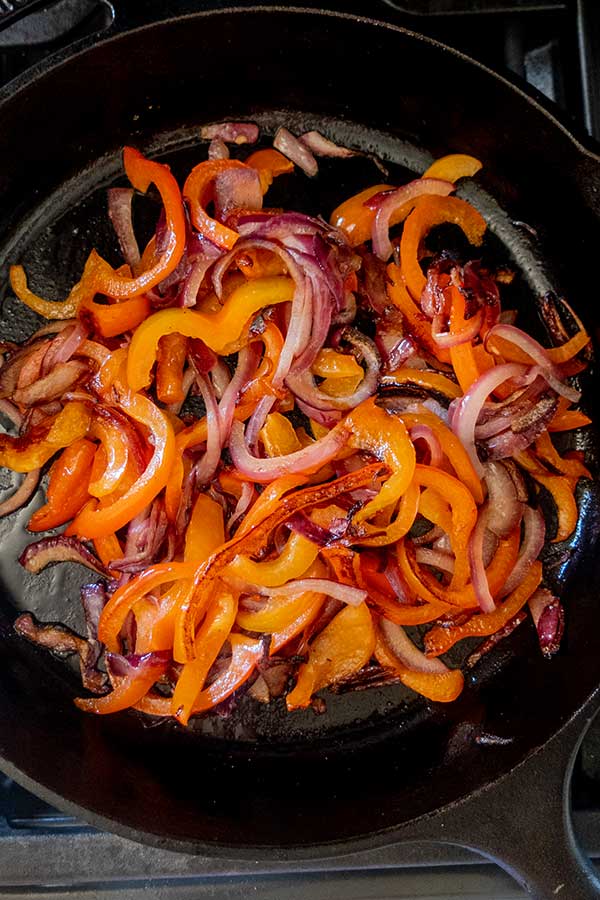 Herbs: Top your popover with fresh herbs like parsley, basil, rosemary or chives for a fresh flavor.
Oven temperature for baking American Popover
The correct oven temperature is critical. The American popover is best baked at a temperature of 425 degrees Fahrenheit. This ensures the pancake is puffed up, golden and crispy around the edges and cooked through but still moist and fluffy inside.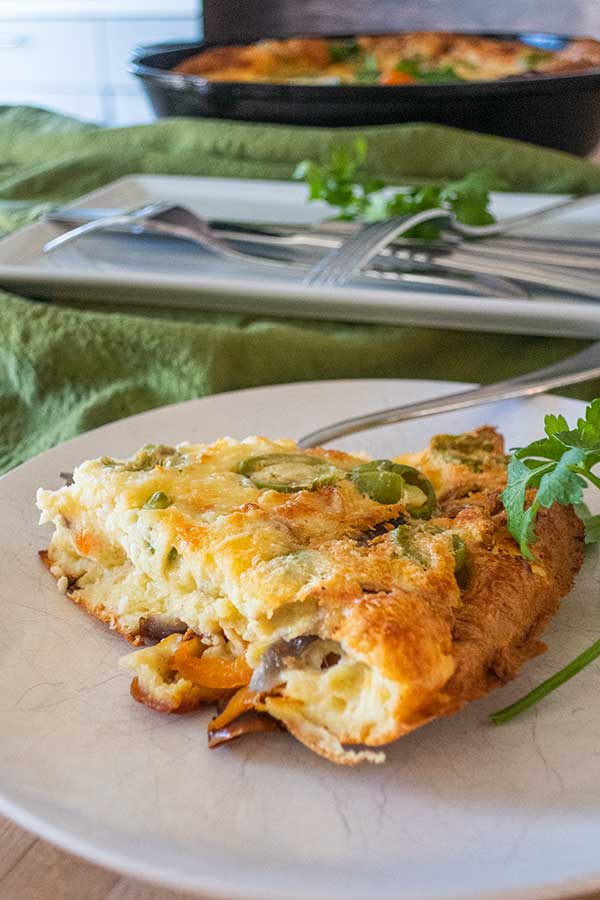 How is gluten free Dutch baby recipe different?
First, you must use gluten free ingredients – flour and all the mix-ins.
In addition, gluten free flour blend works differently in batter than if you used wheat flour. This is because most gluten-free flour blends often contain starches and rice flour, which absorb more moisture than wheat flour and why gluten-free batter calls for more liquid.
To get the right consistency of the batter for this gluten free recipe, the batter must rest for 15 minutes before adding it to the hot skillet. By resting the batter, the flour absorbs some of the liquids creating the right consistency for baking.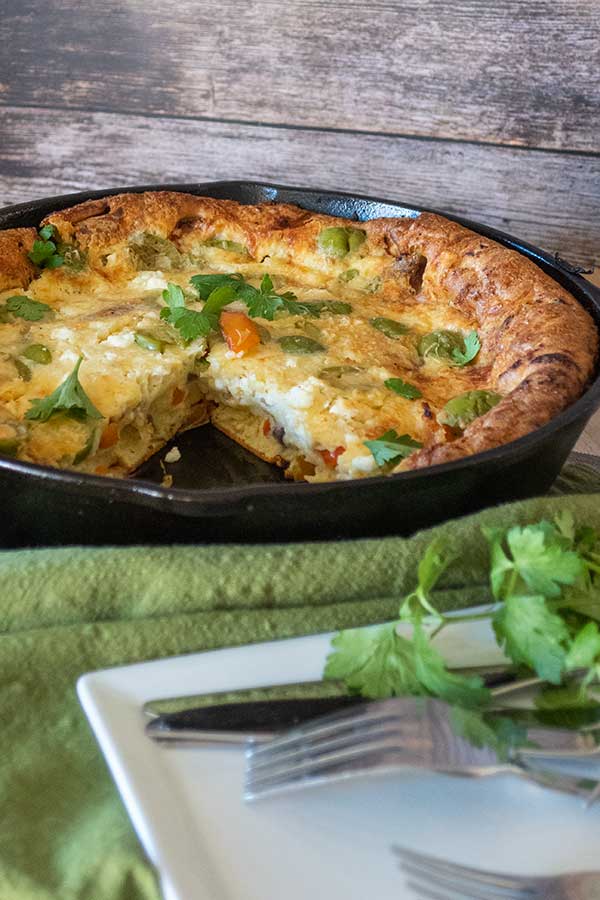 Do you serve the American popover warm or cold?
There are two schools of thought when serving a Dutch baby. Some people prefer to eat it straight out of the oven, while others like to let it cool slightly, so the edges are crispy.
We found that it is best to serve hot, so be careful not to burn yourself on the piping-hot center.
For leftovers, if you like the pancake warm, reheat it in the oven before serving.
How long will gluten free Dutch baby keep?
The gluten free popover will generally keep for around 2-3 days in the fridge when wrapped with cling wrap or in an airtight container.
storing
When it comes to storing your gluten free savory Dutch baby, you have a few options. You can either keep it in the fridge for up to three days or freeze it for up to three months.
If you choose to freeze your Dutch baby, wrap it tightly in foil or plastic before placing it in the freezer. When ready, thaw it overnight in the fridge and then reheat it in a 350°F oven until warmed.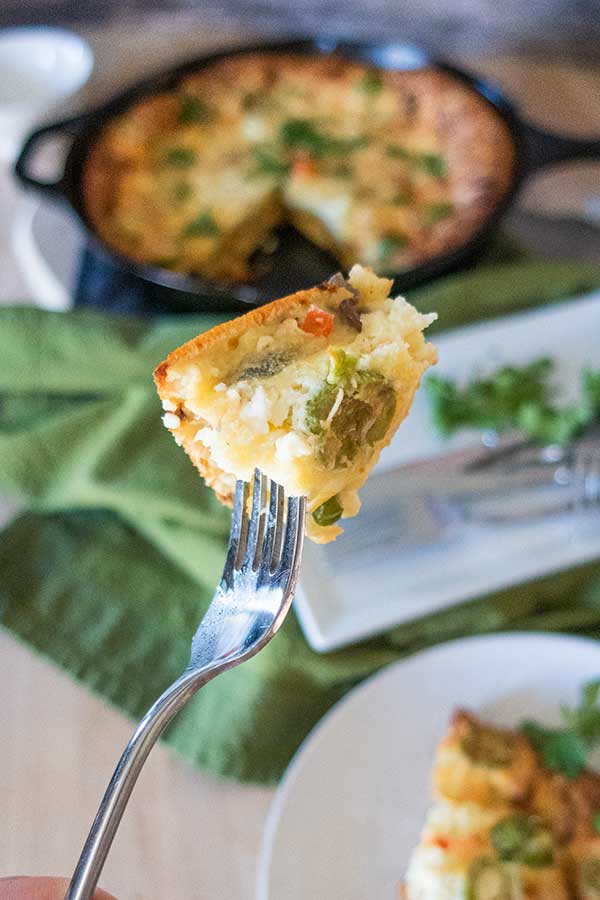 best sides to serve with Dutch baby
There are a few different ways you can go when it comes to pairing this savory popover with complementary dishes. Some favorites are German roasted potatoes with parsley, a light salad, fresh berries, a dollop of plain Greek yogurt, or sour cream.
Finally, if you want to keep things simple, top your savory Dutch Baby with a sprinkle of fresh herbs and enjoy it as is.
No matter what you choose, this savory vegetarian dish is best enjoyed fresh out of the oven! We hope you love this gluten free Savory Dutch Baby as much as we do!
Let's Connect!
Be sure to FOLLOW US on FACEBOOK and PINTEREST.
Many thanks!
Kristina xx
Gluten Free Savory Dutch Baby
Published on Dec 05, 2022
by
Kristina Stosek
Instructions
1.

2.

Place the eggs, milk, flour, baking powder, salt and herbs into a blender. Blend at high speed until smooth, or use a mixer. Set aside for 15 minutes

3.

Using an 8-inch cast iron skillet, heat 2 tablespoons of butter over medium heat. Add onions and peppers with a pinch of salt and saute until the onions start to soften and caramelize. About 5 minutes. Transfer the onions with peppers into a bowl

4.

Add the remaining 2 tablespoons of butter into the same skillet and place the skillet in the hot oven until the butter has melted. It takes about 1 - 2 minutes. Carefully take the skillet out and swirl the butter around to make sure the pan, including the sides, are coated

5.

Immediately spread the onion and pepper mixture on the bottom of the cast iron skillet, pour the egg mixture on top, sprinkle with the feta cheese and olives and finish with Parmesan. Place it back in the oven and bake for 20 minutes or until puffed and the edges are dark brown.

6.

Serve hot with fresh herbs and desired sides

7.

Chefs notes: you can make the Dutch baby ahead of time. When ready, reheat it in a warm oven until warmed through