Gluten-Free Meatless Taco Pizza
Published on Feb 02, 2018
by
Kristina Stosek
Prep Time:

15 minutes
Cook Time:

25 minutes
Serves:

1 large pizza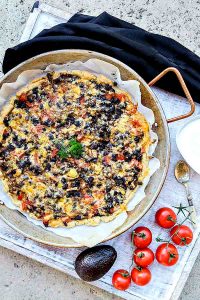 ​This post may contain affiliate links, please see our
privacy policy
for details
Gluten-Free Meatless Taco Pizza with a Mexican flair. This pizza has so much going on you won't even miss the meat. The toppings are a good mix of black beans, fresh avocado, tomatoes, onions and garlic.
To spice it up, I added chili, cumin and oregano. I wanted to use a cheese that has more flavour than simple mozzarella, so I used cheddar cheese. The cheese goes exceptionally well with the black beans and the Mexican spices.
An easy Yeast-Free Gluten-Free Meatless Taco Pizza!
The gluten-free pizza crust is quick and simple to put together. I did not want yeast in the pizza, and I wanted something healthy in the crust. So I used a combination of rice flour, sweet sorghum flour and flaxseed.
Sweet sorghum flour is a nutrient-packed flour adding healthiness to this gluten-free pizza crust. To make sure the crust becomes crispy and has a good texture, I added arrowroot flour and potato flour.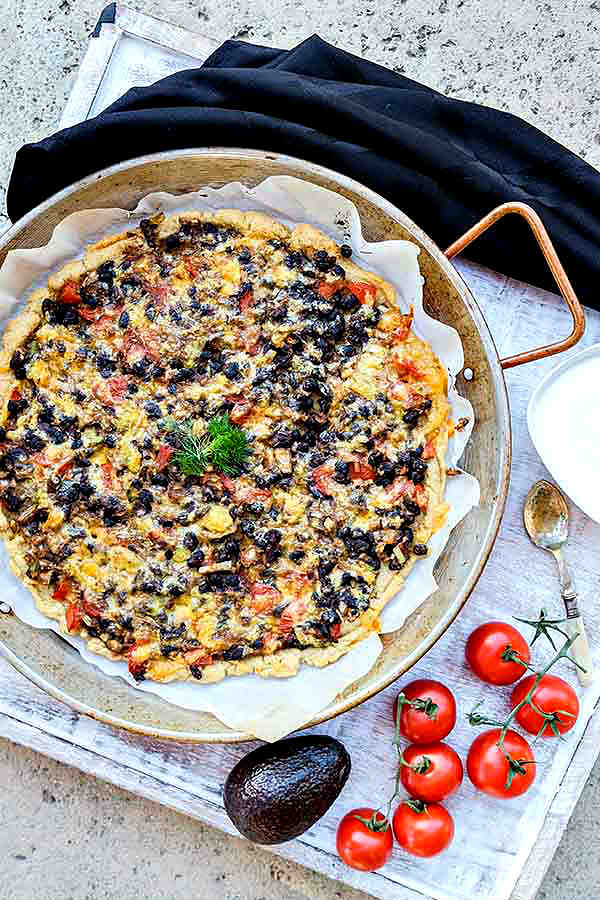 no knead gluten free pizza dough
The pizza dough does not need kneading, isn't it great! Just spread the dough on the pizza pan and partially bake it before adding the toppings. That's it, nothing fancy and no waiting for the pizza dough to rise.
To summarize, this gluten-free meatless taco pizza is healthier than most because of the veggies. The crust is made with healthy ingredients, and it is simply put together.
So now you can have a pizza night any day of the week. The best part…it is incredibly delicious! I often serve the pizza with sour cream and salsa and make it an Italian-Mexican dinner night. Enjoy!
Our 3 top gluten-free weeknight meals.
30-Minute One Pot Cheesy Chicken Taco Rice
Gluten-Free Meatless Taco Pizza
Published on Feb 02, 2018
by
Kristina Stosek
Instructions
1.

Preheat oven to 450 F and line a large pizza pan with parchment paper

2.

In a large mixing bowl combine dry ingredients

3.

In a separate bowl mix water and olive oil. Add to dry ingredients and using a spatula mix the ingredients together forming wet dough

4.

Spread the dough to desired thickness onto the prepared pizza pan and bake for 10 minutes

5.

While the pizza is baking, in a medium bowl combine all the topping ingredients except cheddar cheese. Set aside

6.

After 10 minutes of baking the crust, evenly spread a layer of the vegetable mixture on the pizza and sprinkle with cheddar cheese. Bake for 15 more minutes until the cheese is bubbling