Gluten Free John Wayne Casserole
Published on Apr 22, 2023
by
Kristina Stosek
Prep Time:

15 minutes
Cook Time:

50 minutes
Serves:

6 - 8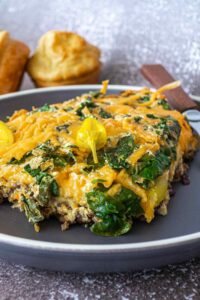 ​This post may contain affiliate links, please see our
privacy policy
for details
This John Wayne Casserole is easy, cheesy, and a huge crowd-pleaser! A layer of well-seasoned ground beef, plenty of cheese, and a spinach and cheese souffle-like topping baked in a casserole dish. This gluten free recipe is a healthier take on the famous John Wayne Casserole. And so flavorful and so easy to create!
We all need more simple dinners that don't take too much work. This casserole has a spicy Mexican flare with added healthiness of spinach and has become a new dinner staple for busy weeknights in many homes.
What is Johnn Wayne Casserole?
John Wayne Casserole is a hearty Tex-Mex dish inspired by the famous Hollywood star John Wayne. The casserole is a savory dish often popular among meat lovers and people who enjoy the flavors of the Southwest.
The classic dish typically consists of a base made with biscuits, ground beef, green chilies, sour cream, cheese, eggs, and various vegetables baked together in a casserole dish.
healthier casserole version
I skipped the biscuit layer and added spinach to this John Wayne casserole recipe, adding nutrition and reducing carbs. In addition, the egg topping has a souffle-like texture making this John Wayne recipe an edgier casserole.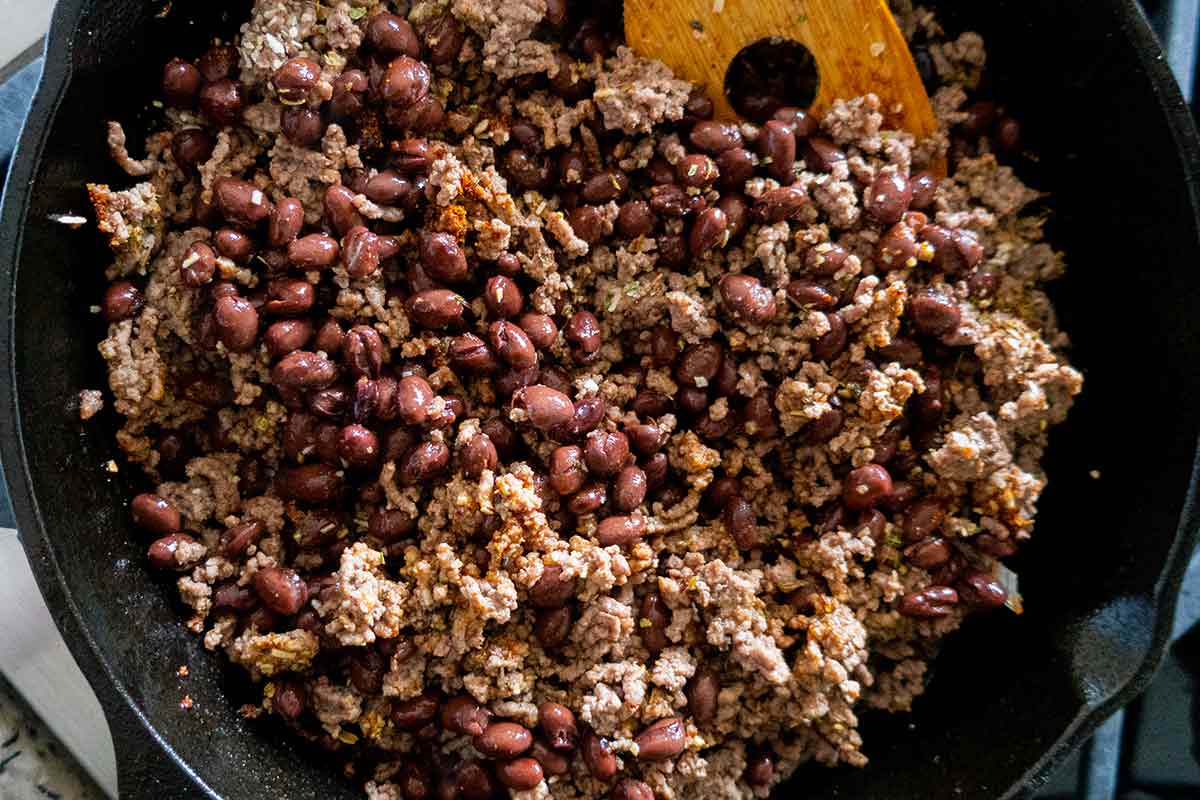 recipe details
We're going to start with some ground beef. I like to brown the beef in a cast iron skillet because it browns the meat faster and evenly. Then add the seasoning, black beans, and water. Simmer for 10 minutes.
In this John Wayne casserole recipe the seasoning is a mix of chili powder, cumin, oregano, garlic powder, and black pepper.
The next layer is a mix of sour cream, cheeses such as cheddar and Monterey Jack, and green chilli peppers.
The final layer comprises egg yolks, cream or milk, steamed spinach, remaining cheese, and a spoonful of tapioca starch. To add fluffiness to this layer, I whisked the egg whites until firm and folded them into the egg yolk mixture. For the finale, bake until bubbly.
So simple, with many flavors. Anyone who enjoys Mexican food with a bit of heat will love this casserole.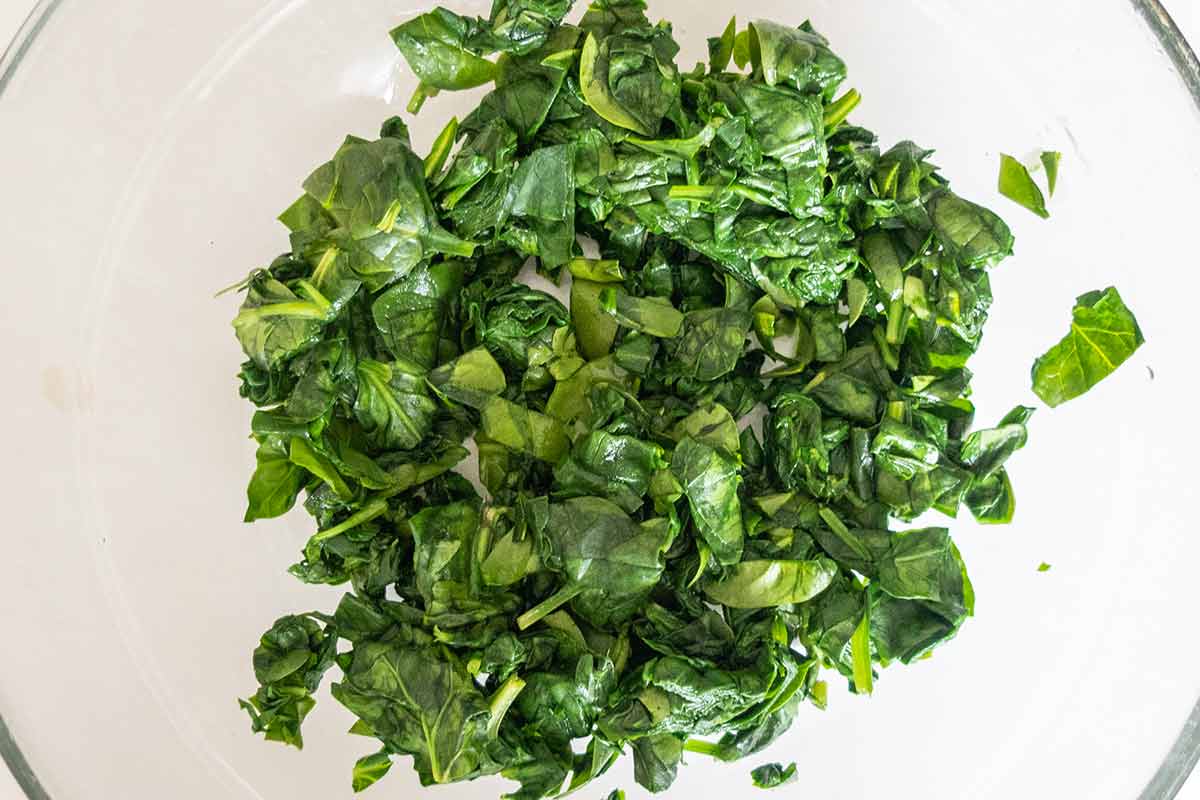 How to steam spinach in the microwave?
Place spinach and 2 tablespoons of water in a microwaveable bowl and cover with a plate. Microwave until starting to wilt, about 1 – 2 minutes, depending on how much spinach you have. Squeeze excess liquid before using the spinach in a recipe.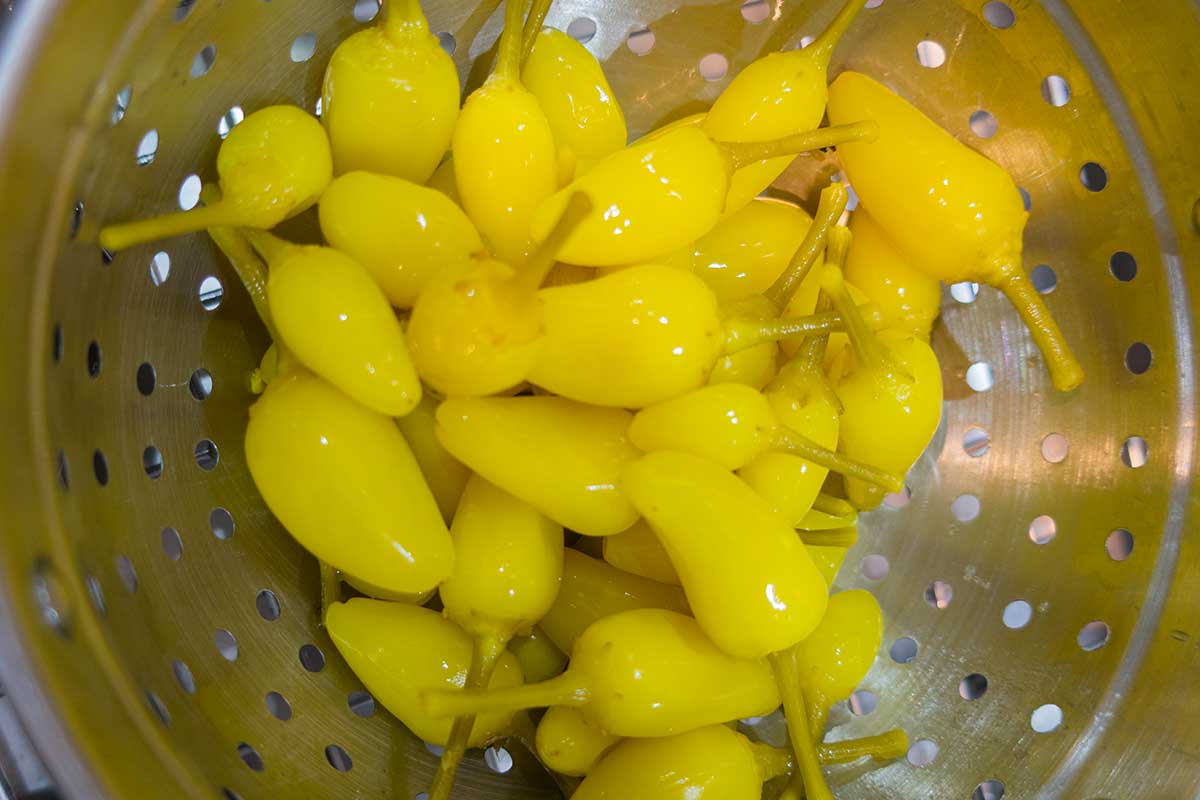 What do green chili peppers taste like?
As per specialty produce green chili peppers are tangy, sharp, and pungent with a vegetal, earthy flavor and may be heatless or contain a moderate level of spice. Sweet peppers have thick, juicy walls and a sweet flavor, while hot peppers have thinner walls and a spicy flavor.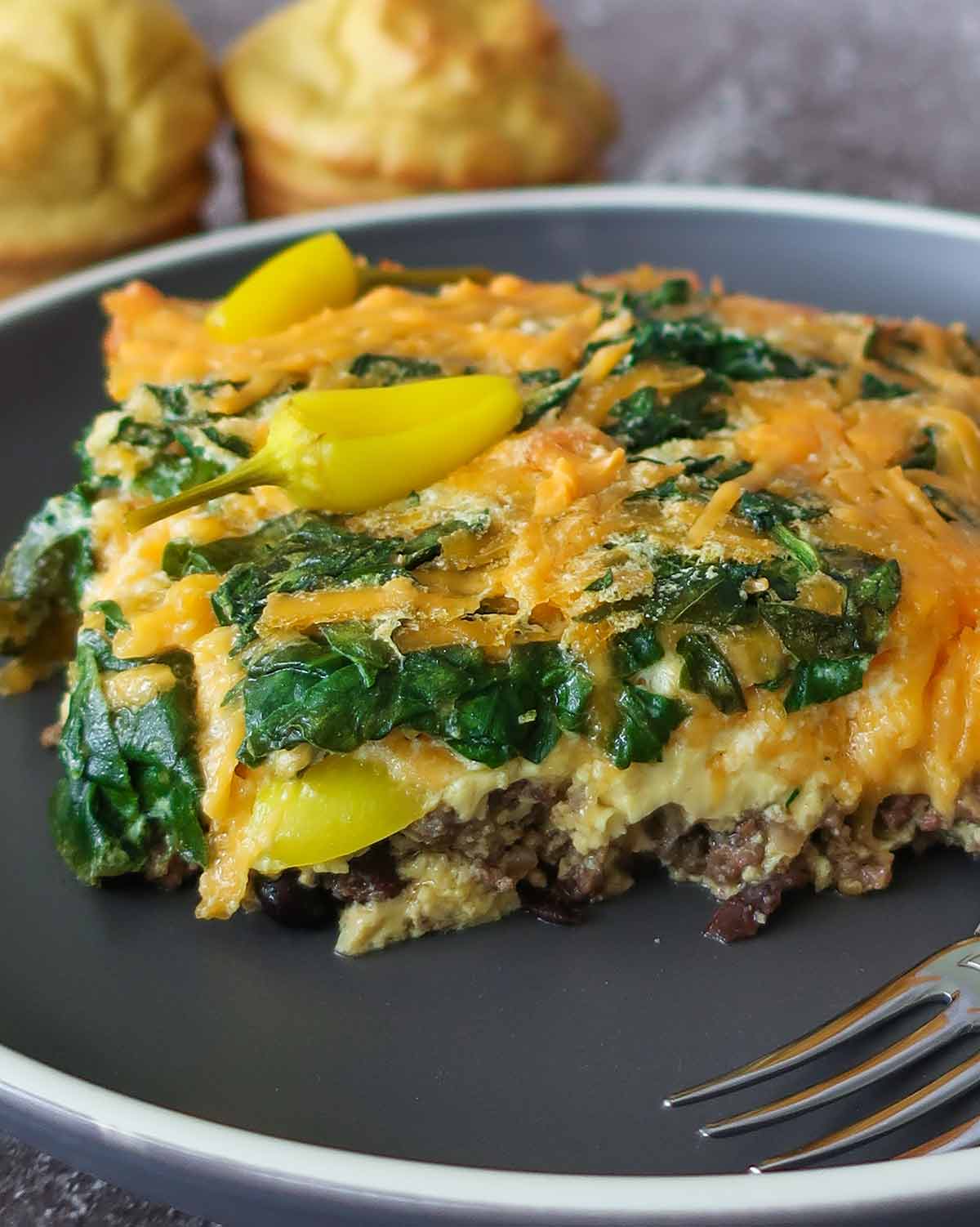 substitutions
ground beef – ground chicken or ground pork
spices – replace with 2 – 3 tablespoons of gluten free taco seasoning
cheese choices – mozzarella, provolone, havarti, fontina, swiss
black beans – kidney beans
Spinach – thinly sliced sauteed onions, sauteed bell peppers, zucchini, thinly sliced tomatoes
sour cream – full-fat plain Greek yogurt
green chili peppers – jalapenos
tapioca starch – arrowroot starch, corn starch
cream – full-fat milk
toppings
If you want to add a personal touch, add some toppings such as sour cream, fresh herbs such as cilantro or thyme, thinly sliced green onions, salsa, avocado slices, tomato slices, and lime wedges.
storing John Wayne casserole
For the leftovers, cover the casserole dish with plastic wrap and store it in the refrigerator for up to three days.
This casserole also freezes well. You can divide it into individual servings and place them in airtight containers. The casserole will keep for up to three months in the freezer. Then, when ready to eat, thaw it in the fridge overnight and reheat in a microwave or oven.
The John Wayne casserole must always be served warm to hot.
Do you love casseroles? Then check out our 3 favorite gluten free casserole recipes.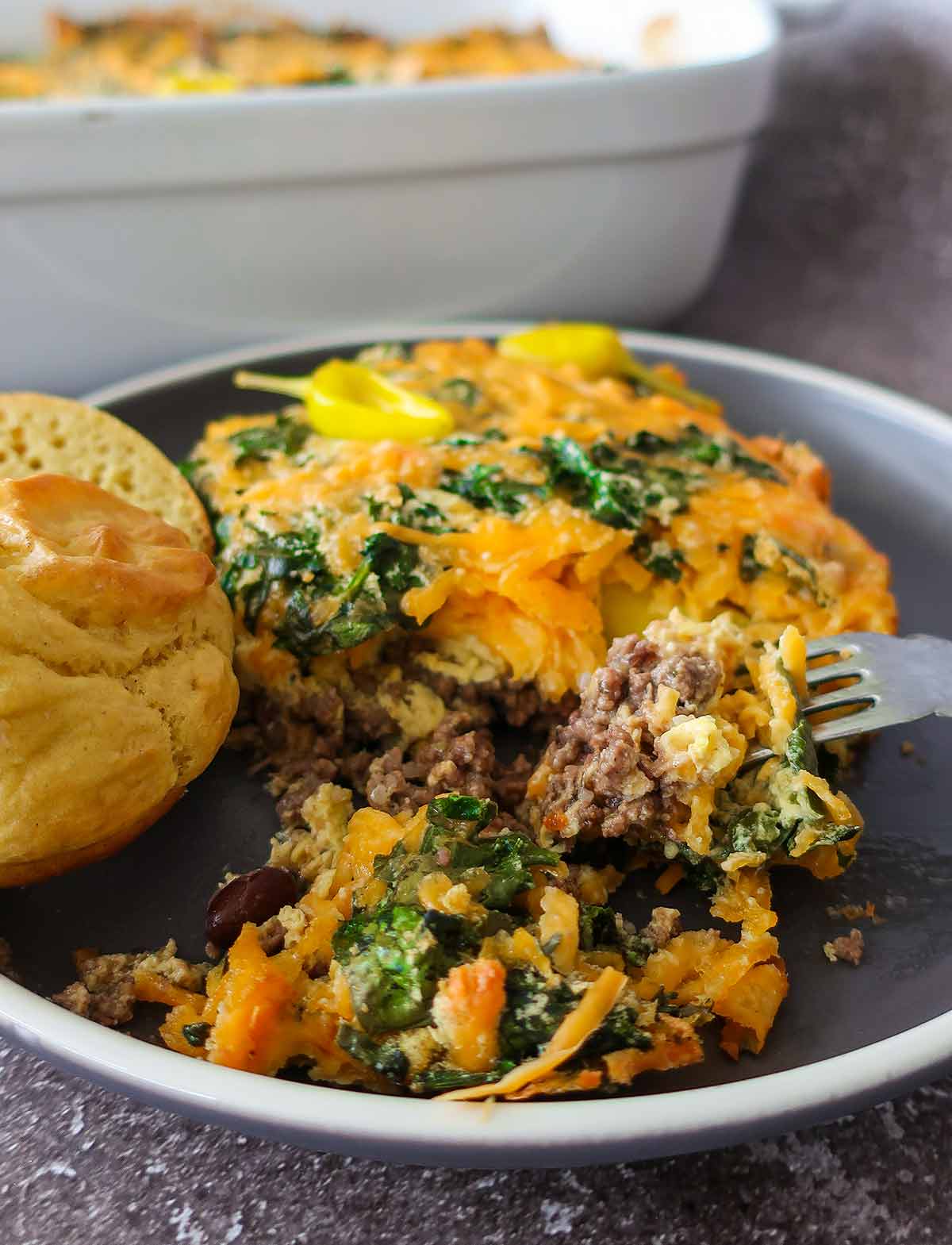 My take on gluten free John Wayne Casserole
John Wayne Casserole is a delicious and easy-to-make gluten-free recipe perfect for those who love Tex-Mex flavors. This casserole has a souffle-like spinach topping making this an edgier ground beef dinner. It is great comfort food that can be enjoyed as a main dish with a side of Cucumber Salad, or Gluten-Free Parker House Rolls, or a simple rice with parsley dish.
Let's Connect!
Be sure to FOLLOW US on FACEBOOK and PINTEREST.
Many thanks!
Kristina xx
Gluten Free John Wayne Casserole
Published on Apr 22, 2023
by
Kristina Stosek
Instructions
1.

Preheat the oven to 350°F

2.

In a large skillet, brown the ground beef over medium-high heat. Drain the excess fat from the skillet

3.

Add spices, black beans, and water. Stir to combine and simmer for 10 minutes. Season with salt as needed. Spread the mixture in a 9 x 13-inch baking dish

4.

In a large bowl, combine 1 cup of cheddar cheese, 1 cup of Monterey Jack cheese, sour cream, and green chilli peppers. Spread the mixture over the ground meat

5.

In a medium bowl, combine egg yolks, cream, tapioca starch, spinach, remaining cheese, and 1/2 teaspoon of salt

6.

In a large bowl, using an electric mixer at high speed, beat egg whites until stiff peaks form. Fold in the egg yolk mixture and spread over the sour cream layer

7.

Bake for 45 - 50 minutes until bubbly. Rest for 20 minutes before slicing.