Gluten Free French Toast Breakfast Casserole
Published on Apr 06, 2023
by
Kristina Stosek
Prep Time:

15 minutes
Cook Time:

35 minutes
Serves:

6 - 8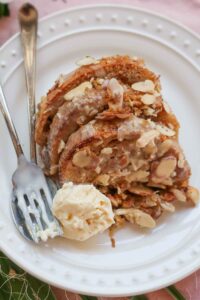 ​This post may contain affiliate links, please see our
privacy policy
for details
Say hello to our delicious old-school baked Gluten-Free French Toast Breakfast Casserole! This perfect rich custardy breakfast dish with irresistible cinnamon and vanilla glaze is hard to resist.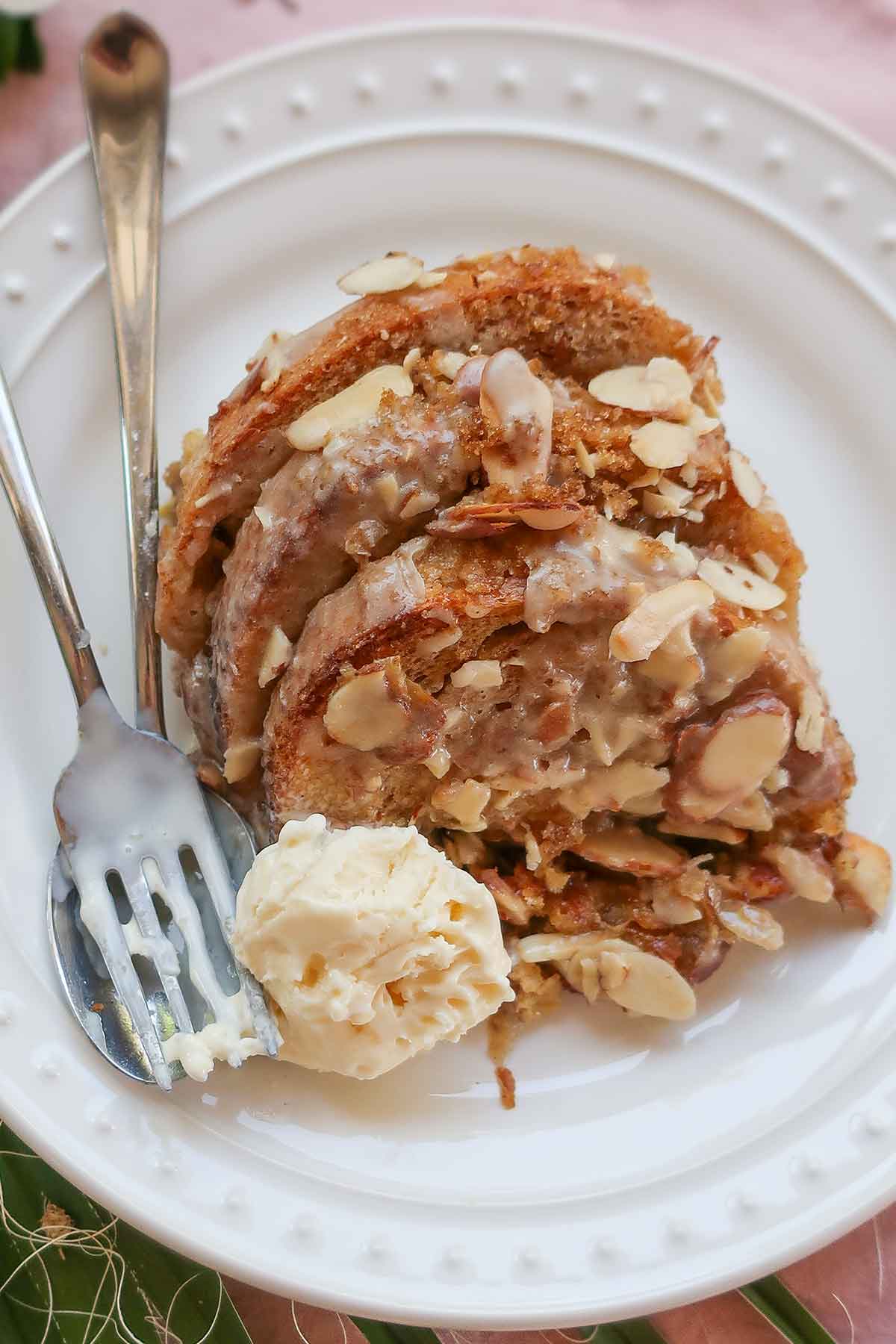 Make ahead French toast breakfast casserole recipe
This gluten free breakfast recipe is easy to make ahead of time. All you have to do is prepare the casserole for baking, then place it in the fridge overnight. When ready, bake and serve it fresh straight out of the oven.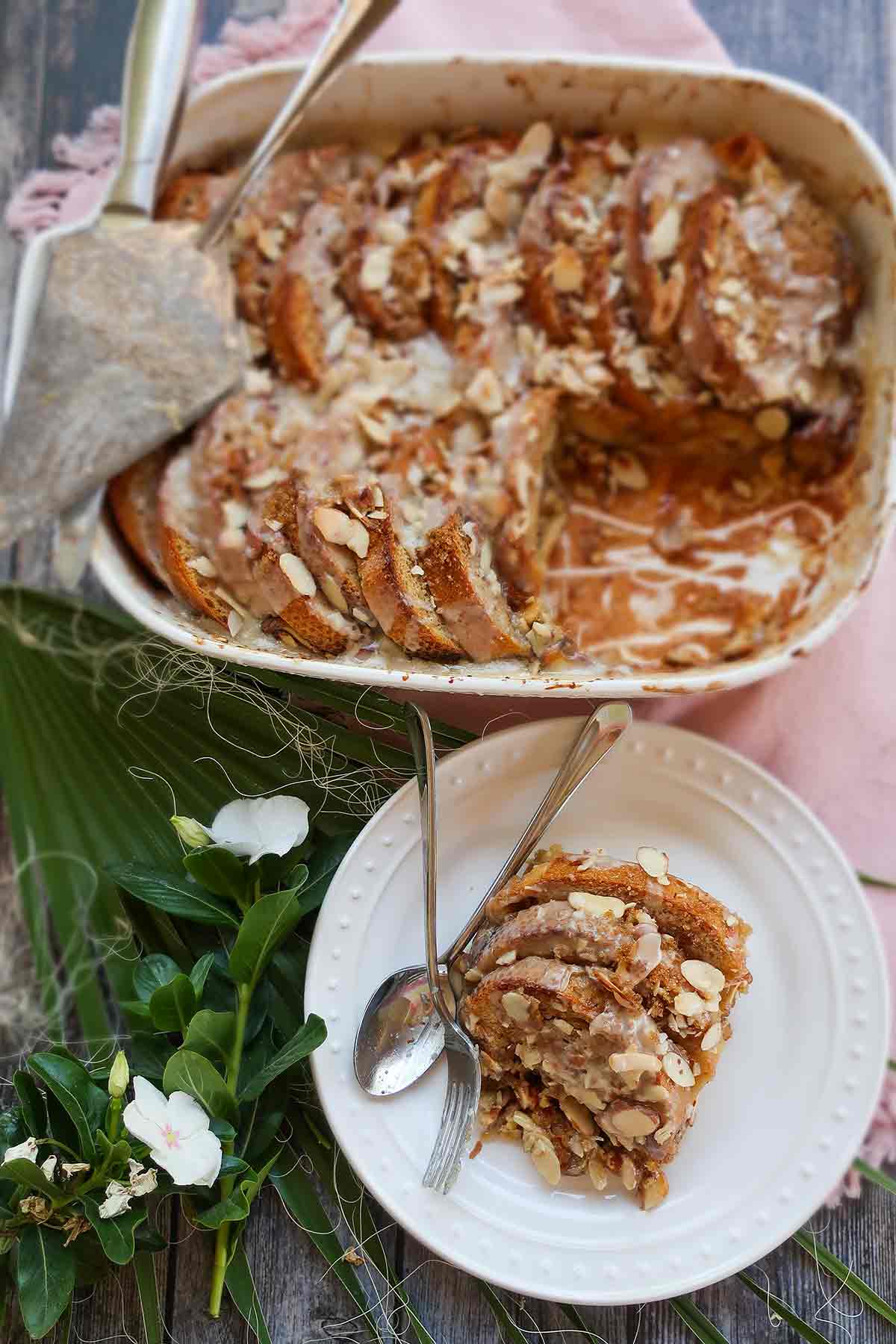 Breakfast casserole to feed a crowd
One of the best things about French toast breakfast casserole is it will feed a crowd – making it the ultimate Easter brunch recipe. So why not upgrade your Sunday brunch routine with this delicious twist on a classic breakfast favorite?
What is a French toast breakfast casserole?
A French toast casserole is a dish made with bread soaked in a mixture of eggs, milk, cinnamon and a sweetener. Then the casserole is slowly baked, creating a custard-like texture mixed with crispy bread.
Best gluten free bread for French toast casserole
This list of the best gluten free breads for French toast casserole will have you drooling. From classic white bread to hearty multigrain loaves, there's a gluten-free bread that's perfect for your next breakfast casserole.
Classic White Gluten Free Bread: A basic white gluten free bread is the perfect base for a delicious French toast casserole. Try one of these brands: Udi's Gluten Free Classic Soft White Bread or Canyon Bakehouse Gluten Free White Bread.
Hearty Multigrain Loaf: For a heartier French toast casserole, try using a hearty multigrain loaf. Some of our favorite brands are Food for 3 Seed Gluten Free Bread and Ener-G Brown Rice Gluten Free Loaf.
Homemade gluten free white bread: Feeling adventurous and want to make this homestyle French toast breakfast casserole from scratch? Try our easy gluten free white sandwich bread recipe or our gluten free French baguette cut into cubes.
Whether you're looking for classic white bread or something healthier, any of these gluten free loaves will work.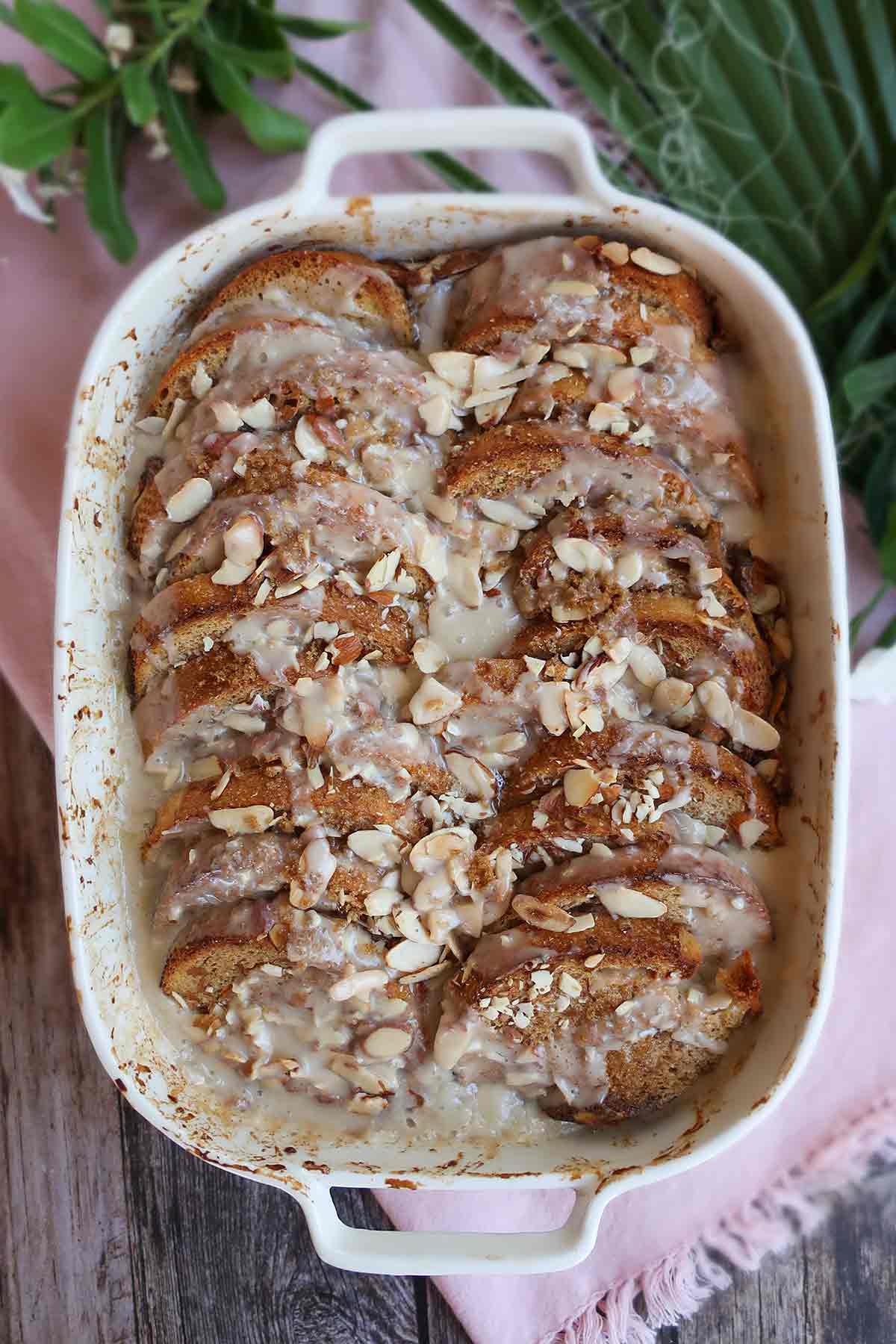 Most common mistakes when making French toast casserole
There are a few things to watch out for when making this dish so that your French toast casserole turns out perfectly. Here are the most common mistakes:
1. The milk and eggs ratio. The milk and eggs ratio is important to get the right texture. Too much milk will make the casserole soggy, and too many eggs will make it eggy and dry. The ratio should be 3 eggs to 1 cup of milk
2. Not using day-old bread. It would be best to have slightly stale bread to absorb all the delicious custard without getting soggy.
3. Adding too much liquid. This will also make your casserole soggy, so be sure to follow the recipe.
4. Not prepping your pan properly. You must grease your pan generously with butter so the casserole doesn't stick and fall apart when you try to serve it.
5. Overcooking it. The key to a perfect French toast casserole is to bake it slowly until it's golden brown on top but still soft and custardy in the middle.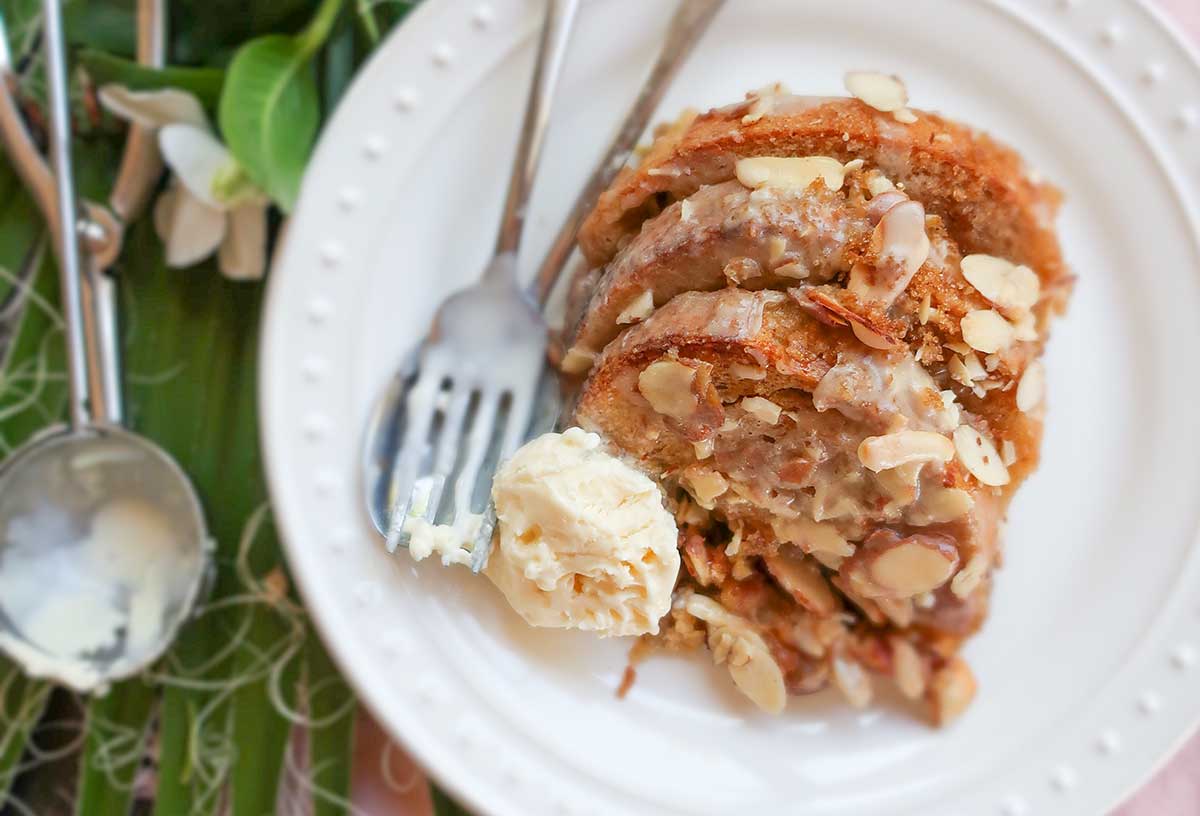 Add-ins and substitutions
When it comes to gluten-free French toast, you can do a few things to make it your own.
Bread – Choose your favorite bread.
Fruit – Add extras like thinly sliced apples, berries or raisins.
Milk – for a non-dairy alternative, use almond milk or coconut milk.
Toppings
There are so many delicious toppings you can add to this dish! Of course, fresh berries are always popular, but you could also use sliced bananas, diced apples, or any other fruit you have on hand, and a sprinkle of cinnamon sugar or powdered sugar.
A drizzle of maple syrup or honey is always a good idea, and for a little extra indulgence, you could top it with whipped cream, vanilla ice cream or vanilla glaze.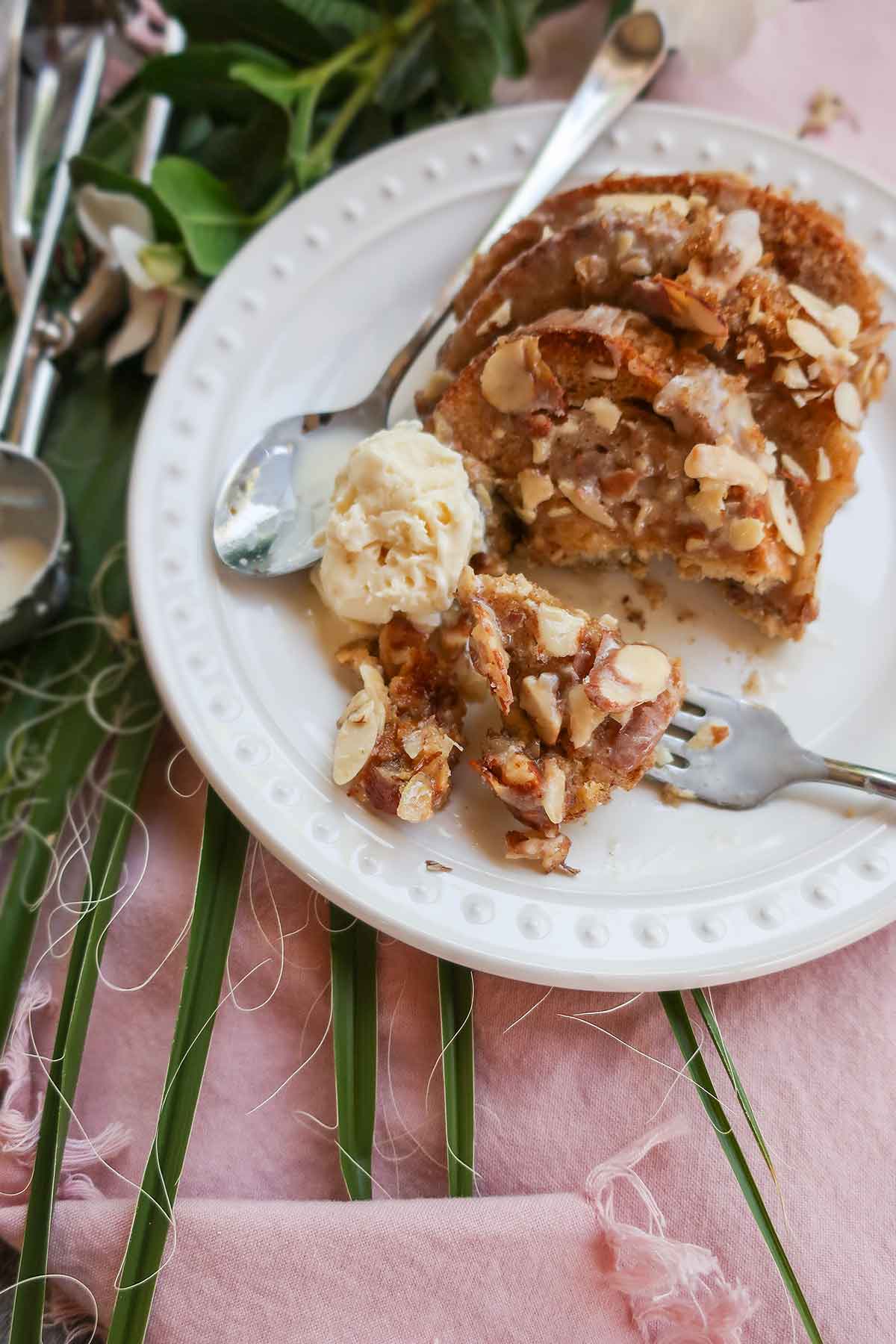 Serving suggestions
This gluten free french toast breakfast casserole is delicious as is, but you can kick it up a notch. Serve it with some crispy gluten free bacon or a side of gluten free breakfast sausage for a savory twist.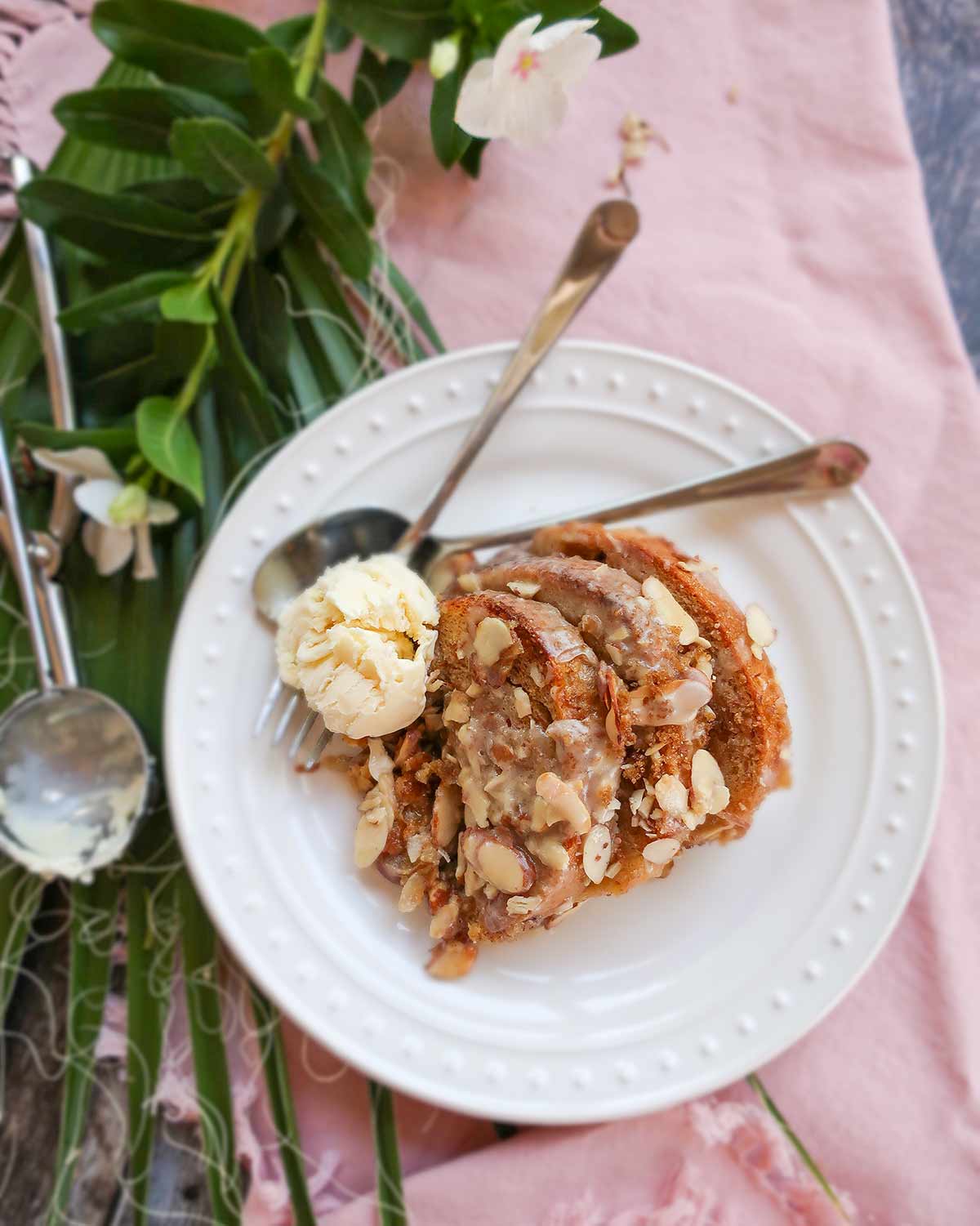 Leftovers
Nothing is worse than having to throw away perfectly good food, but sometimes leftovers don't taste as good as they did the first time, especially gluten-free baked goods.
So if you have leftovers, reheating a single serving in the microwave for 30 seconds before serving will bring back the freshly baked texture.
We hope this gluten-free French toast breakfast casserole recipe has inspired you to try something new. Regardless of your dietary needs or preferences, this delicious breakfast dish can be enjoyed by most. So why not give it a try? Bon appétit!
Let's Connect!
Be sure to FOLLOW US on FACEBOOK and PINTEREST.
Many thanks!
Kristina xx
Gluten Free French Toast Breakfast Casserole
Published on Apr 06, 2023
by
Kristina Stosek
Instructions
1.

Generously butter the sides of 9 x 13-inch baking dish

2.

Mix melted butter with 3 tablespoons of sugar and pour into the baking dish spreading evenly over the bottom

3.

Cut each slice of bread in half on a diagonal into a triangle and layer the slices in the baking dish overlapping each slice. *See the photo in the post. Another option is, you can cut the bread into large cubes.

4.

In a large bowl, whisk together eggs, milk, condensed milk, vanilla/maple extract, cinnamon, nutmeg and salt. Pour the mixture evenly over the bread and top with nuts (if using) and sprinkle with the remaining 1 tablespoon of sugar

5.

Cover the dish with plastic wrap and rest in the fridge for 1 hour or overnight

6.

When ready, preheat the oven to 350 F, remove the plastic cover and bake for 35 - 40 minutes or until the edges of the bread are golden brown

7.

For the vanilla glaze, whisk sifted powdered sugar with butter, milk, vanilla and salt and drizzle over the hot casserole. Serve warm. *See topping suggestions in the post
Leave a Comment
Kristina
Martina as long as you wrap it well, yes it can be frozen for up to 2 months
I can't have dairy. What would you suggest instead of the sweetened condensed milk?