Sausage Breakfast Casserole – Gluten Free
Published on May 05, 2023
by
Kristina Stosek
Prep Time:

15 minutes
Cook Time:

45 minutes
Serves:

6 - 8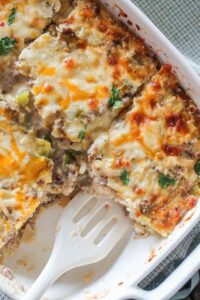 ​This post may contain affiliate links, please see our
privacy policy
for details
This Everything Cheesy Sausage Breakfast Casserole is the best make ahead breakfast or brunch recipe. Potatoes mixed with cheeses, sausage, bell peppers, onions, sour cream and eggs and baked until the eggs are set and the cheese is gooey. Then finish the casserole off with a sprinkle of fresh herbs.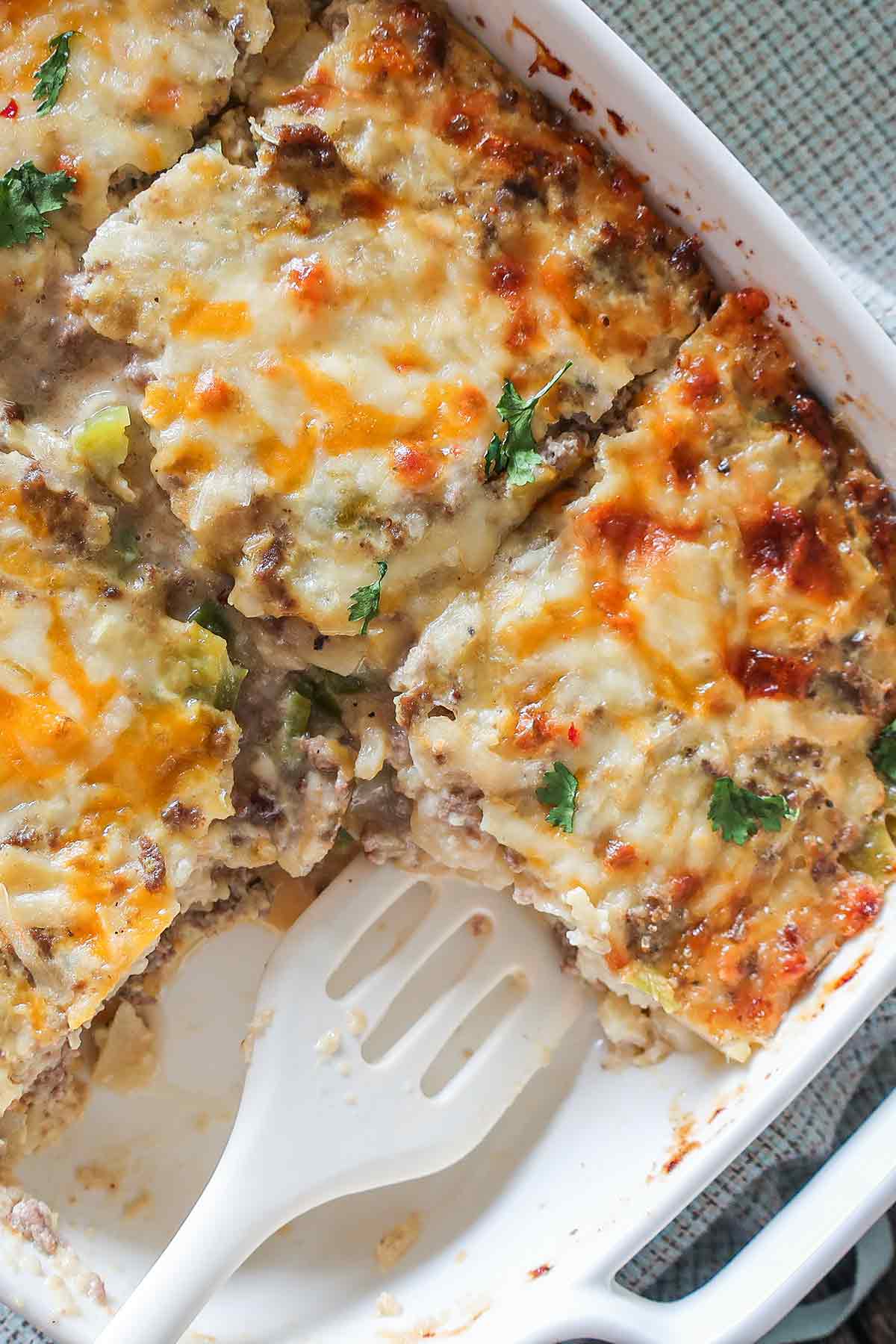 This recipe is for the most effortless, delicious, feed-a-crowd gluten free sausage breakfast casserole. Prepare it the night before and bake it in the morning. Breakfast doesn't get any easier, heartier, or more delicious.
From choosing the perfect vegetables to mastering the art of baking potatoes, with tips and tricks for creating the ultimate breakfast casserole. Plus, who says casseroles are just for breakfast? We'll show you how to serve this crowd-pleasing dish for dinner too.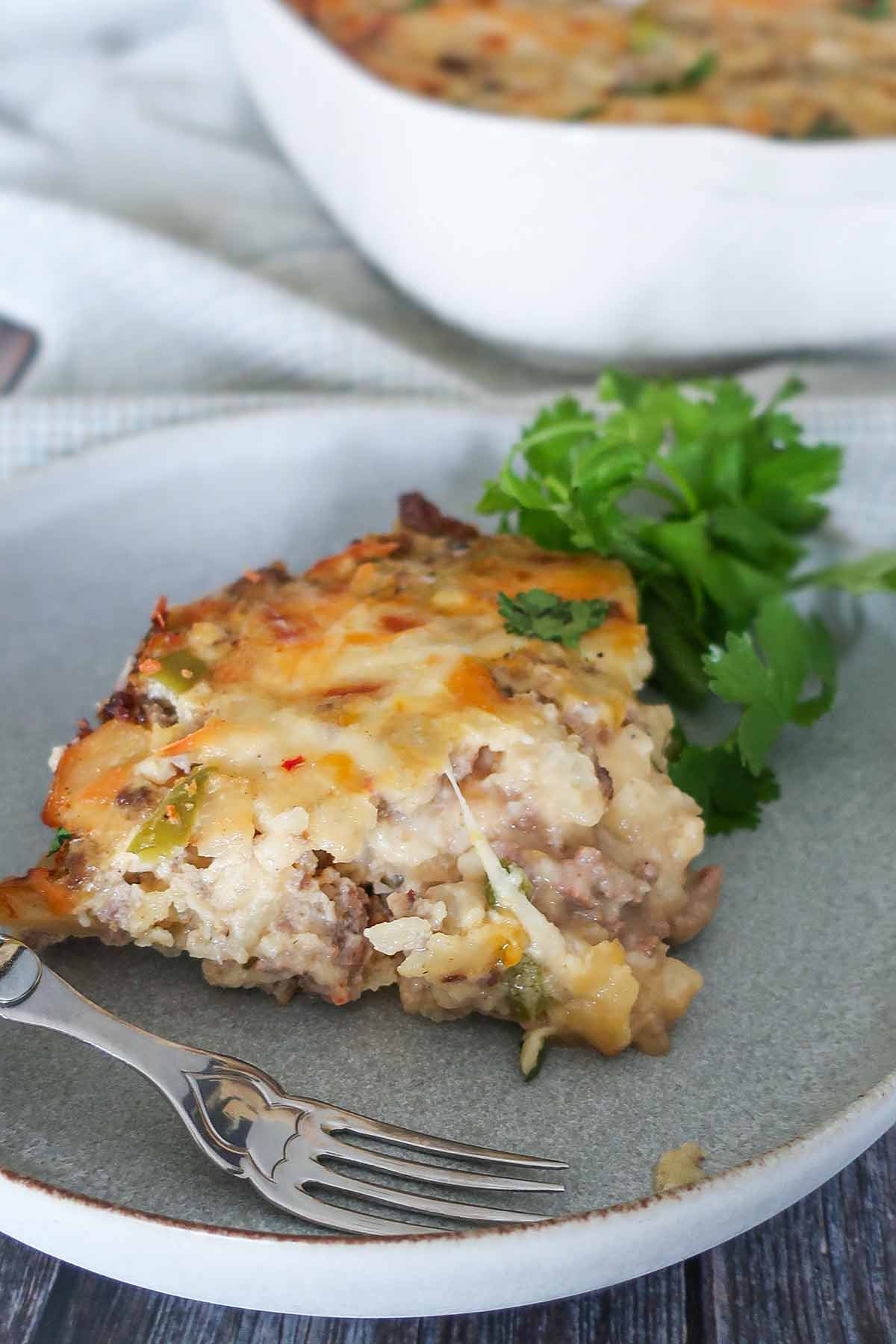 What makes a good breakfast casserole?
A good breakfast casserole is a perfect way to start your day, and it all begins with the right ingredients. First, a good breakfast casserole should be filling and satisfying to eat. It should contain hearty, nutrient-rich ingredients to keep you going throughout the morning.
There are countless delicious pairings, from sausage, bacon, ham, potato, sweet potato, spinach, peppers, or kale, to name a few. And most importantly, cheese.
However, seasoning is one of the most crucial factors in creating tasty gluten free sausage breakfast casserole. A well-seasoned dish can make all the difference between ordinary and extraordinary.
Is this sausage breakfast casserole recipe easy to make?
The beauty of a breakfast casserole is that you can prepare it in advance and pop it in the oven when needed.
here are the details,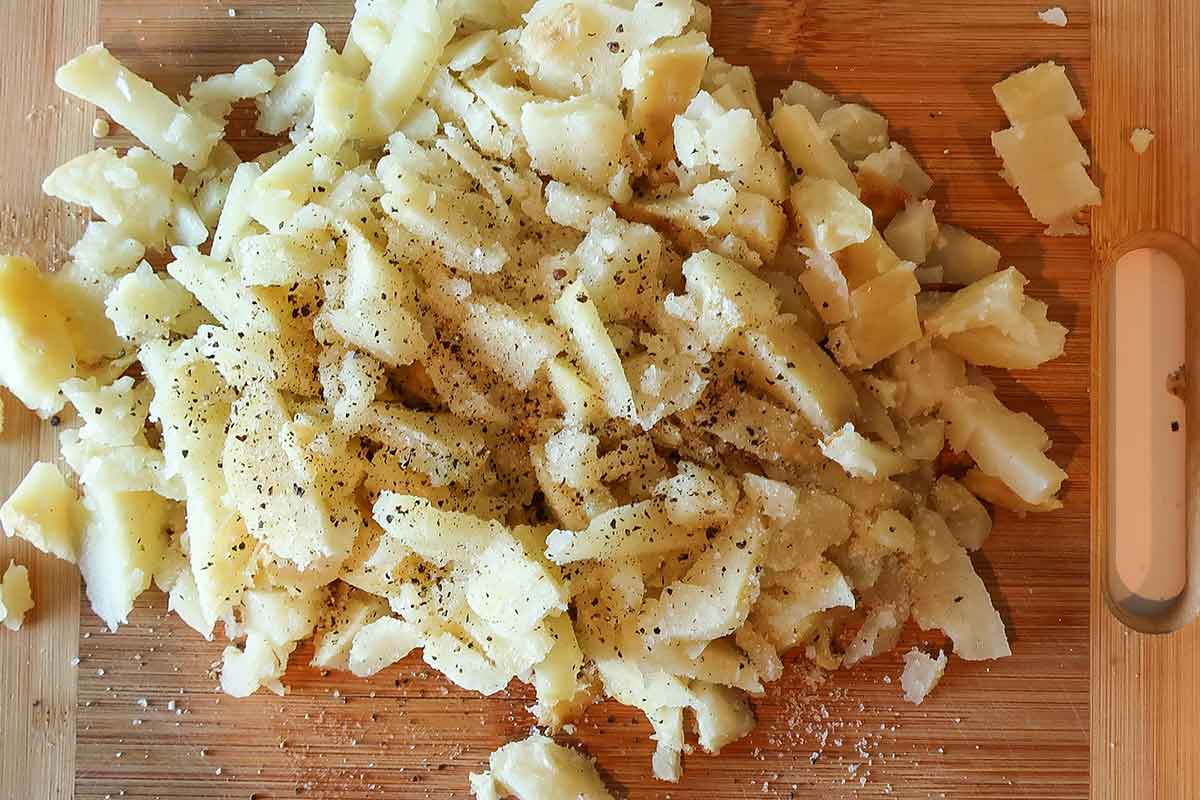 Start with preparing the potatoes. Bake whole russet potatoes until fork tender. When cool, peel, chop, and generously season with salt and pepper. This can be done up to three days in advance.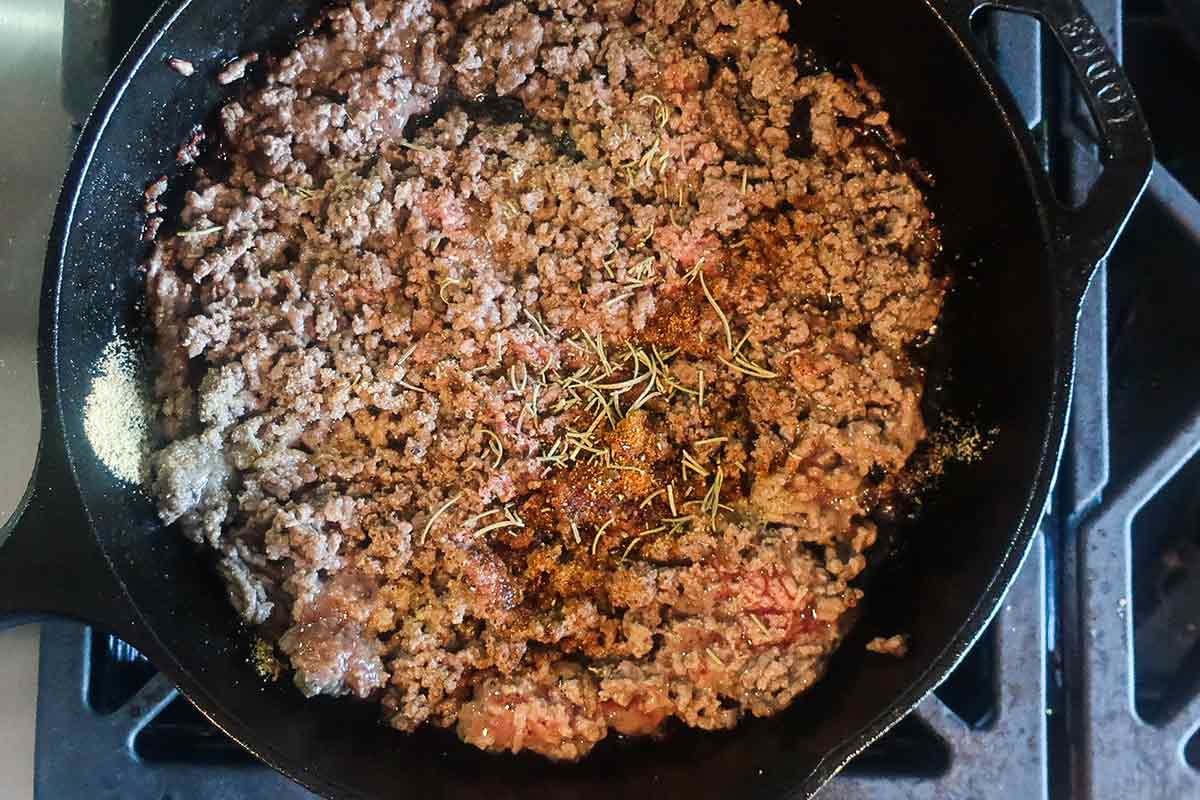 Brown sausage meat in a skillet. I like to add extra herbs and spices like rosemary, garlic, paprika, thyme and black pepper.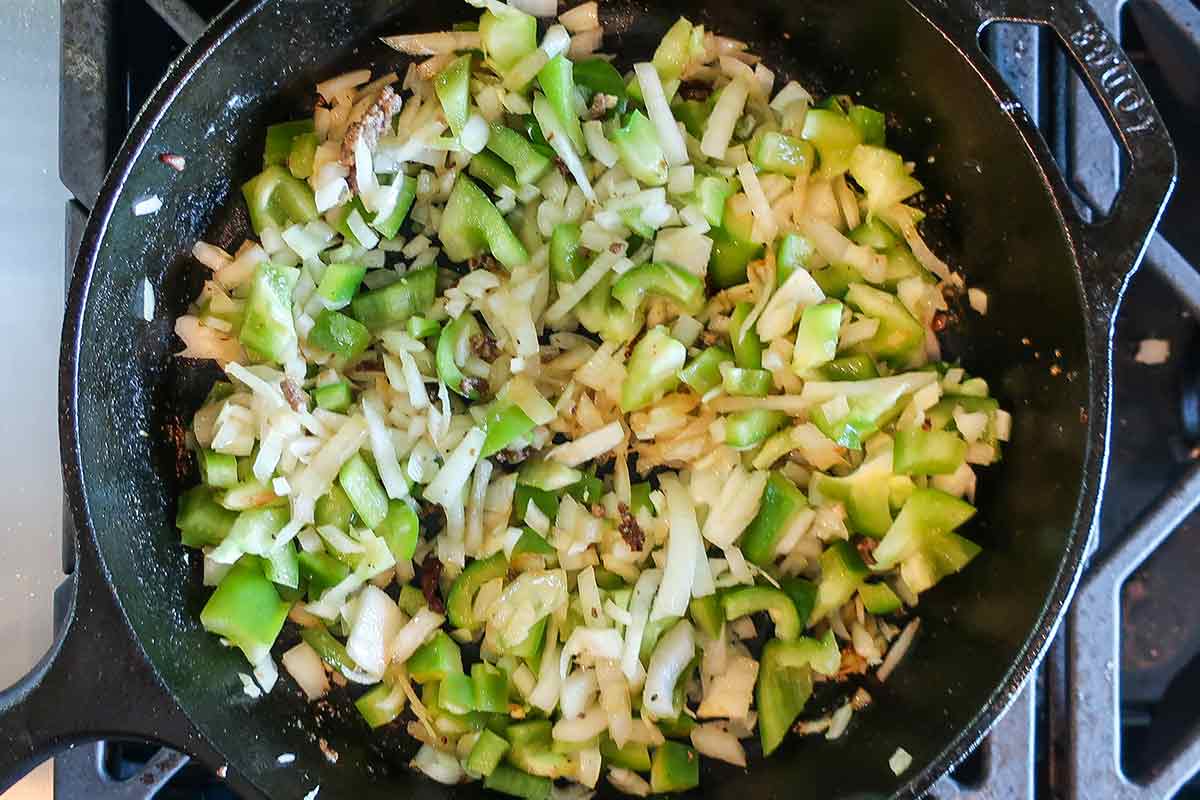 To the same skillet, add onions and bell peppers and sauté until they start to soften, scraping up all the good stuff from the meat leftovers.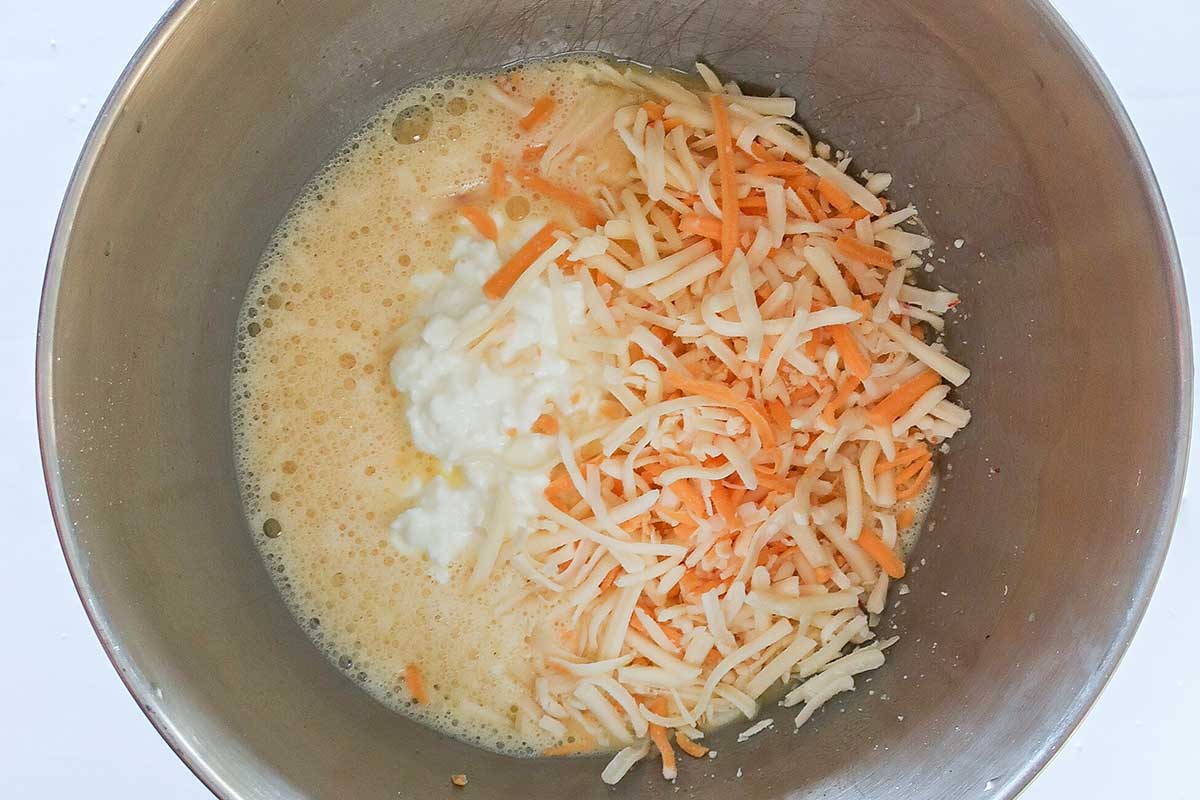 Mix the eggs with cottage cheese, sour cream, nutmeg, and most of the shredded cheese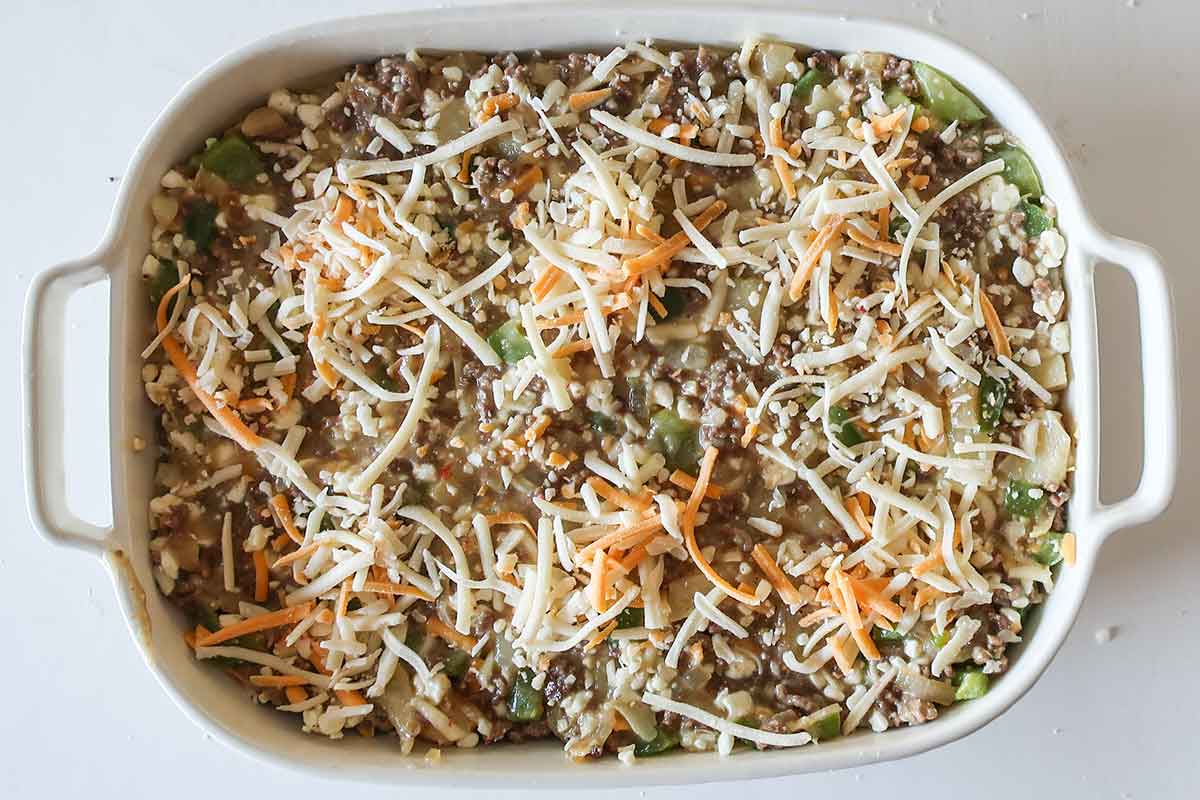 Lastly, combine everything and spread the mixture into a baking dish. Top with remaining shredded cheese and preferably refrigerate overnight. This will infuse the potatoes with more flavor. Or, you can bake it right away.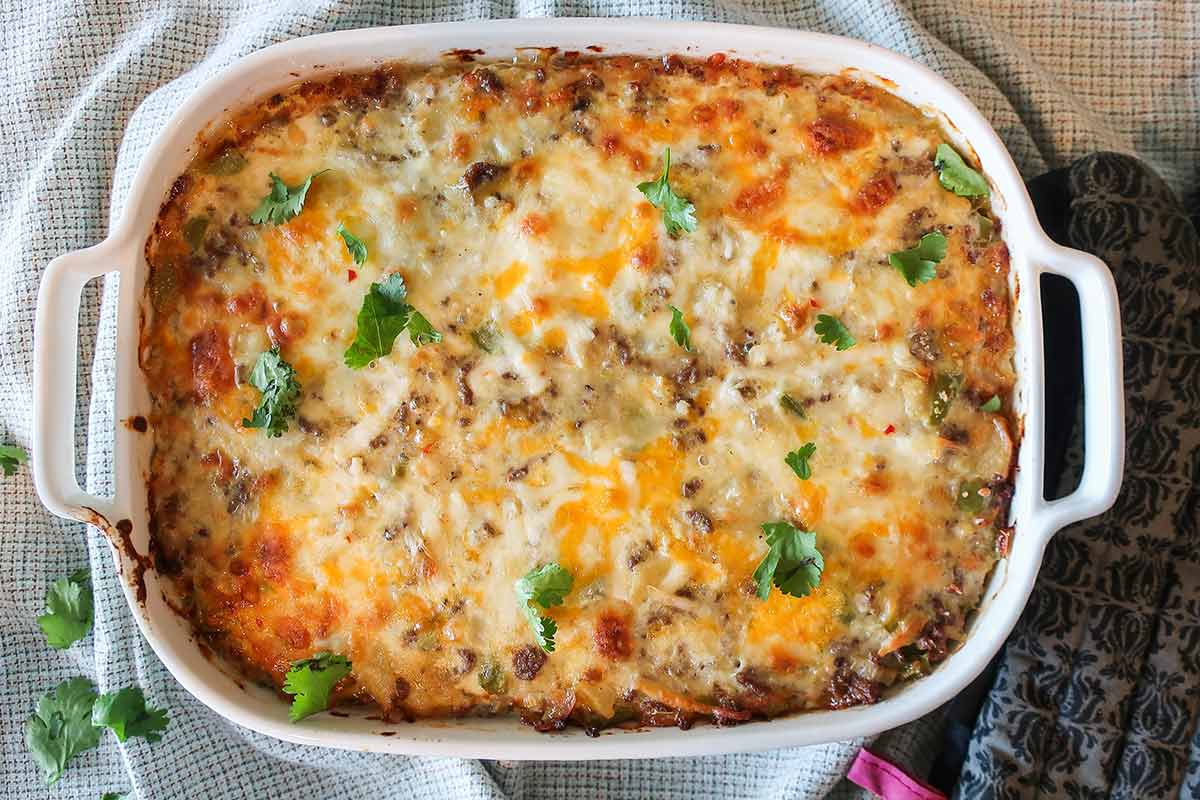 best vegetables for breakfast casserole
Adding vegetables adds extra nutrients and flavor when making a breakfast casserole.
One vegetable that works well in breakfast casseroles is bell pepper. It adds a pop of color and mild flavor while also providing nutrients. These versatile veggies come in multiple colors (red, green, yellow) and add sweetness and crunch to the dish.
Another great option is superfood spinach. So easy to add to a casserole. Be sure to add it fresh and chopped, not frozen.
Mushrooms are another favorite for many people. They have a meaty texture and absorb other flavors well, which makes them perfect for savory dishes like breakfast casseroles. And as per Cleveland Clinic mushrooms are super healthy.
Broccoli also works well in this type of dish due to its high nutritional value – it's packed with fiber and vitamins C and K. However, chop the broccoli into small pieces to cook evenly within the casserole.
Zucchini can be used also, if you want more freshness or lightness.
protein choices
Sausage meat is the most popular choice for many breakfast casseroles because it adds flavor and texture to your dish. Just be sure to check the labels of any pre-packaged sausage to ensure it is gluten free. Or make your own using ground pork and spices such as rosemary, thyme, chili powder, garlic, and black pepper.
If you prefer something lighter, turkey sausage or bacon are great alternatives with plenty of savory flavors. You can also try diced ham or cooked diced chicken for a twist on traditional breakfast casseroles.
For vegetarians, use plant-based sausages, beans or tempeh as protein options in your casserole.
When choosing the protein for your breakfast casserole, the key is finding what works best for your taste and dietary needs.
Another casserole you may enjoy for breakfast is the low-carb Zucchini And Ham Cheese Casserole. Or, if you prefer a sweet breakfast try our delicious Gluten Free French Toast Breakfast Casserole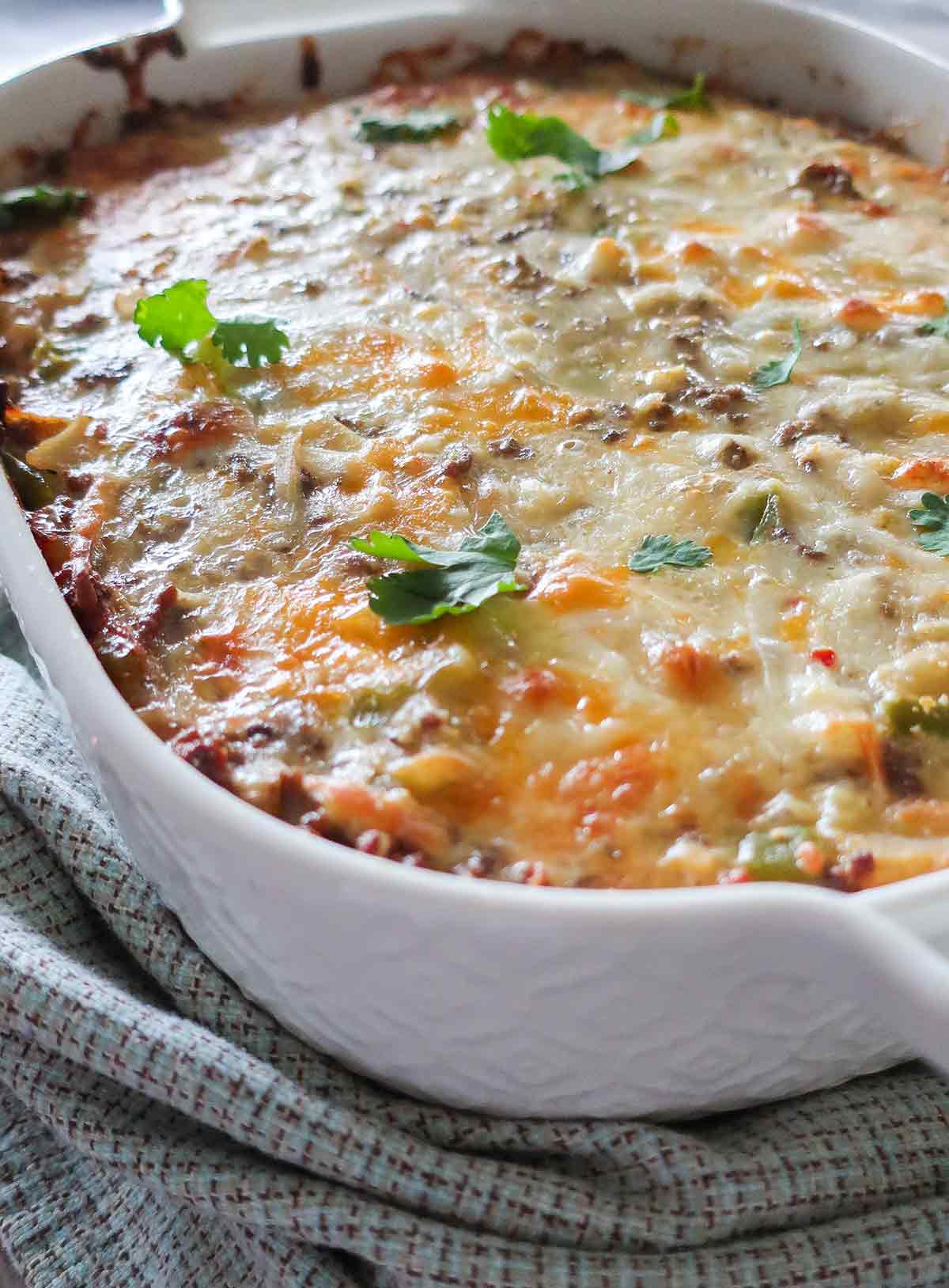 How many eggs should you add to a breakfast casserole?
One of the key ingredients in a breakfast casserole is eggs. But how many eggs should you add to your casserole? It depends on the size of your casserole dish and personal preference.
For a small 8×8-inch dish, four large eggs would be sufficient. However, if you're using a larger 9×13-inch dish, it's recommended to use six to eight eggs. Keep in mind that adding too many eggs can result in an overly eggy taste and texture.
Another factor to consider when deciding how many eggs to use is the other ingredients in your casserole. For example, you may not need as many eggs if you have many vegetables or meat already included.
Why should you prepare breakfast casserole a day in advance?
Preparing this breakfast casserole a day in advance is highly recommended. For one, it allows the dish to fully set and meld together, resulting in better flavor and texture. Additionally, prepping ahead means less work on the day you plan to serve it.
Allowing your casserole to sit overnight in the refrigerator gives all ingredients more time to soak up each other's flavors. The eggs will also be fully set during this time, resulting in a firmer texture that holds its shape when sliced or scooped out.
Preparing your breakfast casserole ahead of time can also save you valuable time on busy mornings. Instead of spending time assembling and cooking a dish from scratch before work or school, simply pop your prepared casserole into the oven and let it bake while you get ready for the day.
Preparing casseroles in advance is great for meal planning purposes. You can easily make larger batches and portion them out for easy grab-and-go meals throughout the week. This saves you money and ensures you always have a healthier breakfast or meal option when life gets hectic.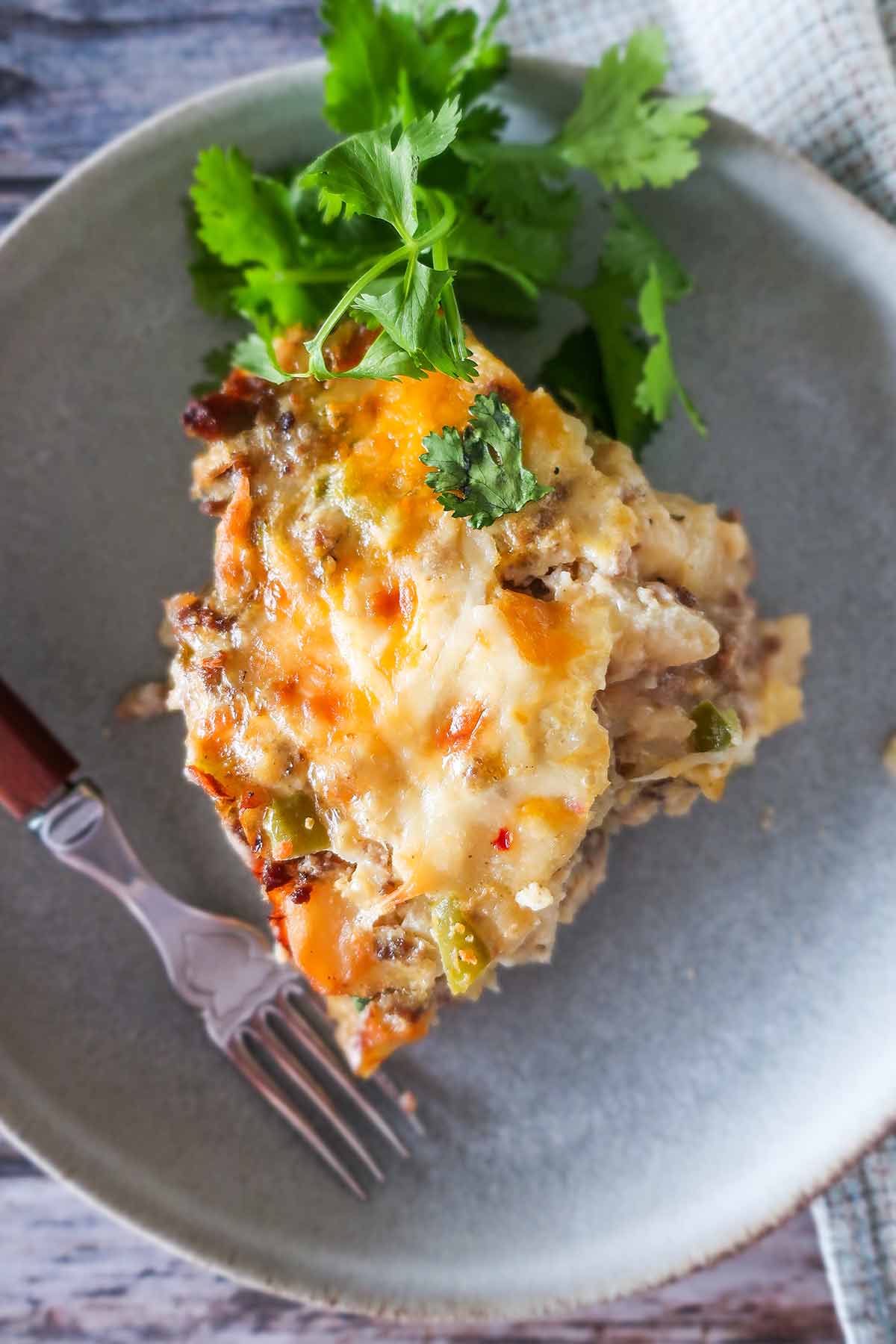 best way to serve breakfast casserole for dinner
Breakfast casseroles are versatile and can be enjoyed at any time of the day, even for dinner. But how do you serve them best for a hearty evening meal?
One option is to pair the casserole with fresh greens, such as a Cabbage and Fennel Citrus Salad, steamed broccoli, or asparagus. This adds some refreshing crunch and nutrients to balance out the rich flavors of the casserole.
Another idea is to serve it with some crusty bread such as the Gluten Free French Baguette on the side. The bread can be used to mop up any leftover sauce or gravy from the casserole or buttered, making it a filling and satisfying meal.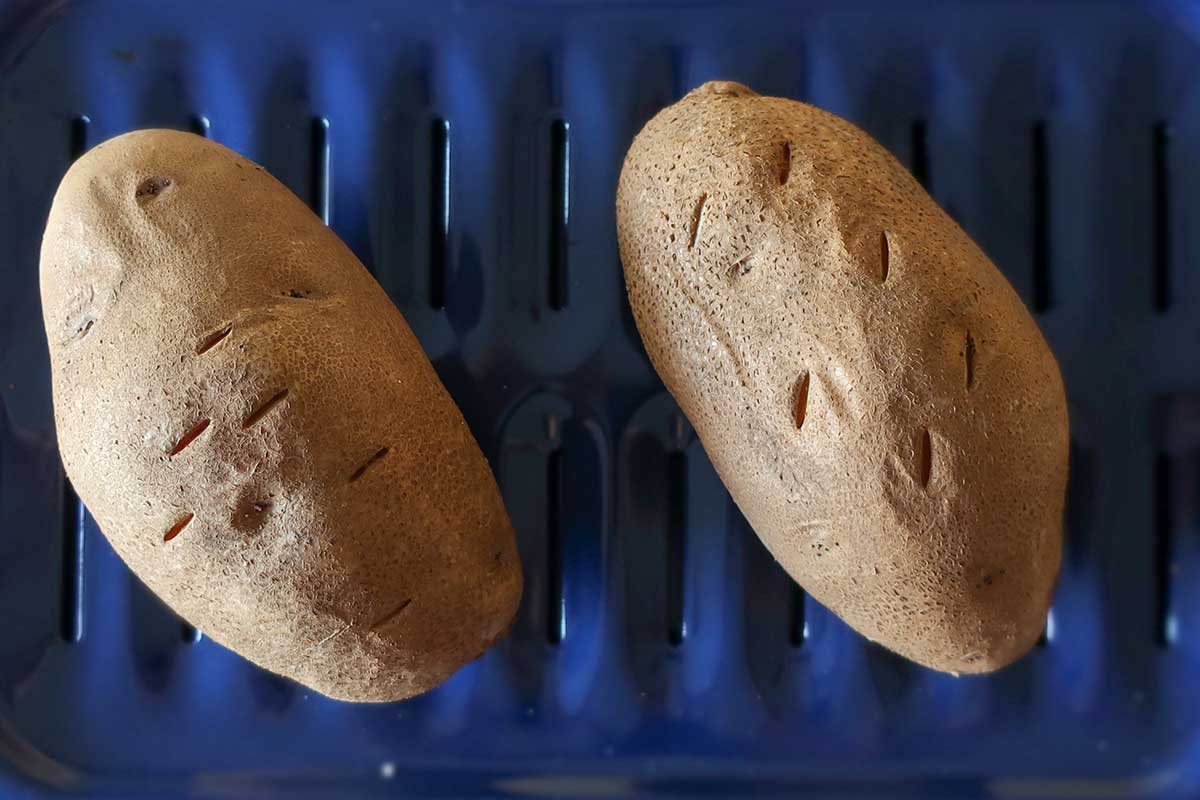 The best way to bake a potato.
By following these simple steps, you'll have perfectly baked potatoes that will add delicious flavor and texture to your gluten-free sausage breakfast casserole!
Here's how to bake the perfect potato for your next casserole:
First, preheat your oven to 375°F. Next, scrub the potatoes clean under running water and pat them dry with paper towels. Then, poke several holes in each potato with a fork or knife.
Place the potatoes directly on the oven rack or a baking sheet lined with parchment paper. Bake for about an hour for a large potato, but it depends on the size. They should be tender when pierced with a toothpick or a fork.
Once baked, remove the potatoes from the oven and let them cool. The potatoes peel easily. Then cut them into small cubes to use in your breakfast casserole recipe.
For added convenience, you can prepare baked potatoes ahead of time and store them in the fridge for up to three days.
What can I substitute for potatoes in a breakfast casserole?
Sweet potatoes can be an excellent choice as they have a similar texture and flavor to regular potatoes. They also add a subtle sweetness that can complement the savory ingredients of the dish.
Another option is to use cauliflower instead of potatoes. Not only is it low-carb and keto-friendly, but it also provides a unique taste and texture that can be surprisingly satisfying in a breakfast casserole.
If you want something completely different from traditional potato-based casseroles, consider swapping in quinoa or rice. Both grains offer unique textures and flavors that can take your gluten-free sausage breakfast casserole recipe in new directions.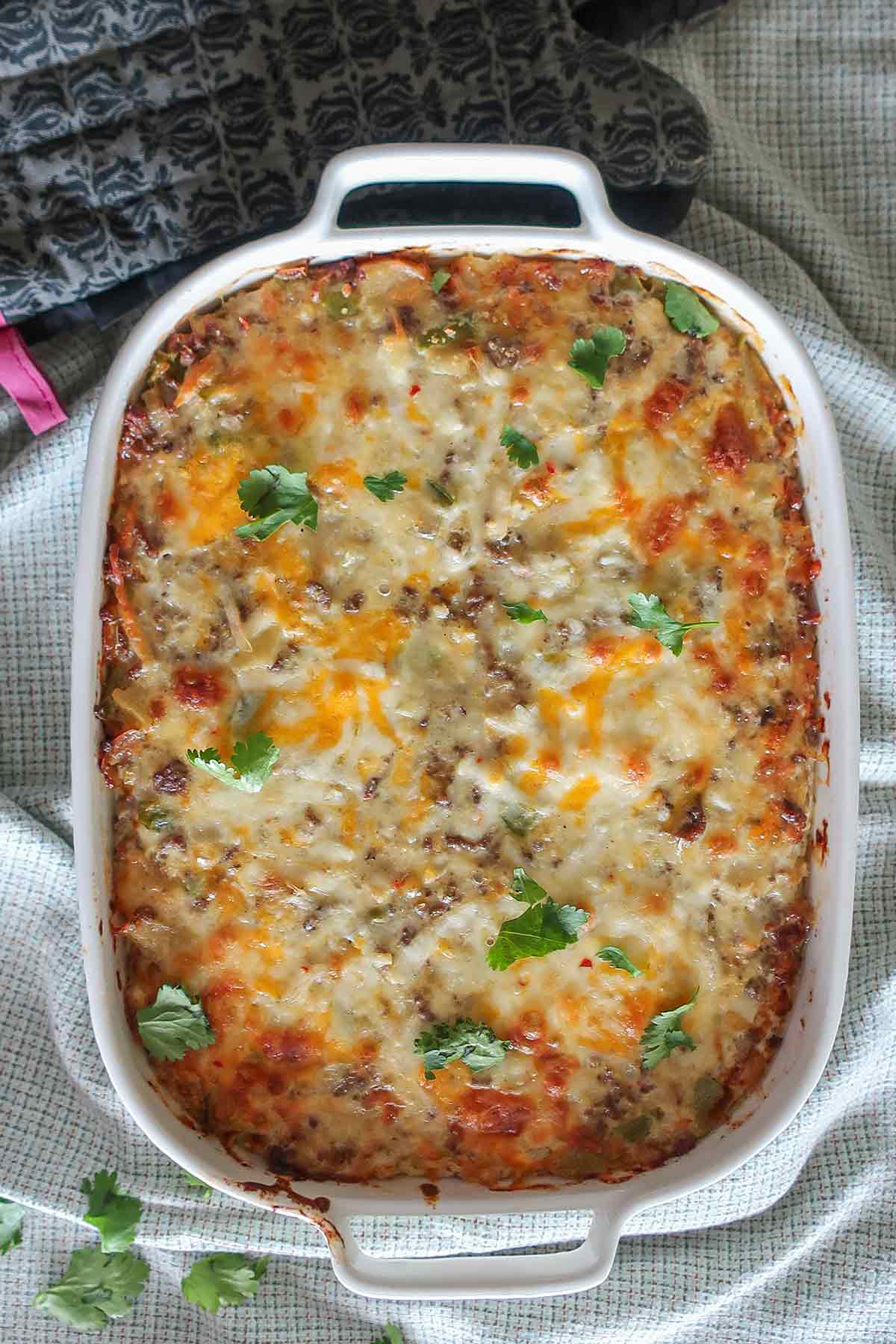 best cheeses for casseroles
When choosing your cheese for your gluten-free sausage breakfast casserole, consider the flavor and melting characteristics to get the right combination of gooeyness and taste! Adding the right cheese can take the dish to a whole new level.
Here are some of the best cheeses to use in your breakfast casserole:
1. Cheddar – This classic cheese is perfect for breakfast casseroles, adding a savory flavor that pairs well with eggs and sausage.
2. Mozzarella – If you're looking for a milder flavor, mozzarella is a good choice. It melts easily and adds creaminess without overpowering other flavors.
3. Swiss – Another mild option, Swiss cheese has nutty undertones that complement the flavors of vegetables or ham in a breakfast casserole.
4. Monterey Jack – For those who like a bit more kick, Monterey Jack cheese offers a slightly spicy taste that goes well with bold ingredients such as chorizo or jalapenos.
5. Parmesan – Although not typically used as a main ingredient in casseroles, sprinkling parmesan on top before baking can add an extra layer of flavor and texture.
why we love breakfast casseroles
Casseroles are one of the most versatile and comforting dishes out there. They offer a range of flavors, textures, and ingredients that can be tailored to your specific tastes and dietary needs.
One reason why we love breakfast casseroles is their convenience. You. can prepare it in advance and have it ready for the oven when needed.
Casseroles also freeze well, making them an ideal choice for busy mornings or as leftovers for lunch. And they are easily made gluten free.
They are always popular for family brunch or a potluck lunch with friends because you can feed a crowd with minimal effort.
They're often budget-friendly and pack in plenty of nutrition without sacrificing flavor. You can feed a crowd without breaking the bank by incorporating potatoes or gluten-free grains like rice.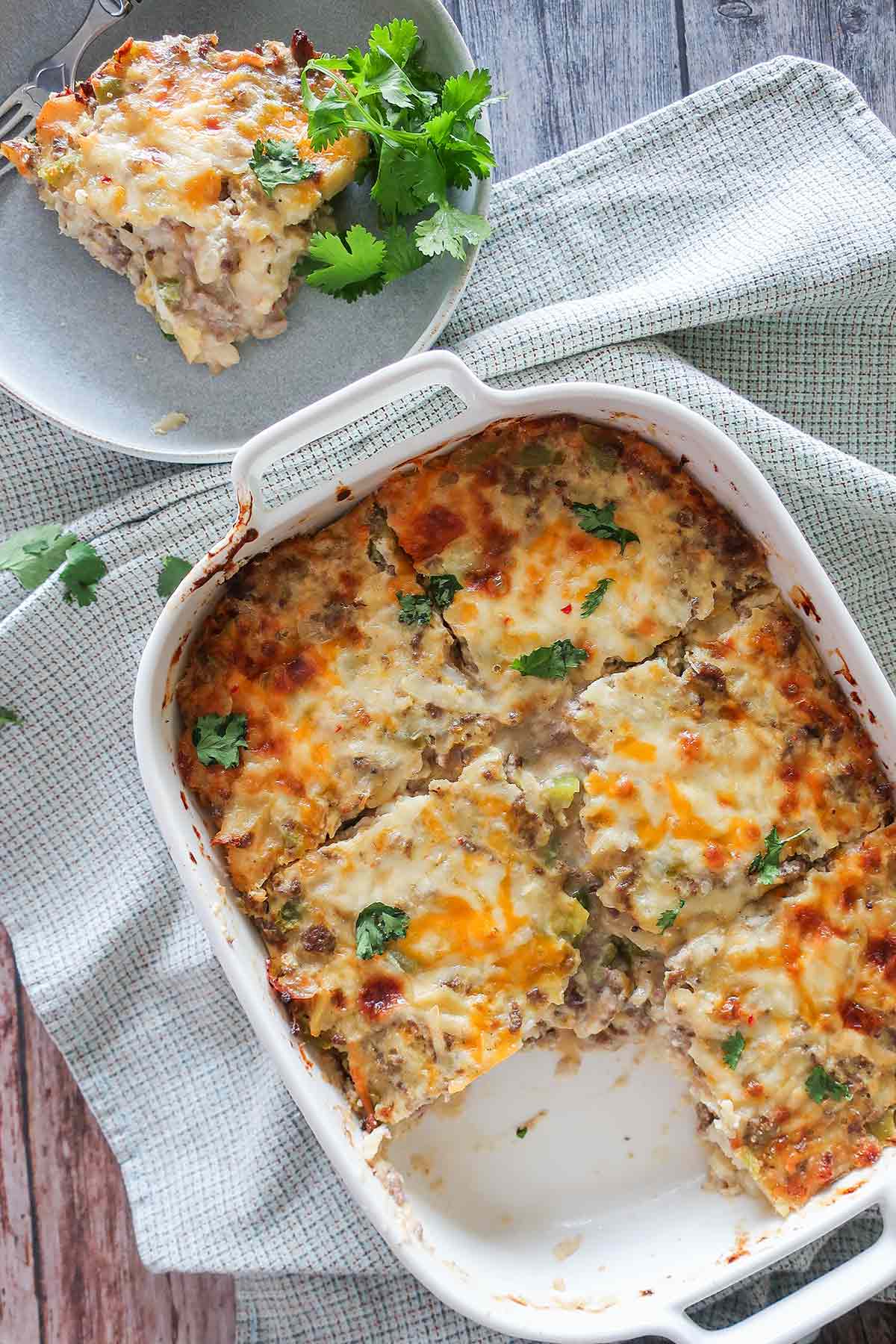 My take on a gluten free sausage breakfast casserole
The sausage breakfast casserole is a delicious and easy-to-make dish that can be customized to suit your preferences. It's a great gluten-free option for those with dietary restrictions or who want to try something new.
With so many variations of casseroles available, you can experiment with different vegetables, proteins, and cheeses. As long as you keep the same quantities as the recipe, you can create a breakfast casserole for your taste.
Whether you're serving it for breakfast, brunch, or dinner, or you're looking for something hearty to have on hand for busy days, is why they've remained such a beloved staple over the years. Happy cooking!
Let's Connect!
Be sure to FOLLOW US on FACEBOOK and PINTEREST.
Many thanks!
Kristina xx
Sausage Breakfast Casserole – Gluten Free
Published on May 05, 2023
by
Kristina Stosek
Instructions
1.

Brown the meat in a large skillet. Transfer the meat onto a plate. Drain some of the fat from the skillet if needed, but leave enough for the onions and peppers

2.

In the same skillet, sauté the onions and peppers untill they start to soften. Return the meat to the skillet and mix to combine

3.

In a large bowl, combine beaten eggs, cottage cheese, sour cream, nutmeg, cheddar cheese, and 3/4 cup Havarti cheese

4.

Generously season the chopped potatoes with salt and pepper and add to the cheese mixture. Add the meat and stir to combine

5.

Brush a 9x13-inch baking dish with olive oil and spread the mixture in the dish. Top with remaining cheese. Cover the dish with plastic wrap and refrigerate overnight for best results

6.

When ready, preheat the oven to 350 F and bake uncovered for 40 - 45 minutes until the cheese is melted and golden

7.

If you are baking the casserole right away, preheat the oven to 350 F and bake for 35 - 40 minutes 

8.

Rest the casserole for 15 minutes before serving
Leave a Comment
Yummy! Finding gluten free foods can be hard,, they tend to taste terrible. Thanks for this one.