Easy Gluten Free Breakfast Bar Recipe
Published on Apr 03, 2023
by
Kristina Stosek
Prep Time:

15 minutes
Cook Time:

50 minutes
Serves:

15. bars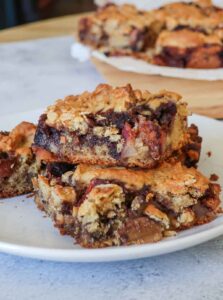 ​This post may contain affiliate links, please see our
privacy policy
for details
This gluten free breakfast bar is a delicious and healthy breakfast option that will keep you fueled throughout the day! Packed with wholesome ingredients such as oats, blueberries, apples, nuts and flaxseed, this baked soft bar is perfect for busy mornings or midday snacks.
When it comes to breakfast, we all want something healthy, quick and easy that will fill us up until lunchtime. But sometimes, finding a breakfast option that meets all those criteria can be challenging, especially if trying to avoid gluten.
That's where these gluten free and dairy-free breakfast bars come in! Made with just a few simple ingredients, these bars are packed with nutrients and fiber to keep you full and satisfied.
Why are gluten free breakfast bars a good way to start your day?
There are many reasons they make great breakfast food. For one, they're packed with nutritious ingredients like rolled oats, flaxseed, nuts, and fruit. They're dairy-free and relatively low in sugar so you won't get a sugar crash mid-morning.
Plus, they're easy to grab and go – perfect for busy mornings when you don't have time to sit down for a healthy breakfast.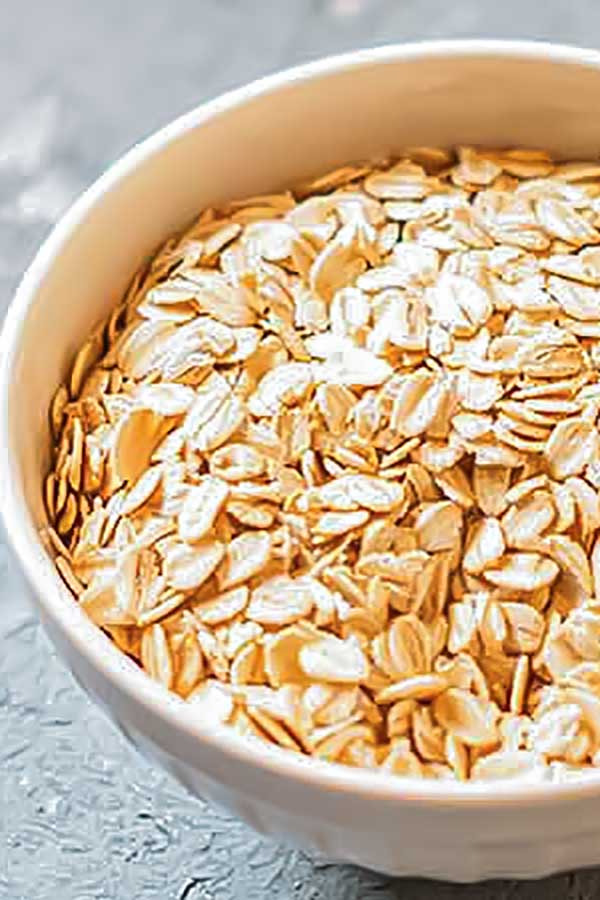 Are oats gluten free?
Yes, oats are naturally gluten free because they don't contain any gluten proteins and are therefore safe for people with celiac disease or gluten intolerance. However, oats are often processed in facilities that also process wheat, rye, and barley, so they may be contaminated with gluten.
For this reason, it's important to look for oats labelled "certified gluten free" to be sure they haven't been contaminated.
7 healthy ingredients in this gluten free breakfast bar recipe
Almond flour – is rich in protein, fiber, vitamin E and antioxidants and is low in carbs
Flaxseed – high in fiber and omega-3 fatty acids, as well as phytochemicals called lignans
Oats – contain soluble fiber, called beta glucan, which lowers blood glucose and cholesterol levels
Blueberries – packed with antioxidants and fiber
Apples – fiber, antioxidants and rich in vitamins
Cinnamon – has medicinal properties that help reduce inflammation
Extra virgin olive oil – antioxidants and anti-inflammatory properties
How to make baked soft gluten free oat bars with fruit?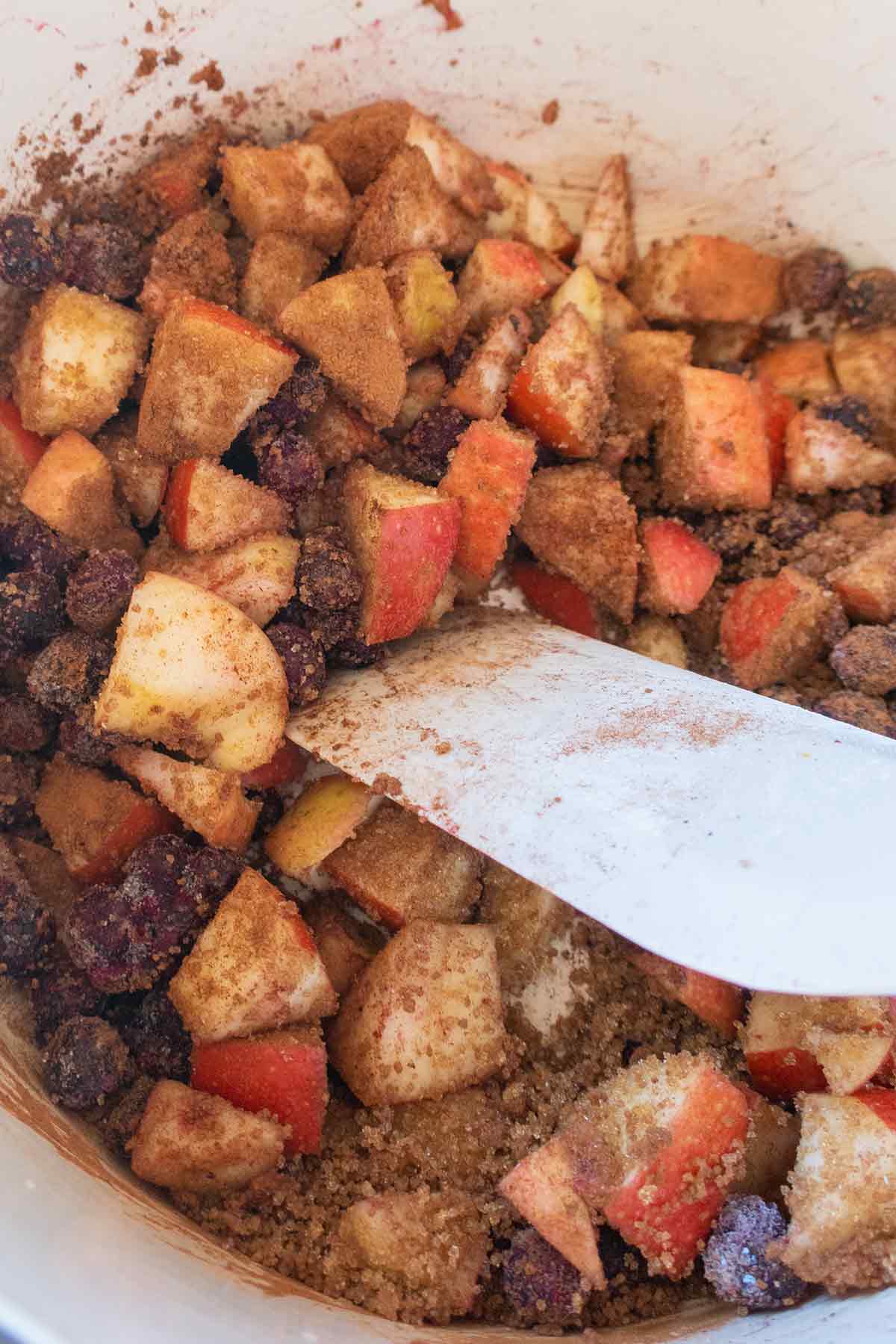 First choose your fruit. In this recipe, the fresh blueberries and apples add flavor and moisture to the bars making them exceptionally tasty. The fruit is tossed with cinnamon and brown sugar.
However, you can use dried fruit such as cranberries, raisins, apricots, ginger even chocolate chips without adding a sweetener or cinnamon because dried fruit or chocolate are already sweetened.
Make the batter simply by mixing wet ingredients with dry ones. Then, spread most of the batter (about 2/3) over the bottom of the lined baking pan.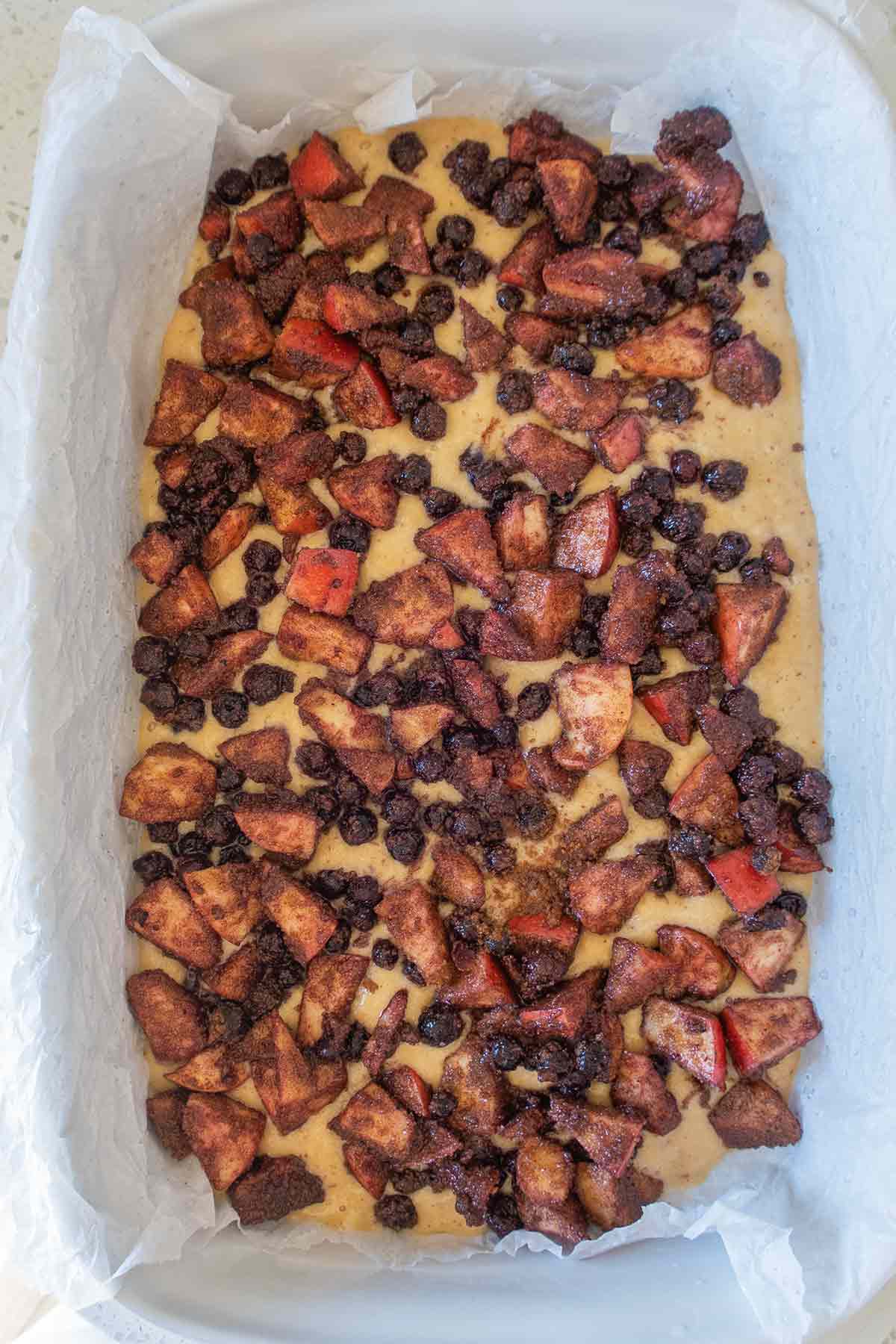 The next layer is the fruit which is evenly scattered over the batter.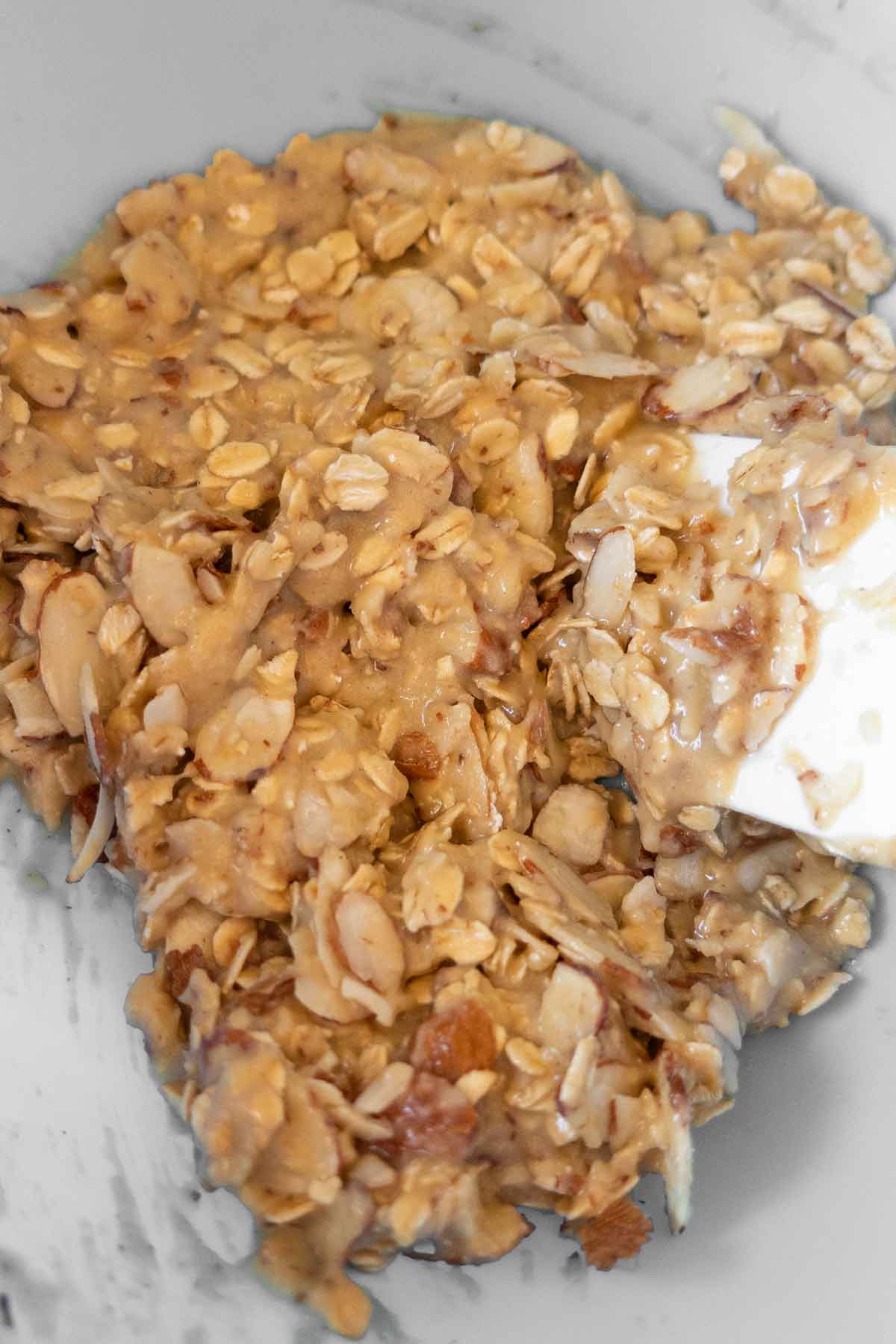 The remaining 1/3 of the batter is mixed with oats and sliced almonds and is dropped by spoonfuls over the fruit. Although this recipe calls for almonds, you can substitute the almonds with other nuts, such as pecans or walnuts.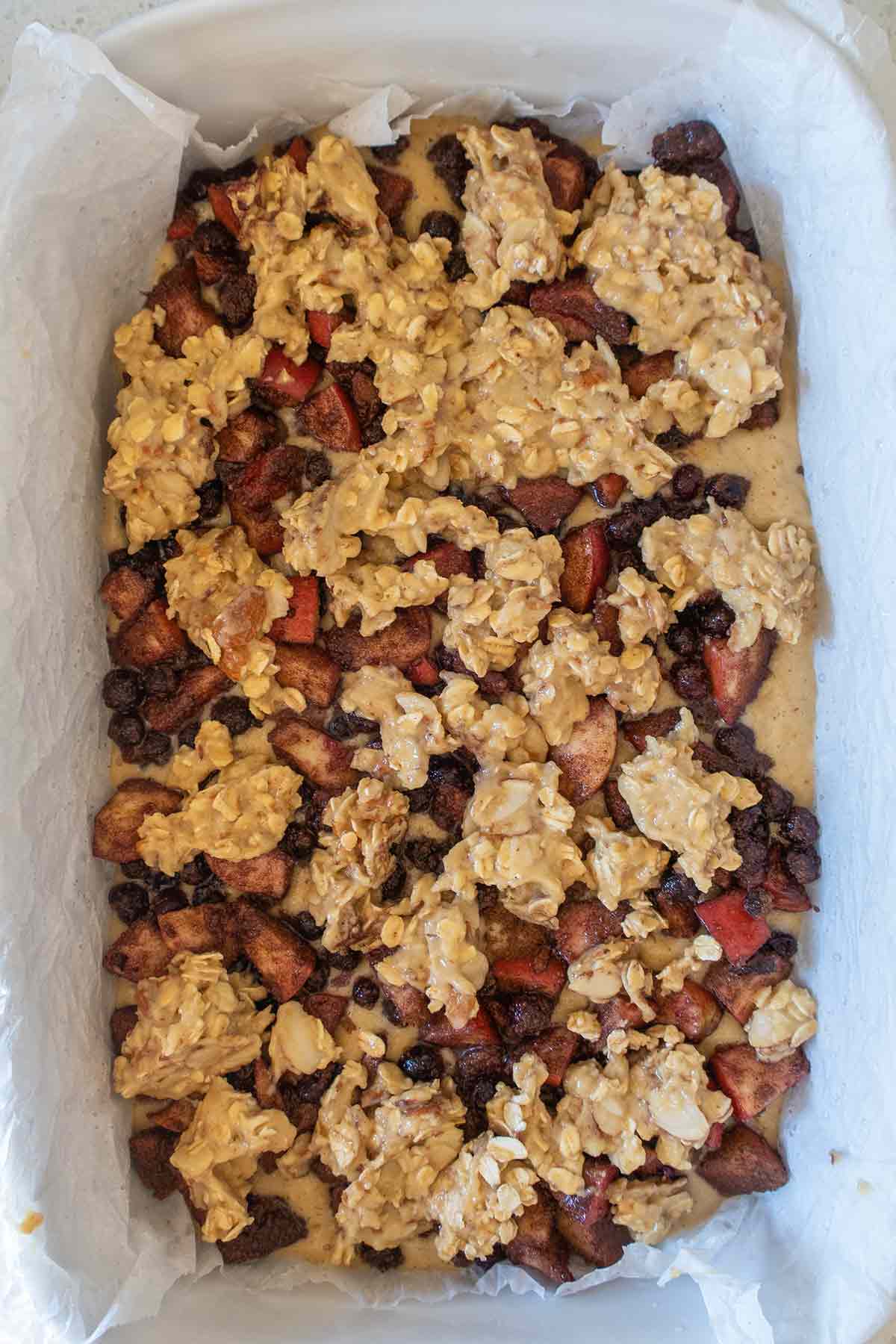 That is all there is to this gluten free breakfast bar recipe. Once the bars finish baking, they are cooled in the pan and sliced to the desired size.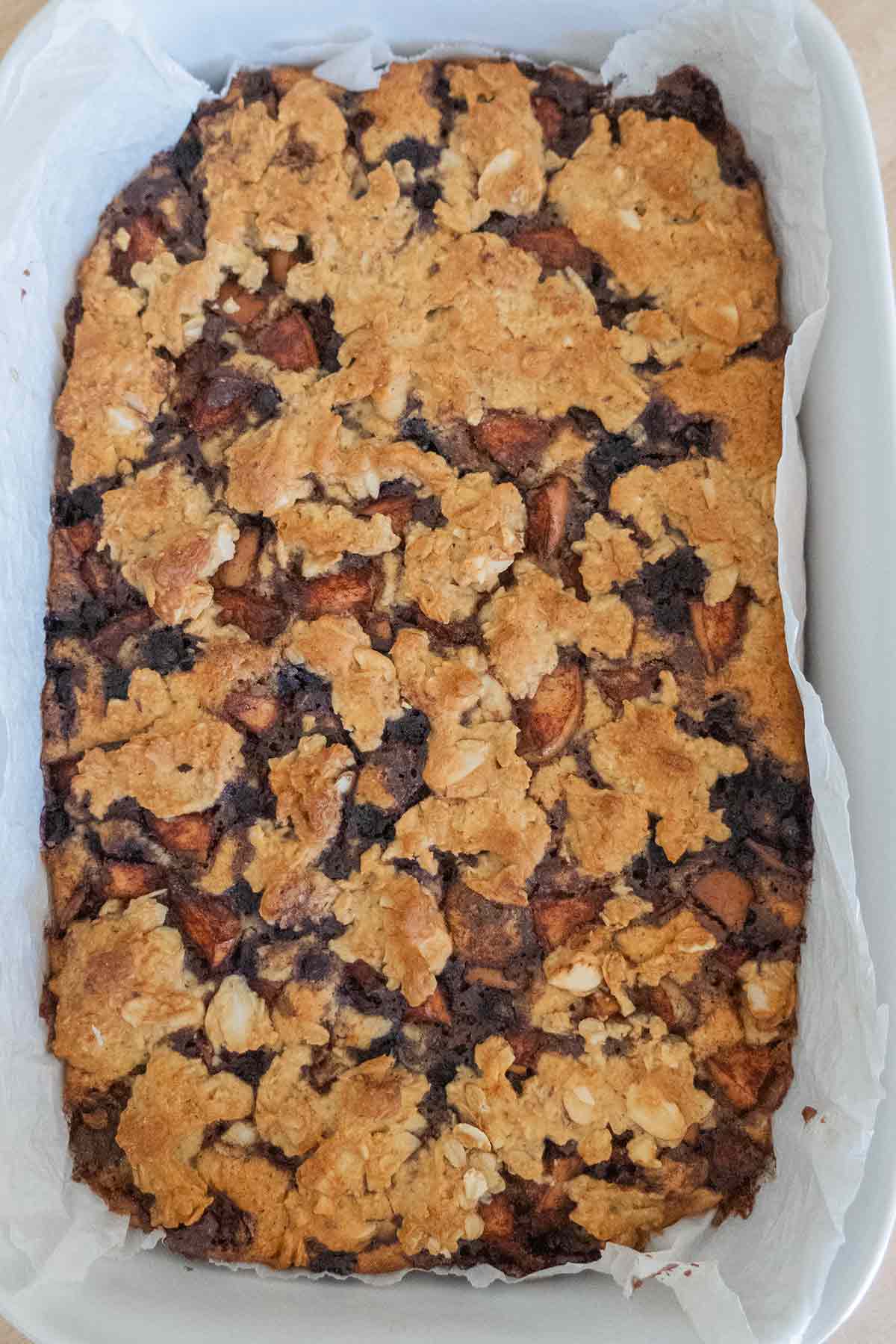 Serving suggestions
There are endless ways to enjoy our Gluten Free Oatmeal Breakfast Bars! Here are a few of our favourites:
-Enjoy with your morning coffee as a nutritious breakfast instead of a muffin
-Dust with powdered sugar and serve with a dollop of yogurt for brunch to replace coffeecake
-Pack in your child's lunchbox as a healthy and wholesome treat to replace processed sugary treats
-Enjoy as an on-the-go snack when you need a little something to tide you over until your next meal to replace chocolate bars or a slice of cake
Our 4 favorite gluten free bar recipes:
Why are breakfast bars with oats the perfect pre-workout food?
A breakfast bar with oats is the perfect food before a workout because oats are slow-digesting carbs. This means they will give you steady energy during exercise.
How to store baked gluten free breakfast bars?
To keep the bars moist and fresh tasting, keep them in a closed container at room temperature for up to 2 days. Or refrigerate for up to a week.
If you need to keep them longer than that, wrap individual pieces in plastic wrap and place them in a freezer bag. They will keep for up to 3 months in the freezer.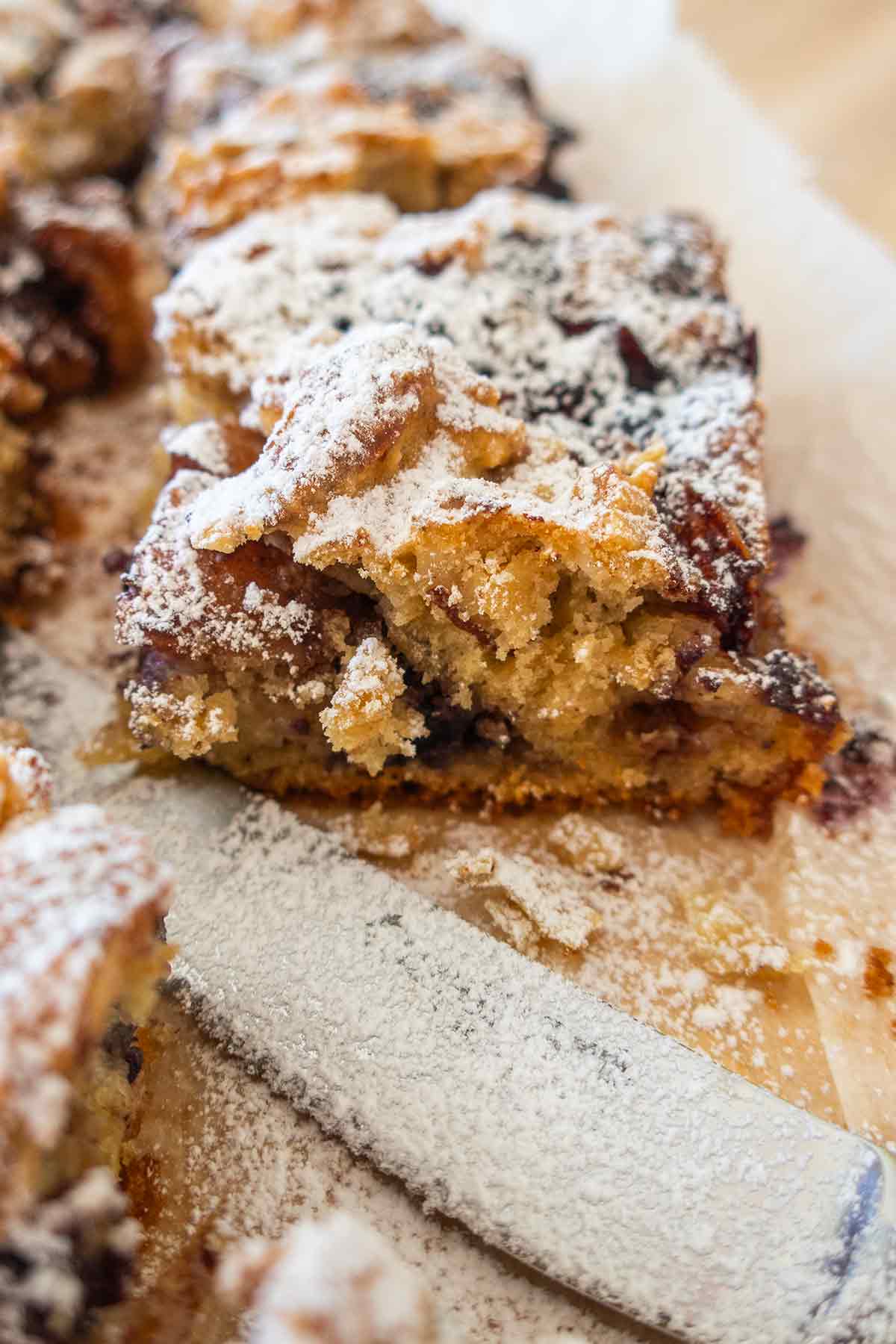 Why is breakfast bar popular?
They are a quick and easy way to have a nutritious breakfast on the go. The chewy oat and nut topping and juicy cinnamon fruit throughout make gluten free bars exceptionally tasty. Add a dusting of powdered sugar, a scoop of vanilla ice cream, and make them into a dessert.
Easy Gluten Free Breakfast Bar Recipe
Published on Apr 03, 2023
by
Kristina Stosek
Instructions
1.

Preheat oven to 350 F and line an 8x12-inch baking pan with parchment. paper

2.

Toss apples and blueberries with 1/4 cups of sugar and cinnamon. Set aside

3.

In a separate bowl, whisk the 2 flours, flaxseed, baking powder and salt

4.

In another bowl, using an electric mixer or a handheld whisk, beat the eggs with 2/3 cups of sugar for 1 minute. Add olive oil, milk and vanilla and whisk to combine

5.

Add wet mixture to dry ingredients, and using a rubber spatula mix until smooth

6.

Transfer about 2/3 of the batter to the prepared baking pan, then top with the fruit

7.

Mix oats and almonds with the remaining batter, and using a tablespoon, drop dollops of batter over the fruit

8.

Bake for 50 minutes or until the topping is golden brown

9.

Cool in the pan, then slice to the desired size
Leave a Comment
Kristina
Eileen, you can cut back on the sweetener, the bars will taste just as delicious, just less sweeter.
I was looking for a breakfast bar recipe that my husband (Celiac disease) could eat and I would like. Being a wheat eater, I'm picky about gf things containing gf flour. This made a nice Fall dessert we both loved. I really like how the topping is made so it doesn't fall apart. I used real milk. Far too much sugar to call it a 'healthy' breakfast bar though.
Kristina
yes Shelley, just make sure they are firm
can i substitute blackberries for the blueberries?
Kristina
What would you recommend for egg alternative, to make this vegan? Thanks
Kristina
sorry Kathy we don't at this time
Do you have the nutrition facts for this recipe?