Gluten Free Cupcakes with Mocha Frosting
Prep Time
15 Minutes
Difficulty
Easy
Cook Time
20 Minutes
Serves
12
Average Rating: 4.5 | Rated By: 2 users
Just imagine moist and tender cupcakes topped with light and fluffy mocha frosting. This gluten free cupcake recipe is simple to make and takes only minutes to whip up. Enjoy!
Ingredients
1 ½ cups all-purpose gluten free flour blend
¾ cup coconut sugar
2 tsp. GF baking powder (aluminum free)
½ tsp. sea salt
1/3 cup extra virgin olive oil
2 large eggs
½ cup milk of your choice
1 tsp. pure vanilla extract
MOCHA FROSTING
¾ cup GF icing sugar
¼ cup pure cocoa powder
1 ½ cups whipping cream
1 Tbsp. strong coffee
Instructions
Preheat oven to 350 F and line a cupcake pan with paper liners
Combine flour, sugar, baking powder and salt
In a separate bowl whisk olive oil, eggs, milk, and vanilla extract until creamy. Add to dry ingredients and mix to combine
Fill cupcake cups evenly with batter, about two-thirds full
Bake for 20 - 22 minutes or until a toothpick inserted in the middle comes out clean.
MOCHA FROSTING
Using a medium bowl combine icing sugar and cocoa powder. Add whipping cream and coffee and using an electric mixer whip until stiff peaks form
Spread the frosting over cooled cupcakes
Similar Recipes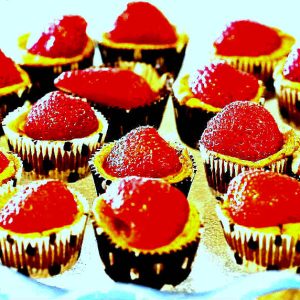 Flourless Chocolate Cheesecake Cupcakes
When it comes to chocolate cheesecake, smaller portions are always welcome such as these cupcakes. These gluten free flourless chocolate cheesecake cupcakes may look complicated but are simple to make. A small delectable dessert such as these morsels, everyone will love. The small cupcakes are especially popular at Valentines. Enjoy! […] Read More
Prep Time
15 Minutes
Serves
8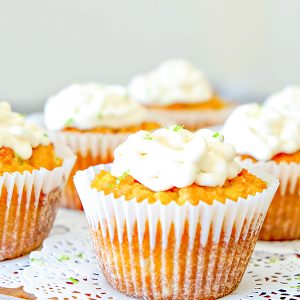 Gluten Free Coconut Key Lime Cupcakes
You would never know that these are gluten free coconut key lime cupcakes. They have a dreamy consistency that will melt in your mouth and are very addictive. The cupcakes can be made with or without the icing because both versions are fabulous and effortlessly scrumptious Read More
Prep Time
15 Minutes
Difficulty
Easy
Cook Time
20 - 25 Minutes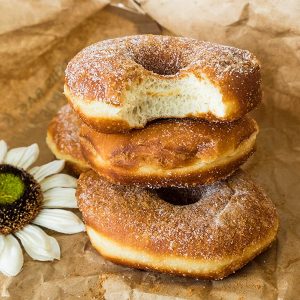 Gluten Free Cinnamon Donuts Recipe
Make delicious gluten free cinnamon donuts with this easy to follow recipe. When it comes to special treats, gluten free cinnamon donuts always make the list. Making them from scratch can seem overwhelming, but they are fast and easy I especially like to bring these to kids birthday parties instead of the usual cupcakes. They […] Read More
Prep Time
15 Minutes
Difficulty
Easy
Cook Time
20 Minutes