Gluten-Free Broccoli Cheddar Pie
Published on Sep 06, 2021
by
Kristina Stosek
Prep Time:

15 minutes
Cook Time:

40 minutes
Serves:

6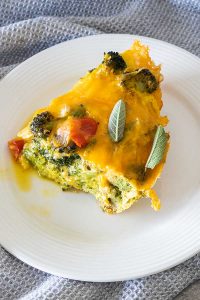 ​This post may contain affiliate links, please see our
privacy policy
for details
Broccoli Cheddar Pie, a savoury, cheesy pie packed with fresh broccoli for brunch, lunch or easy dinner. Broccoli, bell peppers, onions, herbs and two types of cheese all baked together for an easy meatless night. It's savoury, low-carb with the slightest flavour of caramelized veggies and plenty of cheese oozing throughout.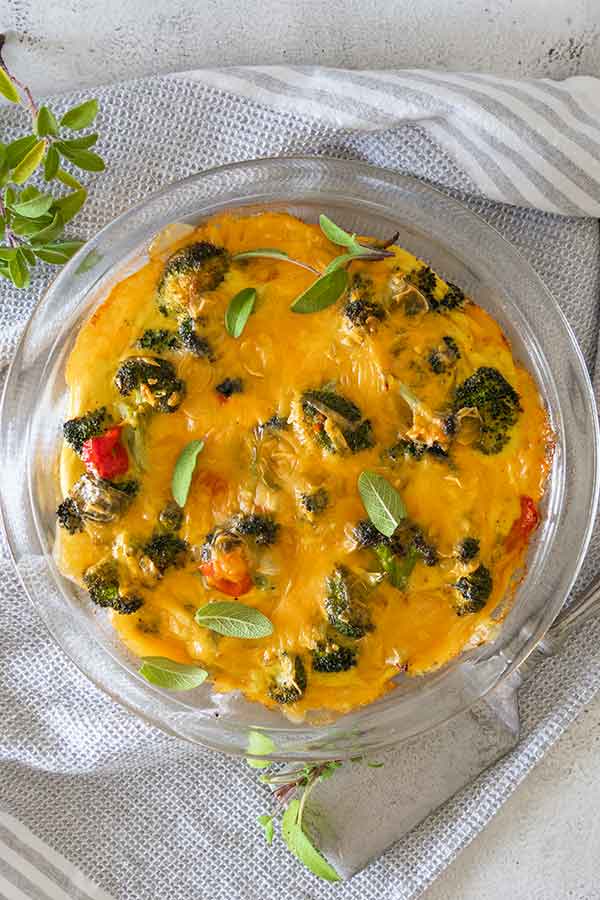 This is THE savoury pie for the end of summer or early fall…
This pie is similar to a quiche but with more veggies, fewer eggs, and extra cheese. It's easy to make, healthy and really good!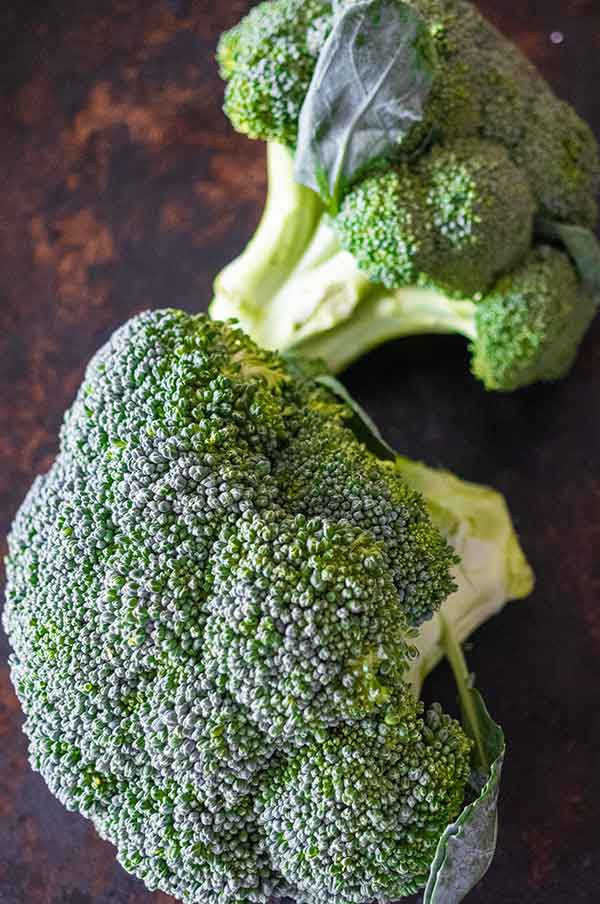 just briefly – health benefits of broccoli
Broccoli is a cruciferous vegetable, holding a variety of health benefits. This bright green or purple colour shaped like cauliflower vegetable may improve digestion, lower cholesterol levels, and maximize vitamin and mineral uptake.
It may also reduce inflammation and improve vision as well as ocular health. Broccoli is rich in dietary fiber and particularly rich in Lutein + zeaxanthin, vitamin A, potassium and beta carotene.
Let's jump right into the details…
If you have made a quiche before like our Potato Crusted Quiche or the Smoked Salmon Goat Cheese and Asparagus Quiche, it's light on veggies, with added protein such as salmon or ham, eggs and cheese. However, THIS gluten-free broccoli cheddar pie is more than that.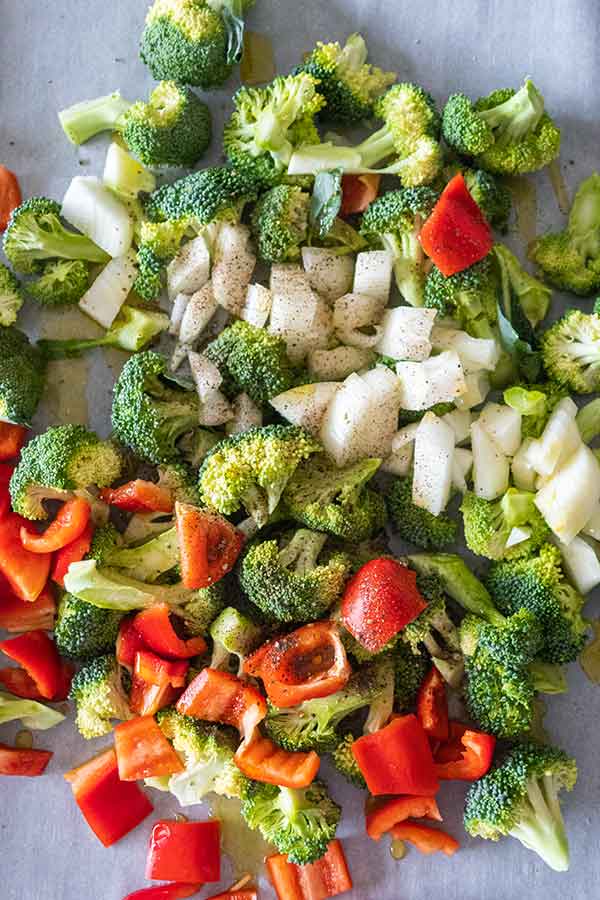 Start with preparing the veggies
I doubled the veggies that I would typically use in a quiche. The broccoli, bell peppers and onions are roughly chopped, tossed with some good quality olive oil and then briefly roasted.
By roasting the veggies first, they are lightly cooked and have a delicious caramelized flavour. So so tasty!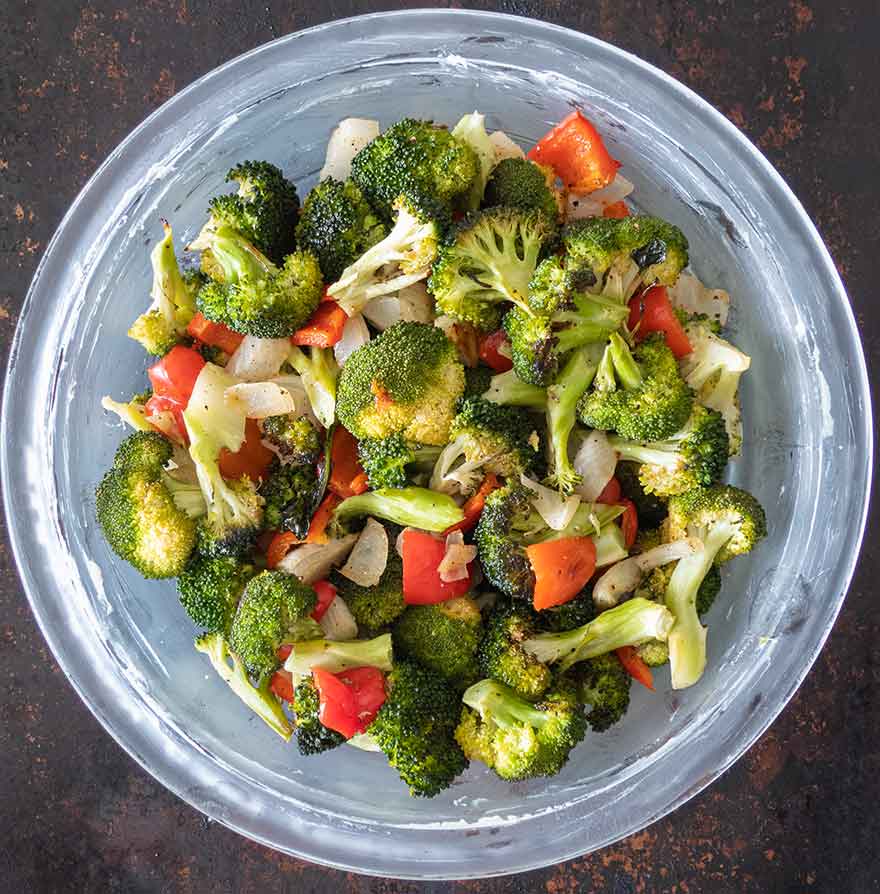 Add wet ingredients, cheese, herbs and tapioca flour
Add the roasted veggies into a deep dish pie pan. To make this into a pie, I added eggs, milk, yogurt, fresh herbs, a couple of spoons of tapioca flour, pinch of nutmeg and cheese. The mixture creates a pie-like texture that encases the roasted veggies.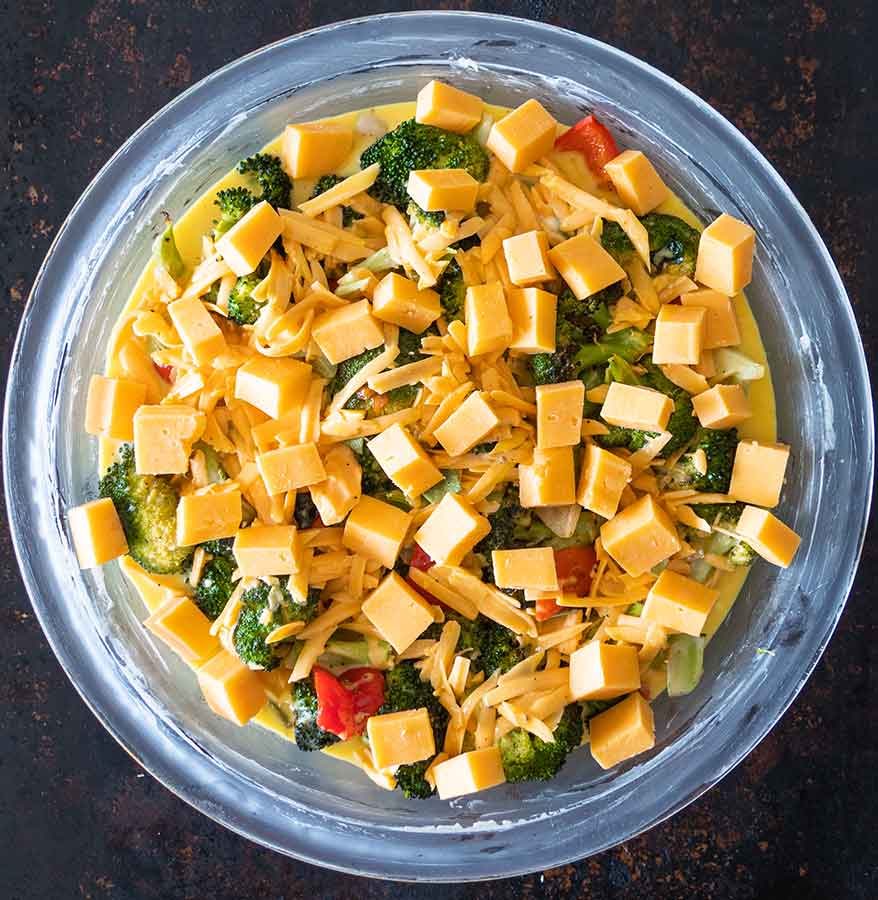 Add a cheesy topping
To create a cheesy topping, I added extra cubes of good melting cheese. This is where you can be creative. Add your favourite cheese. One of my favourites is smoked gouda. The smokiness of the gouda cheese adds extra flavour making the low-carb gluten-free broccoli pie exceptionally tasty.
Why add bell peppers to this broccoli cheddar pie?
When you combine onions with bell peppers and roast them until they are lightly caramelized, the two veggies add a subtle pepper onion flavour that's unexpected adding another level of deliciousness.
Why two types of cheese?
If you don't have another cheese on hand, using just cheddar cheese makes the pie just as delicious. Often I like to add another cheese for the topping. By using a different cheese, you get another flavour making the broccoli pie extra special. Either way, this savoury pie is really good!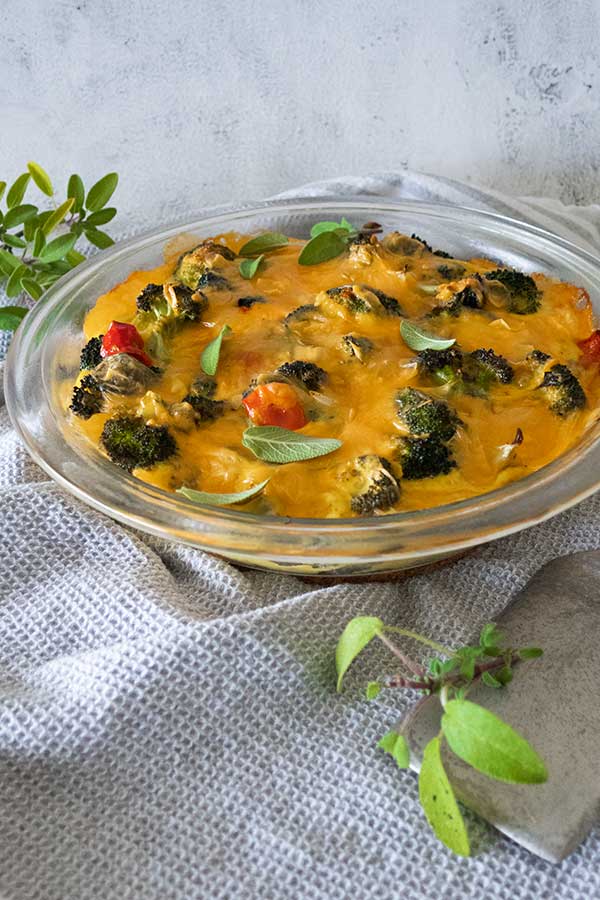 Key points to this low-carb broccoli cheddar
This savoury pie is healthy because it is heavy on fresh veggies.
If you are following a low-carb or keto diet, this pie is for you.
This gluten-free pie recipe is a crust-free, so fewer carbs, less calories, and easy to make.
The veggies are first briefly roasted. Again, less work than cooking them in a skillet first, and by roasting the veggies, they have less moisture. Less moisture makes better pies.
The pie is gluten-free and grain-free.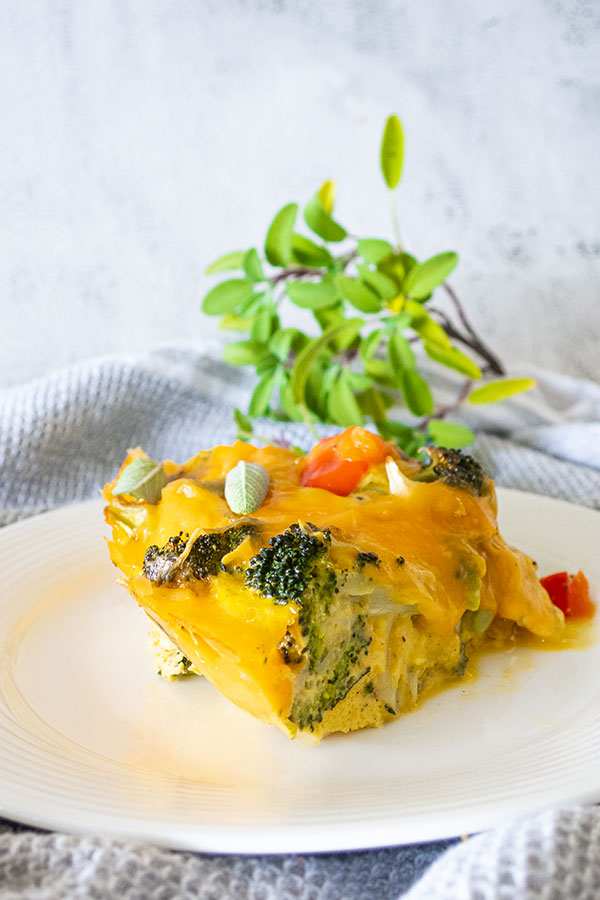 Best way to serve gluten-free broccoli cheddar pie
This savoury dish can be served warm or at room temperature. The best part, you can make the broccoli pie in advance, making it ideal for entertaining. And the leftovers are great for another day.
I hope you will enjoy this healthy vegetarian pie for brunch, lunch or dinner. If you are thinking dinner, add a light salad or a side of our delicious Gluten-Free Garlic Cheese Monkey Bread.
Let's Connect!
Be sure to FOLLOW US on FACEBOOK and PINTEREST. And don't forget to sign up for our newsletter, the form is at the bottom of this page. We always have something new and exciting for you!
Many thanks!
Kristina xx
Gluten-Free Broccoli Cheddar Pie
Published on Sep 06, 2021
by
Kristina Stosek
Instructions
1.

2.

Place broccoli, onions, bell peppers, garlic and olive oil on a large rimmed baking sheet. Using your hands, mix everything to coat with the oil. Season with salt and pepper. Bake for 10 minutes, then cool

3.

Reduce oven temperature to 350 F

4.

5.

Using a large bowl, whisk together eggs, milk, yogurt, tapioca flour, herbs, nutmeg, salt and pepper. Add shredded cheese and mix to combine

6.

Pour the egg mixture over the veggies and scatter the cubed cheese over top

7.

Bake for about 40 - 45 minutes or until the pie is golden and the center is fully set. If the pie starts to get too brown during the baking process, cover it with foil. 

8.

Let it cool for 15 minutes before serving.
Leave a Comment
This pie turned out sooo good! I made it for brunch with a light salad, the recipe is super simple. Thank you for making my gluten free life so much easier!