Gluten-Free Potato Crusted Quiche
Published on Aug 24, 2020
by
Kristina Stosek
Prep Time:

15 minutes
Cook Time:

50 minutes
Serves:

6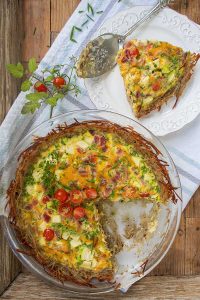 ​This post may contain affiliate links, please see our
privacy policy
for details
I am super excited about this Gluten-Free Potato Crusted Quiche. This quiche is one of those dishes that will please everyone. Just think, a thin crust made with grated roasted potatoes, filled with a silky smooth and creamy custard and fresh veggies.
If you are looking for some smokiness, add chopped cooked bacon or ham, or if you prefer, seafood add smoked salmon.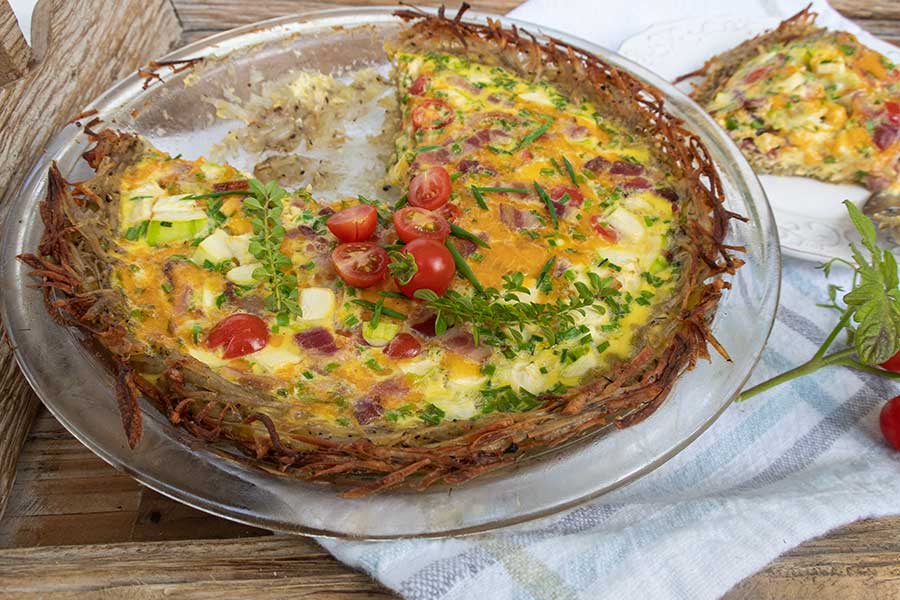 What is a quiche?
A quiche is a savoury custard made with milk or cream and eggs. However, there is more than one way to make a quiche. It's all in the crust. There is the full-on buttery tart crust, then there is the crustless quiche, but my favourite is the potato crusted quiche.
The crispy potatoes add that extra crunch balancing the creamy soft texture of a quiche. You don't need anything else to add to this potato crusted quiche.
This quiche has everything, from crispy potatoes, fresh veggies, meat or seafood if you like, cheese and creamy, savoury custard. Just talking about this melt in your mouth potato crusted quiche makes me want to bake another quiche.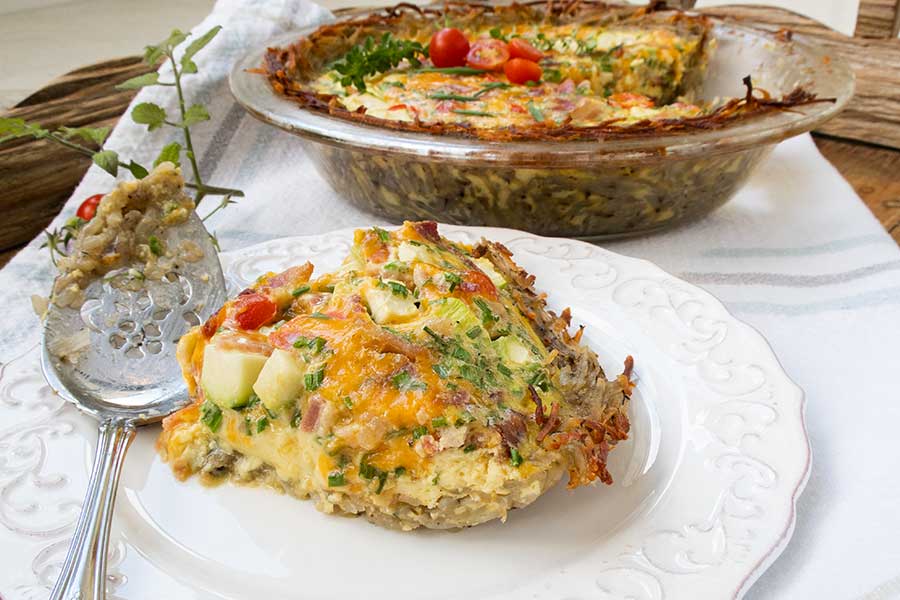 what can you add to a quiche?
It gets interesting when you start playing with the filling. I prefer to use fresh veggies in my quiche. If you are using tender zucchini, asparagus, tomatoes or spinach, you don't have to pre-cook the veggies. The texture will be perfect…tender and firm to bite.
If you are using heartier vegetables like broccoli or kale, I recommend to saute them briefly before you add them to the egg mixture. However, it is essential to drain them of any liquids, or the quiche may become watery, and I always cook mushrooms first before I add them to the eggs to avoid extra moisture.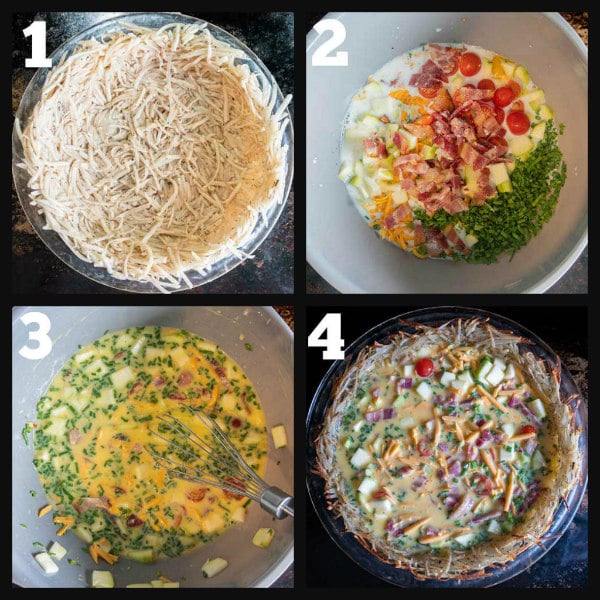 Simple steps for the best potato crusted quiche.
Not only the potato crusted quiche is the best, but it is also the easiest to make. To start, you grate the potatoes, once they are grated using paper towels or a dishcloth squeeze out as much of the liquid as possible. Removing the liquids is what will give you a crispy crust, not soggy and unappetizing.
Once the potatoes are ready, spread them firmly in the pie plate and bake at a high temperature of 425 F
The next step is filling. While the crust is baking, you will have plenty of time to prepare the filling. In a large bowl, add eggs, milk, cheese and spices 🙂 no need to stir anything at this point.
Now you add the vegetables you have on hand or the ones that you love the best. The vegetables should be thinly sliced or chopped. Add them to the eggs.
If you are using bacon, ham, or seafood, throw that in as well. The bacon should always be pre-cooked and drained, adding some crunchy texture to the quiche.
If you are using fresh herbs, add those now. Dried herbs are good too, but the fresh herbs make everything taste so much better.
Now that your filling is ready, carefully pour it into the baked potato crust and place it on the lower rack in your oven. Bake the quiche until the center is set but still has a slight jiggle.
Do not overbake the quiche, or it will be grainy and dry. Once the quiche rests for a few minutes, it will have a perfect custard texture.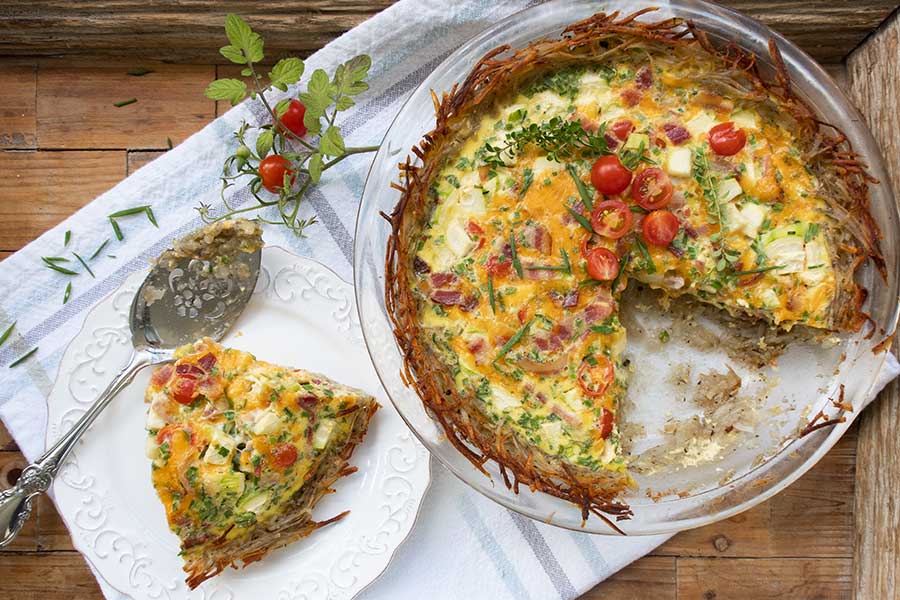 Why is quiche so popular?
What I love the best about a quiche is, you can make the quiche now and serve it later or the next day. Quiche is delicious hot straight from the oven or cold the next day.
I often serve this gluten-free potato crusted quiche for a large brunch or an intimate lunch. The quiche is so versatile. If I am looking for a heartier dinner meal, I often add a fresh salad. Enjoy!
Gluten-Free Potato Crusted Quiche
Published on Aug 24, 2020
by
Kristina Stosek
Instructions
1.

2.

Preheat oven to 425 F. Grease a glass deep-dish pie plate with olive oil or butter

3.

Squeeze as much liquid from the potatoes using paper towels or a dishcloth

4.

Combine potatoes with olive oil and season with salt and pepper. Sometimes I add a sprinkle of dried thyme

5.

Press the potatoes firmly into the pie plate to form a crust. Place the dish on the lower rack in your oven and bake until the edges start to turn a golden colour, about 18 - 20 minutes

6.

7.

Meanwhile, while the crust is baking, prepare the filling. Using a large bowl add eggs, milk, cheddar cheese, salt, pepper and choice of veggies and meat. Whisk to combine.

8.

Once the crust is baked, reduce the heat to 350 F and gently pour the egg mixture into the potato crust. Place the dish on the lower rack in the oven and bake for 30 - 32 minutes until the eggs are set in the middle but still have a slight jiggle

9.

Cool for 10 minutes then serve