Braised Red Cabbage with Sweet Potato
Prep Time
15 Minutes
Difficulty
Easy
Cook Time
25 Minutes
Serves
4
Average Rating: 4.5 | Rated By: 3 users
The braised red cabbage with sweet potato makes for a nice side to pork, turkey or chicken. The sweet taste of maple syrup with a hint of nutmeg gives this vegan dish a taste of winter.
Ingredients
2 Tbsp. extra virgin olive oil
1 medium size yellow onion, thinly sliced
½ tsp. GF ground nutmeg
½ medium size red cabbage, thinly sliced
2 medium size sweet potatoes, peel and cubed
½ cup water
2 Tbsp. apple cider vinegar
1 Tbsp. pure maple syrup
Sea salt and freshly ground GF black pepper to taste
*As an Amazon Associate and member of other affiliate programs, I earn from qualifying purchases. Please check out my sponsorship and disclosure policy page for more details
Instructions
Heat olive oil over medium-low heat in a large saucepan. Add onions and cook for 5 minutes, stirring frequently
Add nutmeg, cabbage and potatoes and stir to combine.
Add water bring to boil and cover. Reduce heat to low and cook for 20 minutes or until sweet potatoes are tender. Stir occasionally while cooking
Add apple cider vinegar, maple syrup and season with salt and pepper. Enjoy!
Similar Recipes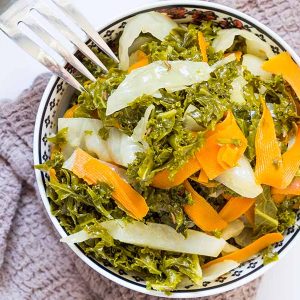 Braised Kale with Cabbage and Carrots
This dish is so simple to prepare yet tastes absolutely wonderful. Kale, cabbage and carrots make tempting partners in this tasty dish. Serve over rice or as a side with a main dish. This vegan dish is packed with healthy nutrients, enjoy! Read More
Prep Time
15 Minutes
Difficulty
Easy
Cook Time
25 Minutes
Serves
4-6
Simple Curried Cabbage Recipe
Here is a simple cabbage dish flavoured with a light yogurt curry sauce. Add a little spice to your main with this delicious and healthy curried cabbage side dish. Read More
Prep Time
10 Minutes
Difficulty
Easy
Cook Time
25 Minutes
Serves
4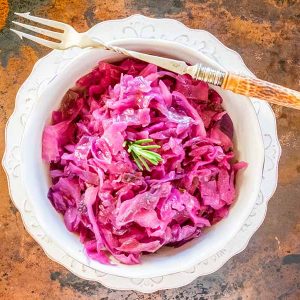 Stewed Red Cabbage With Apples
This zesty stewed red cabbage with apples will upstage any side. During festive season it is nice to find a recipe that is a bit different from typical classic sides. When serving turkey, chicken or pork, this stewed red cabbage with apple recipe will impress your guests every time Read More
Prep Time
20 Minutes
Difficulty
Easy
Cook Time
25 Minutes
Serves
6