Baked Hawaiian Chicken with Pineapple
Published on Jul 18, 2017
by
Kristina Stosek
Prep Time:

15 minutes
Cook Time:

45 minutes
Serves:

6-8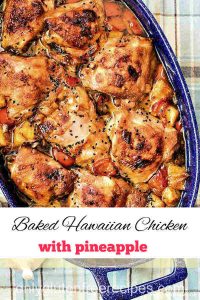 ​This post may contain affiliate links, please see our
privacy policy
for details
This gluten-free Baked Hawaiian Chicken with Pineapple recipe takes minutes to prepare with delicious flavours throughout. The chicken is tender with crispy skin smothered in the most delicious Hawaiian pineapple sauce.
Hawaiian chicken with pineapple — the details,
I love this chicken recipe because it is so simple to prepare. First, you brown the chicken and place the chicken pieces in a baking dish. Using the same pan you browned the chicken in, add onions, bell pepper, garlic and ginger. Stir-fry for 1 minute over medium heat.
For the sauce, combine maple syrup, tamari sauce and tapioca starch until smooth. Add sauce and pineapples to the wok with the vegetables and briefly cook until the sauce starts to thicken. Pour the pineapple sauce over the chicken and bake until the chicken is tender. Nothing to it…right? Bringing some tropical flavours to everyday cooking is always a bit hit at our home. However, this stunning chicken dish is impressive enough for when the company is coming!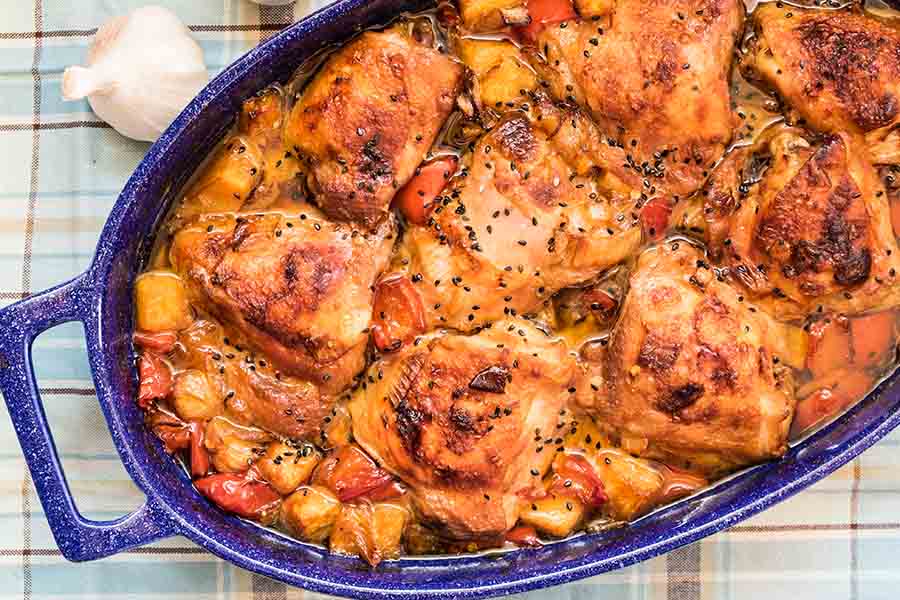 Pineapple is surprisingly tasty in savoury dishes such as this baked chicken dinner. The tropical fruit gives this Hawaiian dish a zesty fresh flavour rather than sweet, setting this chicken recipe apart from most. This chicken with pineapple dish goes beautifully with our saffron rice with mint and caramelized onions
If you have any fresh pineapple left over from this recipe, try one of our gluten-free pineapple dessert recipes!
Baked Hawaiian Chicken with Pineapple
Published on Jul 18, 2017
by
Kristina Stosek
Instructions
1.

2.

3.

Heat coconut oil in a large non-stick frying pan or wok over high-heat. Add the chicken and sear on both sides until golden. About 2 minutes per side. Remove the chicken and arrange chicken pieces in a 9 x 13-inch baking dish

4.

Remove most of the oil from the wok. Add onions, bell pepper, garlic and ginger. Stir-fry for 1 minute over medium heat

5.

In a small bowl mix maple syrup, tamari sauce and tapioca starch until smooth. Add sauce and pineapples to the wok and cook over medium heat until the sauce starts to thicken. Once the sauce starts to thicken remove it from the heat immediately and pour it over the chicken

6.

Bake until chicken is browned and fully cooked. About 40 minutes

7.

Serve over rice and sprinkle with sesame seeds