9 Most Downloaded Soup Recipes During Quarantine
Today I am sharing our Most Downloaded Best Soup Recipes During Quarantine. I know how hard it can be to find tasty and healthy recipes that don't include gluten. Sure, there are plenty of blogs out there with gluten-free recipes, but it is nice to find one that has recipes that have been tested and are popular with their readers.
I'm 100% committed to providing the most delicious and healthy gluten-free meals on this side of the internet. My blog is updated with new posts regularly, so it's always up to date with what's happening in my kitchen. When we quarantine, we learn to cook with simpler ingredients because searching for special gluten-free food isn't always an option.
If you're on a gluten-free diet, soup is one of the perfect solutions for your cravings. Soups are easy to make and can be enjoyed as a meal or snack. When you cannot eat bread or other foods with gluten, soup is your best friend for making sure you get enough nutrients, fiber and protein from vegetables, legumes and lean meats.
In this yummy-filled soups post, I'll be introducing you to 9 delicious soup recipes with no fuss. The best part? They are our most downloaded soup recipes during quarantine. Let's start by delving into the importance of soups.
why soups are good for your health…
Have you ever craved a bowl of hot and tasty soup? This is because many people believe that soups are excellent comfort food and good for your health.
Soups are often overlooked as a meal, but a healthy diet of soups and broths can transform your body and your life. They can provide your body with a steady stream of nutrients, enable you to burn fat, give an element of variety to your diet, and pack in some protein and fiber. In short, there are so many reasons why recipes for soups are always so popular.
Research has shown that having soup regularly can help with various health concerns such as weight loss, heart disease, and even cancer.
Gluten is a protein found in wheat, rye, and barley that causes an inflammatory reaction in the intestines of those sensitive to it. And for many, this includes digestive disorders.
Including hearty and soothing healthy soups in your regular meals can help ease this inflammation by soothing the intestine's lining, preventing irritation, reducing gas production, and decreasing bloating.
why soups during the quarantine…
One of the factors I believe make soups popular during quarantine is that people get tired of eating the same old things. But, with a bit of creativity and much love, tasty soup recipes bring variety to the table, giving people the strength to wade through these challenging times.
I'm not going to lie – it's challenging following a strict gluten-free diet. With limited food options during the quarantine, it can be frustrating, especially for new gluten-free diet adherents.
However, looking at the stats for our most downloaded soup recipes, it is heartwarming to know that people turned to these simple meals in bowls that took plenty of trials and errors to perfect for comfort, deliciousness, strength, and a healthy dose of nutrients.
our 9 best gluten-free soups during quarantine
Best Cabbage Roll Soup
Thinking of making cabbage rolls? First on the list is this tasty gluten-free best cabbage roll soup. If you're feeling adventurous like me, then this meaty cabbage roll soup recipe might just push you over the edge.
You already love eating cabbage rolls, now try this yummy cabbage roll soup recipe and discover a whole new way to enjoy your favourite meal.
Each bite is packed with a savoury blend of flavours. Aromatic and spicy, this soup is made with ground beef, grated sweet potatoes, bell peppers, cabbage wedges, crushed tomatoes, onions, and other healthy ingredients.
One key ingredient that gives this recipe its deliciousness is the grated sweet potatoes. Foods like sweet potatoes are said to promote health and wellness because they contain a high level of dietary fiber. As natural sugar is broken down, the body absorbs it better. This makes low-carb sweet potatoes a win-win situation.
Additionally, sweet potatoes contain fiber and vitamin A, which are helpful for the digestive tract. This soup is packed with not just deliciousness but also nutrients your body needs. Click here to get the full recipe.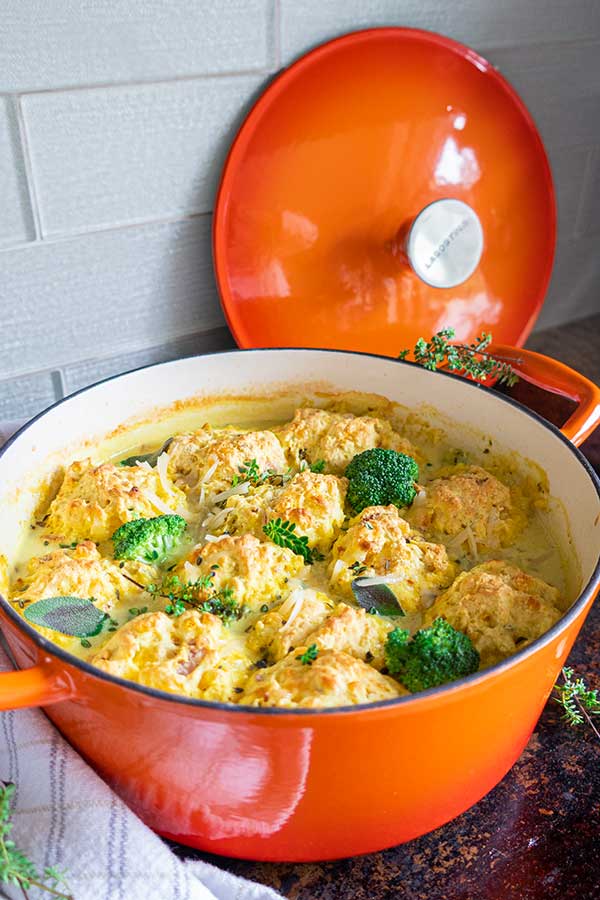 Broccoli Cheddar Soup with Gluten-Free Bacon Cheese Biscuits
If you're looking for a soup recipe to warm you up on a gloomy day, this Gluten-Free Broccoli Cheddar Soup with Bacon Cheese Biscuits is just what you need!
This Creamy Broccoli Cheese Soup recipe combines broccoli, olive oil, sharp cheddar cheese, bacon, and carrots in the creamiest, cheesiest soup base. The hearty soup is topped with gluten-free bacon cheddar cheese biscuits that are as easy to make as they are delicious.
This hearty soup, a delicious and filling option, will leave you feeling full, happy, and satisfied. Not only is the soup satisfying, but it is also a great way to get lots of nutrients into your diet.
All you need are a few essential ingredients and a few minutes of your time, and you'll have a delicious meal that will satisfy all of your cravings. Click here to get the full recipe.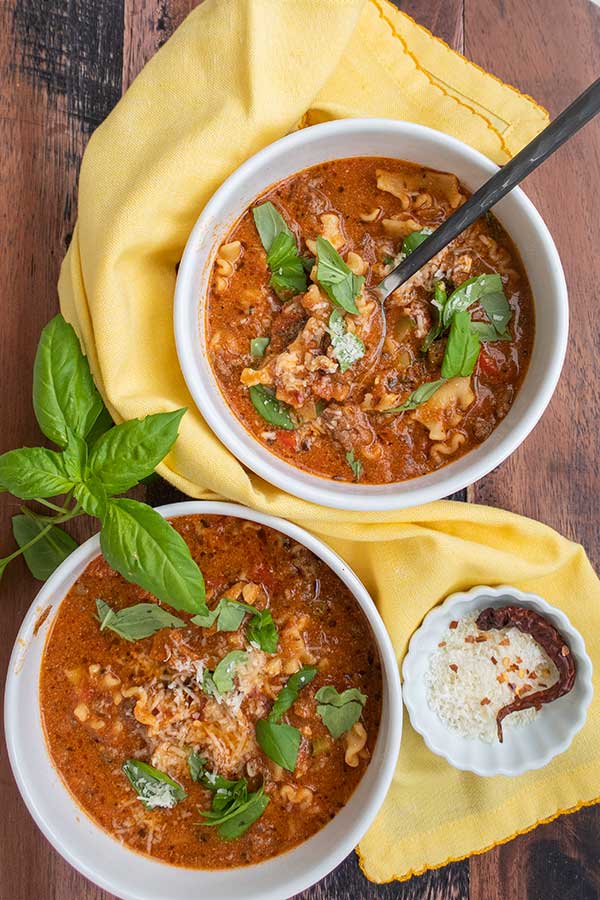 Best Gluten-Free Lasagna Soup Ever!
I love lasagna, but how do you make a healthy version of lasagna from scratch? The answer is this best gluten-free lasagna soup recipe!
Although I love lasagna, I have never been a fan of how expensive it can get. I've always believed in cooking from scratch. It's healthier and more fun. This pushed me to create a lasagna soup made from scratch, and the great part is that it's gluten-free and healthy too. It has delicious layers of ingredients and is super easy to make. The best part, you can make this without breaking the bank.
Made with fresh vegetables, herbs, and cheeses, the result is an incredibly flavorful, creamy soup delight. The soup serves well with freshly-baked gluten-free cheese and garlic flatbread, and it makes for a filling and satisfying meal, even on those cold nights.
Explore the kitchen creatively while keeping your health in focus with this creamy gluten-free lasagna soup.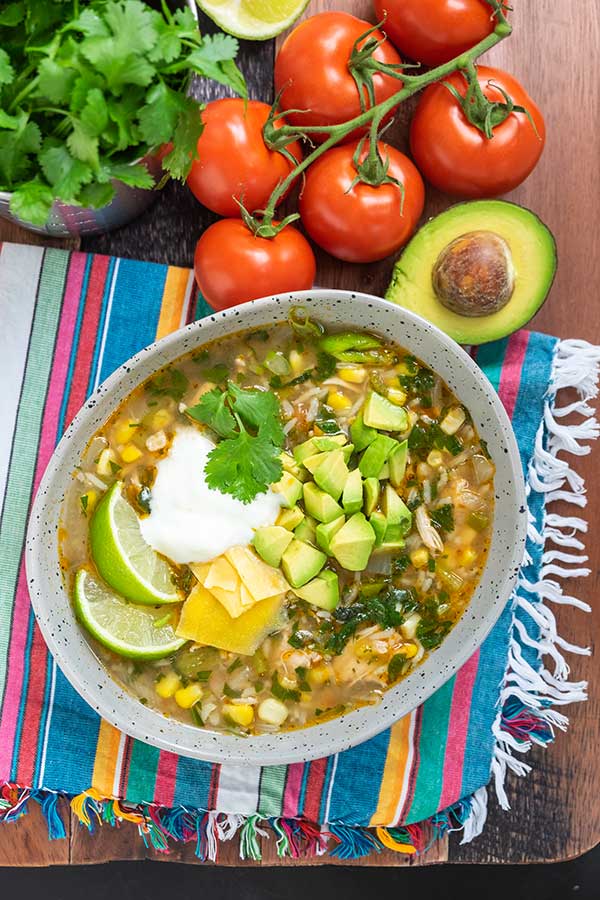 Mexican Chicken Rice Soup (my favourite soup during quarantine)
Ahhh! Mexican Chicken Rice Soup. What a classic but often underrated soup-duo. I'm not sure what it is about Mexican food or traditional rice and chicken that makes us feel all warm and cozy inside, but if you haven't had it, this recipe is a must!
Being locked indoors for days on end can mess with your mood, emotions, and overall well-being. A classic soup combination – Mexican-inspired chicken and rice soup is not only delicious but comes in hot as well, a great comfort meal for when you are feeling under the weather.
There's no denying the nourishing benefits of a hearty, comforting bowl of soup like this filling soup packed with so much flavour and nutrients. I love to make Mexican Chicken Rice Soup when I want to kick up the flavour and add some spice to my day. It's easy to whip up and incredibly delicious. The full recipe is right here.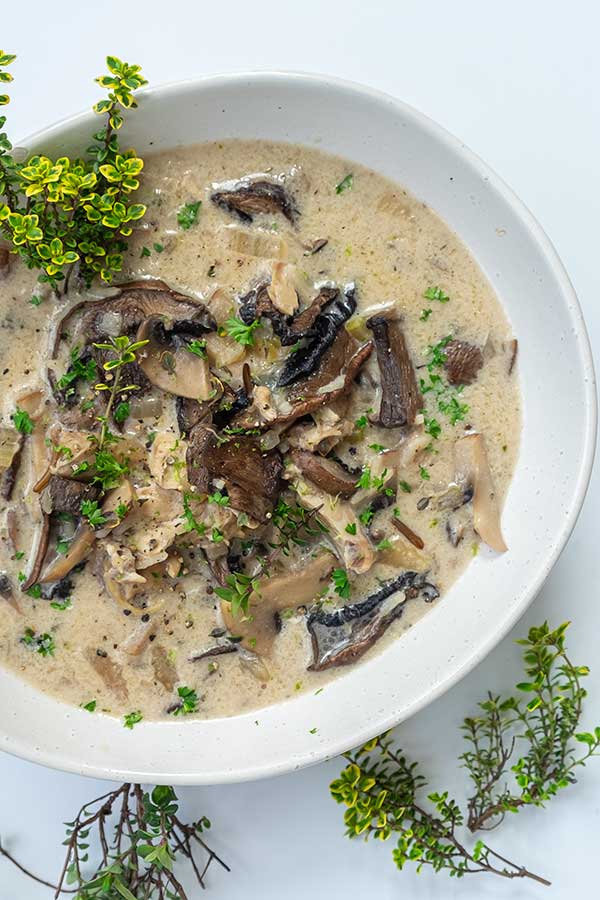 Creamy Chicken Mushroom and Rice Soup
When I think of comfort food, this Creamy Chicken Mushroom and Rice Soup is one of the first things that come to mind. With its perfect balance of distinct and delicious flavours, this soup is nothing short of outstanding.
In terms of health benefits, mushrooms are one of the best. Regularly eating mushrooms can help reduce heart disease risk, blood cholesterol levels, and cancer risk. Mushrooms are not just filled with nutrients, but when it comes to soups, mushrooms are excellent additions because of their low calories.
With their tasty textures and the ability to be cooked into any dish, mushrooms give a fantastic amount of flavour, especially in soups. This creamy chicken mushroom and rice soup is no exception. Check out the full recipe here.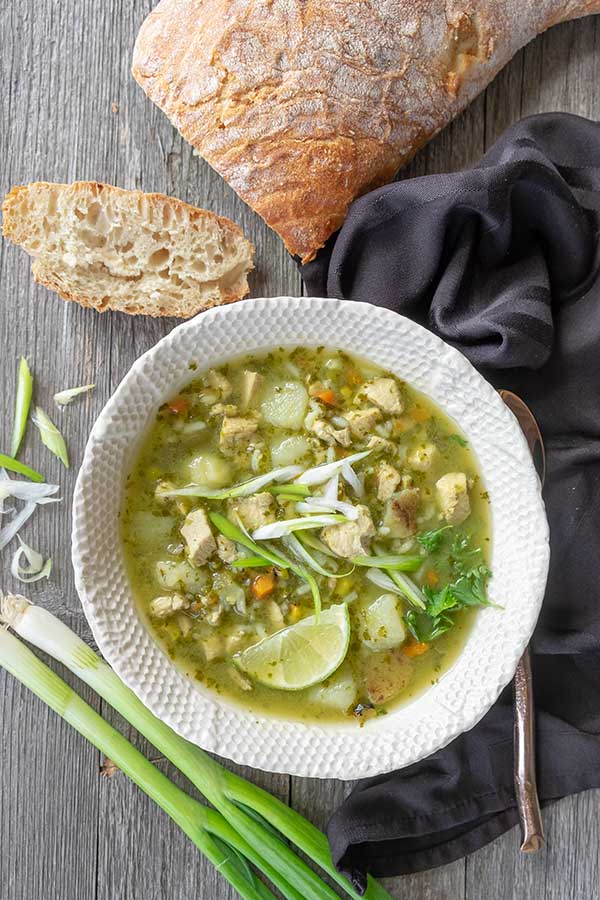 Peruvian Chicken Soup
One way to make the quarantine less troubling is to get creative, and this Peruvian chicken soup recipe turns on your creative juices.
A famous soup in Latin American cuisine, the Peruvian Chicken Soup is a beautiful example of how we embrace spices worldwide in our cooking. Not just flavours but owning these recipes and making them healthy and gluten-free too.
Chicken soup is among the most comforting and delicious soups you can make. Peruvian Chicken Soup is a great meal that provides the feeling of well-being and is a very flavorful soup filled with tender bites of chicken.
Take a look at the complete recipe of this yummy comforting soup here.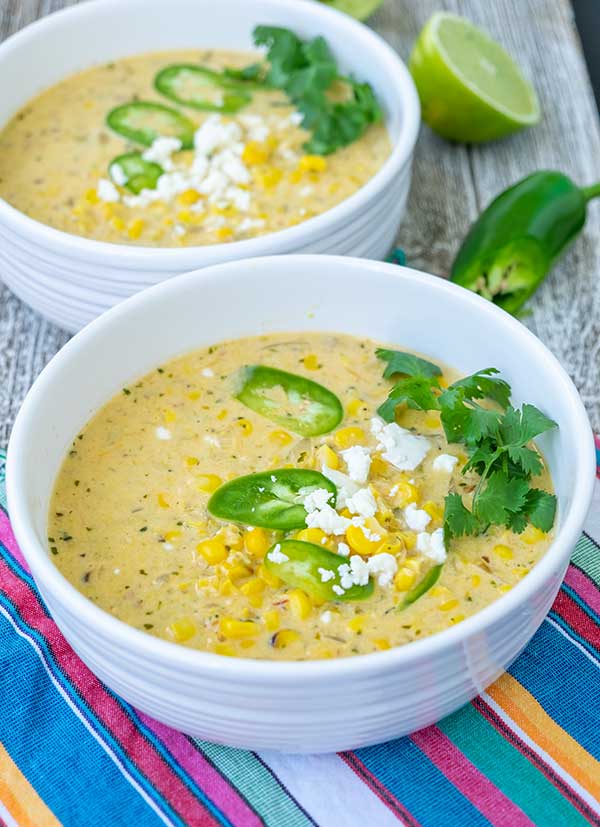 Mexican Street Corn Soup
The aroma and taste of Mexican street corn while walking down the street in Mexico would make your mouth water. While we may not be able to go out on the streets and scoop up some street food, you can recreate that nostalgic feeling with this healthy gluten-free savoury Mexican street corn soup recipe from the comfort of your home.
This soup will fill you up and fill your soul with the warmth of Southwest while at the same time giving you all the needed fiber to feel full and keep going. Fresh corn is my favourite kind of corn; the combination of fresh corn and the seasonings in this simple soup is just magic. You can't go wrong with the taste of fresh corn in a simple, creamy yet spicy soup like this one. Click here to get the full recipe.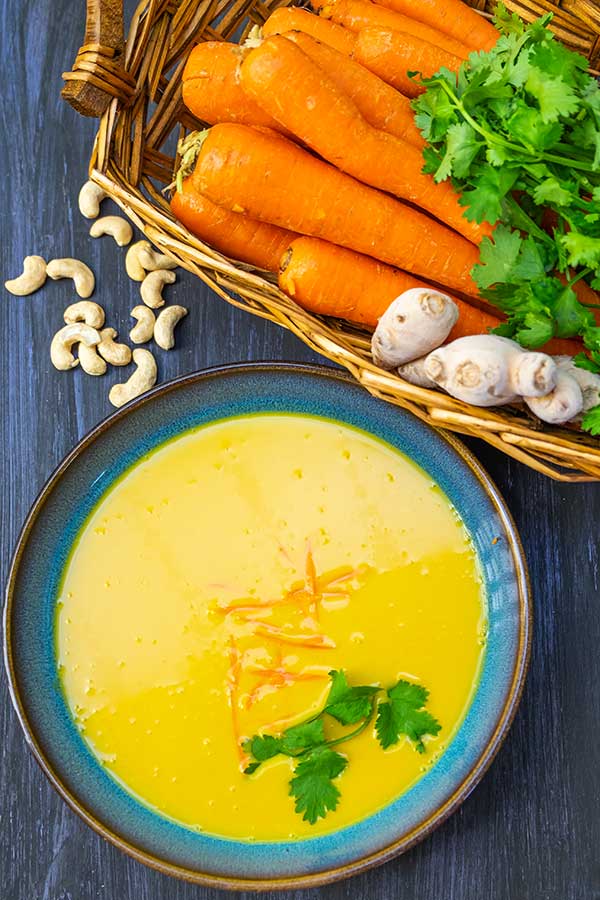 Creamy Cashew Carrot Ginger Soup
What's better than an immune-boosting soup during quarantine? This vegan-friendly gluten-free creamy cashew carrot ginger soup ticks all boxes. The fresh vegetables that make up this easy and simple soup recipe add lots of vitamins and minerals into your diet while adding a unique gingery taste that just seems to perk up any meal.
The creaminess of this healthy vegan-friendly soup comes from the combination of carrots, ginger, and garlic, leaving you wanting more.
The addition of cashews provides a healthy boost of energy and healthy fats. It acts as a source of fiber that helps to keep you feeling full throughout the day. The creamy vegan soup recipe is right here.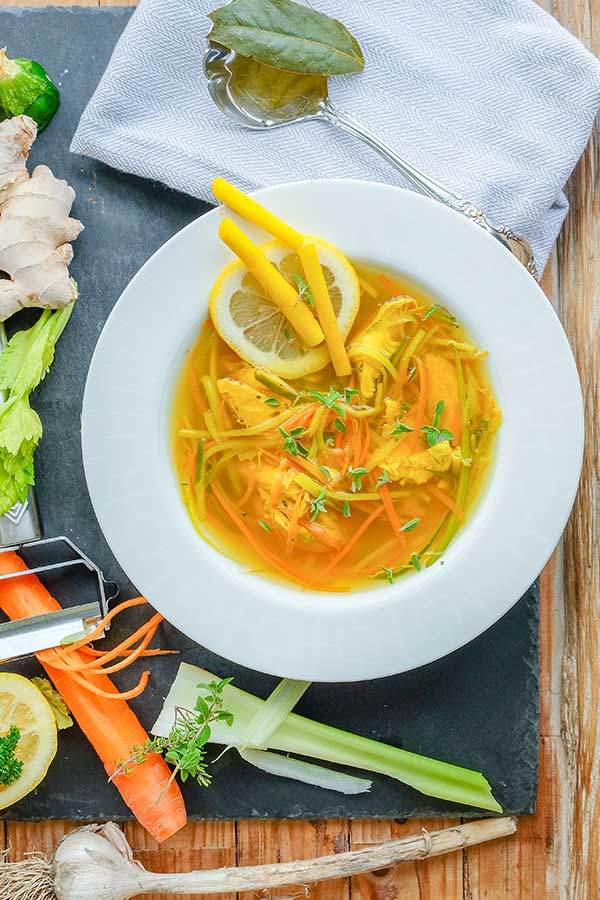 30-Minute Immune Boosting Chicken Soup
This is another immune-boosting healthy soup recipe to make this quarantine. Easy to make, this simple, healthy chicken soup is a favourite recipe that not only cures my sick self but also seems to help stop colds and flu before they start!
Chicken soup has a reputation for being the ultimate comfort food. It's warm, it's delicious, and it smells incredible! This delicious soup is full of nourishing ingredients such as protein, healthy broth, and vegetables. It is the perfect food to help promote good health when you are fighting an infection or just wish to have a more powerful immune system. Find the full recipe here.
conclusion…
Soups are hot and tasty, help you feel better, and are great for your health. Sometimes, you just need a bowl of hot soup during uncertain times, and these recipes will help you create that perfect gluten-free soup every time. They are easy, tasty, and filled with healing ingredients. Try any of these insanely good healthy soup recipes to satisfy your cravings and feel good too.
If you are looking for a special gluten-free soup, check out our complete list of gluten-free soup recipes here.