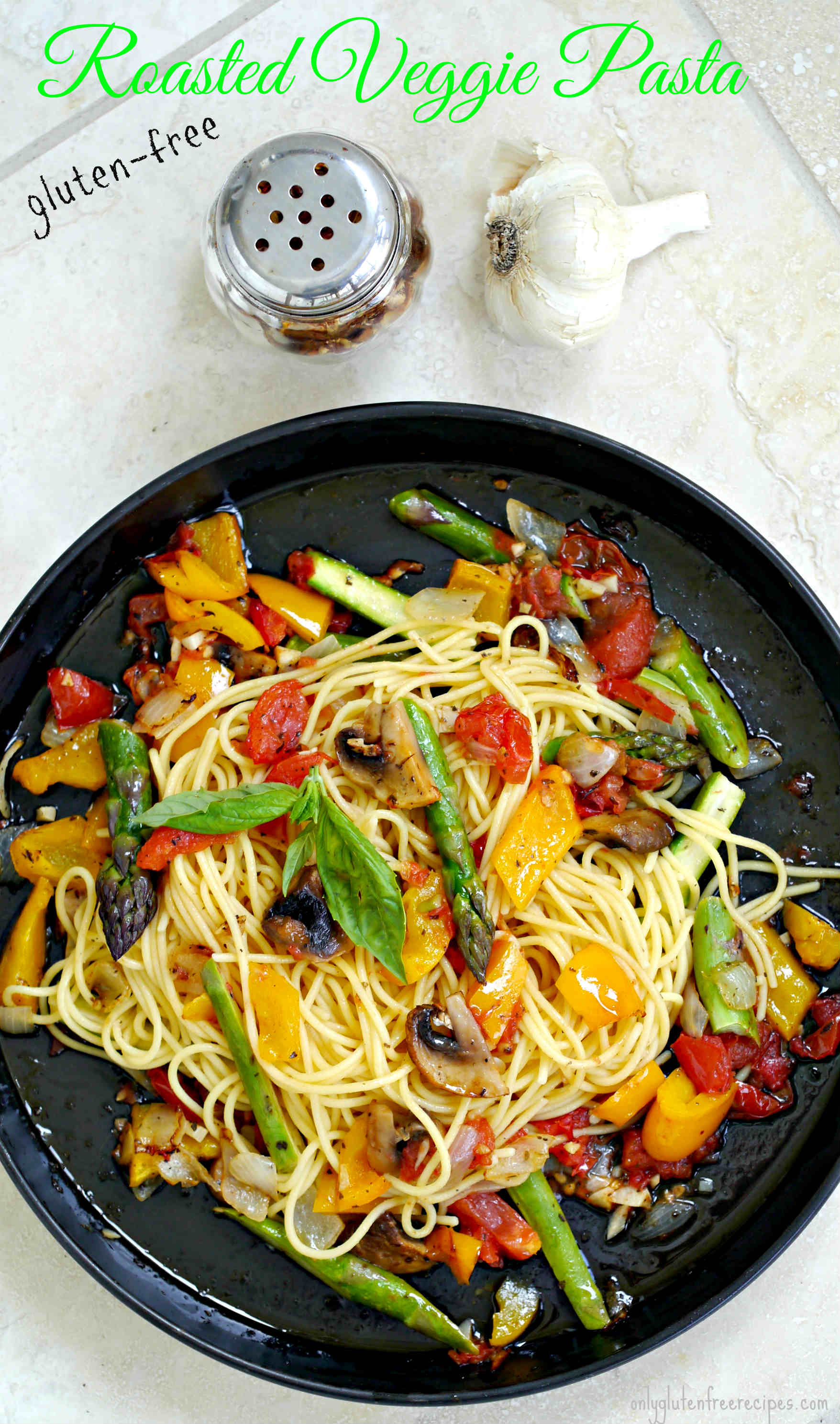 Gluten Free Roasted Veggie Pasta

Ingredients
1 medium size yellow onion, roughly chopped
3 large tomatoes, cut into bite size pieces
2 yellow bell peppers, cut into bite size pieces
6 oz. medium size button mushrooms, quartered
1 lb. young asparagus spears, trimmed and cut into 2-inch pieces
4 garlic cloves, quartered
¼ cup extra virgin olive oil
1 Tbsp. dried basil
1 tsp. Himalayan salt or to taste
Hot chili pepper flakes to taste (optional)
10 oz. uncooked gluten free pasta (quinoa, corn or rice)
Note: in this recipe the flavour is as good as the ingredients, try to use young organic veggies if possible
Instructions
1.

Preheat oven to 400 F

2.

In a large oven proof pan combine all the ingredients, except the asparagus and bake for 15 minutes, carefully stirring half way through

3.

While the veggies are baking, cook the pasta according to the package instructions

4.

After 15 minutes, add the asparagus to the vegies and bake for 5 more minutes

5.

Add the pasta to the veggies and combine well. Enjoy!
Hi, I'm Kristina. Welcome to Only Gluten Free Recipes, the home of healthy, nourishing recipes. My goal is to inspire you to embrace gluten-free recipes using wholesome ingredients, good fats and without refined sugar. Most of my recipes are simple and allergy friendly[...]
Read more...
Recent Recipes
Love the convenience of a one-pot meal simmering on the...

Why have plain rice when you can indulge in this...

This is another gluten free recipe for detox hearty, comforting...
Filter by Skill Level