Gluten Free English Crispy Fried Fish
Prep Time
15 Minutes
Difficulty
Easy
Cook Time
20 Minutes
Serves
4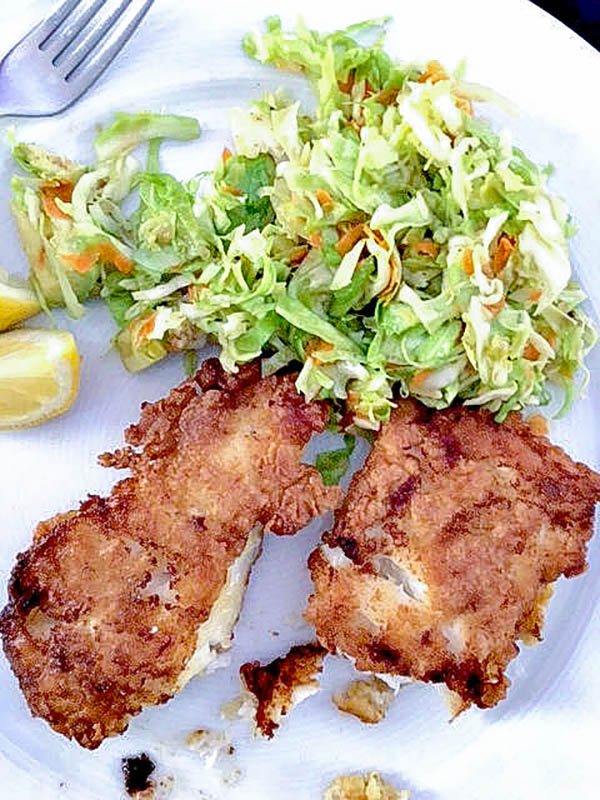 Inevitably as soon as cold weather rolls around, we think of comfort food. This gluten free crispy fried fish is simple to make and is adored by fish lovers. The batter that coats the fish is crisp and the fish is moist and cooked to perfection.
When it comes to English fish and chips, this recipe is probably the most coveted one. Serve with our famous coleslaw and our healthy baked sweet potato fries. If you are feeling adventurous, you can substitute the club soda in this fish recipe with beer
Ingredients
1 cup all purpose gluten free flour mix
1 cup tapioca starch
1 tsp. baking powder
1 tsp. sea salt plus some for seasoning
½ tsp. garlic powder
½ tsp. freshly ground black pepper
2 lb. fresh fish fillets (cod, snapper or halibut) cut to serving size
½ cup rice flour
1 large egg, whisked
1 ½ cups club soda
Oil for frying, such as coconut or grape seed
Instructions
In a large bowl combine flour, starch, baking powder, salt, garlic and black pepper
Add egg and club soda and mix until smooth, add more soda if the batter is too thick
Season fish with salt and dredge in rice flour. Dip in batter allowing excess to drip off and fry in hot oil until brown and crispy
Drain on a rack in warm oven or a paper towel while you cook the remainder of fish
Serve immediately
Similar Recipes
Parmesan Crusted Halibut
The tender halibut is deliciously coated with crispy Parmesan crust Read More
Prep Time
10 Minutes
Difficulty
Easy
Cook Time
15 Minutes
Serves
4
Grilled Halibut –Easy Recipe
Halibut is a firm white fish that contains very little oil. In this recipe, the mild flavour of halibut is infused with lemon thyme and cilantro marinade keeping it moist and retaining its delicate taste. Serve with asparagus or wilted spinach Read More
Prep Time
5 Minutes
Difficulty
Easy
Cook Time
12 Minutes
Serves
2
Marinated Salmon Steaks ~ Naturally Gluten-Free
Marinating salmon in a mixture of tamari sauce, pure maple syrup and black pepper is simplicity itself, and the results are sensational. The salmon is juicy and flavourful with perfectly crisp skin. Serves 4 generous portions Read More
Prep Time
10 Minutes
Difficulty
Easy
Cook Time
10 Minutes
Serves
4
© Copyright 2017 Only Gluten Free Recipes. All Rights Reserved.