Gluten Free Apple Streusel Muffins
Prep Time
15 Minutes
Difficulty
Easy
Cook Time
35 Minutes
Discover a gluten free muffin recipe that is moist and deliciously flavoured with apples and cinnamon. You would never know that this is a gluten free muffin. The muffin has apples throughout with a delicious cinnamon streusel topping. When it comes to fall baking, this gluten free apple streusel muffin recipe should be on top of your list. Enjoy!
Ingredients
1 cup sweet sorghum flour
¾ cup almond flour
½ cup arrowroot powder
½ cup coconut sugar
2 tsp. baking powder (preferably aluminum-free)
1 tsp. ground cinnamon
¼ tsp. sea salt
2 large eggs, whipped (or you can use egg substitute)
¼ cup extra virgin olive oil
¼ cup almond or coconut milk
2 tsp. pure vanilla
1 large apple, grated with skin on (should make 1 ½ cups)
FOR THE STREUSEL TOPPING
¼ cup coconut sugar
3 Tbsp. sweet sorghum flour
3 Tbsp. coconut oil
1 tsp. ground cinnamon
Instructions
Preheat oven to 350 F. Line a muffin pan with liners
In a large bowl combine flour, arrowroot, coconut sugar, baking powder, cinnamon and sea salt
In a separate bowl whisk together eggs, olive oil, milk and vanilla
Mix all the muffin ingredients including grated apple and scoop the batter into prepared muffin pan
Mix the streusel ingredients until sandy and crumble over the muffins
Bake for 30 -35 minutes, or until toothpick inserted in the middle of the muffin comes out clean
Similar Recipes
Banana, Carrot, Apple and Walnut Muffins
Having fruit in the morning is always nice, this muffin recipe has a selection of fruits with nuts which is made into a healthy muffin, there is no sugar or dairy added, making it a super nutritious low fat, low calorie delicious muffin. Read More
Carrot, Apple And Quinoa Muffins
Carrots, apple and quinoa, what a superb healthy combination. These muffins are incredibly moist with the sweetness of carrots and because there are no added bad fats and processed sugars these are nutritionally healthy as well. Adding just the right spice creates these heavenly muffins. Makes 6 large muffins or 8 medium size or 12 […] Read More
Prep Time
15 Minutes
Difficulty
Easy
Cook Time
20 Minutes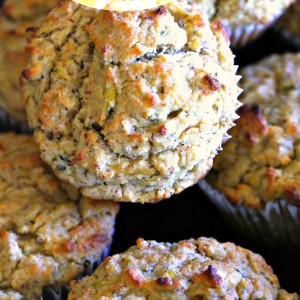 Gluten-Free Apple Zucchini Muffins
Not strictly a traditional muffin recipe. These delicious gluten free apple zucchini muffins are moist with a fresh apple flavour. Since they are dairy free and egg free they will compliment most diets. Starting your day with a muffin that is rich in protein, fiber and vitamin C will give you lasting energy. Enjoy! Read More
Prep Time
15 Minutes
Difficulty
Easy
Cook Time
30 Minutes
© Copyright 2017 Only Gluten Free Recipes. All Rights Reserved.