Chicken With Sundried Tomatoes in Cream Sauce
Prep Time
10 Minutes
Difficulty
Easy
Cook Time
35 Minutes
Serves
4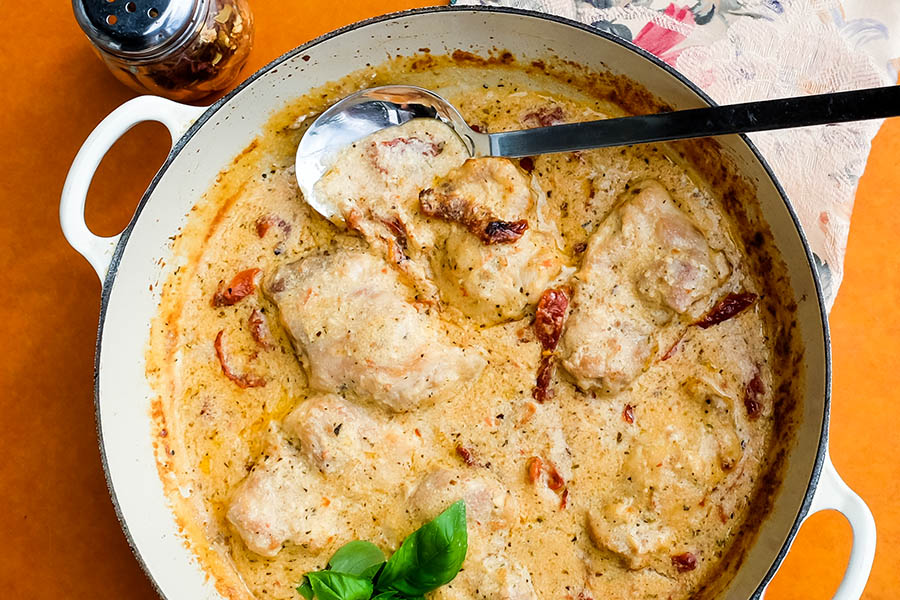 Discover a simple way to cook gourmet chicken in a flavourful Asiago cream sauce. Stumbling on this amazing dish through my travels in northern Italy, I have decided to include it in my favourite dinner recipes. The tender chicken soaks up a mildly flavoured cheese sauce infused with sundried tomatoes, and seasoned with Italian herbs, making the chicken juicy and flavourful. This creamy chicken recipe goes exceptionally well with gluten free pasta and can be made in less than 45 minutes including prep time. Next time you think of Italian food, try this simple and easy to make recipe, it is a keeper!
Ingredients
8 pieces bone-in, with skin chicken thighs
Himalayan pink salt and freshly ground black pepper to taste
2 Tbsp. butter
3 garlic cloves, roughly chopped
1 large tomato, roughly chopped
1 cup gluten free chicken broth
1/2 cup heavy cream
1/3 cup sun-dried tomatoes in olive oil, drained and thinly sliced
1/3 cup freshly grated Asiago cheese
1 tsp. dried basil
1/2 tsp. dried oregano
1/4 tsp. red pepper flakes
1/4 cup fresh basil leaves, plus some for garnish
Instructions
Preheat oven to 400 degrees F.
Season chicken with salt and pepper
Melt 2 tablespoons of butter in a large oven-proof skillet over medium-high heat. Add chicken, skin-side down, and sear both sides until golden brown, about 2-3 minutes each side. Transfer to a plate and set aside
Add garlic to the skillet and cook over medium-low heat, frequently stirring, until fragrant, about 1-2 minutes, add fresh tomato and cook 1 more minute. Stir in chicken broth, heavy cream, sun dried tomatoes, Asiago, oregano, dried basil and red pepper flakes. Simmer until slightly thickened, about 3 minutes
Return chicken to the skillet, scoop the sauce over top and roast 25 – 30 minutes until the chicken is thoroughly cooked.
Stir in fresh basil and serve. Garnish with more basil if you wish
Similar Recipes
Chicken Alla Calabrese – Gluten-Free
Calabrese sauce originates in southern Italy and gives this chicken dish exceptional flavour. The chicken is layered with ham, tomatoes and buffalo mozzarella and is smothered in a delicious red pepper sauce then baked to perfection. Serve it up with gluten-free pasta, parsley rice or mashed potatoes. Read More
Prep Time
15 Minutes
Difficulty
Easy
Cook Time
40 Minutes
Serves
4
Chicken Parmesan Stuffed With Artichoke In Tomato Basil Sauce -Gluten-Free
These tender chicken breasts are stuffed with amazing artichoke stuffing, then wrapped in ham and baked in creamy tomato basil sauce. This recipe will impress your family and friends every time. Serves 4 Read More
Prep Time
15 Minutes
Difficulty
Intermediate
Cook Time
30 Minutes
Serves
4
Chicken With Portobello Mushrooms In Light Coconut Cream Sauce
Portobello mushrooms, coconut milk and sour cream make a wonderful combination, giving the chicken a nice creamy flavour. Serves 4 Read More
Prep Time
15 Minutes
Difficulty
Easy
Cook Time
60 Minutes
Serves
4
© Copyright 2017 Only Gluten Free Recipes. All Rights Reserved.