Zucchini, Leeks & Bacon Gratin (Gluten-Free, Keto)
Prep Time
10 Minutes
Difficulty
Easy
Cook Time
25 Minutes
Serves
4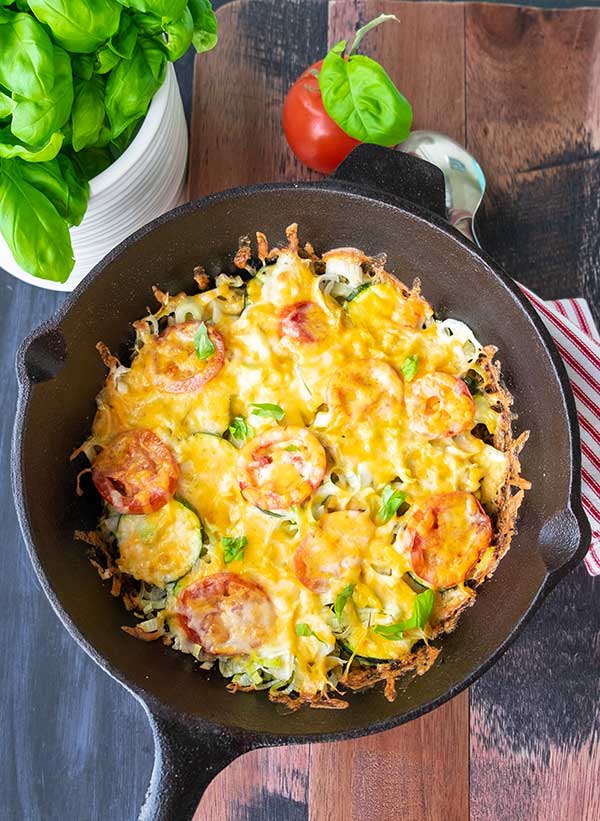 Average Rating: 5 | Rated By: 1 users
There is no wrong way to make vegetables the star of your next meal especially when there is cheese involved. Here is the most delicious gratin that is easy to whip up and is sure to please. Layers of zucchini, leeks and melted cheese lightly flavoured with bacon and caramelized onions make this into a winner all the way! The best part, this gluten-free recipe is super easy to make and is also keto friendly. Initially, I started to create this recipe as a side dish but this vegetable gratin can be easily served as a main with a light salad. I would describe this zucchini, leeks and bacon gratin as a hearty and comforting meal.
Ingredients
2 strips GF bacon, diced
1/2 small yellow onion, chopped
2 medium zucchini, cut into 1/4-inch thick rounds
1 small leek, white part only, thinly sliced
1 cup grated mozzarella cheese
1 cup grated cheddar cheese
1 large tomato, sliced
Himalayan salt and GF ground black pepper to taste
Garnish; fresh basil leaves (optional)
Instructions
Preheat oven to 400 F
Preheat a 9-inch cast iron skillet over medium heat. Add bacon and onions and sauté until onions are lightly caramelized. About 5 minutes
Place a layer of 1/2 the zucchini over the onions and bacon and 1/2 the leeks. Lightly season with salt and pepper.
Add a layer of half the cheeses, then remaining zucchini and leeks and top with tomato slices. Lightly season with salt and pepper. Finish with remaining cheeses
Bake for 20 minutes until the cheese has melted. Garnish with fresh basil leaves
Similar Recipes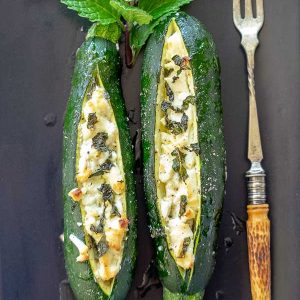 Baked Zucchini With Goat Cheese {Keto, Vegetarian, Gluten-Free}
This healthy zucchini dish is simple and delicious. The tangy and creamy goat cheese flavoured with fresh mint brings out the delicate taste of the young zucchini. The zucchini is baked to perfection, meaning it is tender on the inside but firm on the outside. This keto zucchini dish can be served as a snack, […] Read More
Prep Time
5 Minutes
Difficulty
Easy
Cook Time
30 Minutes
Serves
4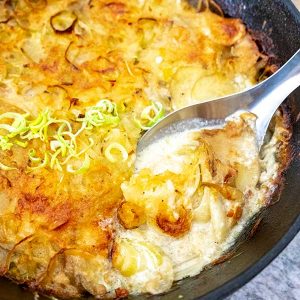 Cheesy Leek Potato Gratin
A gratin is a dish that is loved by even the pickiest eaters. The slowly baked dish with potatoes, fresh leeks and a hint of garlic smothered in a Gruyere cheese sauce with a crispy topping is heavenly. This French gluten-free dish is easy to prepare and always a favourite for dinner parties Read More
Prep Time
15 Minutes
Difficulty
Easy
Cook Time
90 Minutes
Serves
6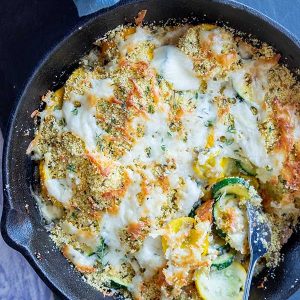 Gluten-Free Zucchini Gratin Recipe
Ditch the scalloped potatoes and bring on the gluten-free zucchini gratin. This tasty side dish makes a perfect addition to barbecues. The zucchini is seasoned with fresh basil and a hint of nutmeg baked in a light cheesy sauce and crispy topping. Even if you are not a fan of vegetables, you will love this […] Read More
Prep Time
15 Minutes
Difficulty
Easy
Cook Time
30 Minutes
Serves
4 - 6