Vegan Cream of Super Greens Soup
Prep Time
10 Minutes
Difficulty
Easy
Cook Time
10 Minutes
Serves
4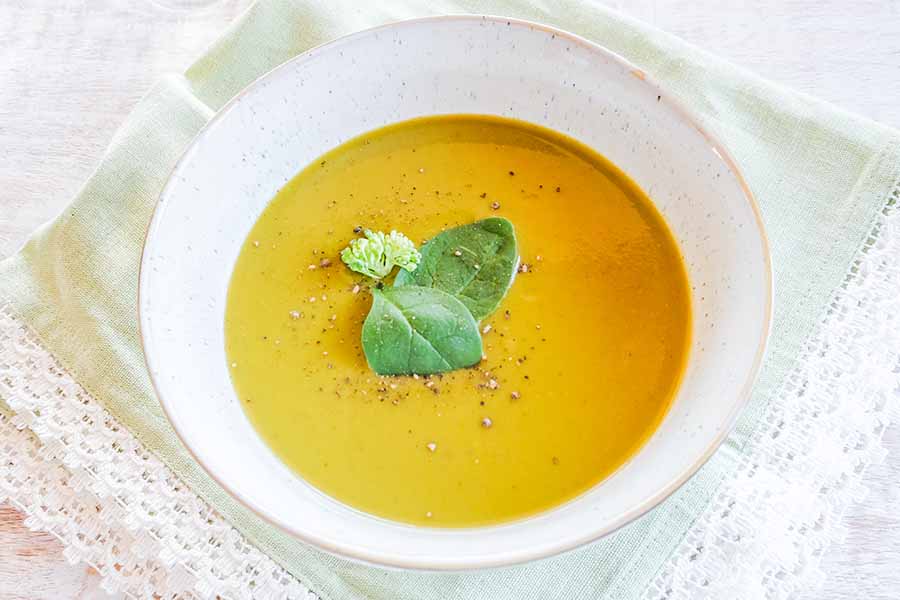 Average Rating: 5 | Rated By: 1 users
During the cold winter months, this vegan cream of super greens soup will warm your soul every time. Having healthy and hearty soup, but still keeping the calories low is a wonderful way promoting healthy weight. This nutrient-dense gluten-free soup is also acceptable on a keto diet and is super easy to make.
Ingredients
2 Tbsp. Coconut oil
1 medium yellow onion, finely chopped
2 garlic cloves, chopped
1 Tbsp. Fresh minced ginger
1 tsp. GF ground turmeric
1 tsp. GF dried basil
2 medium carrots, diced
1 cup roughly chopped broccoli
1 cup packed baby spinach
1 cup frozen or fresh peas
1 (13.5 oz) can of coconut milk
3 cups GF vegetable broth
1 Tbsp. Fresh lemon juice
Sea salt and freshly ground black pepper to taste
Optional toppings: avocado, fresh chopped spinach, coconut cream, chopped cashews, cilantro, parsley.
Instructions
In a medium pot sauté onions in coconut oil for 5 minutes
Stir in garlic, ginger, turmeric, and basil until combined
Add balance of ingredients and bring to boil. Reduce heat to low, cover and cook for 10 minutes
Transfer soup into a blender and blend until you reach desired consistency. You can either blend it until smooth or leave small pieces for some texture. This is best done in 2 to 3 batches. Transfer soup back into the pot and reheat just before serving
Top with your favourite toppings
Similar Recipes
Cream Of Asparagus And Leek Soup
Two super foods in one bowl! Asparagus and leek soup is traditionally a spring soup but is hearty enough for cooler weather.  This soup is super quick and easy to prepare, it is vegetarian, gluten-free, dairy-free and low in calories. I like to add avocado to this soup, making it nice and creamy and adding […] Read More
Prep Time
15 Minutes
Difficulty
Easy
Cook Time
15 Minutes
Serves
4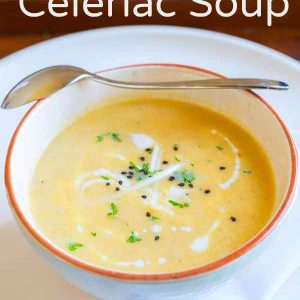 Vegetarian Celeriac Soup
Here is a classic French-style creamy soup with lots of flavour. This vegetarian celeriac soup is super easy to make and can be served hot or cold. This healthy vegetable is the root of celery and is high in vitamins C and K, and various B vitamins. It is also a good source of dietary […] Read More
Prep Time
15 Minutes
Difficulty
Easy
Cook Time
35 Minutes
Serves
6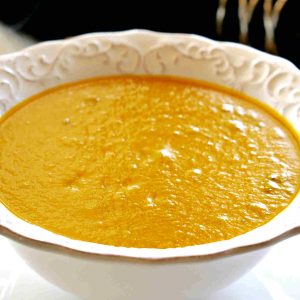 Gluten Free Thai Carrot Soup
This creamy carrot soup is deliciously flavoured with authentic Thai spices. The nutrients in carrots may provide protection against heart disease and cancer while helping to build strong bones and a healthy nervous system. Enjoy! Read More
Prep Time
10 Minutes
Difficulty
Easy
Cook Time
18 Minutes
Serves
4