Gluten Free Vegetarian Tortilla Soup
Published on Mar 11, 2014
by
Kristina Stosek
Prep Time:

15 minutes
Cook Time:

25 minutes
Serves:

4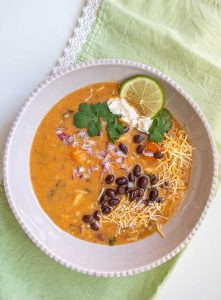 ​This post may contain affiliate links, please see our
privacy policy
for details
The beauty of this gluten-free, vegetarian tortilla soup is its subtle taste and a rich, creamy texture, making this gluten-free Mexican-inspired soup most satisfying.
There is nothing more comforting than a delicious made from the scratch home-made soup. This gluten-free, vegetarian tortilla soup recipe is one of those rich soups that's just perfect for when you are craving comfort food.
Many tortilla soups are made with corn tortillas, thus the name "tortilla soup." However, if you're trying to eat healthily with fewer carbs, you may want to skip the corn tortillas and try this lighter version of a gluten-free, vegetarian soup recipe.
Tortilla soup wouldn't be complete without cornbread!
This gluten-free cheesy Mexican cornbread makes the perfect accompaniment for this easy-to-make gluten-free, vegetarian soup. If you follow a gluten-free diet, this tortilla soup is ideal for you because it is deliciously rich and without gluten – a better soup for you with so little effort!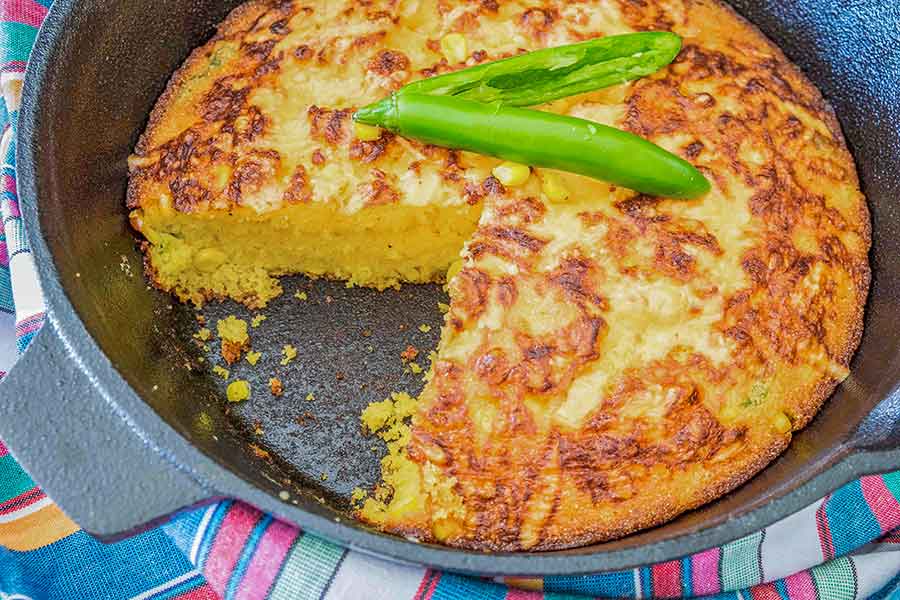 What toppings are best in tortilla soup?
The toppings for a tortilla soup are endless. Some of my favourites are avocado, chopped red onion, cilantro, cheddar cheese, sour cream or full-fat Greek yogurt.
And, of course, a good squeeze of fresh lime juice. Seriously though, you can even add an extra protein like leftover chicken if you want to, but this recipe focuses on the vegetables.
What is tortilla soup?
A tortilla soup is essentially a delicious hearty spiced soup. Mexican food is trendy as many people are warming up to authentic and flavourful cuisine. Things are moving away from processed foods and becoming wholesome and nutritious. And, spices have always been used from time immemorial to improve the eating experience.
the spices,
I love this tortilla soup because of the fresh ingredients and the aromatic spices – chilli powder, cumin, bay leaf, turmeric, and coriander. I wanted this soup to be extra tasty, so I added my favourite combination of flavours which made for a profoundly satisfying Mexican soup that is perfectly balanced in terms of richness, spiciness, and sweetness.
the vegetables,
This soup sets itself apart from regular tortilla soups. It has a vibrant taste and is packed with vegetables such as black beans, tomatoes, carrots, celery, onions, garlic, and green chillies. The addition of black beans makes this vegan-friendly soup extra delicious and most satisfying!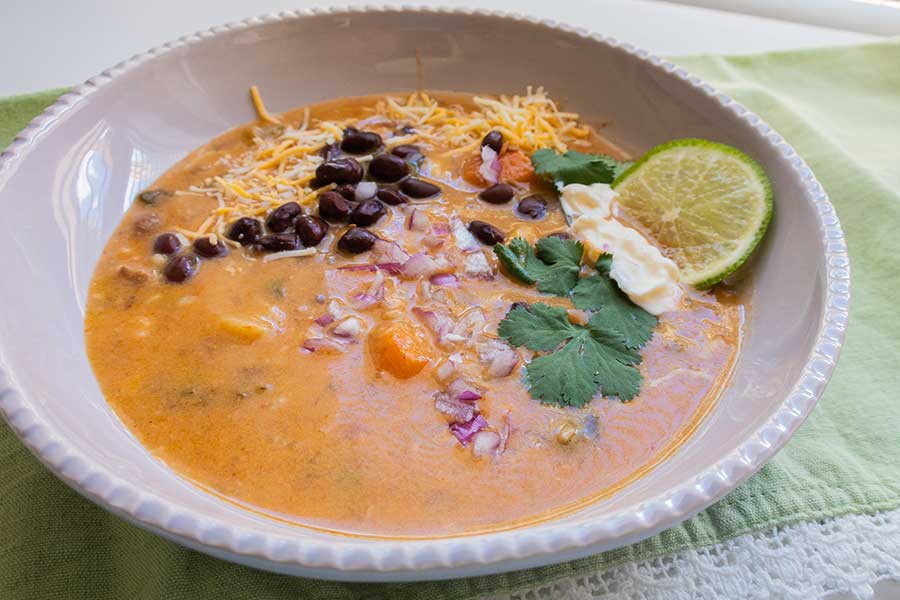 This gluten-free, vegetarian soup has plenty of vegetables, and the soup tastes so good you won't even know you're eating something healthy! The best part, even kids love tortilla soup. However, I know their favourite topping is the corn tortilla chips.
Is tortilla soup healthy?
In this gluten-free plant-based tortilla soup, some of the veggies are onions, carrots, and garlic. Onions add a great taste to soups and stews.
Garlic is exceptionally healthy and can be used in a variety of ways. Carrots promote healthier sight, and they are essential for the skin since they contain antioxidant properties.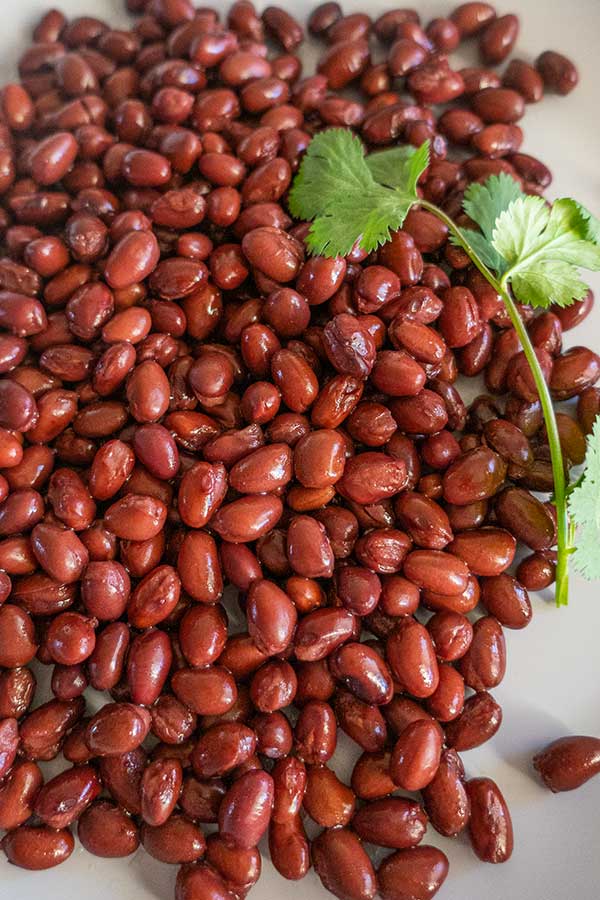 This Gluten-Free Vegetarian Tortilla Soup also contains organic black beans, vegetable broth, and tomatoes. Black beans are rich in selenium, which is excellent for the body because of its antioxidant properties and may help protect cells from damage.
Black beans contain more B-vitamins, folate, and iron, than most of our other common beans. The tomatoes are rich in minerals like iron, manganese, magnesium, and phosphorus. Tomatoes also contain lycopene which may protect you from some forms of cancer.
Take care of your stomach — take care of you!
Food is medicine, and this vegan-inspired tortilla soup proves it! Chockfull of healthy veggies and packed with flavour. This gluten-free soup truly has something for everyone.
Whether you are looking to improve your digestive health, following a healthy and gluten-free diet, or want a delicious meal – you will love this hearty tortilla soup.
If you like Mexican food, have a look at our complete list of gluten-free Mexican-inspired recipes. Enjoy!
Gluten Free Vegetarian Tortilla Soup
Published on Mar 11, 2014
by
Kristina Stosek
Instructions
1.

Saute onions in olive oil over medium-low heat until soft. Add garlic, carrots, celery, cumin, turmeric, chili powder and bay leaf. Reduce heat to low and cook for 2 more minutes. Stirring frequently

2.

Add broth, tomatoes, black beans and chili pepper. Cover and simmer for 15 minutes. Remove bay leaf and add cilantro and lime juice

3.

Pour 3/4 of the soup into a blender and blend until almost smooth leaving a few small chunks. Return blended soup back to the pot and reheat

4.

Serve with desired toppings
Leave a Comment
Kristina
great idea, you can never have enough veggies!
loved it, I also added red bell peppers and corn. This is such an easy recipe :-)