Gluten Free Strawberry Cheesecake Jelly Roll
Published on May 13, 2023
by
Kristina Stosek
Prep Time:

20 minutes
Cook Time:

12 minutes
Serves:

8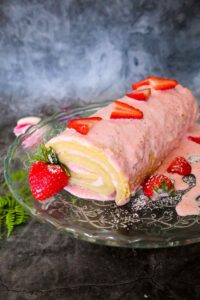 ​This post may contain affiliate links, please see our
privacy policy
for details
Gluten Free Strawberry Cheesecake Jelly Roll is a vintage dessert made with gluten free sponge cake filled with a creamy fresh strawberry filling. With its light and fluffy texture and sweet cheesecake filling, this chilled classic vintage dessert is extra refreshing for summer parties or special occasions.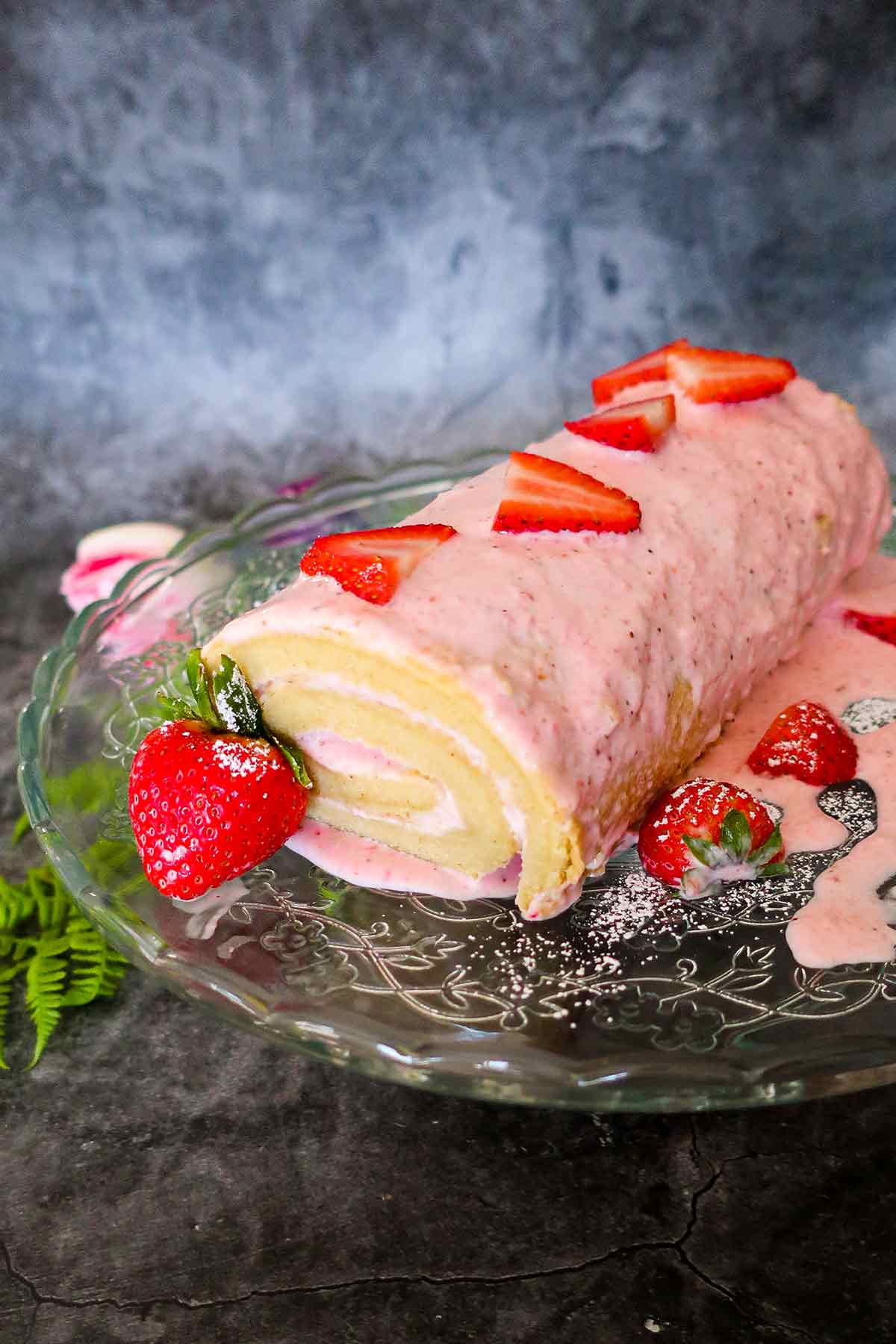 What is a gluten free jelly roll?
A jelly roll is a classic dessert that has been enjoyed for decades. This recipe for a gluten free version is a gluten-free sponge cake rolled up with a sweet filling, made primarily from fruit and cream cheese. The name "jelly roll" comes from the fact that it was traditionally filled with jelly.
How to shape the roll?
Creating the shape of the roll is simple. Once baked, the cake is spread out onto a clean towel, dusted with powdered sugar, and rolled up while still warm to create its distinctive shape.
One thing that makes jelly rolls so appealing is their versatility in fillings. While they are commonly filled with jam or preserves, there are also countless other options. From fresh fruits like strawberries and blueberries to whipped cream and chocolate ganache, you can get creative with your fillings depending on your taste preferences.
3 favorite fillings for a jelly roll
This vintage dessert can be filled with a variety of different ingredients. Here are three of our favorite fillings for a jelly roll:
1. Strawberry Cream Cheese Filling: Combine cream cheese, butter, powdered sugar, and fresh strawberries to create a sweet and tangy filling that pairs perfectly with the light sponge cake.
2. Strawberry jam: For those who prefer a simple sweet strawberry filling, spread it generously over the sponge cake before rolling it up to create a zesty treat. Then dust with powdered sugar.
3. Chocolate Hazelnut Spread Filling: If you're in the mood for something rich and indulgent, try using chocolate hazelnut spread like gluten free Nutella for your jelly roll filling. It's decadent and delicious! Top the roll with whipped cream.
No matter which filling you choose, spread it evenly over the sponge cake so that each bite has plenty of flavors. And don't worry if some of it oozes out of the sides. It is not meant to look perfect. Remember, it's a vintage dessert.
How to use strawberries in a jelly roll
Strawberries are a classic and delicious choice for making jelly rolls. Fresh strawberries' sweet and juicy flavor perfectly complements a jelly roll's light and airy texture and adds a pretty color without adding artificial colors.
One great way to use strawberries in a jelly roll is to chop them into small pieces, or slice them thinly and layer them on top of the filling before rolling up the cake. This will enhance its fruity taste, add texture, and create a beautiful presentation.
Another option is to mix finely chopped strawberries into the filling itself. This will add an extra burst of strawberry flavor to the creamy filling.
For those who want even more strawberry goodness, decorate the roll with sliced strawberries. This creates a beautiful dessert that's perfect for any special occasion.
storing gluten free jelly roll
The best way to store a gluten free jelly roll is in an airtight container in the refrigerator for up to 2 days for maximum freshness.
In addition, if you are using fresh fruit to decorate the roll, store the fruit separately until ready to serve is best. Berries tend to release moisture which could cause sogginess and spoilage.
The best way to slice a jelly roll?
We recommend using a serrated knife and wiping it clean after each cut to ensure clean slices.
7 ingredients to make a gluten free jelly roll
gluten free all-purpose flour
baking powder
eggs
powdered sugar
unsalted butter
vanilla
salt
4 ingredients to make the strawberry cheesecake filling
cream cheese
butter
fresh strawberries
powdered sugar
Tips to make gluten free sponge cake for jelly roll
Use an electric mixer to beat the eggs with sugar for the lightest sponge cake
The eggs should be at room temperature. This will give the sponge cake a better rise
The butter should be melted and then cooled to room temperature before adding it to the egg mixture
Tips to make the creamiest cheesecake filling
The cream cheese and the butter should be softened before creaming them together and adding powdered sugar.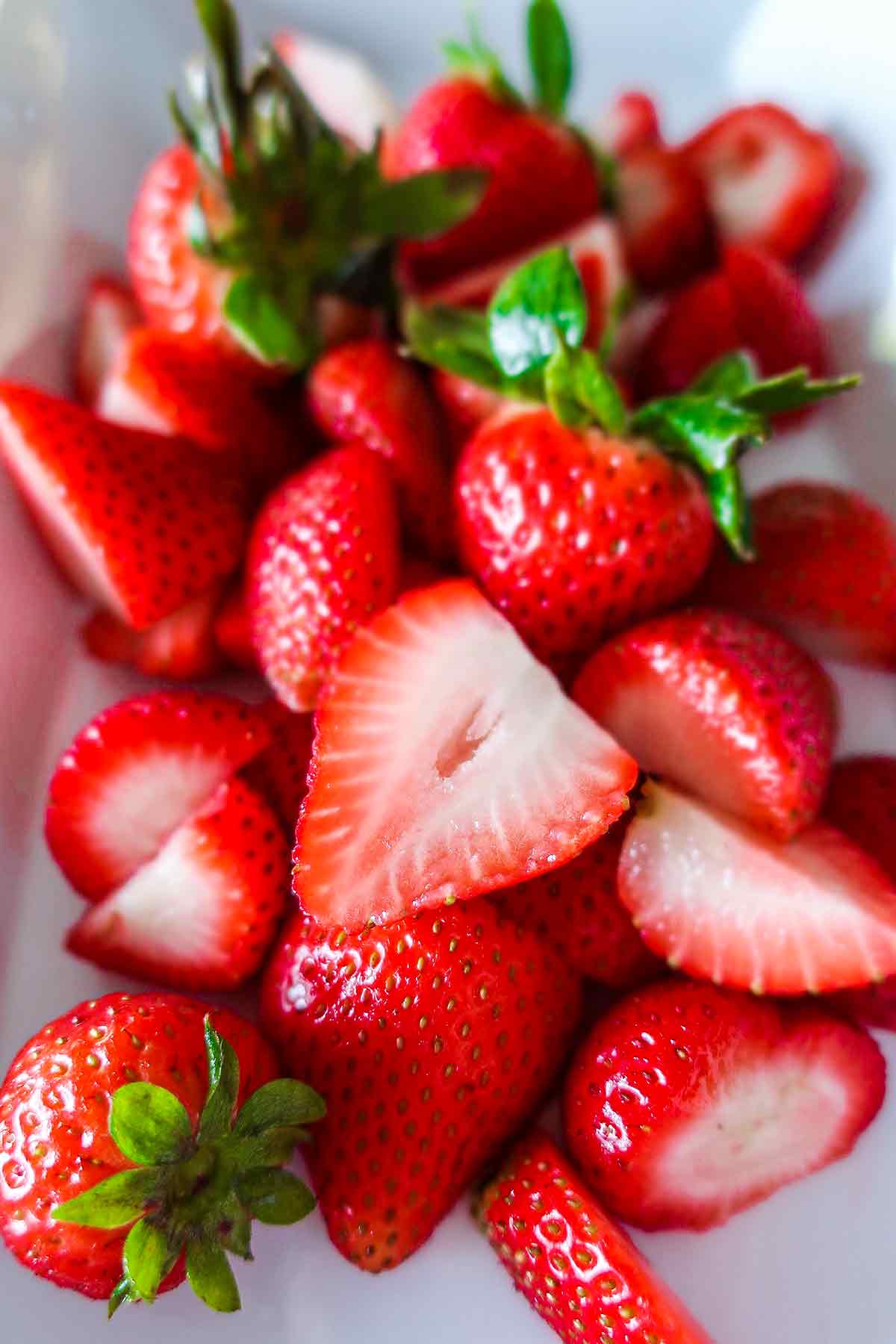 How to store strawberries?
As per Cleveland Clinic, Strawberries are super healthy, sweet, and have a pretty color. This is why they are often used in dessert recipes. But how do you store them to ensure they stay fresh for as long as possible?
When using fresh strawberries in your jelly roll recipe, choose ripe fruit at peak freshness for maximum sweetness and flavor, which can take your dessert over the top!
Firstly, it's important to only wash your strawberries just before using them. Moisture is the enemy of fresh strawberries, so if you wash them too far in advance, they may become mushy or moldy.
If you have leftover strawberries after making your gluten-free strawberry jelly roll, place them in an airtight container lined with paper towels. This will absorb any excess moisture and help keep your strawberries fresher for longer. Or, use a strawberry fridge storage container.
Another tip is to avoid storing strawberries next to other fruits or vegetables that produce ethylene gas, such as apples or avocados. This gas can cause your berries to ripen and spoil faster.
If you can only use some strawberries before they go bad, consider freezing them! First, remove the stems and freeze them on a baking sheet before transferring them to an airtight container or freezer bag. Frozen berries are great for smoothies or baking projects down the line.
toppings for jelly rolls
One classic option is dusting powdered sugar on top of the roll. This not only adds a touch of sweetness but also enhances its visual appeal.
Another delicious topping for a strawberry jelly roll is whipped cream. It complements the fruity flavor and gives an extra creamy texture to every bite.
For those who want to add more crunchiness, chopped nuts such as pecans, almonds, or walnuts can be sprinkled over whipped cream.
Chocolate lovers can drizzle melted ganache chocolate over their gluten-free strawberry jelly roll before serving it. Combining sweet strawberries and rich chocolate creates an irresistible dessert that looks as good as it tastes.
To give your vintage-inspired dessert an elegant twist, decorate your jelly roll with fresh strawberries, and mint leaves on top right before serving. This adds freshness and color while giving your dish a sophisticated look.
There are many ways to customize your gluten-free strawberry jelly roll with toppings without compromising its nostalgic charm or authentic taste! I like to use the filling also as a topping, keeping the recipe simple.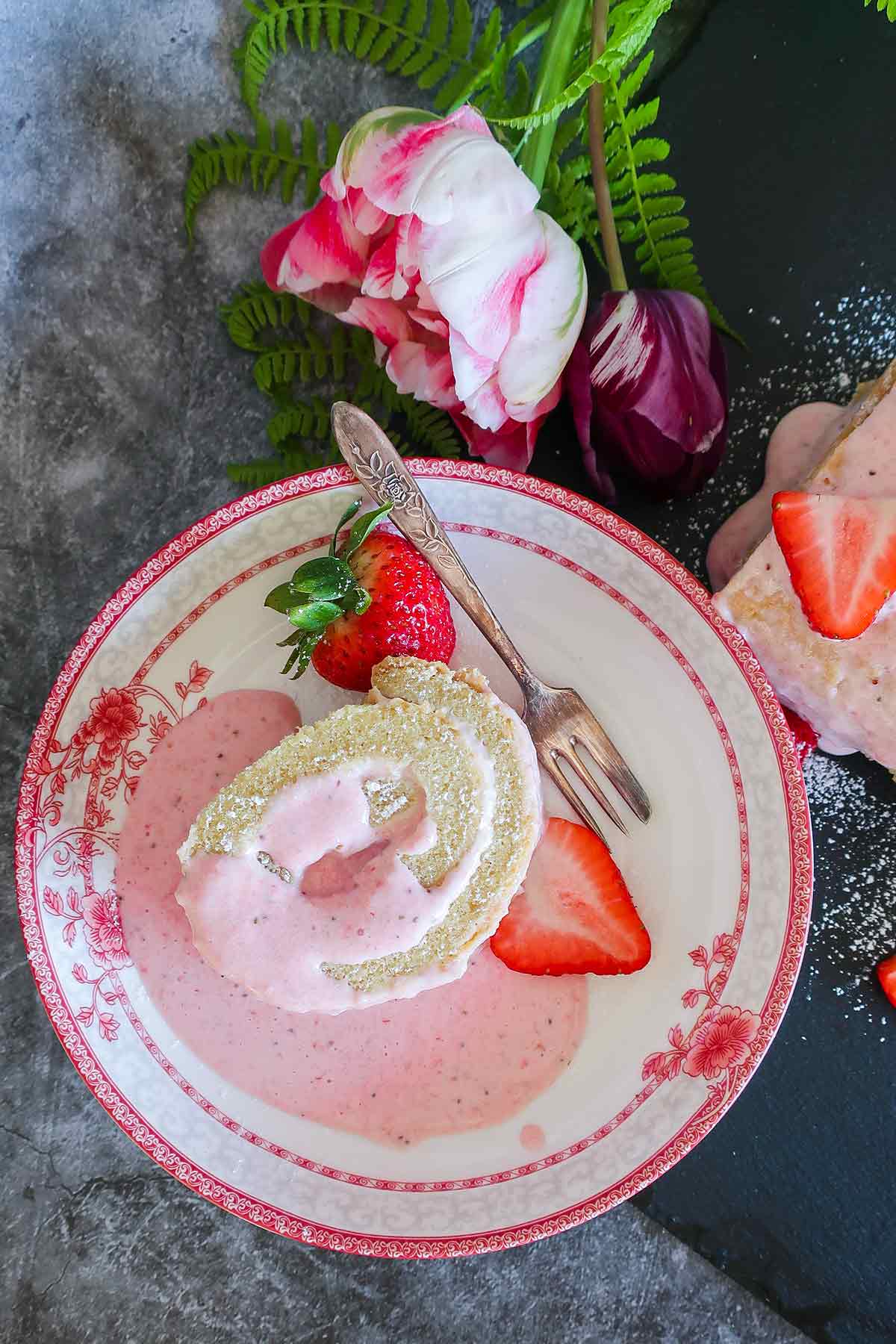 serving jelly rolls
To serve the jelly roll, use a sharp serrated knife and slice it into even pieces. If desired, you can dust the top of each slice with powdered sugar for added sweetness and decoration.
Jelly rolls are best served chilled, which makes them perfect for summertime parties or backyard barbecues. You can pair them with whipped cream or fresh berries for an extra burst of flavor.
If you are adventurous, try experimenting with different toppings, such as chocolate sauce or caramel drizzle. These additions take your jelly roll from a classic vintage dessert to a modern masterpiece.
Need more chilled gluten free desserts? Here are our favorites: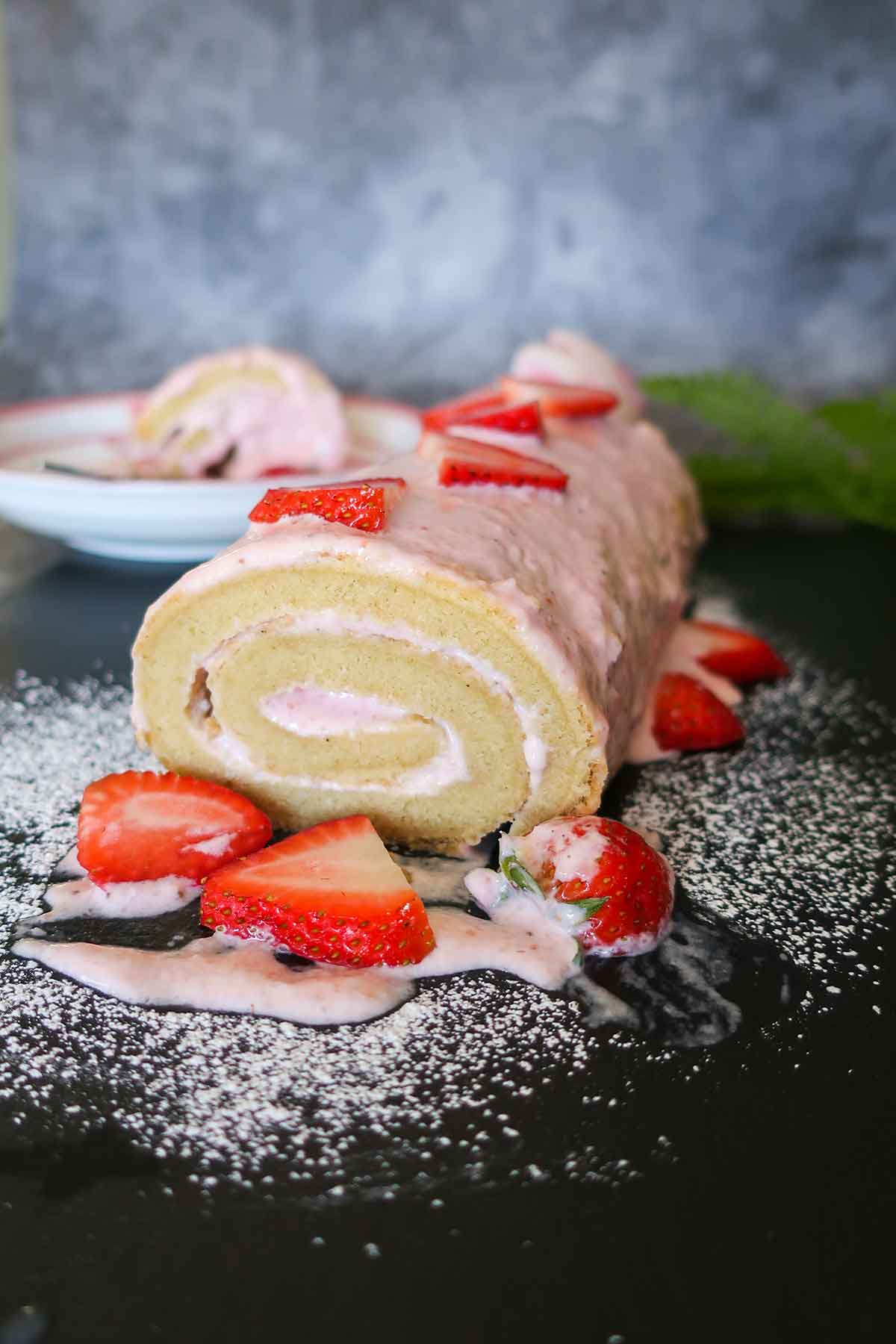 My take on gluten free strawberry cheesecake jelly roll.
The gluten-free strawberry jelly roll is another loved dessert option for those with gluten sensitivities or allergies. With its light and fluffy texture, sweet strawberry filling, and vintage nostalgia charm, you can't go wrong.
Remember that there are endless possibilities for fillings and toppings for your jelly roll. Feel free to get creative and personalize your dessert according to your preferences.
Don't forget to follow our tips on storing the strawberries and finished jelly rolls, so they stay fresh longer. And get ready for a trip down memory lane with this timeless dessert!
Let's Connect!
Be sure to FOLLOW US on FACEBOOK and PINTEREST.
Many thanks!
Kristina xx
Gluten Free Strawberry Cheesecake Jelly Roll
Published on May 13, 2023
by
Kristina Stosek
Instructions
1.

- STRAWBERRY CHEESECAKE FILLING -

2.

Place cream cheese and butter into a food processor and process until creamy. Add powdered sugar and process until smooth. Add 1 1/2 cups of halved strawberries and process until creamy. Refrigerate for a minimum of one hour.

3.

Preheat oven to 350 F and line a 10x15-inch rimmed baking sheet with parchment paper. Lightly brush the parchment paper and the sides of the baking sheet with olive oil or cooking oil

4.

In a small bowl, whisk the flour, baking powder, and salt

5.

Using a stand mixer fitted with the whisk attachment or a hand mixer fitted with the double beaters, whisk the eggs and sugar together until pale and fluffy. This should take about 3 - 4 minutes

6.

Add vanilla and butter and mix to combine. Add dry ingredients and mix until combined and creamy, scraping the sides as needed. About 15 seconds

7.

Transfer the batter to the prepared baking sheet in an even layer. Bake for 12 - 15 minutes, until golden brown and spongy to the touch

8.

9.

Before the cake finishes baking, lay a thin kitchen towel flat on the counter. Sprinkle with 1 cup of powdered sugar. Once the cake comes out of the oven, immediately invert it onto the towel. Slowly peel off the parchment paper, then starting with the narrow end, begin gently rolling the cake up with the towel. The cake will still be warm. Set aside to cool completely

10.

11.

Once the cake completely cools, slowly unroll the cake and flatten it out

12.

13.

With gentle, even pressure, carefully roll the cake back into a roll without using the towel this time

14.

Loosely wrap the cake in plastic wrap, and allow the cake to chill in the refrigerator for at least 2 hours before decorating

15.

When you are ready to serve, place the cake onto a cake platter and carefully remove the plastic wrap

16.

Decorate with remaining filling, strawberries, and powdered sugar

17.

*See the post on the best way to slice the cake and serving ideas