Gluten-Free Lemon Muffin Recipe
Published on Mar 18, 2020
by
Kristina Stosek
Prep Time:

15 minutes
Cook Time:

35 minutes
Serves:

12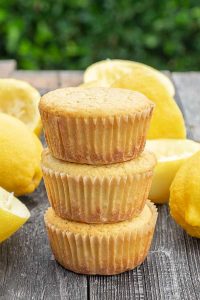 ​This post may contain affiliate links, please see our
privacy policy
for details
Gluten-Free Lemon Muffins, will bring some sweetness and comfort any day of the week. Lemons remind me of sunshine, bright, happy, and delicious. Who doesn't love lemons? With the zesty flavour and perfect texture, these simple to make lemon muffins are sure to bring a smile on your face.
Do you love lemon flavour? Then you'll enjoy my Gluten-Free Vegan Lemon Loaf. My Gluten-Free Lemon Poppy Seed Loaf is another one of our favourites. With Easter only a few weeks away, beautiful yellow desserts are especially popular. 
This Gluten-Free Lemon Muffin recipe has healthier ingredients than your typical muffin. The muffin is made with plenty of fresh lemon juice, 3/4 of a cup to be exact, lemon zest, and healthy flours like almond and sweet sorghum. I didn't add frosting because this muffin is perfectly moist without it, but if you like to make these lemon muffins extra special try our most incredible Cream Cheese Frosting. Lemons bring a fresh and zesty flavour to these delicious muffins
♥ Can you substitute lemon extract or bottled lemon juice for fresh lemon juice?
When it comes to baking, lemon extract or bottled lemon juice don't come even close to the fresh lemon flavour. Also, the bottled lemon juice makes gluten-free desserts taste as if you added artificial flavour. For the lemon extract, it is alcohol-based and should not be used in recipes where a recipe calls for fresh lemon juice. 
♥ Can you use substitutions in this gluten-free lemon muffin recipe?
To get the right texture, you have to follow the recipe. I have been asked can you substitute all-purpose gluten-free flour for the flours in this recipe. The answer is yes, but the muffins will be drier and more rubbery. Do not substitute lemon extract or bottled lemon juice, or you will affect the fresh lemon flavour. The only thing that you can replace is the milk for dairy-free milk or avocado oil for olive oil. If you change anything else, the muffins will come out very differently. When I make a dessert batter, it takes a few tries before the texture turns out just right. In this recipe, every ingredient has been carefully chosen to get the perfect results. One tip I would like to add is when you measure flour, always spoon the flour into the measuring cup and level. Do not scoop your measuring cup into the flour. The reason is, by scooping → the flour gets packed, and you will have more flour than the recipe requires, making your desserts or muffins dry. And, always use parchment paper muffin liners, the parchment paper will keep muffins from sticking to the paper. Enjoy!
Gluten-Free Lemon Muffin Recipe
Published on Mar 18, 2020
by
Kristina Stosek
Instructions
1.

2.

Using a large bowl whisk the dry ingredients (almond flour to xanthan gum)

3.

Using an electric mixer, whisk maple syrup, lemon juice, olive oil, milk, eggs, lemon zest and vanilla

4.

Add dry ingredients to wet mixture and mix just until combined. Do not over mix.

5.

Pour batter into prepared muffin pan and bake for 33 -35 minutes until muffins are golden and firm to touch

6.

Transfer onto a cooling rack to cool