Gluten-Free Honey Cinnamon Cookies
Published on Oct 25, 2020
by
Kristina Stosek
Prep Time:

25 + minutes
Cook Time:

12 minutes
Serves:

20 - 24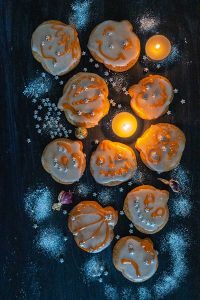 ​This post may contain affiliate links, please see our
privacy policy
for details
These Gluten-Free Honey Cinnamon Cookies are a great way to start the cookie season. Yes, it is that time of the year when baking is in full force. Today I wanted to share a melt in your mouth cookie that celebrates Halloween for all the little rascals out there to enjoy.
This gluten-free cookie recipe is made with gluten-free flour blend, butter, honey, cinnamon, baking soda and a few drops of vanilla. The honey cinnamon cookie is a basic butter cookie recipe lightly flavoured with cinnamon and vanilla.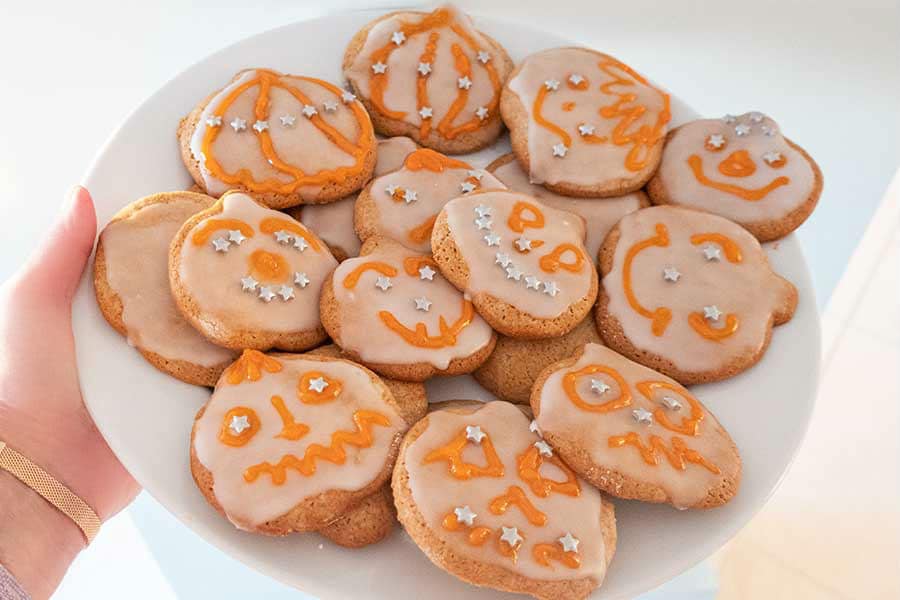 the cookie decorating does not have to be perfect
I love this Gluten-Free Honey Cinnamon Cookie recipe because it is easy to decorate. So I thought, why not use it for Halloween and add some nifty cookie decorations.
I will admit I am the worst person to decorate cookies or cakes. This skill is definitely, not on top of my list of accomplishments. I did my best, and my family said…as long as the cookies taste delicious, that is all that matters.
8PCS Large Fall Thanksgiving Cookie Cutter Set – Turkey, Pumpkin, Maple/Oak/Teardrop Leaf, Squirrel and Acorn
It is not about a perfectly looking cookie. It's the texture and flavour – and this cookie has it all. The Honey Cinnamon Cookies will melt in your mouth, and they are delicious.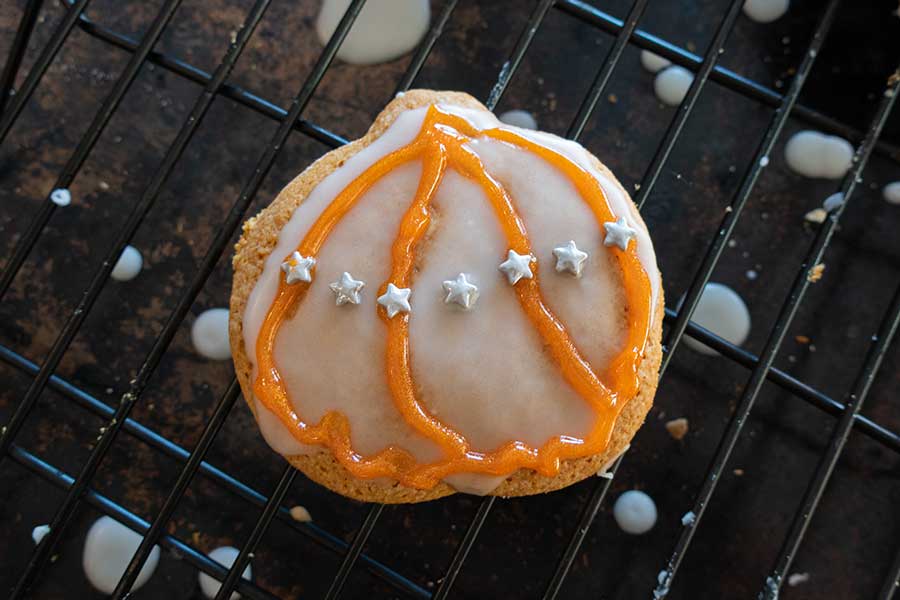 easiest cookie glaze recipe
With this Honey Cinnamon Cookie, I wanted to include a basic cookie glaze recipe. However, I wanted something more than just sweetness. Typically I would add a few drops of pure vanilla extract to the glaze. But since the cookie already has vanilla, I decided to add a few drops of fresh lemon juice and honey.
The cookie glaze was magically more delicious and complimented these Honey Cinnamon Cookies perfectly. Those few drops of fresh lemon juice took away that super sweetness, which I find sometimes overpowers the delicate cookie flavour.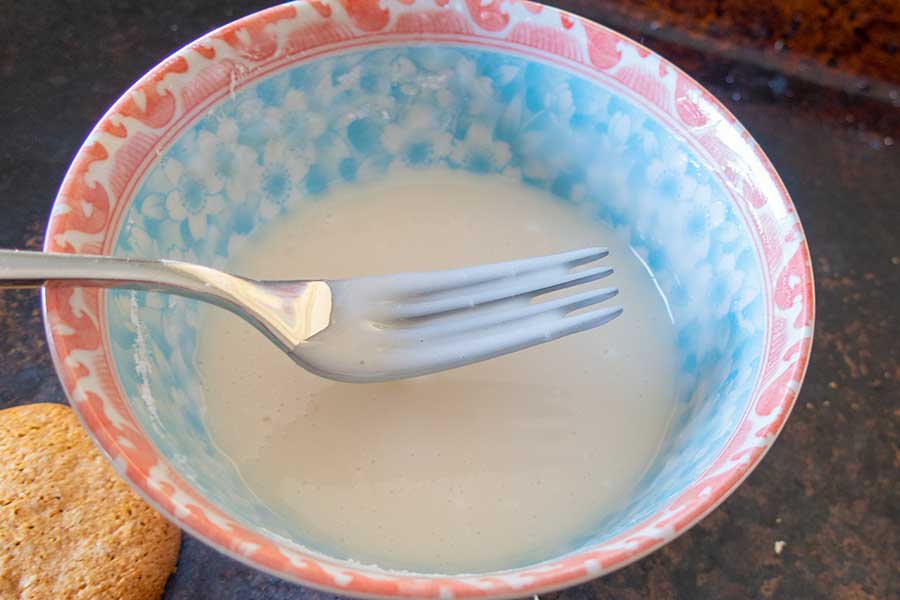 The cookie glaze must be made just before you are ready to decorate the cookies, because the glaze will harden very quickly. While you are using the glaze, give it a good stir if it starts to set. If you want to add food colouring, I would recommend using plant based food colouring, I think it is healthier, and the colours are so vibrant and natural looking.
If the glaze is too thick, always thin it out AFTER you add the food colour. And add only a few drops at a time of water until you reach the desired consistency. If you find the glaze too thin, add a few teaspoons of confectioners sugar, also known as powdered sugar.
ColorKitchen Food Coloring Packets (10 Pack) – Made with Plant-Based Colors Artificial Dye-free, Vegan, Natural Baking, Frosting Color
decorating honey cinnamon cookies
I decorated these Gluten-Free Honey Cinnamon Cookies with the Halloween theme because Halloween is just a few days away. But, whatever season you are celebrating, feel free to do your favourite cookie decorations. I am sure they will look much better than mine.
If you want to keep the cookie simple for everyday enjoyment, use the basic glaze and lightly sprinkle it with cinnamon sugar…YUM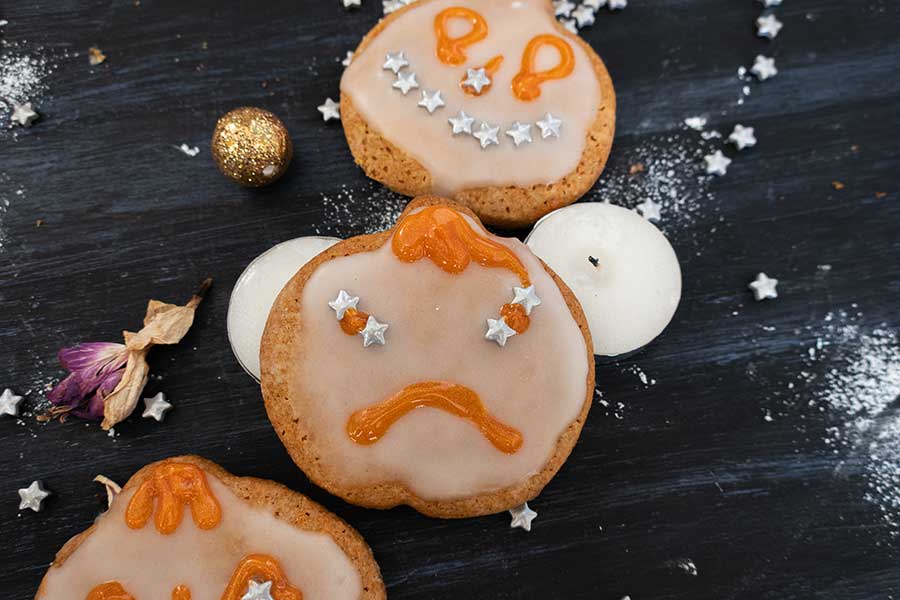 I hope you have fun making these Honey Cinnamon Cookies as much as I did, and if you need more cookie inspiration recipes, the Grain-Free Sugar Cookies with Maple Icing or the Gluten-Free Chocolate Swirl Shortbread Cookies are heavenly.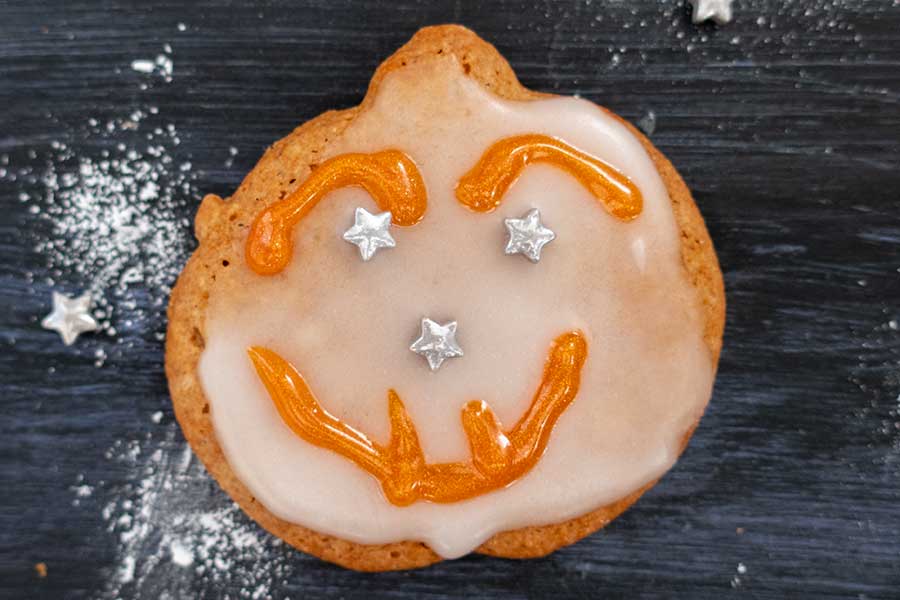 Happy season and stay safe!
Let's Connect!
Be sure to FOLLOW US on FACEBOOK and PINTEREST.
Many thanks!
Kristina xx
Gluten-Free Honey Cinnamon Cookies
Published on Oct 25, 2020
by
Kristina Stosek
Instructions
1.

Whisk together flour, cinnamon, baking soda and salt 

2.

Using a bowl of an electric mixer, mix butter with sugar, add honey and vanilla and blend until smooth. 

3.

Gradually add the flour mix, and using a spatula, blend until a dough forms. Cover with a plastic wrap and refrigerate for 45 minutes 

4.

Sprinkle dough with flour on both sides and roll out between two sheets of wax or parchment paper to about 1/4-inch in thickness. Cut the cookies with your favourite cookie cutter, then carefully place cookies 1-1/2 inches apart on a large baking sheet lined with parchment paper. You may have to do this in batches.

5.

Place the cookie sheet in the freezer for 30 minutes. 

6.

Bake cookies in a preheated oven at 350 F for 12 - 14 minutes until the edges start to turn golden brown.

7.

Cool cookies on the cookie sheet. They will harden as they cool.

8.

9.

Just before you are ready to glaze the cooled cookies, in a small bowl using a fork, whisk the glaze ingredients together. Add food colour if using and decorate the cookies. If the glaze is too thick, add a few drops of water after adding the food colour.