Gluten-Free Fish Pie Recipe
Published on Feb 20, 2020
by
Kristina Stosek
Prep Time:

20 minutes
Cook Time:

60 minutes
Serves:

6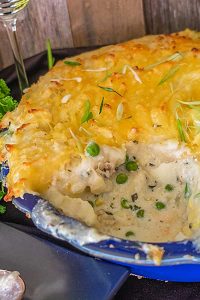 ​This post may contain affiliate links, please see our
privacy policy
for details
This Gluten-Free Fish Pie is about delicate fish, mildly seasoned creamy white sauce, veggies, fluffy mashed potato topping, and a sprinkle of cheese baked until crispy. If you are thinking about comfort food…fish pie is a must try dish.
The easiest way to make gluten-free fish pie.
There are many ways to make fish pie. By poaching the fish first, various crusts, different seafood, the variation of herbs and choices of veggies. I wanted to make this fish pie as simple as possible, and trust me, there is nothing complicated in this recipe.
First, the mashed potatoes, very simple. But, it is essential to use the right potato to keep them fluffy and creamy without lumps. I recommend using russet or Yukon gold. They are perfect for making mashed potatoes, make sure they are tender before whipping them up. I also add a pinch of nutmeg to the potatoes for extra flavour.
For the creamy fish filling, sauté leeks or onions in some butter. Add in garlic, then milk with your herbs. I used a bay leaf, tarragon and clove. Simmer the milk for a few minutes. The herbs infuse the milk with a delicate flavour
For the fish, once the milk is deliciously flavoured with the herbs, add the seafood and cook for three minutes. This poaches the fish. Now finish the sauce by combining the cream with tapioca flour and dijon mustard. This will make the white sauce nice and thick. Add remaining ingredients in the fish sauce and cook just long enough until it starts to thicken about three to five minutes
Now that everything is ready spoon the filling into a deep pie dish or an ovenproof dish of choice and top with the mashed potatoes. Sprinkle with cheese and bake until the potatoes are crispy. Done!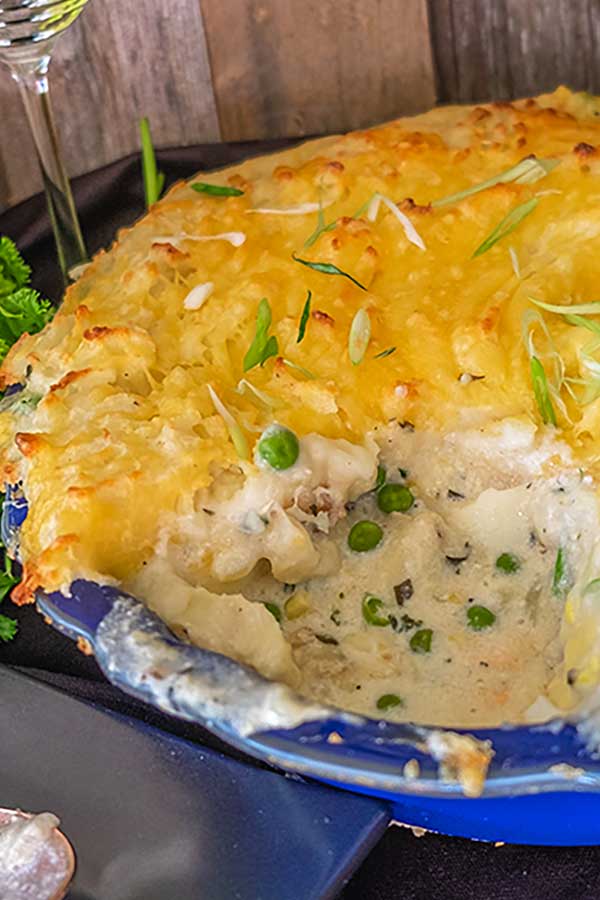 Most common questions about fish pie
What type of seafood do you use in a fish pie?
You can use any fish, salmon, cod, halibut, seabass, snapper, prawns, shrimp and often some smoked fish like cod. I used two pounds, but you can use between one to two pounds. It depends on how much fish you like to have in the pie. If you have less fish, add more vegetables
What vegetables are used in a fish pie?
Typical vegetable in this British dish is green peas preferably petite peas. Other vegetables are leeks, onions, parsnips, corn, carrots, and celery. This is entirely up to you. I used leeks, petite peas and corn
What do you serve with fish pie?
Again, a personal preference. I find that the fish pie is so hearty that there is no need to add anything. But, a light salad is probably the best choice. The pie already has potatoes and veggies in the filling.
My recommendation, serve the pie as is, it is plenty hearty on its own. Another pie you may enjoy is the gluten-free cottage pie.
Let's Connect!
Be sure to FOLLOW US on FACEBOOK and PINTEREST.
Many thanks!
Kristina xx
Gluten-Free Fish Pie Recipe
Published on Feb 20, 2020
by
Kristina Stosek
Instructions
1.

Cook potatoes in salted water until tender then drain. Mash with butter, milk and nutmeg and set aside. I use an electric mixer to whip up the potatoes to make them extra fluffy

2.

3.

While the potatoes are cooking, using a large saucepan sauté leeks/onions in butter until soft. Stir in garlic until fragrant.

4.

Add milk, clove, bay leaf and tarragon/thyme and simmer over low heat for 5 minutes

5.

Remove bay leaf and clove. Add fish and bring to boil. Reduce heat to simmer and cook for 3 minutes

6.

Whisk together cream, tapioca and mustard. Add to the saucepan with peas, corn and parsley, season with salt and pepper. Cook until the sauce thickens, about 3 - 5 minutes

7.

Spoon into a buttered deep pie dish or ovenproof dish and spoon the potato on top. Sprinkle with cheese.

8.

Place dish on a baking pan lined with foil paper and bake for 45 minutes. Allow the pie to rest for 10 minutes before serving.