Gluten-Free Farmer's Dinner Casserole
Published on Apr 25, 2020
by
Kristina Stosek
Prep Time:

15 minutes
Cook Time:

40 minutes
Serves:

6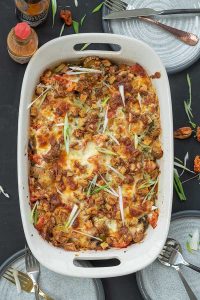 ​This post may contain affiliate links, please see our
privacy policy
for details
Gluten-Free Farmer's Dinner Casserole – a hearty and wholesome casserole made with potatoes, vegetables, sour cream, cheese and a crispy bread crumb topping. This is a family-style casserole everyone will enjoy.
What is farmer's dinner casserole?
You know when at the end of the week your fridge is getting empty and you have various veggies that are tired looking, some leftover meat that you are unsure what to do with? Here comes farmer's dinner casserole. This hearty dinner recipe is a great way to use up veggies and anything else just before you go shopping for the week.
There are three ingredients you must have, potatoes, shredded cheese and sour cream. Once you have the three basic ingredients, you are good to go. This gluten-free dinner recipe is versatile, simple to assemble, and is made without the use of eggs.
How to make a casserole with leftovers?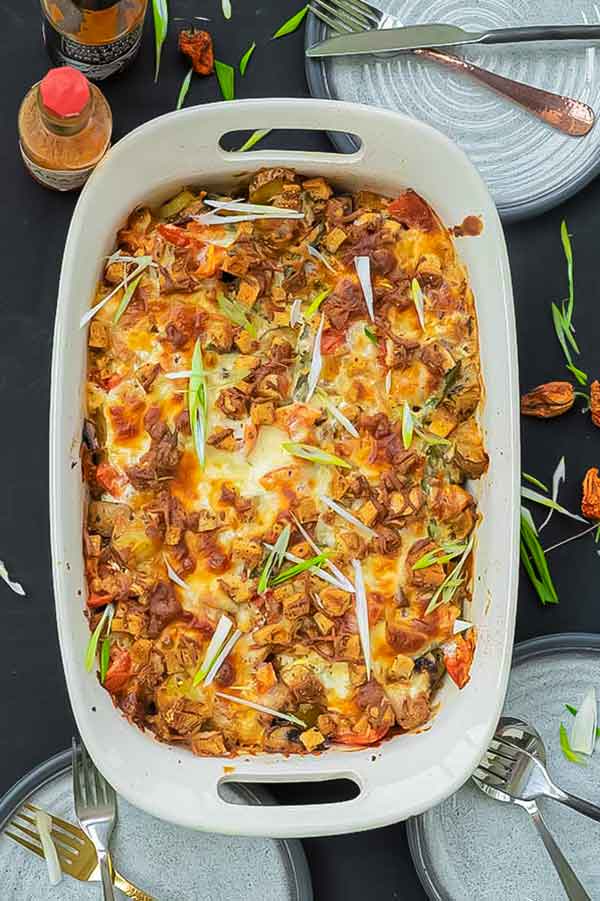 First, all the ingredients in this casserole should be sliced to about the same size. You can use any vegetables that you have on hand, such as broccoli, zucchini, bell peppers, mushrooms, kale, spinach, carrots, corn, peas, green beans…everything will work.
first briefly cook the potatoes
The potatoes are first briefly cooked. About five minutes. Long enough for them to become fork tender. If you are using carrots or green beans, I would cook them first with the potatoes using the same pot until fork tender. This shouldn't take more than five minutes
While the potatoes are cooking, sauté the vegetables with onions and your choice of spices or herbs. The more seasoning you add, the better because this sets the tone of your flavour in the casserole.
I went with an Italian flair, so I used oregano and basil. Or use ethnic spices such as cumin, curry powder, and turmeric also a tasty mix.
Once the veggies are well seasoned, add the potatoes and stir with the flavourful veggie mix. The leftover meat is optional, and I only added it to use up leftovers.
assemble the farmer's dinner casserole
To assemble the dish, layer the casserole dish with potato mixture, sour cream mixture and cheese. For the topping, I made crispy herb croutons. The croutons add extra crunch…so good! The farmer's casserole is ready to be baked.
What I love about this wholesome gluten-free dinner dish is, you can prepare the casserole in advance and pop it in the oven when ready.
The casserole should be served hot, and you can add a light salad, or my favourite is this fresh coleslaw. And don't forget the hot sauce!
Let's Connect!
Be sure to FOLLOW US on FACEBOOK and PINTEREST.
Many thanks!
Kristina xx
Gluten-Free Farmer's Dinner Casserole
Published on Apr 25, 2020
by
Kristina Stosek
Instructions
1.

2.

Cook potatoes in well-salted water for about 5 minutes, until fork-tender. Drain

3.

For the topping, heat the butter in a large pan or a wok over medium heat. Add bread cubes and seasonings and cook for two minutes. Stirring frequently. Transfer to a bowl and set aside

4.

To the same pan/wok heat olive oil over medium heat. Add onions and cook until they start to soften. Add remaining vegetables, meat, basil, and generously season with salt. Cook for two minutes, stirring as needed.

5.

To the same pan/wok, add the potatoes and coat with the veggie mixture. Transfer to the baking dish and scatter with tomatoes

6.

Whisk 1 1/2 cups of cheese, sour cream and cream/milk and pour over the potato mixture. Top with seasoned bread cubes and then with the remaining cheese.

7.

Bake for 35 - 40 minutes until golden brown