Gluten-Free Easy Vegetarian Pizza
Published on Sep 16, 2014
by
Kristina Stosek
Prep Time:

15 minutes
Cook Time:

20 minutes
Serves:

2x16-inch pizzas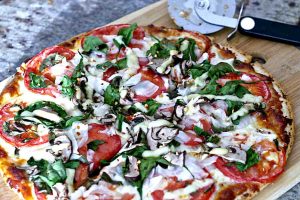 ​This post may contain affiliate links, please see our
privacy policy
for details
This Gluten-Free Easy Vegetarian Pizza is just that…easy and simply put together. And, the sauce is freshly made with olive oil, garlic, basil and fresh tomatoes.
This pizza is all about having all the toppings fresh. The gluten-free, vegetarian pizza is all about freshness. For the crust, I used one of our most popular gluten-free pizza crust recipes. In this vegetarian pizza, I doubled the cheese, yes, doubled. This pizza has a cheese layer on the bottom and as the last topping. The cheese truly makes this into an extraordinary pizza.
One of the reasons I doubled up on cheese is because it is a vegetarian pizza. By adding extra cheese, the pizza is heartier and more satisfying. Also, I used two types of cheese. I used the classic mozzarella cheese for the first layer, but to finish it off, I used my favourite smoked gouda cheese. However, the cheese you use for the topping can be any good melting cheese. Some good melting cheeses are Camembert, Gruyere, Brie, Emmental, Fontina or my favourite, smoked Gouda.
♥

What makes a great vegetarian pizza?

When it comes to a great pizza, it is about the crust, sauce and the cheese you choose. Making a fresh pizza sauce makes all the difference, and the sauce is so easy to make. You know, once you have the three main components for the pizza, the rest is up to you. You can add one or more toppings or none. This gluten-free, vegetarian pizza easily converts to Marguerita pizza. Omit the veggies and add some fresh basil leaves, finishing with the second layer of cheese. YUM!

Need more Italian recipes? Check out our gluten-free Italian recipes section. You will find recipes for pizza, pasta, soups and even desserts. My favourite Italian dessert is the gluten-free Tiramisu. Enjoy!
Gluten-Free Easy Vegetarian Pizza
Published on Sep 16, 2014
by
Kristina Stosek
Instructions
1.

2.

3.

Using a saucepan heat olive oil over medium-low heat. Add garlic and cook until fragrant, about 1 minute. Stir in basil and paprika, then add tomatoes, water and salt. Increase heat to medium-high and cook for 3 minutes, stirring as needed.

4.

5.

Spread the sauce evenly over the pizza crust

6.

Add the layers in this order, mozzarella, tomatoes, onions, spinach and mushrooms. Top with your favourite melting cheese

7.

Bake 15 to 17 minutes or until the crust t is crispy and the cheese starts to bubble