Gluten-Free Double Chocolate Walnut Cookies
Prep Time
15 Minutes
Difficulty
Easy
Cook Time
15 Minutes
Serves
24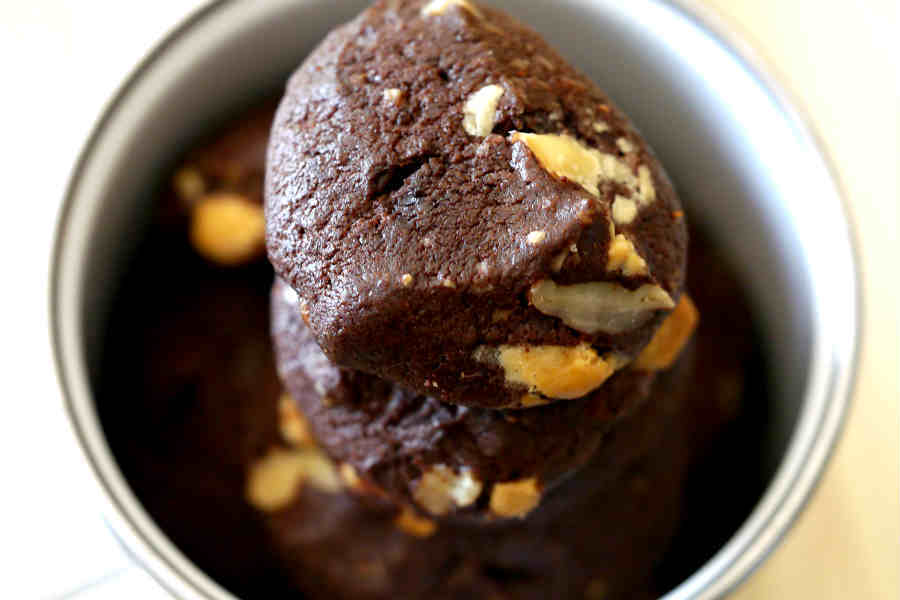 Average Rating: 4.5 | Rated By: 6 users
These scrumptious cookies oozing with chocolates are chewy on the inside and crunchy on the outside. With the added walnuts these cookies will give you lasting energy. The only drawback is, these cookies addictive
Ingredients
½ cup GF rice flour
½ cup GF buckwheat flour
½ cup all-purpose gluten-free flour blend
½ cup GF tapioca starch
½ cup GF semi-sweet chocolate chips
½ cup chopped raw walnuts
¼ cup pure cocoa powder
2 tsp. GF aluminum-free baking powder
½ tsp. sea salt
1 cup pure maple syrup
½ cup coconut oil, melted
1 Tbsp. pure vanilla extract
½ cup non-dairy milk (rice, almond or coconut), at room temperature
*As an Amazon Associate and member of other affiliate programs, I earn from qualifying purchases. Please check out my sponsorship and disclosure policy page for more details
Instructions
Preheat oven to 375 F
Add first nine ingredients to a large bowl and and mix well
In seaprate bowl whisk together maple syrup, coconut oil, vanilla and milk
Add wet mixture to dry ingredients and combine until cookie dough forms. You may have to add a little more milk tablespoon at a time if the dough is too dry.
Using a tablespoon drop dough on a baking sheet lined with parchment paper and slightly press down
Bake for 15 minutes. Cool slightly before transferring to a wire rack to cool completely.
Similar Recipes
Gluten-Free Espresso Chocolate Cookies
These melt in your mouth Gluten-Free Espresso Chocolate Cookies are a mix of coffee and chocolate. Indeed a delicious sweet treat that is more than just a chocolate cookie. ♥ Not only these espresso chocolate cookies are extraordinary – they are made with some good things too! To make these gluten-free cookies, I wanted not […] Read More
Prep Time
15 Minutes
Difficulty
Easy
Cook Time
15 Minutes
Serves
24
5 Ingredient Gluten-Free Peanut Butter Chocolate Chip Cookies (Grain-Free, Dairy-Free)
These gluten-free peanut butter chocolate chip cookies are sooo delicious! The cookie 🍪 will melt in your mouth and all you need is five ingredients for this recipe. Just imagine a cookie recipe without flour, doesn't this sound good? In this gluten-free peanut butter chocolate chip cookie recipe, as a sweetener I used coconut sugar, […] Read More
Prep Time
10 Minutes
Difficulty
Easy
Cook Time
14 Minutes
Serves
12
6 Ingredient Grain-Free Coconut Chocolate Chip Cookies
As cookies go, it's hard to find an easier Grain-Free Coconut Chocolate Chip Cookie recipe. The cookies are completely gratifying, filled with coconut and chocolate chips. When you combine coconut and chocolate, you can't go wrong, and we all need a chocolate fix every once in a while. Is this a cookie or an energy […] Read More
Prep Time
10 Minutes
Difficulty
Beginner
Cook Time
25 Minutes
Serves
10