Gluten-Free Chicken Enchilada
Prep Time
10 Minutes
Difficulty
Easy
Cook Time
30 Minutes
Serves
4
Average Rating: 5 | Rated By: 2 users
The right blend of spices and fresh vegetables makes a tasty, creamy and gluten-free chicken enchilada. Enjoy!
Ingredients
1 Tbsp. extra virgin olive oil
1 red bell pepper, thinly sliced
1 medium onion, thinly sliced
1 tsp. Gf cumin powder
1 tsp. GF chili powder
1 lb. skinless, boneless chicken thigh or breast, cut into thin strips
½ tsp. sea salt
1 cup plain GF Greek yogurt or sour cream
1 ½ cup cheddar cheese or Monterey jack cheese, freshly grated
½ cup chopped fresh cilantro
4 gluten-free tortillas (I used rice tortilla)
*As an Amazon Associate and member of other affiliate programs, I earn from qualifying purchases. Please check out my sponsorship and disclosure policy page for more details
Instructions
Preheat oven to 375 F
Heat olive oil over medium heat in a non-stick pan. Add onions and peppers and stir-fry for two minutes.
Add cumin, chili powder, chicken and salt and stir-fry until chicken is no longer pink, about five minutes
Stir in yogurt and 1 cup of cheese and cook until cheese melts, about a minute.
To assemble enchiladas, evenly transfer filling to each tortilla, roll, and place seam down in 9 by 13 inch baking dish
Sprinkle with remaining cheese and bake for twenty minutes or until cheese is bubbling.
Garnish with fresh cilantro if so desired.
Similar Recipes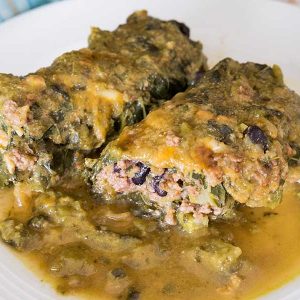 Beef and Black Bean Enchilada Kale Rolls
A tasty Mexican dish with added twist of kale. In this enchilada recipe, I replaced the usual flour tortilla with kale. Kale rolls are stuffed with beef, black beans, cheese, sour cream and spices and baked to perfection in our gluten free green enchilada sauce. When you feel like Mexican food, try this scrumptious, healthy […] Read More
Prep Time
15 Minutes
Difficulty
Easy
Cook Time
45 Minutes
Serves
4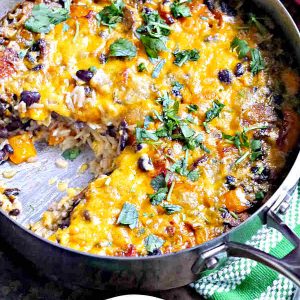 One-Skillet Vegetarian Burrito – Gluten-Free
This gluten-free, vegetarian burrito has all the delicious ingredients of a burrito but without the tortilla. This Mexican dish is made with black beans, tomatoes, bell peppers, rice, cheese, and plenty of cilantro. For the spices, I used the traditional chili powder, cumin and garlic. To serve, you can add salsa, fresh cilantro and or […] Read More
Prep Time
10 Minutes
Difficulty
Beginner
Cook Time
45 Minutes
Serves
6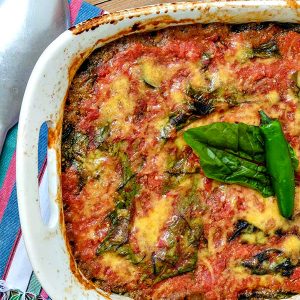 Grain-Free Beef Burrito Casserole
Now here is a burrito that will impress those who love Mexican food. Imagine a burrito without rice and tortilla. In this grain-free beef burrito casserole, the flavours come from deliciously spiced beef, beans, cauliflower rice and cheese. Instead of using tortillas the burrito filling is layered between red chard leaves and topped with sauce […] Read More
Prep Time
20 Minutes
Difficulty
Easy
Cook Time
60 Minutes
Serves
6