Gluten Free Breakfast Cardamom Plum Cake
Published on Aug 23, 2023
by
Kristina Stosek
Prep Time:

15 minutes
Cook Time:

45 minutes
Serves:

9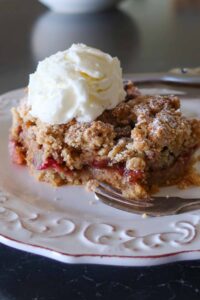 ​This post may contain affiliate links, please see our
privacy policy
for details
Melt in your mouth Gluten Free Breakfast Cardamom Plum Cake combines the exotic cardamom's warmth and the plums' juiciness, creating wholesome goodness.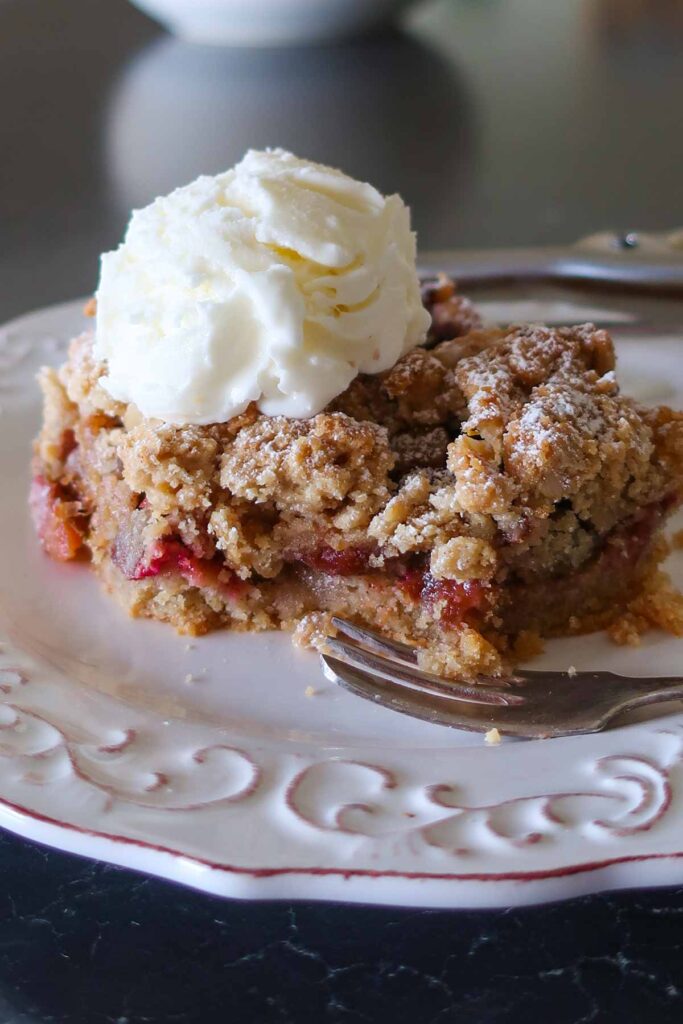 This easy gluten-free breakfast cake recipe is infused with aromatic cardamom, topped with luscious plums, and a buttery crumble. Perfect for starting your day with pure delight.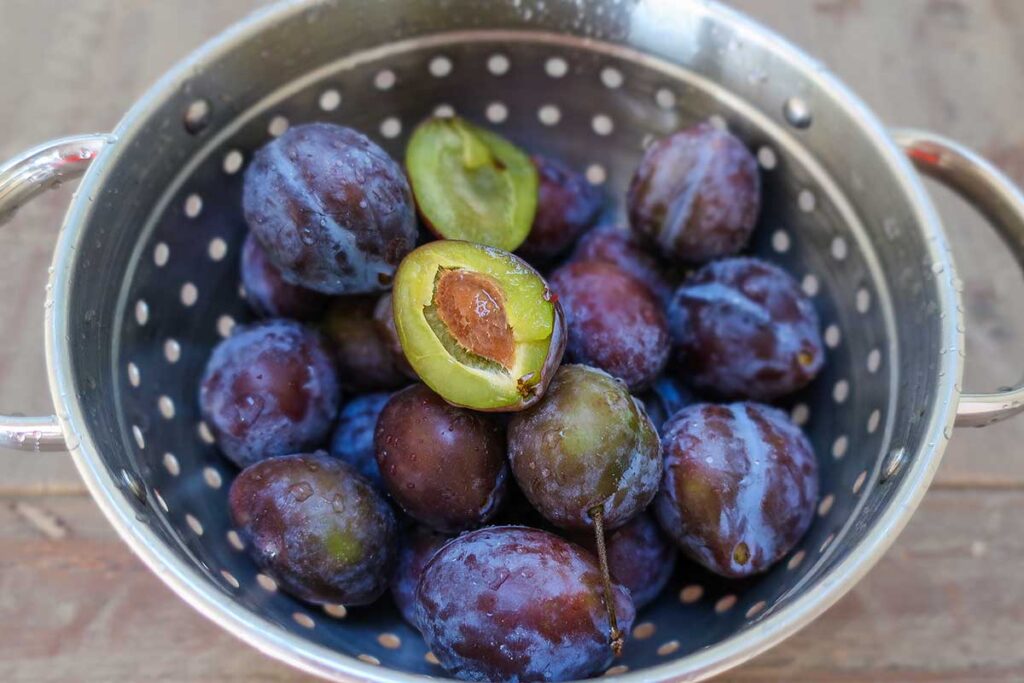 What is a prune plum?
Prune plums, known as Italian plums, are typically smaller and more oblong than their traditional counterparts. Prune plums boast a deep purple hue and a sweet-tart flavor when cooked. The Italian plums are used in pies, tarts, cakes, and jams.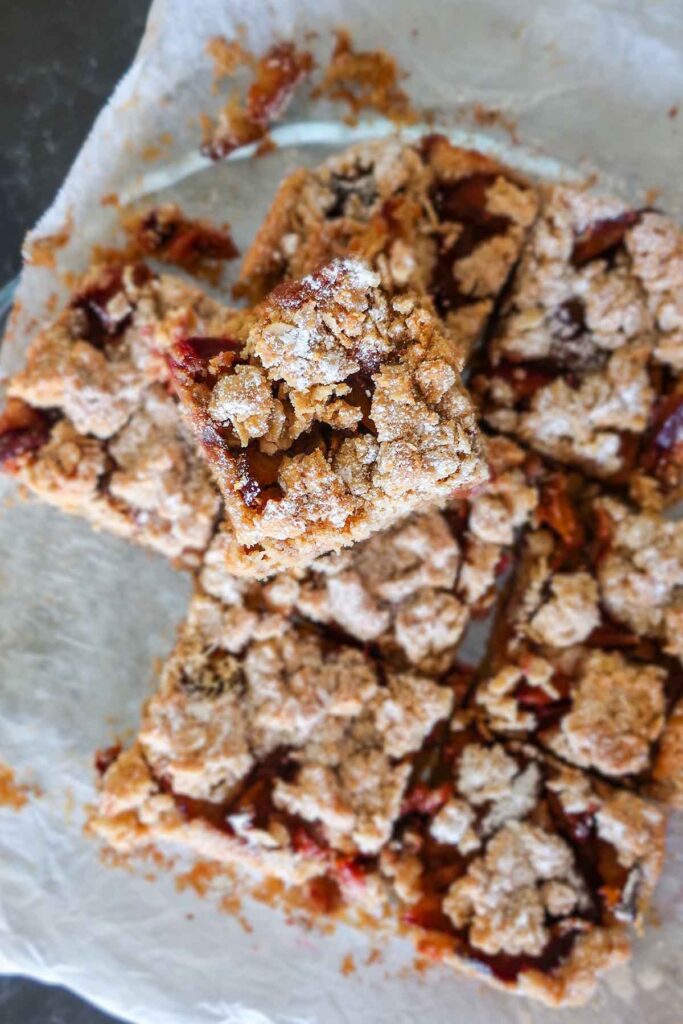 How to make Gluten Free Breakfast Cardamom Plum Cake?
Special equipment you will need
This recipe is simple, so you most likely have everything in your kitchen.
3 steps to make Gluten Free Breakfast Cardamom Plum Cake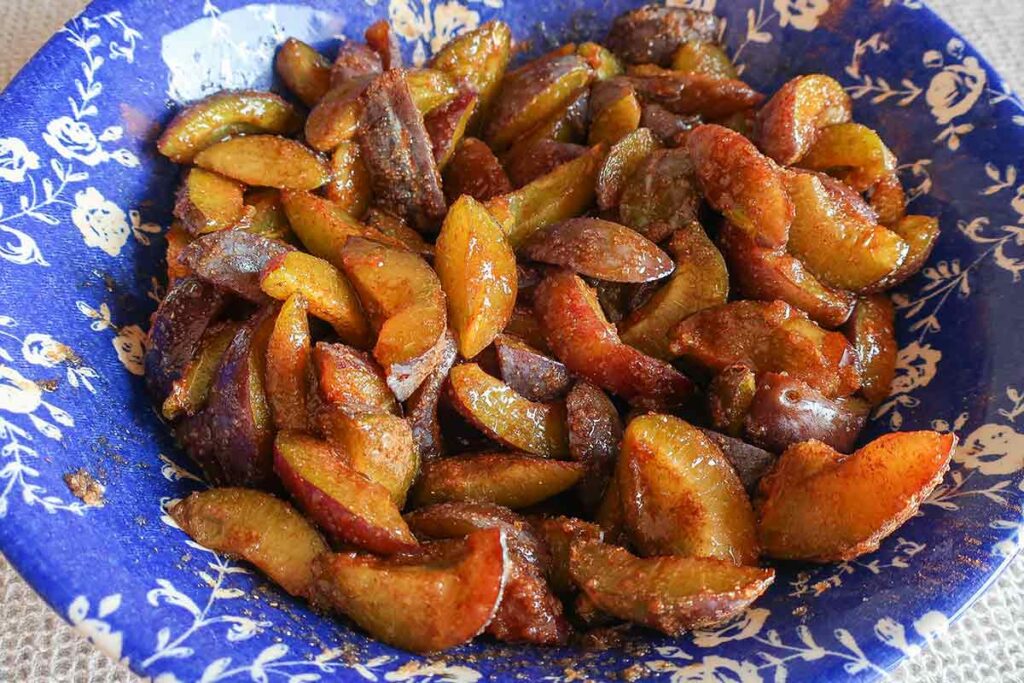 Combine pitted sliced Italian plums with sugar, cardamom, cinnamon, ginger, and lemon zest. Set aside for 10 minutes. The plums will soften and release juices.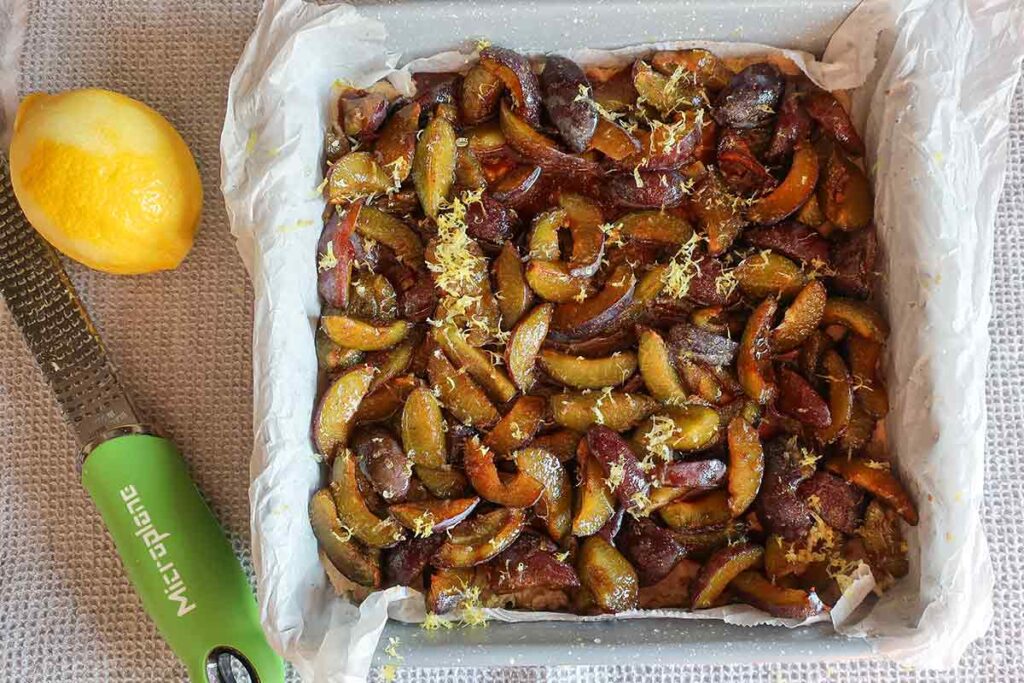 Mix dry ingredients with softened butter and press about 2/3 of the mixture into the bottom of the prepared pan. Top with prepared plums, including the juices.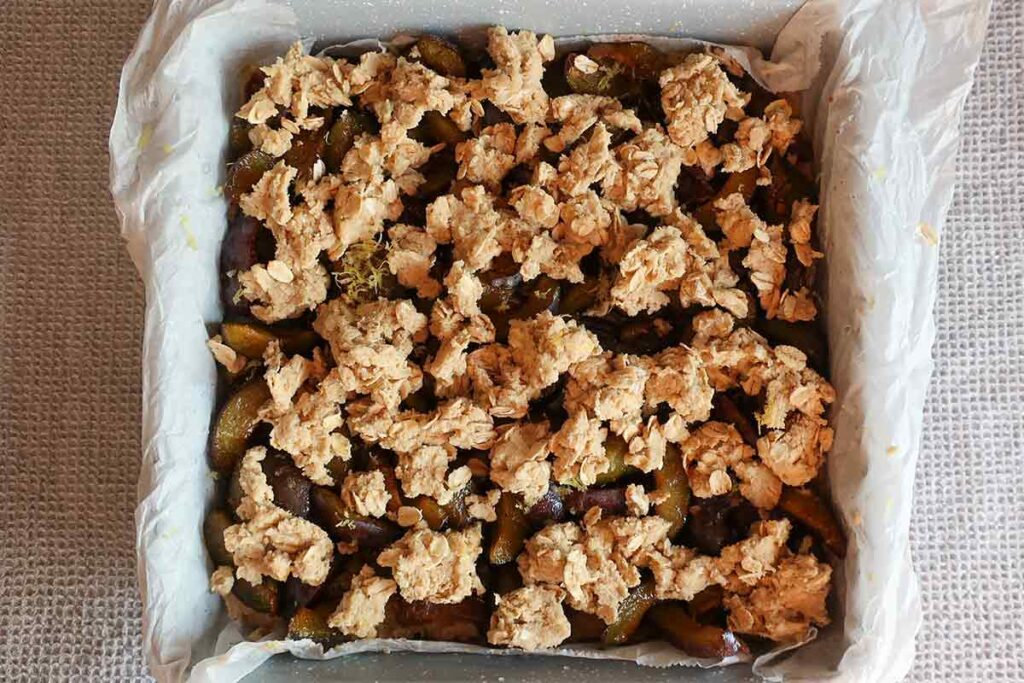 Mix the remaining mixture with oats and crumble over the plums. The breakfast cake is ready for baking.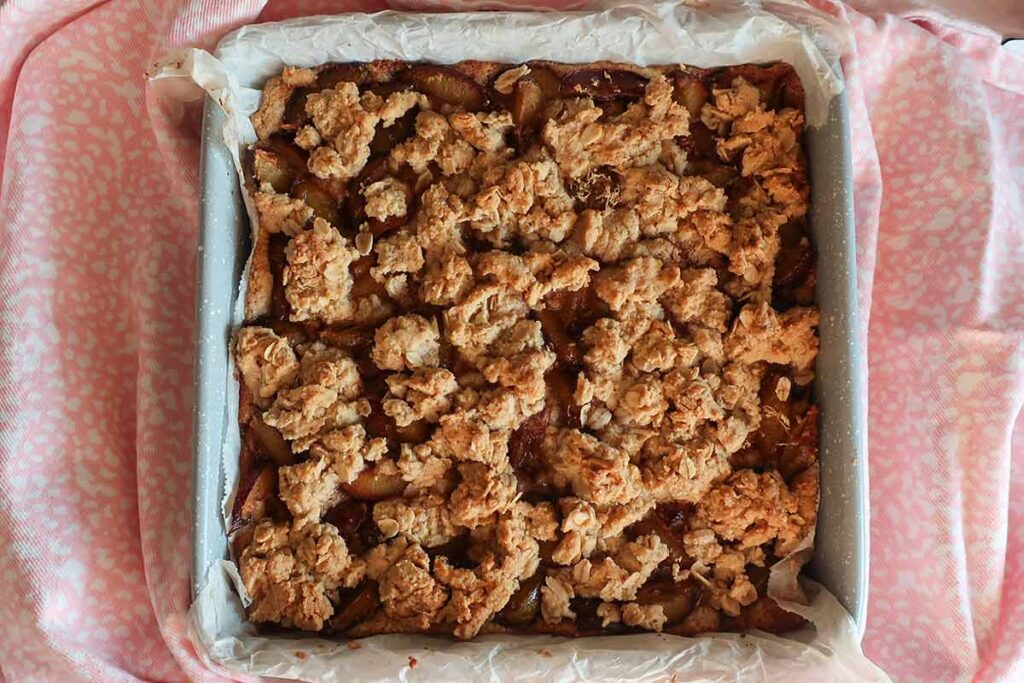 Chef tips and recommendations:
Fruit: You can substitute Italian plums with peaches, apricots, or regular plums
Rice flour: You can use a 1:1 gluten free flour blend, sweet sorghum flour, or oat flour
Oats: substitue oats for quinoa flakes or chopped nuts, such as walnuts, almonds or cashews
Butter: If you are following a plant-based diet or have dairy intolerance, you can use vegan butter such as Earth Balance. I do not recommend using coconut oil or vegetable oil.
Brown sugar: You can use fine coconut sugar or granulated sugar. If you prefer to use maple syrup or honey, add an extra tablespoon of flour to the dough, and use only a 1/4 cup with the plums.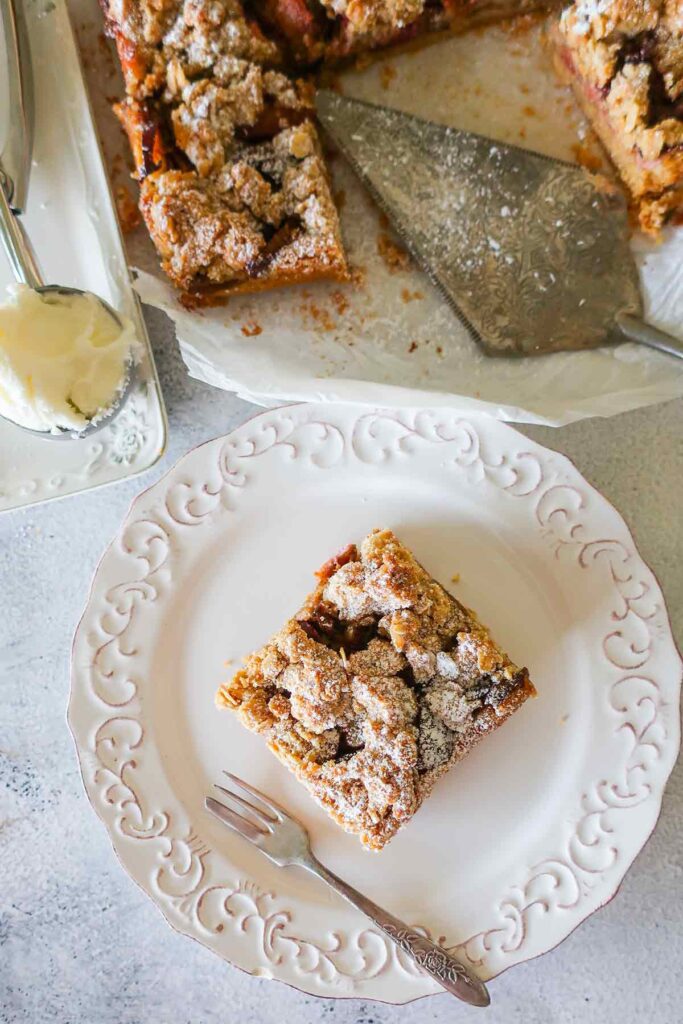 Serving Suggestions For Breakfast Cardamom Plum Cake:
This Gluten Free Breakfast Cardamom Plum Cake is delicious just as is. However, you can elevate the flavor and deliciousness with these serving suggestions:
Whipped Cream: Top individual slices of the cake with a dollop of freshly whipped cream or coconut cream for a creamy touch.
Vanilla Yogurt Parfait: Create a breakfast parfait by layering chunks of the cardamom plum cake with creamy gluten free vanilla yogurt. Add a drizzle of honey or maple syrup and sprinkle with toasted nuts for crunch.
Tea or Coffee Pairing: Enjoy your cake with a cup of aromatic tea, such as chai tea or herbal infusions, to complement the cardamom plum cake. Alternatively, pair it with your favorite coffee for a cozy morning treat.
Caramelized Plums: Create caramelized plums by sautéing plum slices in butter and a touch of brown sugar until they caramelize. Serve them warm alongside the cake for an elegant touch.
Ice Cream: For a decadent twist, serve the cake warm with a scoop of vanilla or cardamom ice cream. The contrast of warm cake and ice cream is simply heavenly.
Cheese Accompaniment: Consider serving a slice of the cake with a mild, creamy cheese like ricotta or mascarpone. The cheese adds a velvety element that complements the flavors.
No matter which serving suggestion you choose, this Cardamom Plum Cake will shine as the star with its exotic flavor and juicy plums for your next breakfast, brunch, or even dessert. Enjoy!
Here are some of our most popular gluten free breakfast cakes: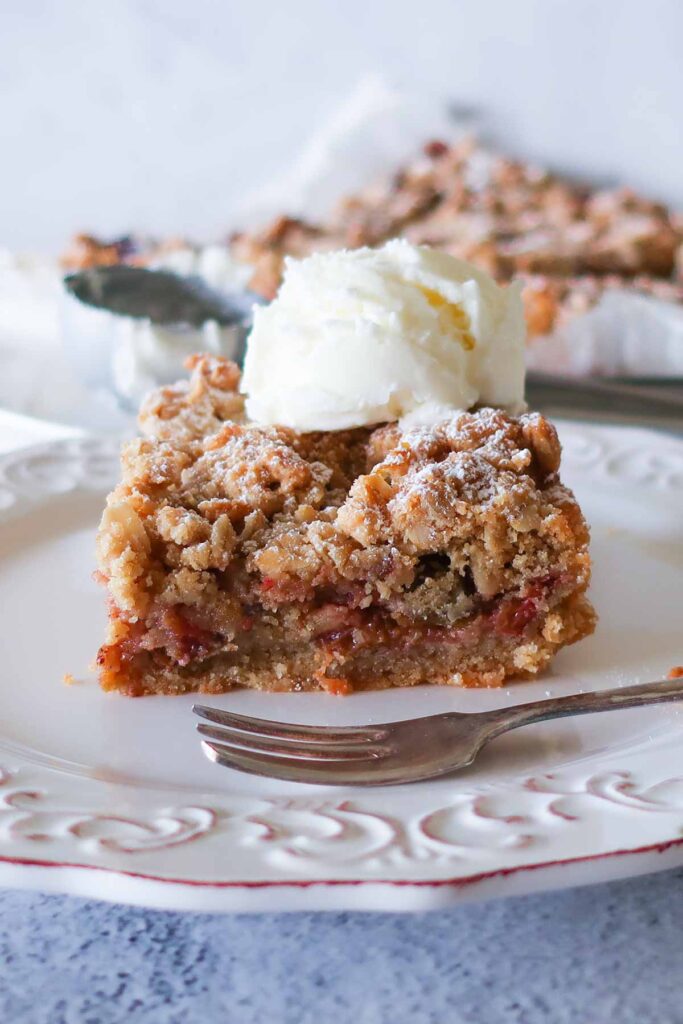 Let's Connect!
Be sure to FOLLOW US on FACEBOOK and PINTEREST. And don't forget to sign up for our newsletter, the form is at the bottom of this page. We always have something new and exciting for you!
Many thanks!
Kristina xx
Gluten Free Breakfast Cardamom Plum Cake
Published on Aug 23, 2023
by
Kristina Stosek
Instructions
1.

Preheat the oven to 350 F and line a 9-inch square pan with parchment paper

2.

In a medium bowl, combine plums, 1/2 cup brown sugar, 1 tsp. Cinnamon, 1/2 tsp. Cardamom, ginger, and lemon zest. Set aside for 10 min. The plums soften and release juices

3.

4.

Meanwhile, whisk dry ingredients to combine. Add butter, and using a wooden spoon or a rubber spatula, mix until combined

5.

Press down about 2/3 of the mixture into the bottom of the prepared pan and top with prepared plums, including the juices

6.

Mix the remaining mixture with oats and crumble over the plums

7.

Bake for 45 minutes. The crumble should be golden brown

8.

Cool in the pan to room temperature before slicing