Gluten-Free Baked Vegetarian Burrito
Published on Apr 15, 2020
by
Kristina Stosek
Prep Time:

15 minutes
Cook Time:

30 minutes
Serves:

4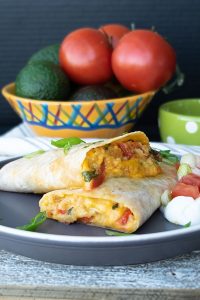 ​This post may contain affiliate links, please see our
privacy policy
for details
Another really easy gluten-free dinner idea. I made this Gluten-Free Baked Vegetarian Burrito with rice, green onions, bell peppers, mushrooms, fresh tomato, sour cream, a hint of cumin, chili pepper flakes and plenty of cheddar cheese. You may have noticed there are no beans – that is correct.
burrito without beans
This burrito did not need beans. Instead, I sautéed the vegetables, and then I mixed them with some rice…not a lot of rice, then sour cream and cheese.
The briefly cooked vegetables added so much flavour to the rice, there was no need to add beans meat or anything else.
vegetarian burrito
Once the vegetarian stuffing is done, this takes only minutes to prepare; everything is rolled into a rice tortilla and then baked—simple preparations with outstanding results. I often make this stunning vegetarian burrito recipe when I have leftover rice.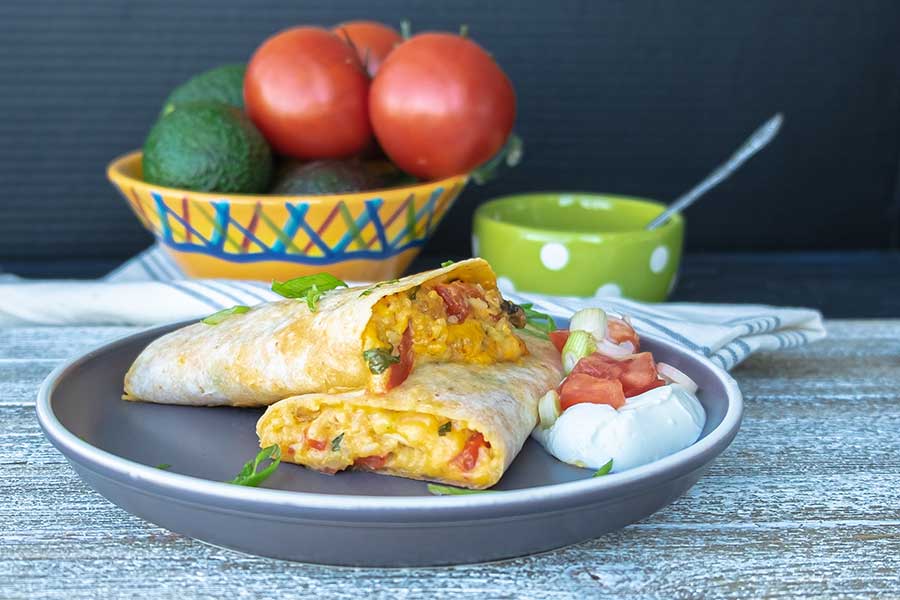 What do you need to make this gluten-free, bean-free vegetarian burrito?
You will need a simple list of ingredients to make this Mexican dish. The recipe calls for leftover cooked rice, green onions, bell pepper, some mushrooms, olive oil, fresh tomato, cumin, sour cream, cheddar cheese and 4 burrito-style tortillas.
I bet you have most of these ingredients in your pantry? Since I love spicy food, I added plenty of hot chili peppers, but feel free to adjust the heat to your liking. This gluten-free recipe is a healthier version of the classic baked vegetarian burrito – less the beans.
Why is this a healthier version of a burrito?
Lets briefly examine the ingredients. For the veggies, they are a rich source of dietary antioxidants, especially the tomato. They are a good source of dietary fiber, vitamin C, A, B and K. And the cheese adds plenty of protein and calcium.
I used brown rice in this burrito because it is nutritionally richer and has more fiber. Since there is only a quarter cup of rice in each burrito, I wouldn't worry too much about which rice to use.
Why gluten-free rice flour tortilla tastes better?
In this recipe, I used gluten-free rice tortillas; however, corn tortillas work as well. For me, I find the corn flavour is too overwhelming, taking away from the tasty burrito filling.
When I serve the baked burrito, I have plenty of fresh salsa, avocado slices or guacamole, sour cream and sliced green onions. This easy vegetarian Mexican meal is always a huge hit at our house. Enjoy!
Gluten-Free Baked Vegetarian Burrito
Published on Apr 15, 2020
by
Kristina Stosek
Instructions
1.

2.

Using a large pan heat olive oil over medium heat. Add onions, peppers and mushrooms and cook for 3 minutes. Just until the peppers start to soften. Stirring as needed. Add cumin, chili pepper flakes and season with salt. Mix to combine.

3.

Add rice and mix coating the rice with the vegetable mixture. Stir in 1 cup of cheese and sour cream. Divide the rice mixture into four portions

4.

Place burrito on a work surface. Spread 1 serving of rice mixture just below the centre. Top with 1/4 of the tomatoes and sprinkle the entire burrito with 1/4 of the remaining cheese. Repeat with the other 3 burritos

5.

Roll up the burrito (burrito style) tightly, starting with the filling side and place seam down on a baking tray, make sure the burritos aren't touching. Bake for 25 minutes until the burritos are golden brown and the cheese is bubbling. Rest for 10 minutes before serving

6.

Serve with your favourite toppings