Apple Pie Squares with Almond Butter Caramel – Gluten Free
Prep Time
20 Minutes
Difficulty
Easy
Cook Time
35 Minutes
Serves
16 squares
Be the first to rate this recipe.
If you love a good old-fashioned apple pie but want to keep it simple, try these naturally Gluten-Free Apple Pie Squares with Almond Butter Caramel.
Apple Pie Squares with Almond Butter Caramel – the layers
The apple pie squares are made up of four layers. A buttery crust is made with oats, topped with a layer of apple cinnamon filling, then a perfect crumble and a heavenly creamy almond butter caramel for the finish. Need I say more?
The apple pie squares are melt in your mouth delicious with the tastiest almond butter caramel topping! This apple dessert recipe is one that you should try at least once.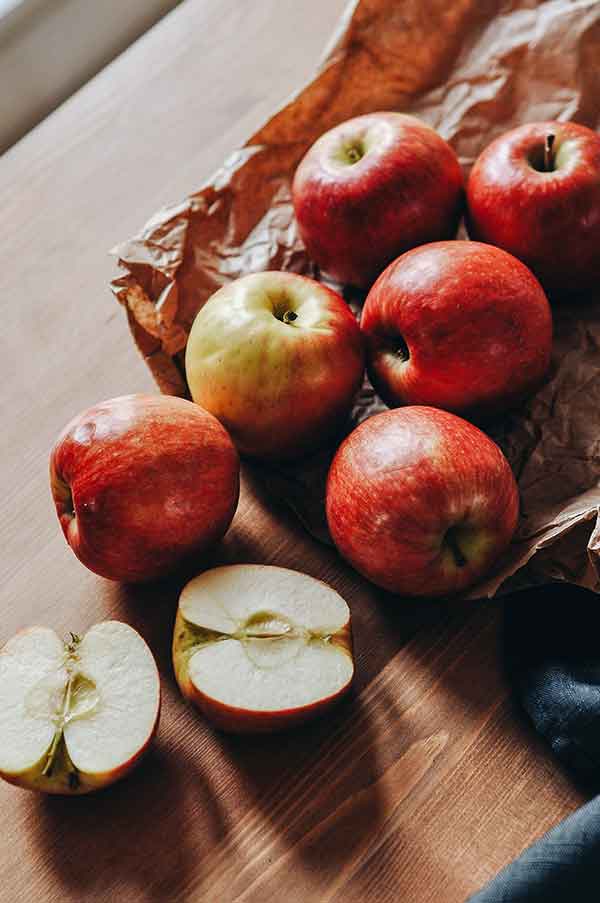 If there is something that pairs this well, it is cinnamon apples with buttered oats. The two layers are meant to be together.
Add a crumble and creamy almond butter caramel topping, and the gluten-free apple pie squares are life changing.
apple pie square, the simple details
To start, you will need to make the apple pie filling. It's pretty simple. Peel and chop the apples, and add them to a saucepan with butter, maple syrup, vanilla, fresh lemon juice, cinnamon, nutmeg and a couple of teaspoons of starch. 
Combine all the ingredients, and bring to a simmer. The apples soften very quickly, so once the liquids start to bubble, cover the saucepan and remove it from the stove. The apples will continue to soften to perfection.
Why chop the apples?
I chopped the apples in this apple pie square recipe instead of slicing them thinly.
You may ask why. This is because, when you take a bite, you will taste apples and not apple sauce. Also, the crumble falls perfectly between the apple chunks. Another apple recipe you will LOVE are the Gluten-Free Apple Pie Bars.
oat crust and crumble
Now that the apple layer is ready, the crust and crumble come together quickly. Both the crust and crumble are made from the same mixture. 
To make the mixture for the crust and crumble, add everything into a food processor, pulse a few times, and you are done! It doesn't get any easier than this.
Most of the oat mixture is used for the crust. To do this, lightly press the mixture into the pan before the softened cinnamon apples are added.
Now that the crust is ready spread the cinnamon apple mixture over the crust and sprinkle with the remaining crumble. The apple pie squares are ready for the oven.
How to make almond butter caramel?
The almond butter caramel is what sets this apple dessert apart from most. Making the almond butter caramel takes just seconds.
Place the four ingredients, almond butter, butter, maple syrup and vanilla, in a small bowl and microwave for about 25 seconds. The creamy, butter caramel will soften, so you can drizzle it over the squares.
You may think there are so many steps, and the recipes may seem complicated. But, trust me, the recipe is so easy! The entire hands-on time took me only 15 minutes. You will love it!
a healthier dessert
When I start developing recipes, I always think of keeping them as healthy as possible. After all, we are what we eat! So same goes for this gluten-free apple dessert recipe. 
Using ingredients such as oats, apples, almond butter, and pure maple syrup shows that this apple pie square recipe is on the healthier side.
this apple recipe is naturally gluten-free
Oats are one of those foods we should try to include in our diet. When following a gluten-free diet, it is vital to buy certified gluten-free oats. 
We know that oats are naturally gluten-free, but if oats are grown next to wheat fields, they may contain gluten. 
Certified gluten-free oats are tested for gluten contamination and then certified that they are free of gluten.
Whole oats are super nutritious and especially rich in protein, fiber and antioxidants. But even more importantly, they contain a soluble fiber called beta-glucan. As per research, beta-glucan can slow the development of some cancers.
Are apples important in our diet?
I don't need to talk too much about apples. Have you heard the expression, an apple a day keeps the doctor away? Well, it is true. 
Why do you ask? First, apples are delicious, and there is nothing tastier than a fresh crispy apple.
For me, it is like eating candy. Have you tried to make apple cinnamon chips? They are super healthy and so addictive. YUM
Apples are highly nutritious and fiber-rich. As per Harvard Edu, apples are also linked to a lower risk of diabetes, and they may help prevent some cancers, help fight asthma, and promote good gut bacteria. 
store and serve
First, you should store this apple dessert in a refrigerator for freshness. Then, you can enjoy them straight out of the fridge or at room temperature. 
If you like warm apples, pop them in the microwave for about 15 seconds and add a dollop of vanilla bean ice cream. Does it get any more delicious than this? Enjoy!
Let's Connect!
Be sure to FOLLOW US on FACEBOOK and PINTEREST.
Many thanks!
Kristina xx
Ingredients
APPLE PIE FILLING
1 Tbsp. Unsalted butter (* see below for vegan option)
3 medium-large apples (granny smith, honey crisp), peeled, cored and roughly chopped
1 Tbsp. Fresh lemon juice
3 Tbsp. Pure maple syrup
1 tsp. Pure vanilla extract
1/2 tsp. GF cinnamon
Pinch of GF nutmeg
2 tsp. Arrowroot or tapioca starch
CRUST AND CRUMBLE
3/4 tsp. Baking soda
1/2 cup pure maple syrup or 1/2 cup packed brown sugar
1/3 cup unsalted butter or vegan butter
1/4 tsp. Sea salt
ALMOND BUTTER CARAMEL
2 Tbsp. Pure creamy almond butter
1 Tbsp. Butter, at room temperature
1 Tbsp. Pure maple syrup
1/2 tsp. Pure vanilla extract (use vanilla only if you are making the cream version)
*for vegan option substitute butter for vegan butter (earth balance is a good choice)
*As an Amazon Associate and member of other affiliate programs, I earn from qualifying purchases. Please check out my sponsorship and disclosure policy page for more details
Instructions
Preheat oven to 350 F and line a square 8-inch baking pan with parchment paper
Make the apple pie filling: melt the butter in a large saucepan over medium heat. Add the apple chunks and mix to combine. 
In a small bowl, whisk the lemon juice, maple syrup, vanilla, cinnamon, nutmeg, starch and 1 tablespoon of water. Add the mixture to the apples and cook until the sauce starts to bubble. Give it a good stir, cover the saucepan and remove it from the heat. The apples will continue to soften
Make the crust and crumble: Place the rolled oats, oat flour, baking soda and salt into a food processor and pulse 7 times. Add remaining ingredients and briefly pulse until the mixture resembles crumbles
Lightly press 2/3 of the mixture in the prepared baking pan and place the remaining mixture in the freezer for 5 minutes. This creates a good crumble
Pour the apple pie mixture evenly over the crust, then crumble the remaining chilled oat mixture over the top. Bake for 30 - 35 minutes until the topping is golden. Cool completely in the pan
Make the almond butter caramel: place the almond butter, butter, maple syrup and vanilla in a medium bowl. Microwave for about 25 - 35 seconds until warm, then and stir until creamy
Drizzle almond butter caramel over the top and cut into squares
Store in the refrigerator. See blog for serving suggestions
Similar Recipes
Gluten-Free Rhubarb Apple Coffee Cake
Gluten-Free Rhubarb Apple Coffee Cake that will knock your socks off. Incorporating rhubarb with apples into the body of this two-layer coffee cake with a subtle cinnamon essence. The base of this gluten-free coffee cake is a buttery crumble topped with a light sponge cake filled with rhubarb and apples. When you combine the two […] Read More
Prep Time
15 Minutes
Difficulty
Easy
Cook Time
60 Minutes
Serves
15 squares
Gluten-Free Crust Free Apple Pie
Gluten-Free Crust Free Apple Pie – a true classic without the crust. The fresh juicy apples flavoured with cinnamon, lemon juice and creaminess of butter are what make this an outstanding apple pie. The crunchy nutty topping is made with oats, coconut sugar, vanilla, butter and almonds. Adding a nice finish to this crust-free apple […] Read More
Prep Time
15 Minutes
Difficulty
Easy
Cook Time
65 Minutes
Serves
6
Gluten Free Apple Blueberry Crumb Cake
Gluten-Free Apple Blueberry Crumb Cake – a moist cake with a delicious layer of spiced apples and blueberries, and a crunchy topping are what makes this stay at home cake exceptional. A crumb cake is one of the easiest desserts to make. Typically the cake is made of two layers. In this recipe, there are […] Read More
Prep Time
15 Minutes
Difficulty
Easy
Cook Time
60 Minutes
Serves
12 pc