Gluten-Free 3 Layer Blueberry Key Lime Cake

Prep Time
15 min Minutes
Difficulty
Easy
Cook Time
30 Minutes
Serves
8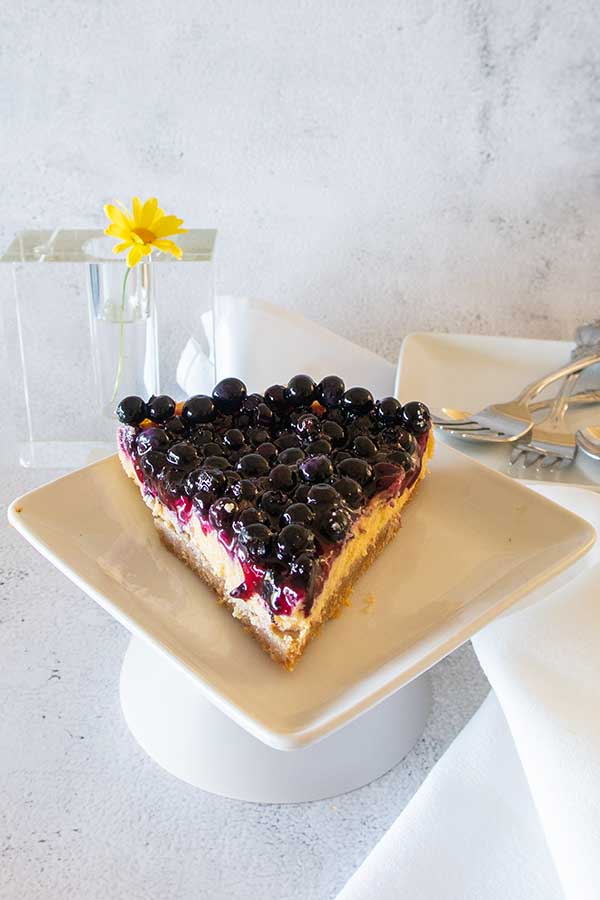 Average Rating: 5 | Rated By: 4 users
Gluten-Free Blueberry Key Lime Cake, super creamy, tangy and topped with vanilla blueberry topping. The buttery crust is made from scratch with just a few simple ingredients. And the zesty custard filling is made with only three ingredients. The topping is all about fresh blueberries in a blueberry sauce, hinted with lime juice, vanilla and a touch of a sweetener.
What is a blueberry key lime cake?
This recipe is not your average chilled gluten-free dessert. Instead, three layers of deliciousness make up this mouthwatering blueberry key lime cake. The nutty crust is topped with a tangy custard cake layer and finished with fresh blueberries nestled in blueberry sauce.
A chilled summer dessert for everyone to enjoy! If you are looking for a summer dessert check out the Gluten Free No Bake Cashew Butter Tart with Pineapples or the Gluten Free Fresh Fruit Tart.
Let's jump straight into the details…
First, making the nutty crust for the key lime cake is super duper easy! Place the ingredients in a food processor and pulse a few times. Then, spread the mixture to the bottom of a springform pan, and par-bake for 10 minutes.
Next comes the zesty custard filling layer…
Making this key lime cake couldn't be simpler. The custard layer is made up of three ingredients. Simply whisk the ingredients together and pour the mixture into the crust. Then bake.
Finish with the fresh-tasting blueberry sauce…
I wanted to keep the freshness of the blueberries. To do this, I divided the blueberries and used 1/3 of them for making the sauce. The blueberry sauce takes only about three minutes to cook. Once the sauce is ready, stir in the remaining fresh blueberries, and the topping is prepared.
To summarize…
This is not your traditional key lime dessert. First, make the nutty crust, top with the custard layer and bake. Then finish with the fresh blueberry tasting sauce and chill for several hours. Done!
A gluten-free key lime cake is nothing like you have had before. The sweetness from the blueberries compliments the tangy custard, and the nutty buttery crust brings on the earthiness to this most delicious gluten-free dessert.
Is this key lime dessert healthy?
The two main ingredients that make up this dessert are 3 cups of fresh blueberries,
and almost a cup of fresh lemon/lime juice or key lime juice.
These ingredients are packed with antioxidants and phytoflavinoids and are also high in potassium and vitamin C, making this a healthy-ish dessert. This is also a grain-free dessert.
Can you make this recipe into a pie?
The short answer is…absolutely! Follow the same directions except using a deep dish-style pie plate.  
You may have to adjust the baking time probably by about 3 – 4 minutes longer. The gluten-free key lime pie comes out spectacular!
What to serve with key lime cake?
This absolutely stunning chilled gluten-free dessert doesn't need anything. It is so good! However, if you want to add a dollop of vanilla bean ice cream or whipped cream, this key lime cake will keep you drooling for hours. Enjoy!
Ingredients
CRUST
3 Tbsp. Coconut sugar or sweetener of choice
1/2 tsp. GF ground cinnamon
1/2 tsp. Sea salt
1/4 cup unsalted butter, melted 
1 large egg
CUSTARD LAYER
5 large egg yolks
1 3/4 cups sweetened condensed milk
2/3 cup lime/lemon juice. (I used half lime and half lemon juice), if you can get key limes, use key lime juice
2 tsp. Lime zest
BLUEBERRY TOPPING
3 cups fresh blueberries, divided
1/2 cup water or fruit juice
2 tsp. lime juice
2 Tbsp. Coconut sugar or sweetener of choice
1/2 tsp. Pure vanilla extract
*As an Amazon Associate and member of other affiliate programs, I earn from qualifying purchases. Please check out my sponsorship and disclosure policy page for more details
Instructions
Preheat oven to 350 F
CRUST
In a food processor, pulse the dry ingredients. Add melted butter and egg and pulse just to combine. 
Using a spatula, evenly spread the mixture on the bottom of an 8-inch non-stick springform pan. Using a fork, poke a few holes in the crust. Place the pan on a baking tray and bake for 10 minutes
CUSTARD LAYER
Meanwhile, whisk the egg yolks until smooth. Add the sweetened condensed milk, lime zest, and lime/lemon juice. Whisk to combine. Pour the mixture into the baked crust
Bake for 20 - 25 minutes, until just set on top. Set aside for 20 minutes to cool slightly
BLUEBERRY TOPPING
While the cake is cooling, prepare the topping. In a medium saucepan, whisk together water with juice, sweetener, vanilla and tapioca flour/starch. Cook over medium-low heat until the sauce starts to thicken. Stir in 1 cup of blueberries and cook until they begin to burst—about 3 minutes.
Remove the saucepan from the stove and stir in the remaining blueberries
Pour the topping evenly over the cake, then cover and chill in the fridge until set, at least 2 - 4 hours or overnight
Using a knife, cut around the cake edges, then remove the cake from the springform pan
Similar Recipes
Gluten-Free Key Lime Squares (Dairy-Free)
These are the best gluten-free Key Lime Squares by far – the crust is mildly spiced with ginger and nutmeg. The key lime custard topping has a light texture, almost like a mousse. Hinted with key lime juice and sweetened with only condensed coconut milk, keeping the key lime squares light and dairy-free. I love […] Read More
Prep Time
15 Minutes
Difficulty
Easy
Cook Time
25 Minutes
Serves
9
Grain-Free Berry Cheesecake Bars
It's officially summer! Weekends by the pool, evening barbecues there is a lot to love about summer. To help you tackle the summer heat, try these refreshing Grain-Free Berry Cheesecake Bars. Berry cheesecake bars made with a grain-free buttery shortbread crust, yogurt and light cream cheese cake layer with berries swirled throughout. This gluten-free dessert […] Read More
Prep Time
15 Minutes
Difficulty
Easy
Cook Time
50 Minutes
Serves
12