Gluten Free Blueberry Pudding Cake
Published on Apr 16, 2023
by
Kristina Stosek
Prep Time:

15 minutes
Cook Time:

50 minutes
Serves:

8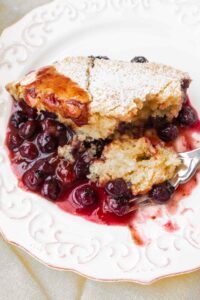 ​This post may contain affiliate links, please see our
privacy policy
for details
Gluten Free Blueberry Pudding Cake – everyone's nostalgic and loved blueberry pudding cake. The bottom layer is made up of blueberry custard hinted with cinnamon and fresh lemon juice and a topping of soft, extra moist cake that melds into the custard when baked.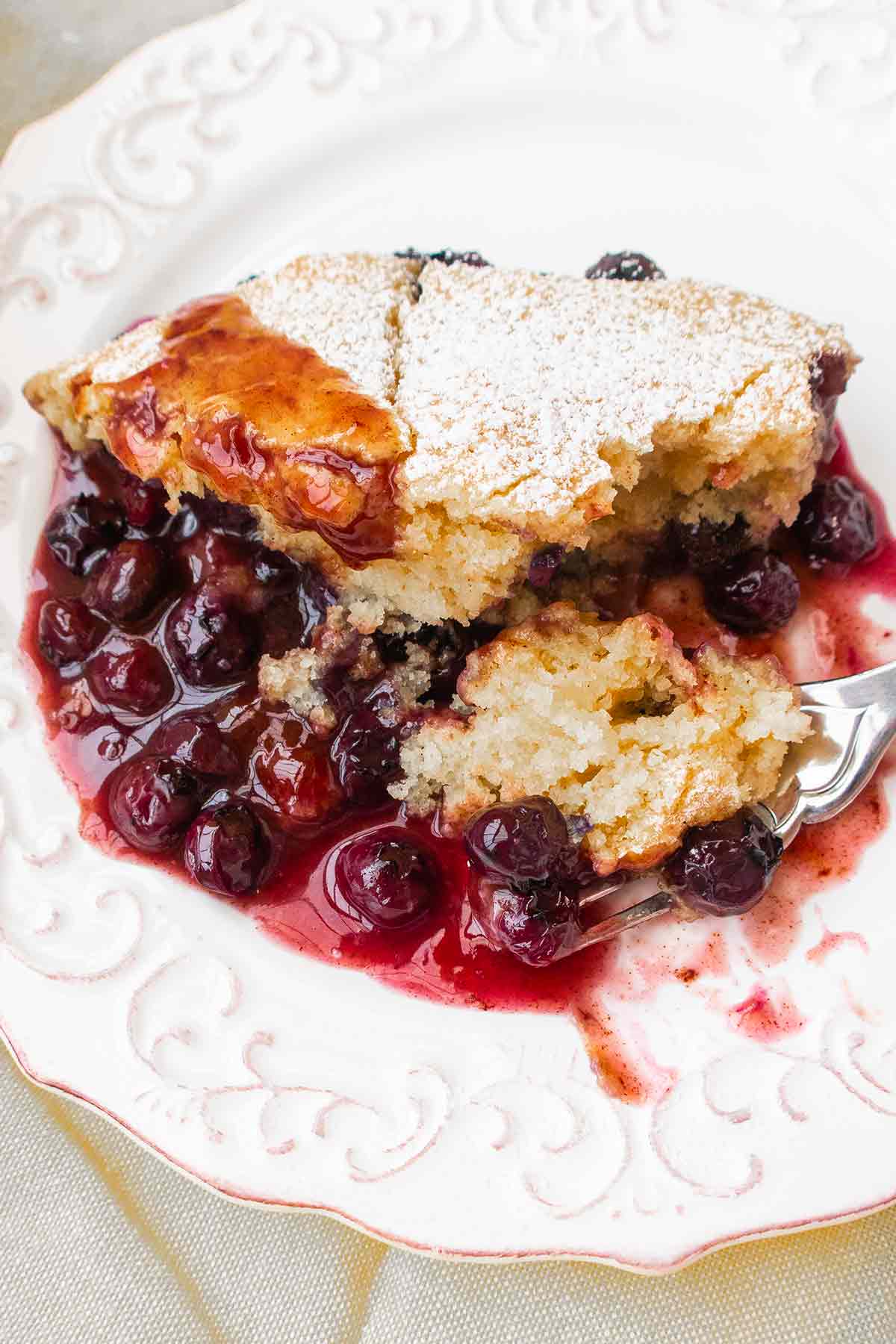 Why is this the best gluten free pudding cake recipe?
This pudding cake recipe is simple and on the healthier side. This is a gluten free, egg-free dessert and a dairy-free version is included. The dessert can be included for plant-based diet.
And, you will be surprised by how easy this recipe is. Plus, it's packed with healthy blueberries.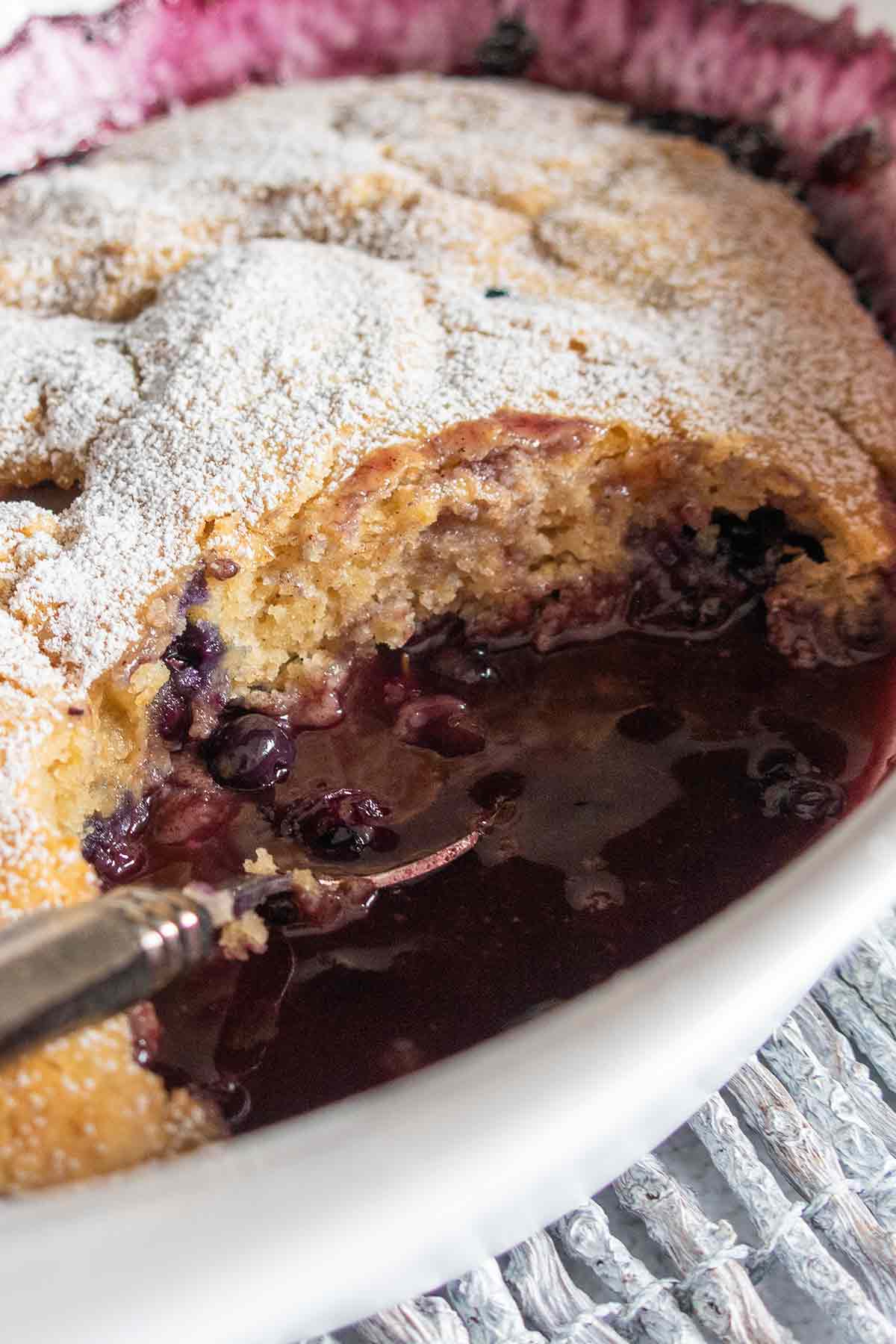 What is a gluten free pudding cake?
Pudding cakes are unique because they contain both moist cake and pudding-like custard layers. In this gluten free recipe, the custard layer is made from blueberries. When you combine sweet blueberry custard with a moist cake you get a dessert that screams delicious!
fresh blueberries vs frozen for baking
When it comes to baking with blueberries, there's always the question of whether fresh or frozen berries are better. Both options have their advantages and disadvantages here is why.
Using fresh blueberries can add a burst of flavor to your pudding cake. Fresh berries tend to be juicier, sweeter, and hold their shape better than frozen ones, which can enhance the overall taste of the dessert. However, using only fresh blueberries may not always be practical as they are seasonal and expensive.
Frozen blueberries, on the other hand, are available year-round at an affordable price point. However, in baking their texture may come out slightly mushy in comparison with that of fresh berries.
In terms of nutritional value, as per the BC blueberry council, on blueberries and nutrition have shown that since blueberries are frozen soon after they are picked, they are equal in quality to fresh where antioxidants are concerned.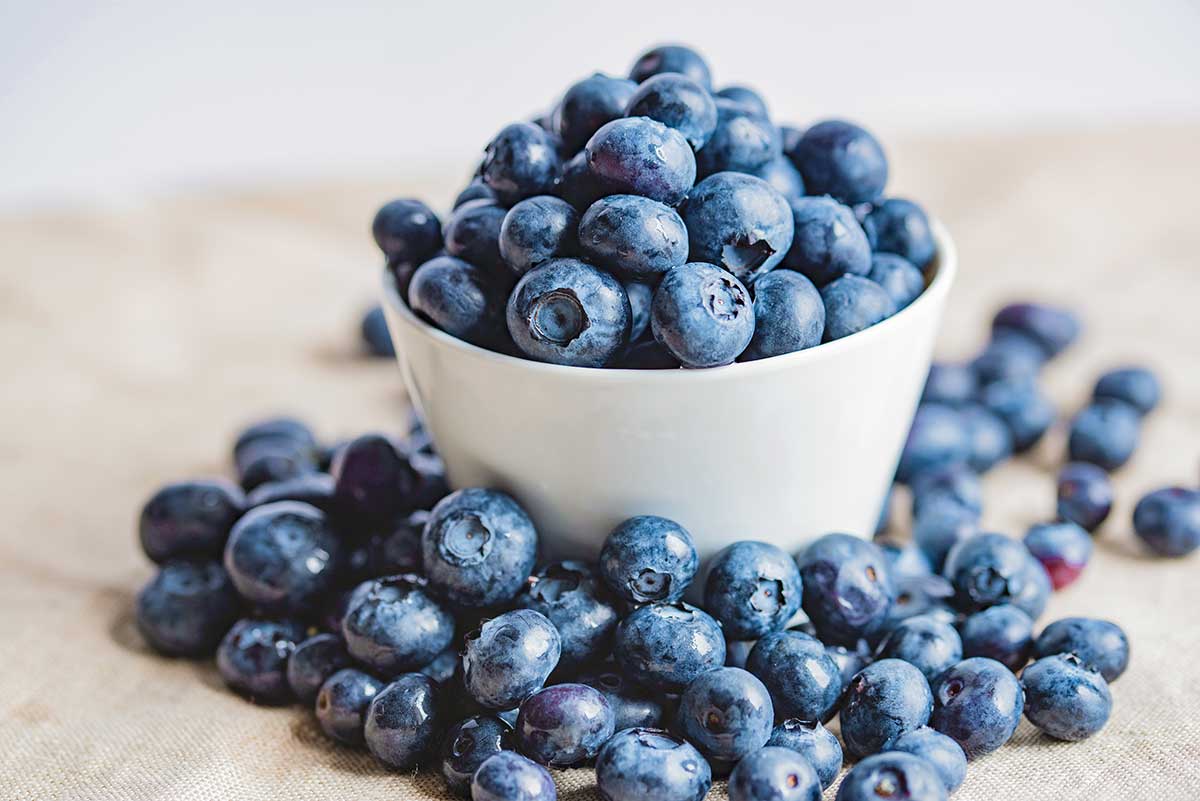 health benefits of blueberries
Blueberries are a superfood that pack a powerful punch when it comes to their nutritional benefits. These tiny, delicious sweet berries are low in calories but high in fiber, vitamins, and antioxidants.
As per recent research, Blueberries contain flavonoids which have been linked to improving memory and cognitive function. They may also help reduce the risk of heart disease by lowering blood pressure and improving cholesterol levels.
In addition to their brain-boosting properties, blueberries also have anti-inflammatory effects on the body due to their high levels of anthocyanins. This makes them an excellent choice for those looking to reduce inflammation caused by chronic illnesses such as arthritis or diabetes.
Another great benefit of blueberries is that they can improve gut health by promoting the growth of good bacteria in the intestines. This can lead to better digestion and immune system function.
So next time you're looking for a healthier dessert option, consider reaching for some delicious blueberries! Couple of our favorite gluten free blueberry recipes are, Gluten-Free Blueberry Buckle, and the Gluten-Free Blueberry Streusel Coffee Cake.
Recipe details for simple gluten free pudding cake
This cake recipe requires very few kitchen tools and very little hands on time.
tools you will need
steps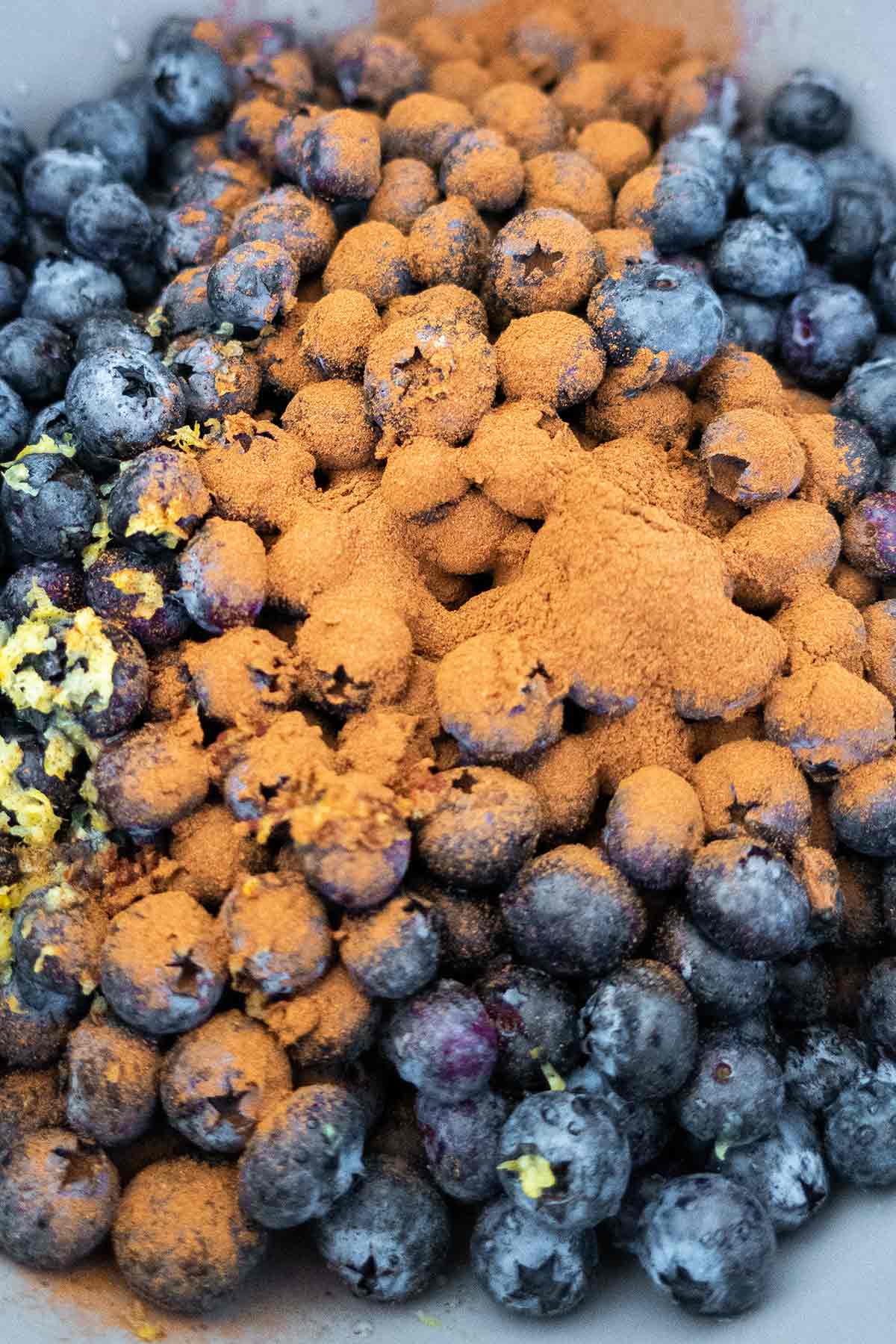 Toss blueberries with cinnamon, fresh lemon juice, and lemon zest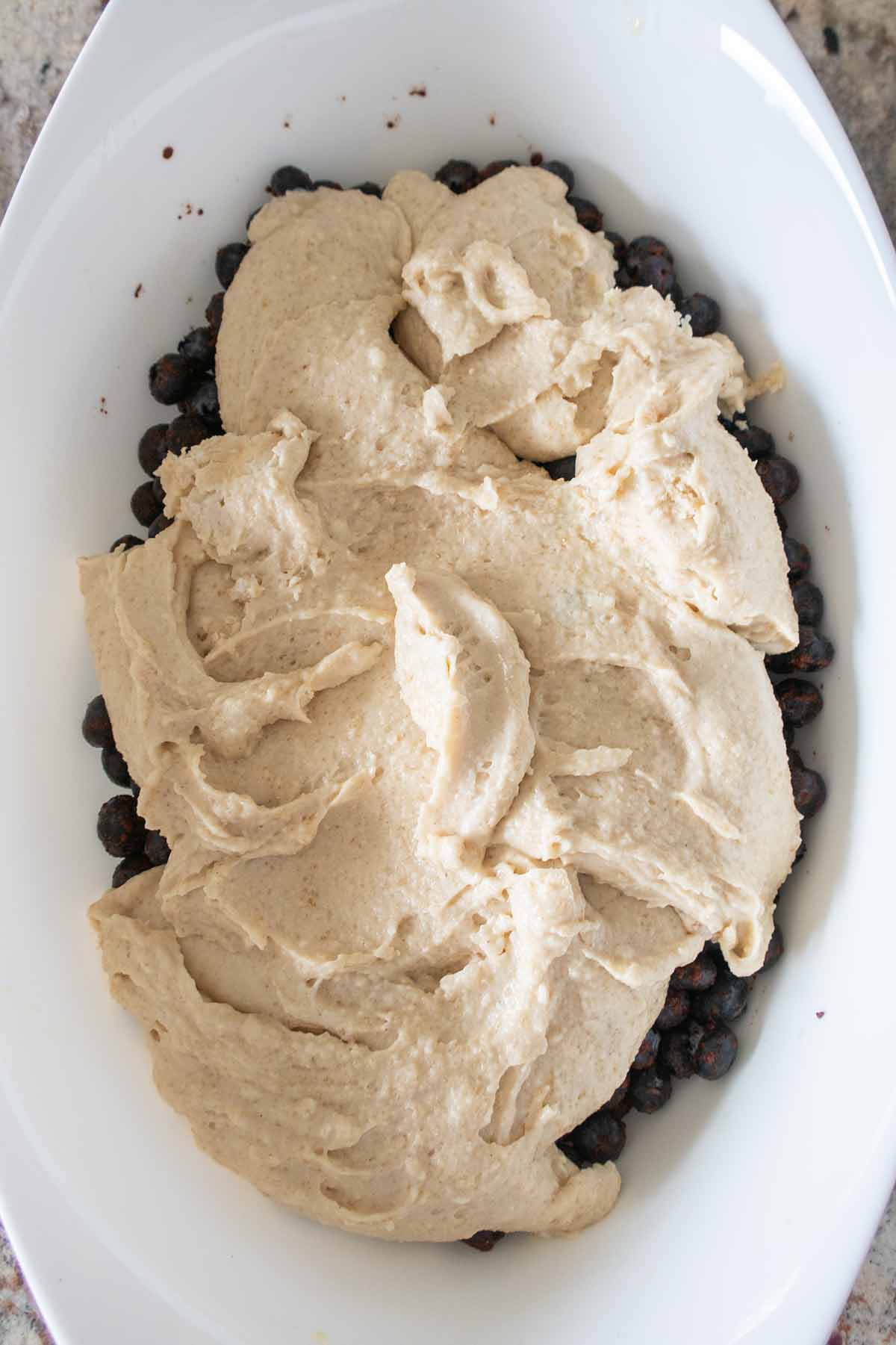 Make the batter by whisking dry ingredients, then add milk and melted butter and using a spatula mix to combine. Spoon over blueberries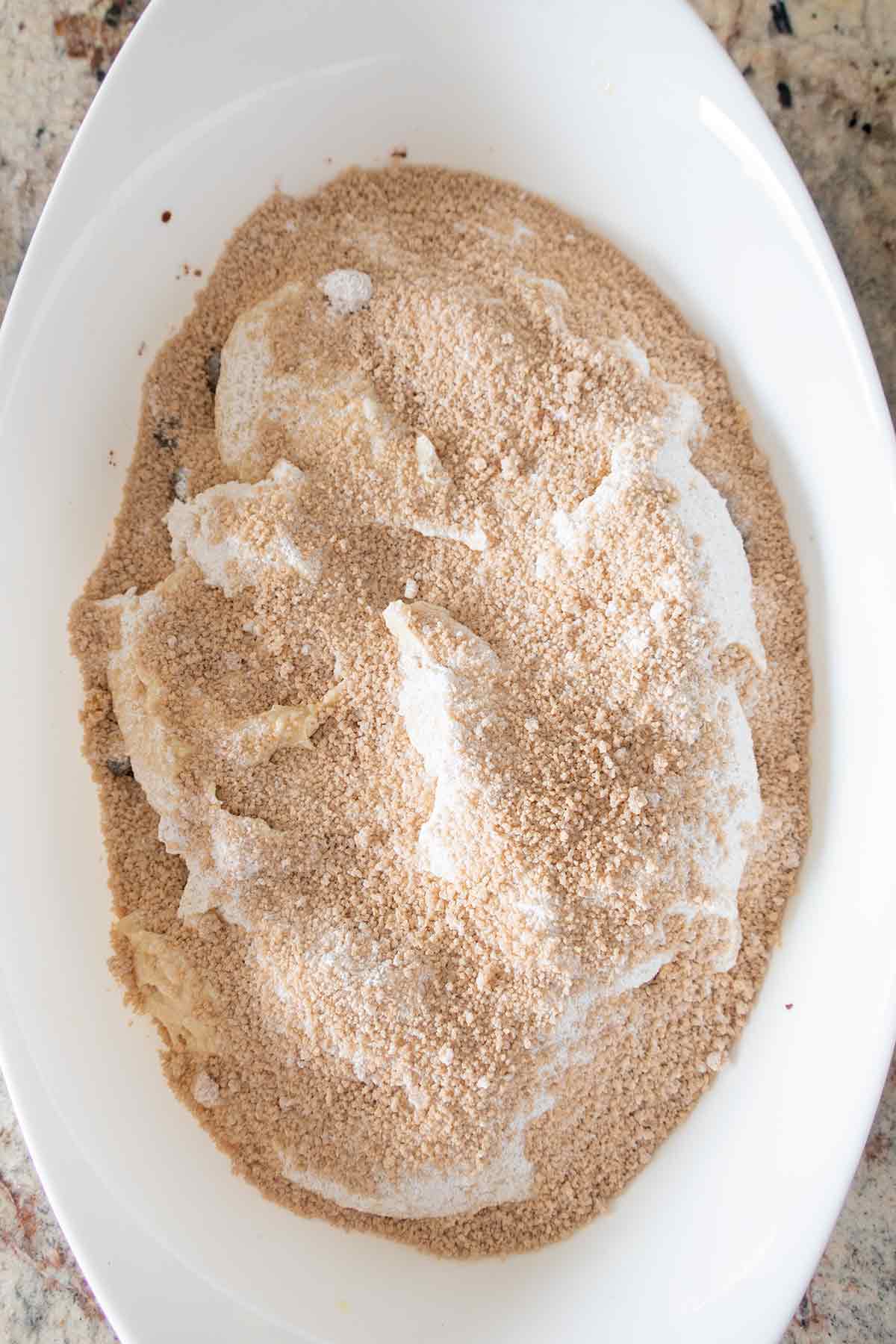 Mix brown sugar with tapioca starch and sprinkle over the batter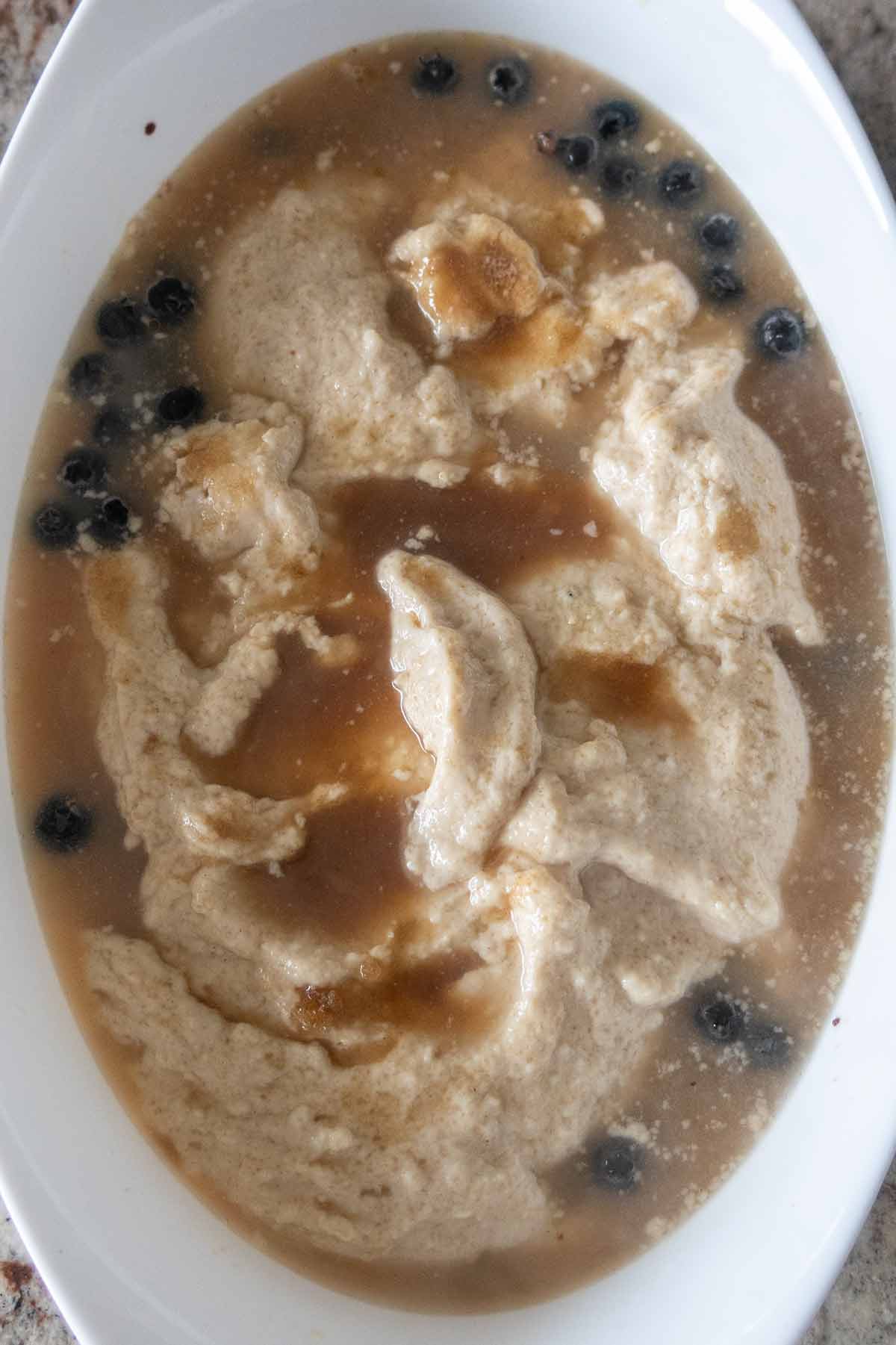 Add vanilla to boiling water and slowly pour it all over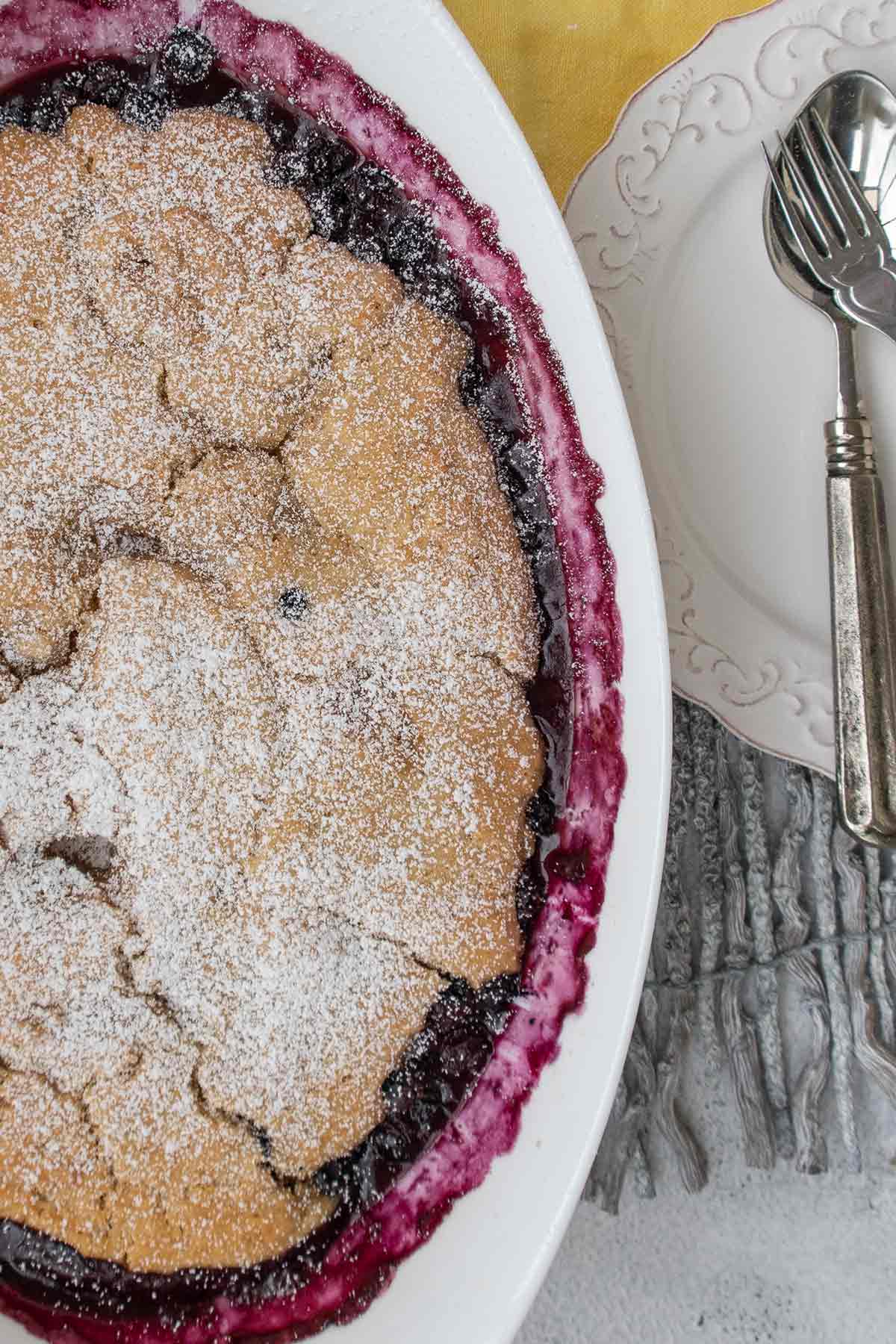 Bake for 50 minutes at 350 F. Pudding cakes take longer to bake and at lower temperatures.
substitutions for gluten free blueberry pudding cake
blueberries – cherries
lemon juice – orange juice or apple juice
almond flour – certified gluten free oat flour or quinoa flour
milk – non-dairy milk
butter – vegan butter or coconut oil
brown sugar – coconut sugar, granulated sugar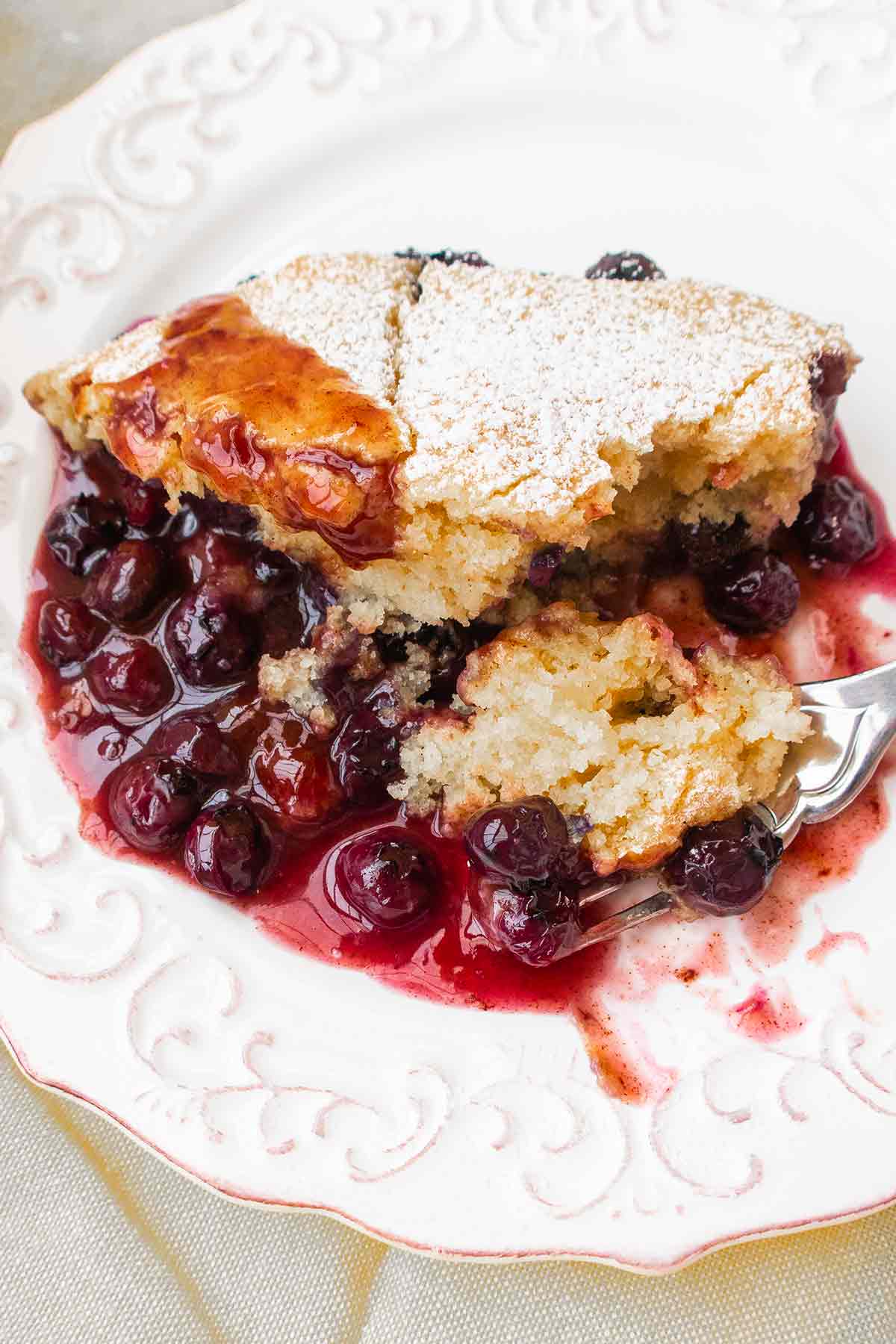 Best way to serve pudding cake
This pudding cake is a retro-style dessert that can be served in many different ways. Here are some ideas.
simple
The simplest way to serve blueberry pudding cake is warm, with a light dusting of powdered sugar.
special occasion
For brunch or a special occasion consider topping each slice of warm cake with freshly whipped cream or coconut cream, or vanilla ice cream for a decadent touch. You could also try drizzling warm chocolate sauce over the top.
extra crunch
For those who enjoy a bit of crunch, sprinkle toasted nuts like almonds or pecans on top before serving. This adds an extra layer of texture and flavor that will take your dessert to another level.
breakfast
Alternatively, you could opt for a healthier option by serving the pudding on top of plain Greek yogurt. This makes for a nutritious breakfast or snack.
storing
Here are some tips on how to store pudding cake:
room temperature
If you plan on eating the entire cake within a day or two of making it, then simply cover it with plastic wrap and store it at room temperature. This will help preserve its moisture and freshness.
fridge
If you're looking to keep your pudding cake for longer than 2 days, store it in the fridge for up to 5 days.
freezing
You can also freeze the gluten free pudding cake using an airtight container for up to 2 months. When needed, thaw the cake overnight in the fridge, then warm each serving in the microwave for 30 seconds before serving.
By following these simple storage tips, you can ensure that your gluten-free blueberry pudding cake remains fresh and tasty for as long as possible!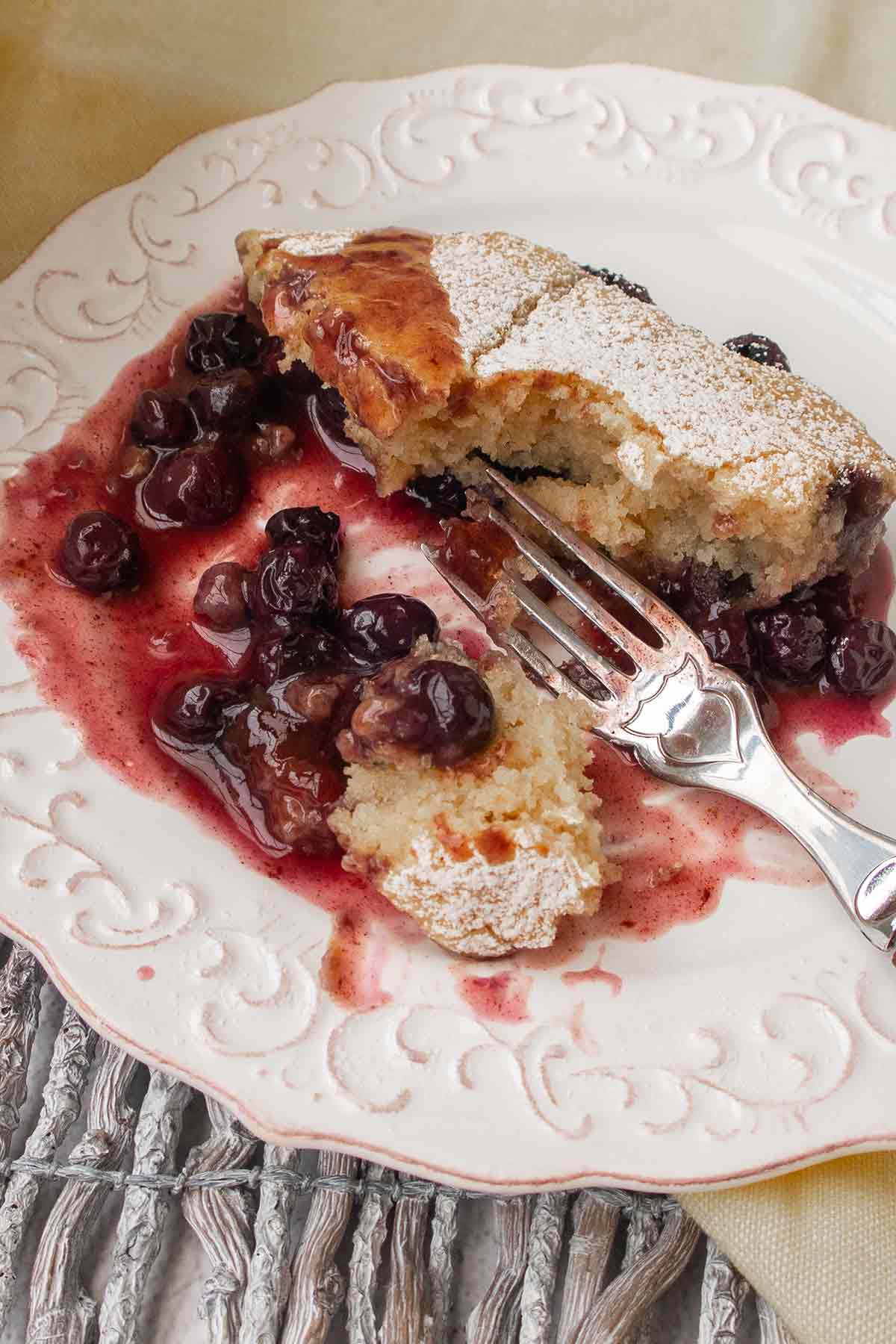 So why not give this gluten-free blueberry pudding cake a try? It is the perfect dessert for anyone who wants to indulge in a sweet treat that is healthier than most store-bought cakes.
Let's Connect!
Be sure to FOLLOW US on FACEBOOK and PINTEREST.
Many thanks!
Kristina xx
Gluten Free Blueberry Pudding Cake
Published on Apr 16, 2023
by
Kristina Stosek
Instructions
1.

2.

Toss blueberries with cinnamon, lemon juice, and lemon zest and pour into a 10-cup baking dish. You can use a 9x9x2 inch square pan

3.

FOR THE BATTER; whisk dry ingredients together. Add milk and melted butter and using a spatula mix just to combine. Do not overmix. Spoon over blueberries

4.

FOR THE TOPPING; Using the same bowl from the blueberries, combine sugar and tapioca and sprinkle over everything

5.

Add vanilla to boiling water, and slowly pour over everything

6.

Bake for 50 minutes until golden brown

7.

Rest for 30 minutes before serving
Leave a Comment
Kristina
Bk, they are on the bottom of the post
No ingredients or amounts at all so totally undoable sadly