Coconut Cheesecake With Berry Compote {Gluten-Free}
Prep Time
15 Minutes
Difficulty
Easy
Cook Time
55 Minutes
Serves
8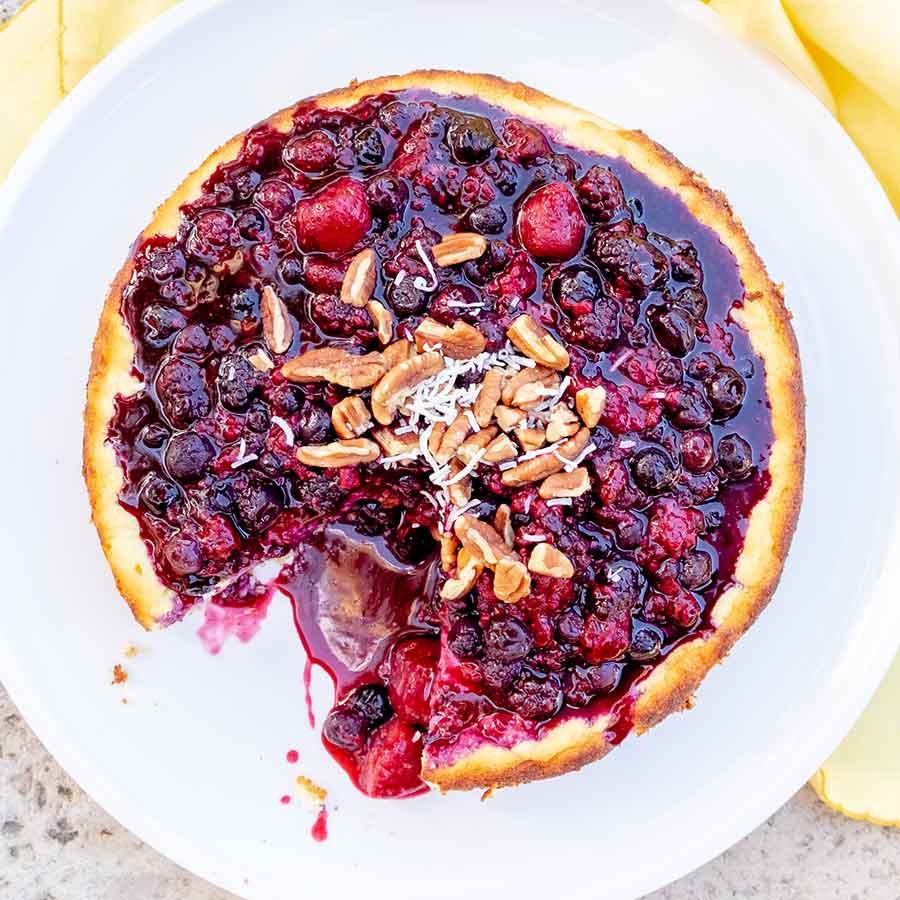 Average Rating: 5 | Rated By: 3 users
I just had to share this glorious Gluten-Free Coconut Cheesecake With Berry Compote because it is so incredibly delicious!
♥

This is a healthy-ish version of cheesecake, and I will explain why.

This gluten-free dessert has a buttery oat crust topped with a creamy cheesecake. The cheesecake layer is made with light ricotta cheese, eggs, unsweetened coconut flakes, lemon zest, vanilla and a splash of pure maple syrup. For the topping, it is a stunning fresh berry compote oozing with sweet and tart flavours complimenting the coconut and vanilla flavours in the cheesecake. Need I say more?

The best part is, the berry compote takes less than five minutes to make. So, if you are looking for an impressive gluten-free dessert for that special occasion, this is it! Another gluten-free dessert you may enjoy is the gluten-free Black Forest cheesecake, it is beautiful and delicious!
Ingredients
1/3 cup almond flour
1/4 tsp. Himalayan salt
3 large eggs separated, plus 1 egg, divided
1/2 cup pure maple syrup, divided
3 Tbsp. unsalted butter, melted
15 oz. (428 g) reduced-fat (light) good quality creamy ricotta cheese
2 tsp. Pure vanilla extract
1 Tbsp. Arrowroot starch
1 Tbsp. Lemon zest (zest of 1 large lemon)
BERRY COMPOTE
3 cups mixed fresh berries, such as blueberries, blackberries, raspberries and strawberries (if you use strawberries cut them into smaller pieces)
1 Tbsp. Lemon juice
1 Tbsp. Arrowroot starch
*As an Amazon Associate and member of other affiliate programs, I earn from qualifying purchases. Please check out my sponsorship and disclosure policy page for more details
Instructions
Preheat oven to 375 F and line bottom of 9-inch springform pan with parchment paper and grease the sides
Place rolled oats, 1/2 cup of coconut, almond flour and salt in food processor and blend until coarse ground. Add 1 egg, 1/4 cup maple syrup and butter and blend
Transfer to prepared pan and press into the bottom of the pan (not the sides) Bake for 10 minutes, then cool
Reduce oven heat to 350 F
Whisk together ricotta cheese, 3 egg yolks, remaining 1/4 cup maple syrup, arrowroot starch, lemon zest, vanilla and remaining coconut
Whisk 3 egg whites on high speed until stiff peaks form. Gently fold third at a time of whites into the ricotta mixture until combined
Pour batter over the crust and bake for 40 - 45 minutes, until no longer jiggly and the top is golden brown. Cool on a wire rack for 30 minutes, it will slightly deflate in the center. Then run a knife around the edge of cake and release the sides. Cool the cake completely,
To make the berry compote, combine ingredients in a small saucepan. Cook over medium heat until the sauce starts to bubble. About 5 minutes. Remove from the heat and cool
To serve, pour compote over the cake. Optional toppings chopped nuts and shredded coconut
Similar Recipes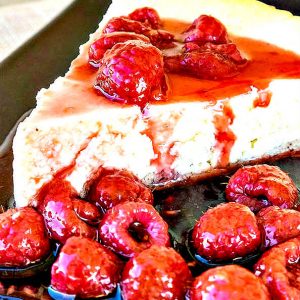 Gluten-Free Baked German Cheesecake
There are many ways to make a cheesecake. This sumptuous gluten-free cheesecake is baked using two types of cheeses creating that perfect creamy texture. The cake is light, slightly flavoured with fresh lemon juice and if desired topped with our fresh raspberry sauce. Recipe included. What I love about this grain-free cheesecake, it can be […] Read More
Prep Time
20 Minutes
Difficulty
Easy
Cook Time
60 Minutes
Serves
12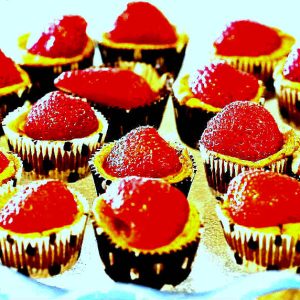 Flourless Chocolate Cheesecake Cupcakes
When it comes to chocolate cheesecake, smaller portions are always welcome such as these cupcakes. These gluten free flourless chocolate cheesecake cupcakes may look complicated but are simple to make. A small delectable dessert such as these morsels, everyone will love. The small cupcakes are especially popular at Valentines. Enjoy! […] Read More
Prep Time
15 Minutes
Serves
8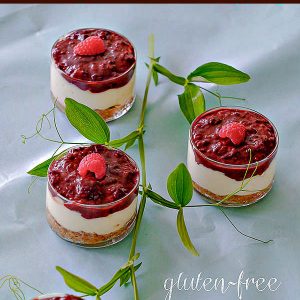 Gluten-Free Cheesecake Cups with Chocolate Raspberry Topping
When you choose to indulge, do it in small portions, the same as the French people do. These mini gluten-free cheesecakes are served in small cups topped with raspberry chocolate sauce. A delectable French dessert that gives everyone just enough forbidden pleasure without feeling guilty. I must say this is probably one of the […] Read More
Prep Time
15 + Minutes
Difficulty
Easy
Serves
4