Coconut Cheesecake With Berry Compote {Gluten-Free}
Published on Jan 29, 2019
by
Kristina Stosek
Prep Time:

15 minutes
Cook Time:

55 minutes
Serves:

8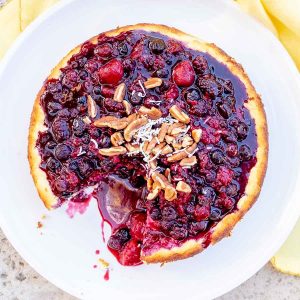 ​This post may contain affiliate links, please see our
privacy policy
for details
I just had to share this glorious Gluten-Free Coconut Cheesecake With Berry Compote because it is so insanely delicious!
This is a healthy-ish version of coconut cheesecake, and I will explain why…
This gluten-free dessert has a buttery oat crust topped with a creamy cheesecake. The cheesecake layer is made with light ricotta cheese, eggs, unsweetened coconut flakes, lemon zest, vanilla and a splash of pure maple syrup.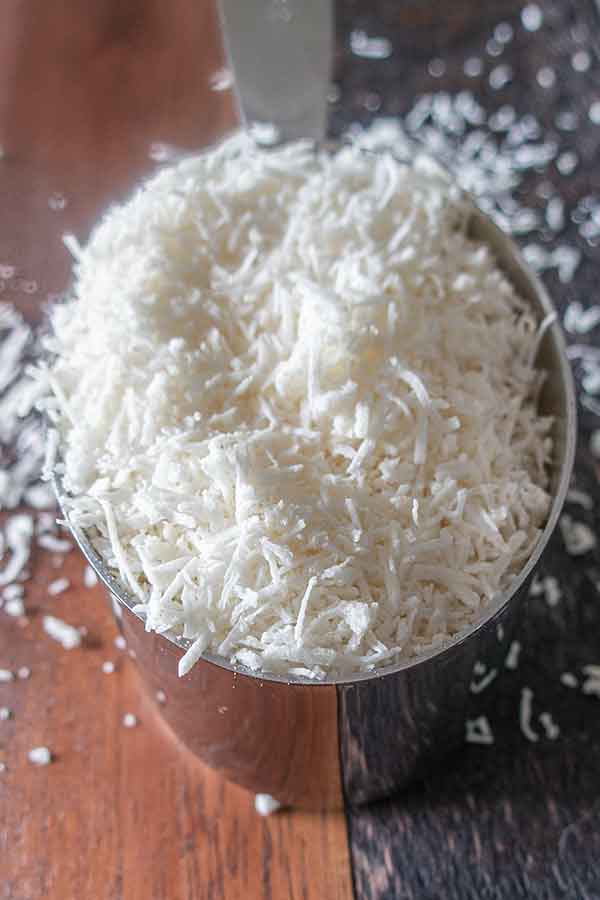 for the cheesecake crust…
The gluten-free crust is made with certified gluten-free rolled oats, coconut, almond flour, one egg, butter, and lightly sweetened with pure maple syrup.
Even novice cooks can make this crust. To make the crust, place the ingredients into a food processor and process until coarsely ground. Then press the mixture into a springform pan and par-bake for ten minutes. Done!
The topping is a stunning fresh berry compote oozing with sweet and tart flavours complimenting the coconut and vanilla flavours in the cheesecake. Need I say more?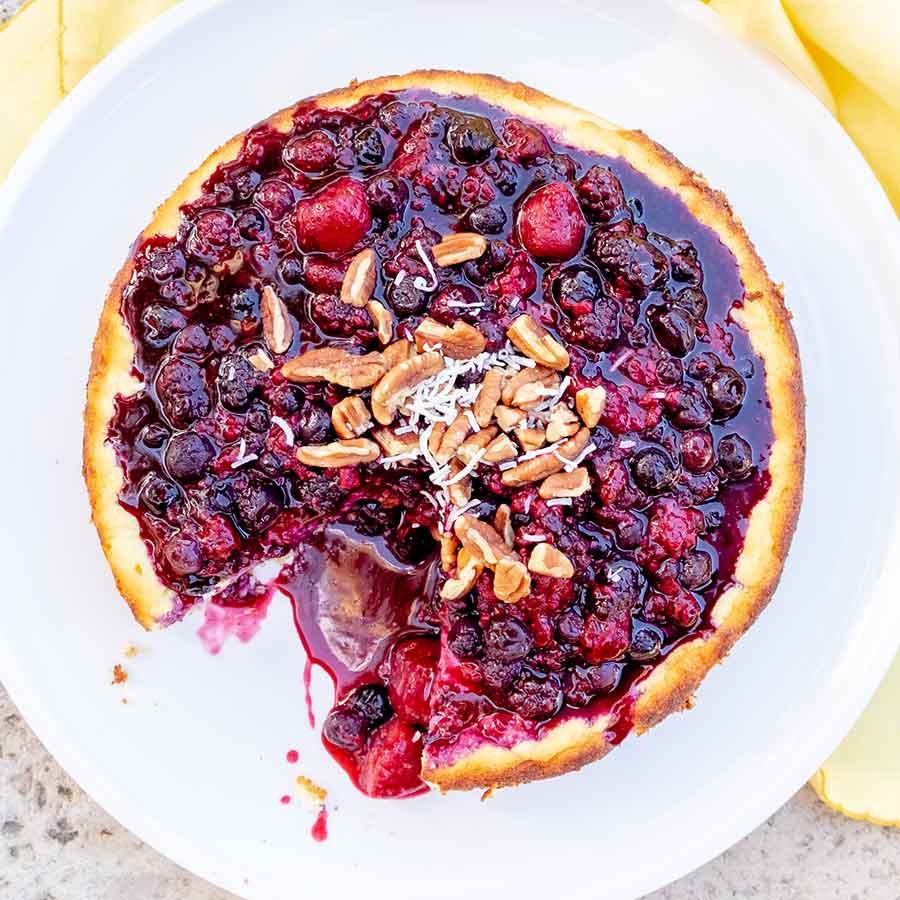 the best part is, the berry compote takes less than five minutes to make…
To make the berry compote, add berries into a small saucepan. Stir in fresh lemon juice and tapioca starch. Cook over medium heat until the sauce starts bubbling. This takes about 4 – 5 minutes. Remove the compote from the heat.
Once the compote is cooled it is ready for the coconut cheesecake.
What I love about the berry compote you can use it over chia pudding, ice cream, overnight oats, in gluten-free crepes, over apple cinnamon pancakes or waffles. There are so many uses for this freshly made healthy berry compote.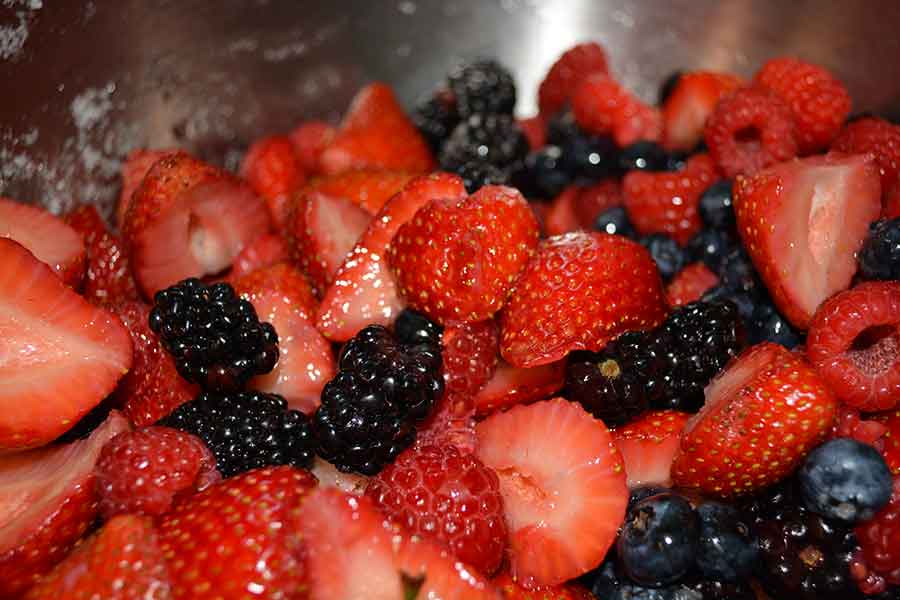 So, if you are looking for an impressive gluten-free dessert for that special occasion, coconut cheesecake is it! Another gluten-free dessert you may enjoy is the gluten-free Black Forest cheesecake, it is beautiful and delicious!
Coconut Cheesecake With Berry Compote {Gluten-Free}
Published on Jan 29, 2019
by
Kristina Stosek
Instructions
1.

Preheat oven to 375 F and line bottom of 9-inch springform pan with parchment paper and grease the sides

2.

Place rolled oats, 1/2 cup of coconut, almond flour and salt in food processor and blend until coarsely ground. Add 1 egg, 1/4 cup maple syrup and butter and blend

3.

Transfer the mixture into prepared pan and using your fingers press the mixture over the bottom of the pan (not the sides) Bake for 10 minutes, then cool

4.

Reduce oven heat to 350 F

5.

Whisk together ricotta cheese, 3 egg yolks, remaining 1/4 cup maple syrup, tapioca starch, lemon zest, vanilla and remaining coconut

6.

Whisk 3 egg whites on high speed until stiff peaks form. Gently fold third at a time of whites into the ricotta mixture until combined

7.

Pour batter over the crust and bake for 40 - 45 minutes, until no longer jiggly and the top is golden brown. Cool on a wire rack for 30 minutes, it will slightly deflate in the center. Then run a knife around the edge of cake and release the sides. Cool the cake completely,

8.

To make the berry compote, combine ingredients in a small saucepan. Cook over medium heat until the sauce starts to bubble. About 5 minutes. Remove from the heat and cool

9.

To serve, pour compote over the cake. Optional toppings chopped nuts and shredded coconut