Gingerbread Overnight Oats with Chia & Hemp Hearts (gluten-free, vegan)
Prep Time
5 Minutes
Difficulty
Beginner
Serves
4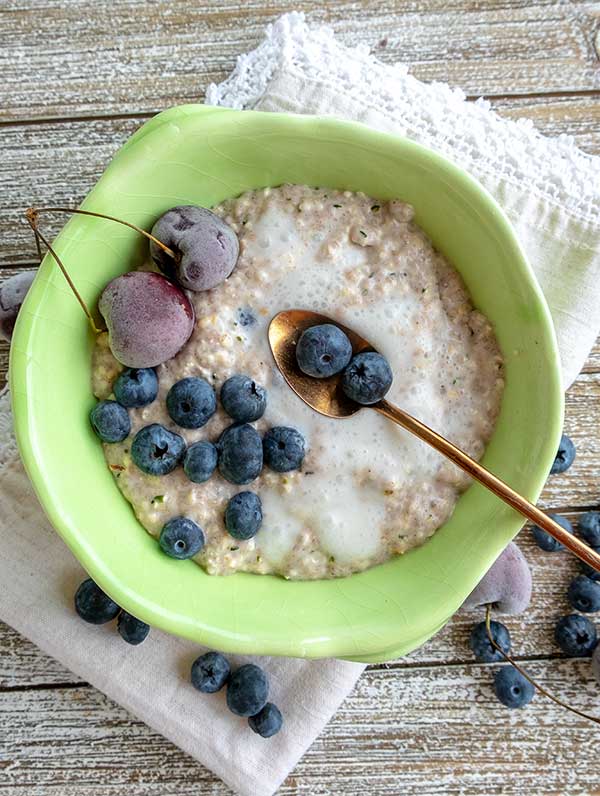 Be the first to rate this recipe.
With back to school just around the corner, mornings become super busy. Getting kids off to school, organizing the day and planning meals can be stressful until we get used to the routine. The last thing we have time for is an elaborate breakfast. For me, my day starts with a high protein nutritionally packed breakfast that will give me lasting energy, such as this gluten-free creamy gingerbread overnight oats with Chia and Hemp.
This gluten-free breakfast recipe takes 5 minutes to prepare and is made the night before. In the morning if you wish, add fresh fruit, nuts or seeds, but it tastes delicious just as is. The beautiful thing about this easy gluten-free breakfast is, it's like eating pumpkin pie mixed with gingerbread cookies. YUM!
Ingredients
2 cups unsweetened non-dairy milk (coconut, almond, hemp, rice)
2 tsp. Freshly grated ginger
1 Tbsp. Pure maple syrup
1 tsp. Pure vanilla extract
1 tsp. GF ground cinnamon
1/4 tsp. GF ground nutmeg
1/8 tsp. GF ground cloves
Optional topping options: blueberries, strawberries, blackberries, nuts, seeds,
*As an Amazon Associate and member of other affiliate programs, I earn from qualifying purchases. Please check out my sponsorship and disclosure policy page for more details
Instructions
In a glass bowl combine all the ingredients. After 15 minutes give it a good stir. Cover and refrigerate overnight
To serve, If the oats are too thick, stir in a little milk then transfer into serving bowls. Top with your favourite toppings.
Similar Recipes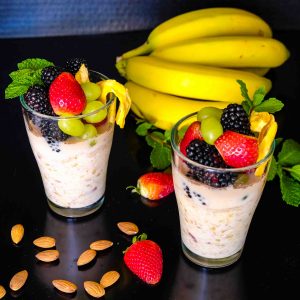 Banana Almond Overnight Oats Recipe
Here is an easy, delicious gluten free breakfast recipe for busy mornings. For those that follow raw food diet, this is an ideal breakfast. This banana almond overnight oats recipe is packed with healthy nutrients, protein and fiber. In the morning all you have to do is add your favourite toppings. This delicious breakfast will […] Read More
Prep Time
5 Minutes
Difficulty
Beginner
Serves
2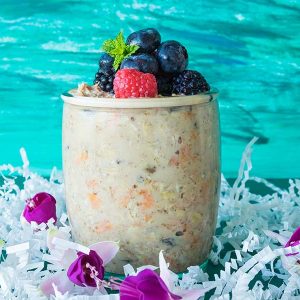 Carrot Cake Overnight Oats – Gluten Free
Kids of all ages love carrot cake. This recipe is like a traditional carrot cake, which is typically made using flour, oil, and white sugar, but with a few healthy adjustments. This gluten-free carrot cake overnight oats recipe is made with certified gluten free oats, flax, non-dairy milk, maple syrup, carrots, raisins and or walnuts. What a […] Read More
Prep Time
5 Minutes
Difficulty
Beginner
Cook Time
2 Minutes
Serves
2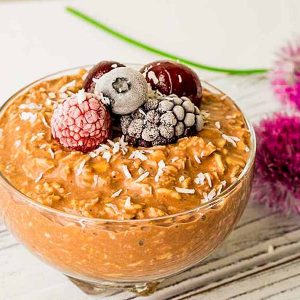 Overnight Chocolate Coconut Oat Pudding
What a wonderful start to a leisurely day. Oats are rich in dietary fiber more than any other grain and are easily digested. Added to this there's the pleasure of combining delicious flavours of cocoa and coconut. Serve cold, or you can also serve this delicious gluten-free breakfast warm. Top with fresh berries, coconut flakes, […] Read More
Prep Time
10 Minutes
Difficulty
Easy
Serves
4