Oatmeal Squares With Pineapple and Coconut (Gluten-Free)
Published on Apr 13, 2020
by
Kristina Stosek
Prep Time:

10 minutes
Cook Time:

40 minutes
Serves:

12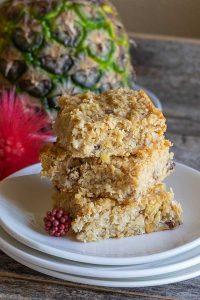 ​This post may contain affiliate links, please see our
privacy policy
for details
These Gluten-Free Oatmeal Squares with Pineapple and Coconut are one of my favourite breakfast foods – looking for a yummy, healthy, and hearty make-ahead gluten-free breakfast? I hold no boundaries when it comes to breakfast, making everything positively delicious. The best part is, breakfast squares needn't be limited to the morning, they can be enjoyed anytime.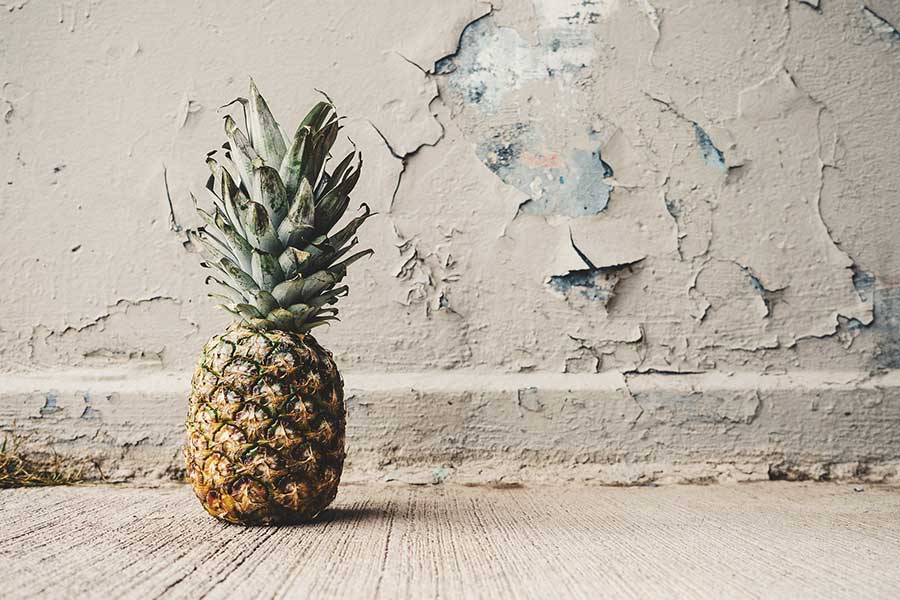 ♥
What do we know about pineapple?
Pineapple is a healthy and delicious tropical fruit. The low-calorie high fiber fruit has an abundance of vitamin C. For a serving of 6 ounces of fresh pineapple you will get about 140% of the RDI. This delicious tropical fruit is also rich in healthy antioxidants and bromelain.
Bromelain is a group of enzymes that break down proteins which may help with digestion. Also, pineapples have anti-inflammatory properties that may boost the immune system. In conclusion, pineapple has impressive health benefits, and it tastes delicious!
These gluten-free oatmeal squares are made with fresh pineapple, coconut, oats, pecans and ginger making them fiber powerhouses. They are dairy-free and are not shy of protein and vitamin C. Pineapple and ginger are a classic pairing, add some coconut to the mix and the flavours become warm and tropical.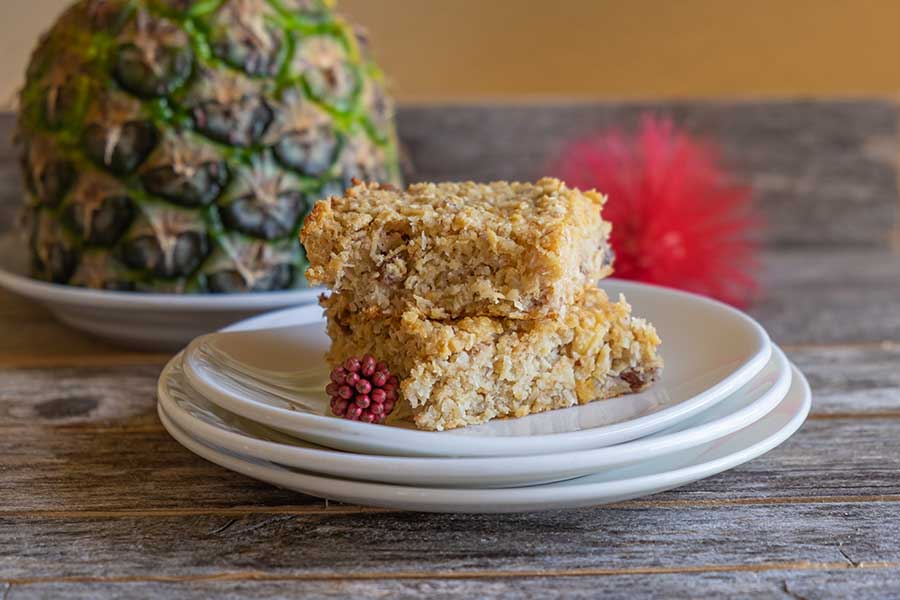 Starting with a nutrient-packed breakfast will keep you energized for hours, but if you are not a breakfast eater, have the oatmeal squares for lunch or a snack on the go later in the day.
To change up the recipe, use any combination of nuts or seeds. These tropical flavoured gluten-free oatmeal squares are easy to assemble and will keep up to three days when refrigerated.
If you want to include more pineapple in your diet, check out these savoury and sweet gluten-free recipes made with pineapple. Enjoy!
Oatmeal Squares With Pineapple and Coconut (Gluten-Free)
Published on Apr 13, 2020
by
Kristina Stosek
Instructions
1.

Preheat oven to 350 F and line an 8x12 -inch baking pan with parchment paper

2.

In a small bowl combine pineapple, coconut, coconut sugar and ginger

3.

In a large bowl mix oats, pecans, almond flour, coconut flour, baking powder and salt Add melted coconut oil and stir to combine.

4.

Add eggs, milk and maple syrup and mix well. Stir in pineapple mixture.

5.

Scoop mixture into prepared baking pan and smooth the top with a spatula. Bake for 35 - 40 minutes until the top starts to golden. Cool in the pan before slicing