Chocolate Chip Banana Snack Cake – Gluten Free
Published on Oct 01, 2022
by
Kristina Stosek
Prep Time:

10 minutes
Cook Time:

50 minutes
Serves:

9 - 16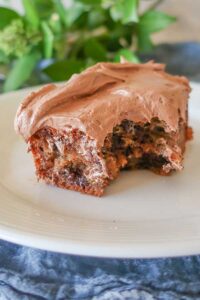 ​This post may contain affiliate links, please see our
privacy policy
for details
This Chocolate Chip Banana Snack Cake is the perfect treat to have on hand when those mid-afternoon cravings hit! The gluten free banana cake is extra moist and is topped with the fluffiest light Nutella frosting.
I promise you, this is the only chocolate chip banana snack cake recipe you will ever need!
Why is this the very best gluten free banana snack cake?
With its extra moist texture, a hint of banana, melted mini chocolate chips and light, fluffy Nutella frosting, this cake will become everyone's favorite snack. And best of all, you can't tell the snacking cake is gluten free.

6 Reasons To Make This Banana Snack Cake?
there is no added sweetener to the cake batter
the batter is made with olive oil
it has the fluffiest, creamiest extra light Nutella frosting
you will need only a few basic ingredients
this recipe uses mini chocolate chips that melt throughout the cake
the recipe is super easy
gluten free banana snack cake recipe overview
You will love the simplicity of this recipe!
First, place the bananas into a food processor and process until smooth.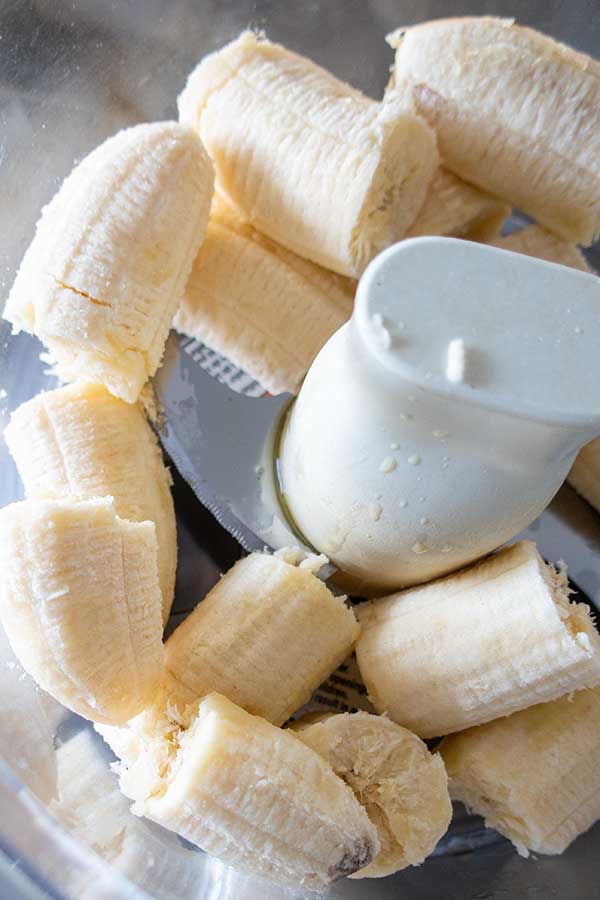 Add the balance of wet ingredients like eggs, olive oil, vanilla and sour cream and process until smooth.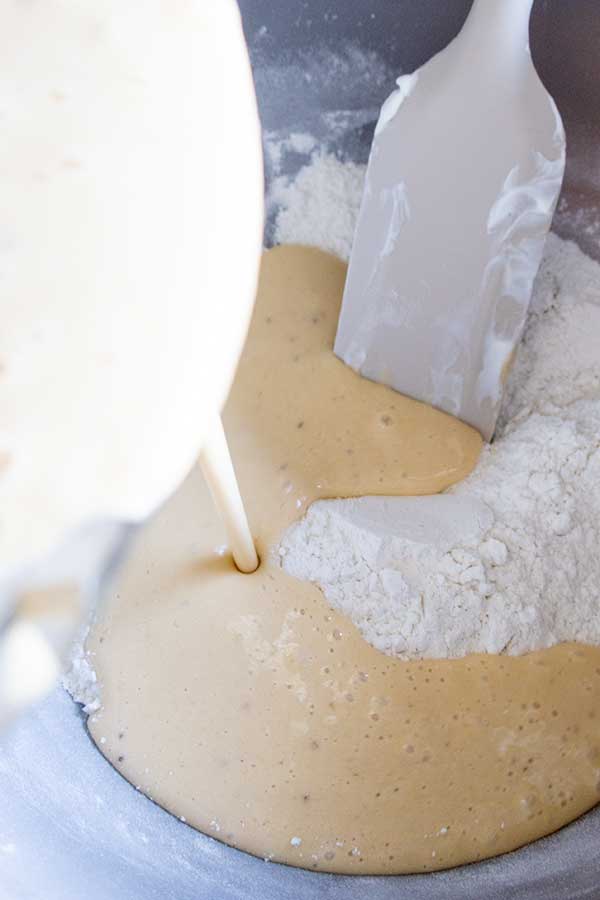 Get a large bowl and combine the dry ingredients; flour, baking soda and salt. Add the banana mixture and stir to combine.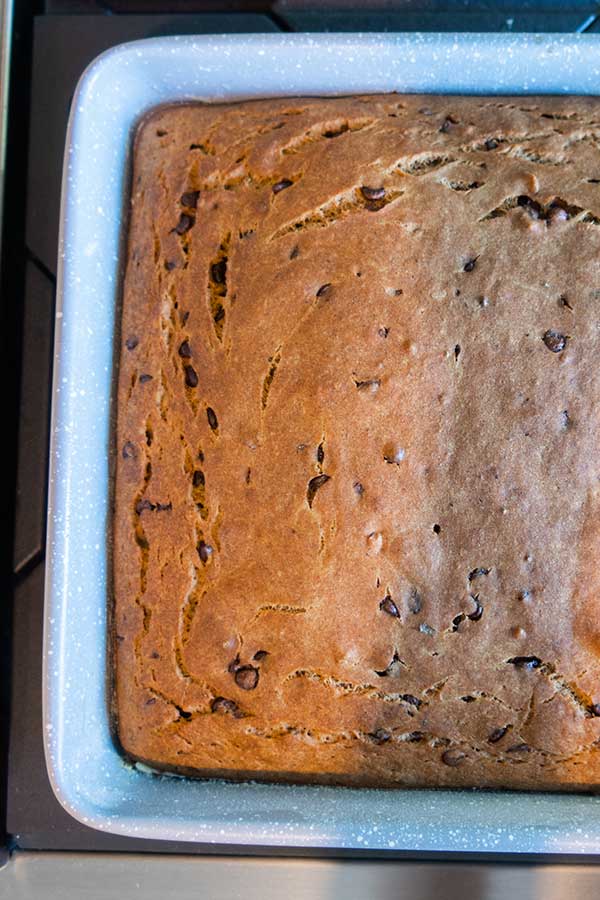 Pour the batter into 9 by 9-inch prepared baking pan and bake. The cake is cooled in the pan before adding the Nutella frosting.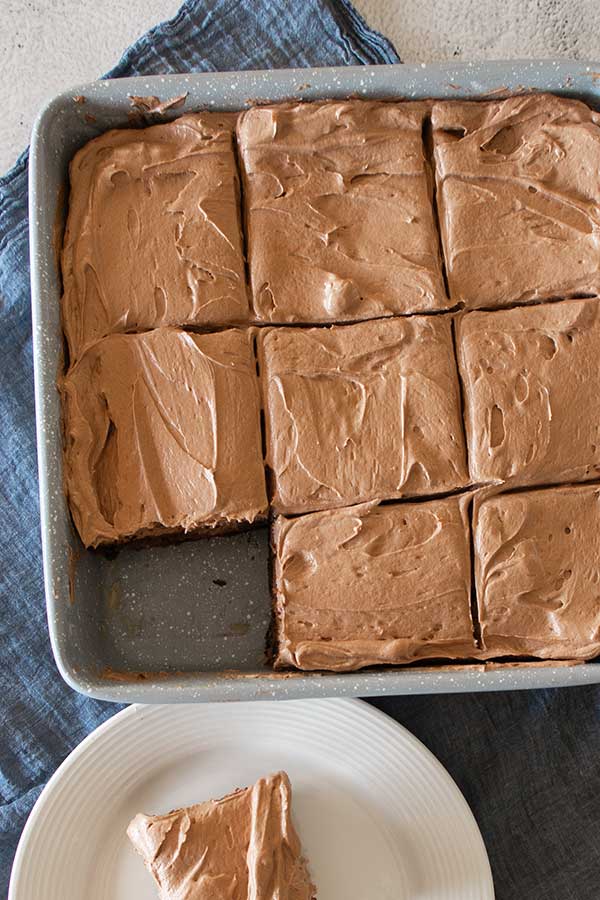 What is Nutella, and is it gluten free?
Nutella is a hazelnut spread that many people enjoy as a topping on toast or as a filling in sandwiches. It is also a popular baking ingredient. But is Nutella gluten free?
The answer to this question depends. If you purchase the Nutella brand, as per their label, it is gluten free.
Some brands of hazelnut spread may add wheat flour or other gluten-containing ingredients to their products.
If you are unsure whether a particular brand of hazelnut spread is gluten-free, it is best to contact the company directly and ask them about their ingredients and manufacturing process. Another dessert using Nutella is the delicious gluten free chocolate coffee brownies recipe.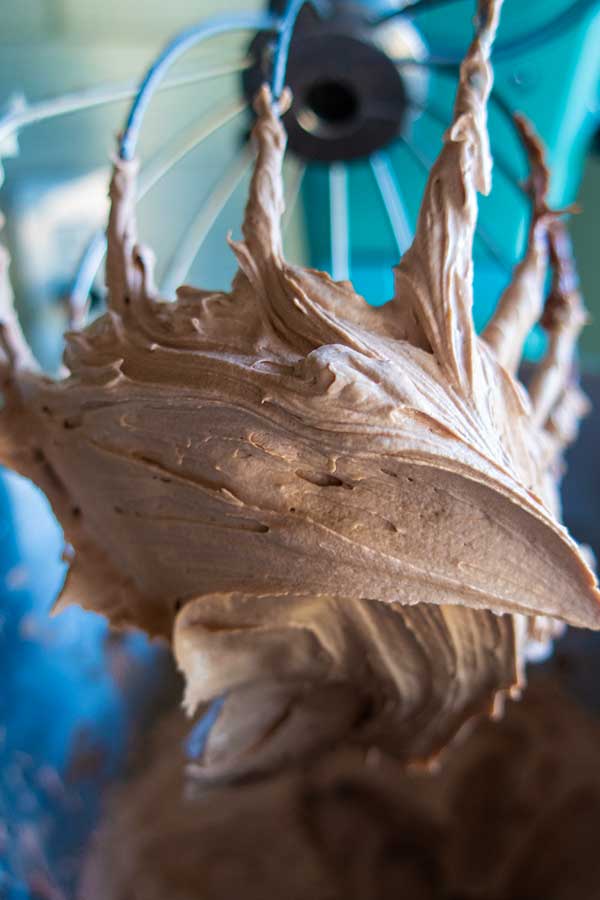 fluffiest Nutella frosting recipe
This Nutella frosting is light and fluffy, and it's the perfect topping for our gluten free chocolate chip banana snack cake!
The frosting has only four ingredients whipped with electic mixer. The Nutella, butter, powdered sugar and milk. Super easy recipe.
The Nutella frosting is spread over the cooled cake in the pan, and then the cake is sliced into desired sizes. Another amazing frosting for banana snack cake is the royal cream cheese frosting.
I cut the cake into nine larger pieces. However, this cake can be divided into sixteen pieces. If you cut the cake into sixteen pieces, I recommend chilling the frosted cake for 30 minutes first.
gluten free batter without added sugar
This cake batter is made without added sugar, so it is a healthier option for a sweet treat. The chocolate chips and the Nutella frosting are all you need to keep the banana cake sweetened perfectly.
how to grease a baking pan for easy cake removal
1. Take the cake pan and coat the bottom and sides with cooking spray or cooking oil. Use a brush or paper towel to distribute evenly and avoid any pools of oil.
3. Add about a tablespoon of gluten free flour and shake the pan to coat the bottom and sides of the pan
3. Pour the cake batter evenly into the pan, taking care not to hit the sides
4. Bake according to recipe instructions.
5. Once the cake is done, if the cake sticks to the sides of the pan, gently run a knife around the edge of the cake to loosen it.
Why shouldn't you line a baking pan with parchment paper when making a snack cake with frosting?
We love to line the baking pan with parchment paper to prevent sticking and make cleanup a breeze. But did you know that lining your pan with parchment paper is not needed when the pan is greased and floured?
In addition, when the snack cake has a frosting, it is best to leave it in the pan for easy slicing. If the pan has paper, it can stick to the cake and frosting, making it harder to get a clean slice.
So ditch the parchment paper and go for a good old-fashioned greased baking pan.
Why add frosting to banana snack cake?
There are a few reasons why you might want to add frosting to your banana snack cake:
It can help seal the cake's moisture, keeping it moist and delicious for longer.
Frosting can adds sweetness and flavor to the cake that plain banana cake can't provide.
It makes the snack cake look insanely delicious and a stunning dessert.
Why should you bake banana cake at a lower temperature?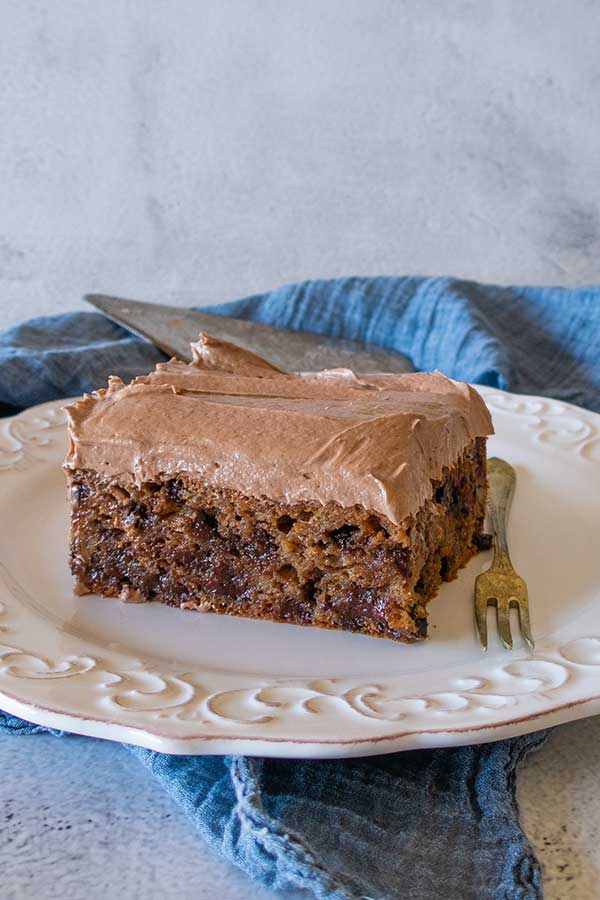 When baking a banana cake, it's important to bake it at a lower temperature than other cakes.
This is because the bananas release moisture as they cook, which makes the cake extra moist than if it's baked at a higher temperature. By baking the cake at a lower temperature, you'll ensure that the cake is moist and baked throughout.
storing the cake
Assuming you have already baked your cake, here are a few tips on storing your delicious Chocolate Chip Banana Snack Cake:
– If you plan on eating the cake within two days, you can store it in an airtight container at room temperature. I like to leave the cake in the pan and cover it tightly with plastic wrap.
– If you want the cake to last longer, you can store it in the fridge in an airtight container. It will keep up to 1 week this way.
– Freezing is also an option! Wrap the cake in the pan tightly with plastic wrap or place it in a freezer bag. It will stay fresh for up to 2 months.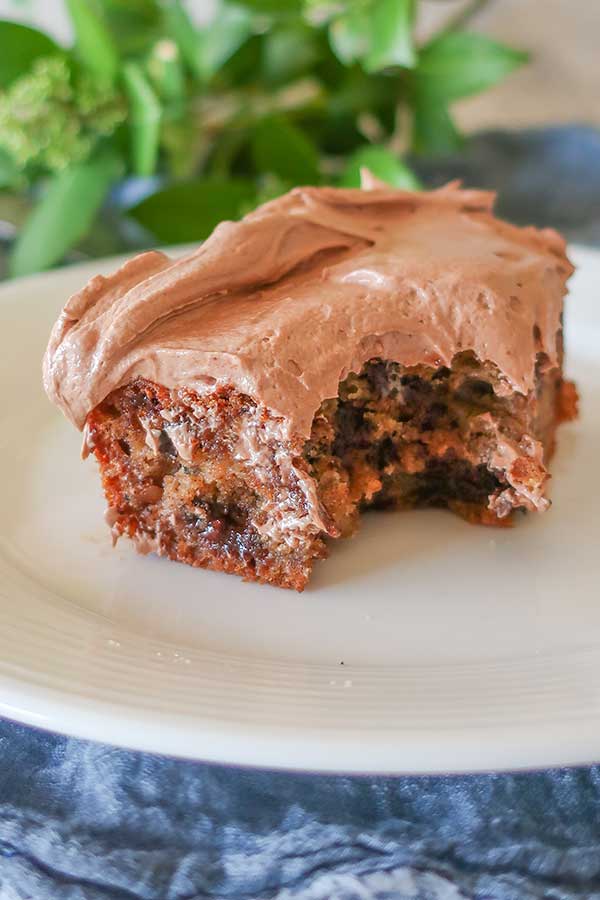 summary
This gluten-free Banana Snack Cake is perfect for a quick snack or dessert! It's loaded with chocolate chips and bananas and has a delicious light and fluffy Nutella frosting that adds sweetness and richness.
Best of all, it's easy to make and requires no special ingredients.
Let's Connect!
Be sure to FOLLOW US on FACEBOOK and PINTEREST.
Many thanks!
Kristina xx
Chocolate Chip Banana Snack Cake – Gluten Free
Published on Oct 01, 2022
by
Kristina Stosek
Instructions
1.

Preheat oven to 325 F. Grease and flour a 9 x 9-inch baking pan

2.

Place the bananas into the bowl of a food processor and process until smooth. Add sour cream, olive oil, eggs, and vanilla and process until creamy

3.

In a large bowl, whisk together flour, baking soda and salt. Add banana mixture and mix to combine

4.

Stir in chocolate chips and walnuts and transfer the batter into the prepared baking pan. Bake for 50 - 55 minutes, until a toothpick inserted in the middle comes out clean. Cool the cake in the pan before frosting

5.

6.

In the bowl of a stand mixer, beat the Nutella with butter until creamy, scraping sides as needed

7.

While the mixer is running on low speed, slowly add the powdered sugar and cream/milk until combined

8.

Turn the speed to high and whip until fluffy, scraping sides as needed. Done!