Cheesy Ground Beef and Green Beans Casserole
Published on Jan 19, 2022
by
Kristina Stosek
Prep Time:

15 minutes
Cook Time:

60 minutes
Serves:

6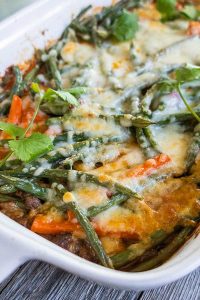 ​This post may contain affiliate links, please see our
privacy policy
for details
Cheesy Ground Beef and Green Beans Casserole. A ground beef casserole in a creamy, cheesy sauce with perfectly cooked French beans and carrots topped with bubbling gooey cheese. Keep this gluten-free ground beef casserole keto with cabbage wedges or add some carbs and serve it over gluten-free pasta or rice.
Why are green beans so good for us?
Green beans, also called string beans or snap beans, are healthy low, calorie, high-fibre veggies. In addition, they are an excellent source of vitamin A, C, iron, vitamin K and folate.
Difference between French green beans and American green beans.
French green beans (also called Haricots Verts) are slightly longer and thinner than regular American green beans. As a result, French beans have a slightly more earthy flavour, while American green beans have a little more grassy to sweet taste. The French beans are also more tender because they are harvested earlier than regular green beans.
Can you eat raw green beans?
As per Healthline, raw green beans may lead to nausea, diarrhea, bloating, and vomiting due to their lectin content. So it's best to avoid raw green beans. Cooking not only neutralizes their lectins but also improves their taste, digestibility, and antioxidant content.
How to choose green beans?
The best way to tell if the green beans are fresh is to snap the bean apart, and when bent, they should snap. Green beans are going bad when they are dry, limp and rubbery.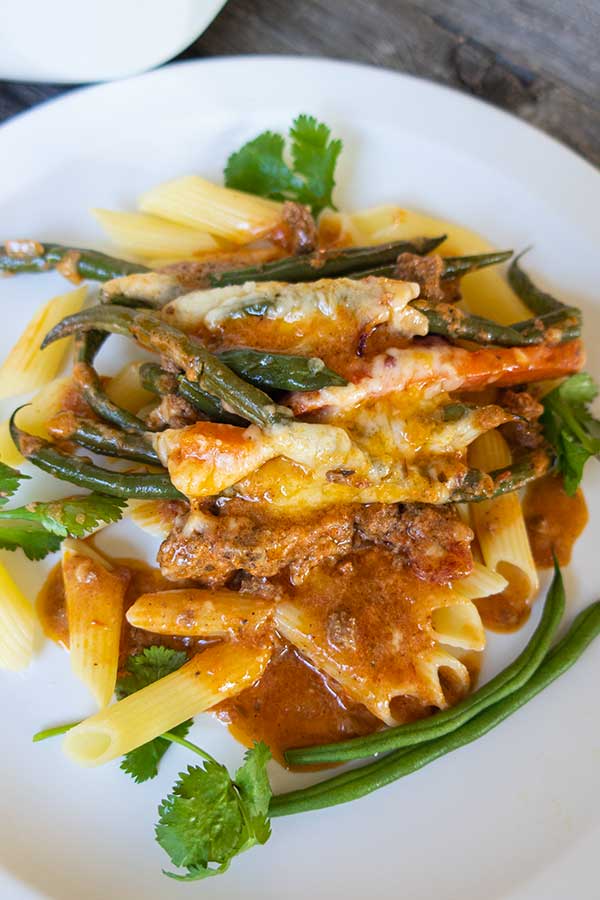 ground beef and green beans casserole recipe details,
The great thing about this hearty meal is that this gluten-free casserole recipe is so simple to make. This means very little time in the kitchen.
Ideally, you want to use lean ground beef for the best flavour and reduce fats. Or, you can also use ground pork if you prefer.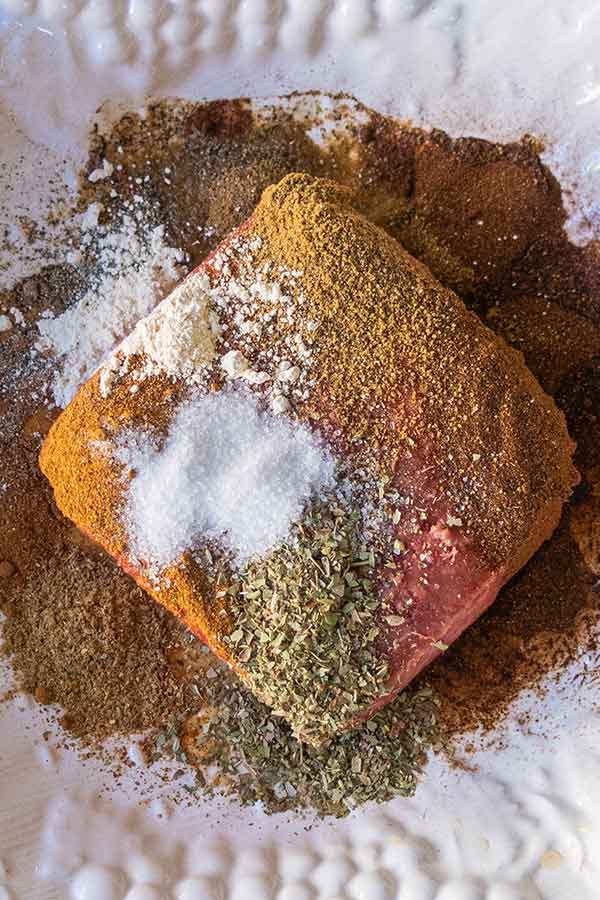 You'll want to first start with seasoning the ground meat. Grab a bowl, add the ground beef and seasoning, and mix. The meat will be extra flavourful if you do this first.
Next, saute onions in olive oil. Once the onions soften, add the seasoned meat and cook on high heat until no longer pink.
Once the ground beef is seared, stir in tomato sauce and cream. This is pretty much all you have to do that requires hands-on.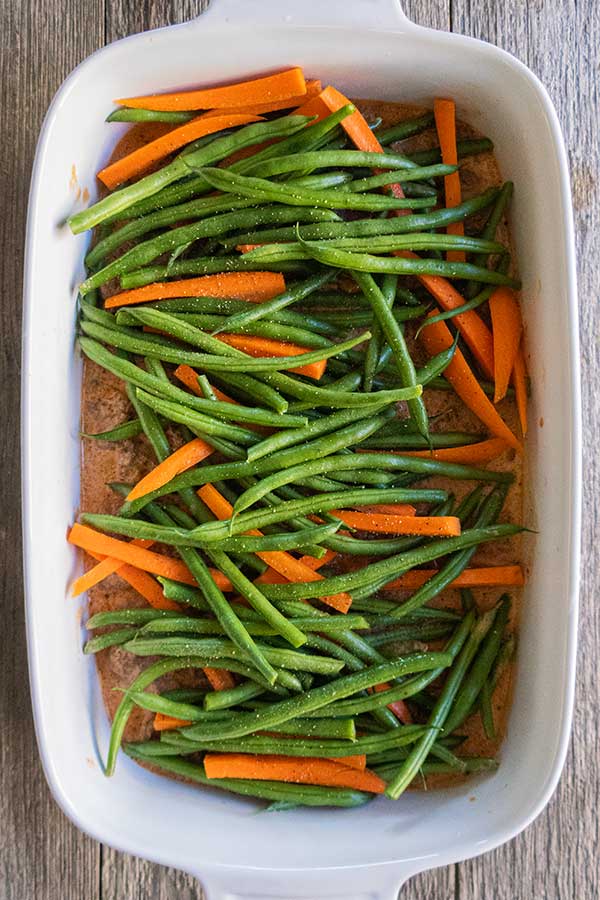 Pour the saucy meat into a baking dish, top with fresh beans and carrots, season with salt and pepper, cover with foil paper and bake.
After 45 minutes, give the casserole a good stir and top with cheese. Finish baking until the cheese starts to bubble. Done!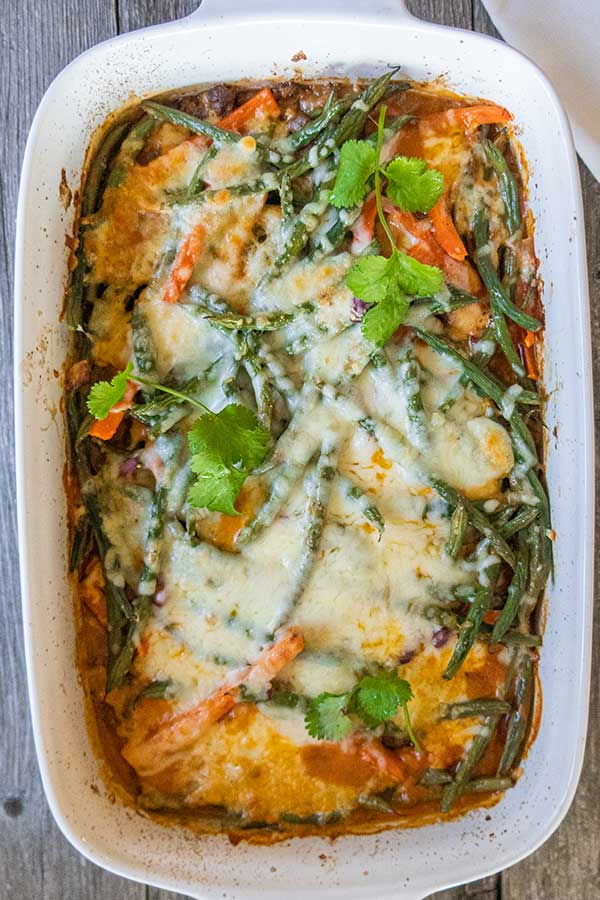 As you can see, this ground beef and green beans casserole is super simple to put together. Perfect comfort food with added healthiness of green beans and carrots. YUM!
How to serve ground beef and green beans casserole?
My family loves it just as is, I like the casserole with wedges of raw cabbage. But if you need some carbs, this casserole dish goes exceptionally well over gluten-free pasta, rice or gluten-free garlic bread.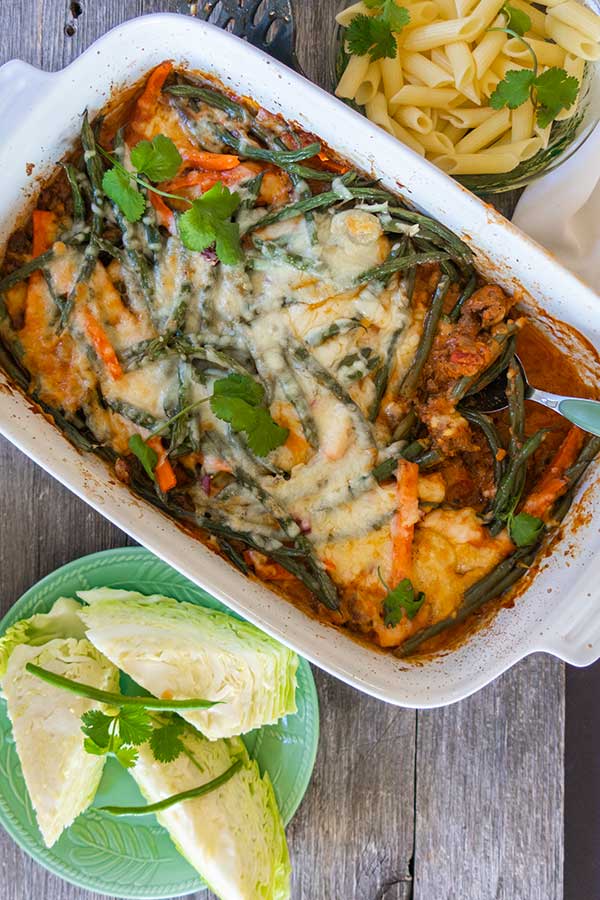 I always top casserole dishes with plenty of fresh herbs such as cilantro, parsley, oregano, or thyme for the finish. A perfect healthy dinner, any night of the week. Enjoy!
Are you looking for more green bean recipes? Try some of our favourites.
Cheesy Ground Beef and Green Beans Casserole
Published on Jan 19, 2022
by
Kristina Stosek
Instructions
1.

Using a large bowl, mix ground beef with spices, apple cider vinegar and season with salt and pepper. Set aside

2.

Cook the onions in a large skillet in olive oil until soft. About 5 minutes

3.

Turn up the heat to high and add ground beef mixture. Cook while breaking up with a spatula until no longer pink. Stir in tomato sauce and cream until combined

4.

Remove the skillet from the heat and pour the meat with sauce into a 9x13- inch baking dish.

5.

Top with beans and carrots. Lightly season with salt and pepper, cover with foil paper shiny side facing up. Bake at 375 F for 45 minutes

6.

Remove the foil paper and mix the veggies with the saucy meat. 

7.

Top with cheese and continue baking for 10 - 15 minutes until the cheese has melted and is bubbling. Serve hot with a sprinkle of fresh herbs if you wish
Leave a Comment
Kristina
sorry Jannette, 375 F. Thank you for bringing it to our attention. The recipe has been updated.
No temperature is give for oven