The Wedge With Avocado Blue Cheese Dressing
Prep Time
15 Minutes
Difficulty
Easy
Serves
4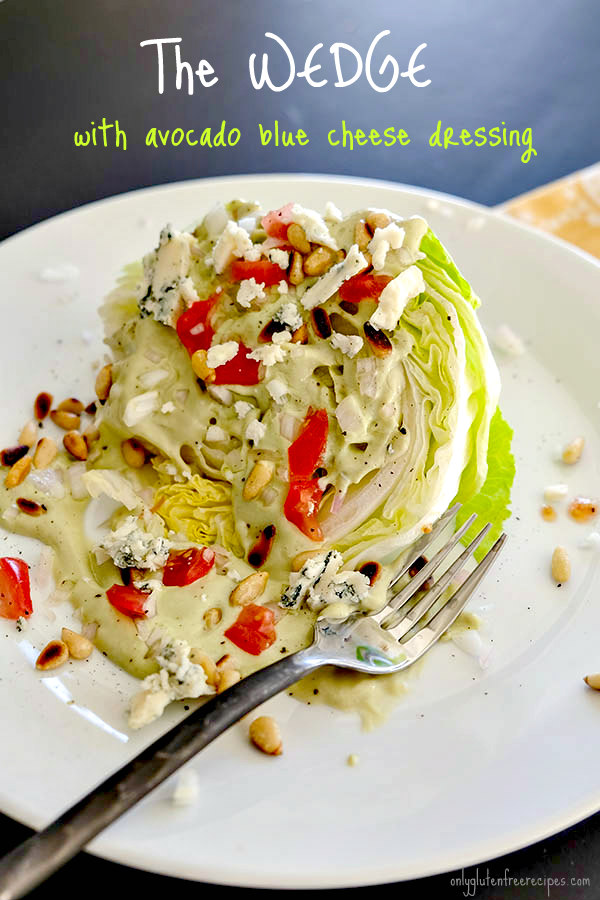 This wedge salad with avocado blue cheese dressing is a big hit with diet savvy friends. The dressing is creamy with a delicate avocado flavour without the extra calories that a typical wedge salad would have. The toppings chosen in this wedge salad are simple, yet they add that perfect texture and the dressing is unforgettable
In this wedge salad recipe, the ingredients such as avocado and buttermilk add many health benefits such as potassium, heart-healthy monounsaturated fatty acids, fiber, bone-building calcium, riboflavin, protein just to name a few. Next time you are thinking of a light meal with health benefits indulge in this healthy salad.
Ingredients
1 medium size organic iceberg lettuce, cut into quarters
DRESSING
1 ½ cup buttermilk
2 Tbsp. fresh lemon juice
1 large avocado
1 cup good quality blue cheese, crumbled, divided
2 garlic cloves, minced
Freshly ground black pepper, to taste
Toppings; 2 chopped shallots, 1 cup quartered cherry tomatoes, remaining blue cheese, roasted pine nuts
Instructions
Rinse lettuce wedges in cold water and place in plastic bag. Refrigerate for 1 hour. Dry with a paper towel just before serving. By adding this extra step, the lettuce will become fresh and crisp
For the dressing, place buttermilk, lemon juice, avocado, ¾-cup blue cheese, garlic, salt and black pepper into a blender or food processor and process to desired consistency. If the dressing is too thick, add a little more buttermilk. Taste and adjust seasoning if needed
TO CONSTRUCT
Place each wedge on a salad plate. Pour dressing over the top and sprinkle with shallots, tomatoes, remaining blue cheese and roasted pine nuts
Note: you can choose your toppings such as crumbled cooked bacon, nuts or gluten free croutons
Similar Recipes
Pear and Apple Feta Salad
Salad does not have to be complicated to be delicious. In this salad, the sweet crispy fruit perfectly balances the saltiness of the cheese. Serve as a starter or add grilled chicken or pork for that perfect main dish Read More
Prep Time
15 Minutes
Difficulty
Easy
Serves
4
Broccoli Slaw with Citrus Dressing
In this lively healthy slaw, the delicious citrus dressing is soaked up in a colorful medley of healthy vegetables and fresh herbs. Serve this naturally gluten free slaw as a main or with fish, chicken or pork. In summer time, this salad is a winner at any barbecue get-together Read More
Prep Time
20 Minutes
Difficulty
Easy
Serves
4
Light Salad With Japanese Dressing
When it comes to a good salad, it is all about the dressing. This dressing is light yet flavourful bringing out the delicate taste in your salad. Read More
Prep Time
15 Minutes
Difficulty
Easy
Serves
4
© Copyright 2017 Only Gluten Free Recipes. All Rights Reserved.