Stuffed Roasted Poblano Pepper
Prep Time
15 Minutes
Difficulty
Easy
Cook Time
20 Minutes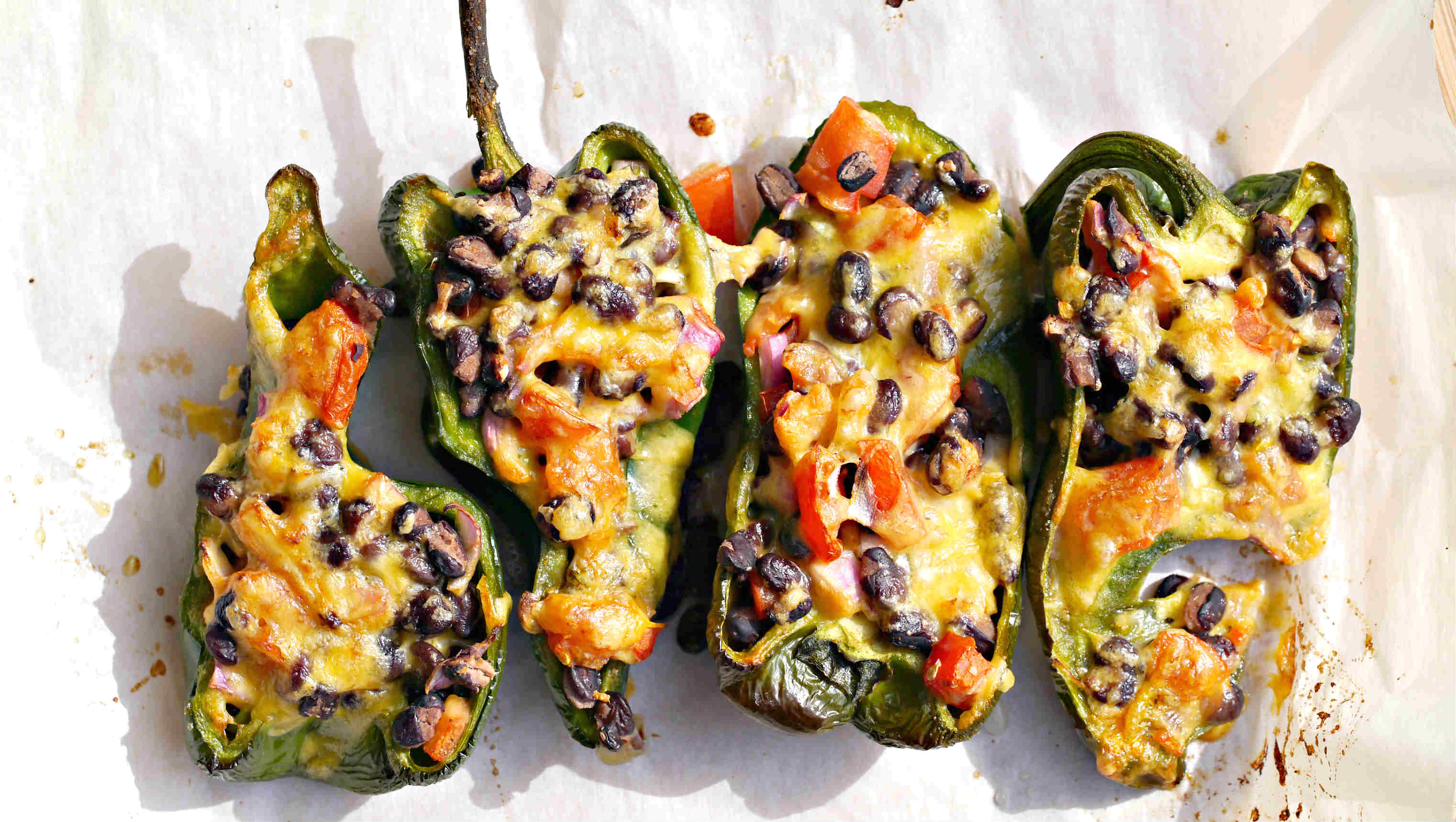 Mexican food at it's best! Great ingredients treated simply in a vibrant harmony of tastes. When your appetite calls for Mexican food, nothing beats this quick snack. Thinking of lunch, add some rice or a light green salad. This is a naturally gluten free vegetarian recipe. Disfruta!
Ingredients
3 poblano peppers, halved and deseeded
1 Tbsp. extra virgin olive oil
2 tsp. ground cumin, divided
1 ½ cups cooked black beans. If you are using canned rinse well and drain
1 tomato, chopped
½ red onion, finely chopped
1 garlic clove, minced
1 Tbsp. lime juice
Cayenne pepper to taste (optional)
Handful of chopped cilantro
Himalayan pink salt to taste
1 cup grated cheddar cheese
Instructions
Preheat oven to 400 F and line a baking sheet with parchment paper
Mix olive oil pinch of cumin and a pinch of salt and brush the peppers on the inside Combine beans, tomato, red onion, garlic, lime juice, cayenne, remainder of cumin, cilantro and salt and fill the peppers. Top with cheese
Place on a prepared baking sheet and bake for 20 minutes or until the cheese is bubbling
Similar Recipes
Gluten Free Peppers Stuffed with Cheesy Chicken Recipe
When it comes to stuffed peppers this is probably the best recipe I know. The delicate peppers are packed with a delicious cheesy chicken stuffing making this gluten free dinner recipe a winner! Stuffing in this recipe is made with chicken, quinoa, a variety of spices and plenty of cheese. You will find this recipe […] Read More
Prep Time
15 Minutes
Difficulty
Easy
Cook Time
40 Minutes
Serves
6
Gluten Free Cabbage Rolls
Cabbage rolls are common to ethnic cuisines of the Eastern, Northern and Central Europe, Balkans as well as Middle East. In this recipe, I used fermented cabbage which has many health benefits some of which are vitamins A, C, phytonutrient antioxidants and also anti-inflammatory properties.Most cabbage rolls are made with a lot of rice, but […] Read More
Prep Time
30 Minutes
Difficulty
Intermediate
Cook Time
150 Minutes
Serves
6
Stuffed Savoy Cabbage in Light Curry Sauce
The Savoy cabbage stuffed with meat and vegetables, simmer together in a light curry cream sauce creating a rich, unforgettable flavour. Though this recipe is similar to cabbage rolls, the Savoy cabbage and curry make this version distinct and unique. This is our signature Paleo and cooking light recipe. Enjoy! Serves 4 Read More
Prep Time
20 Minutes
Difficulty
Easy
Cook Time
90 Minutes
© Copyright 2017 Only Gluten Free Recipes. All Rights Reserved.